Electric Wheelers is reader-supported. Although we independently research and test products, we may receive a commission on purchases made from our chosen links. Read more…
The Apollo Explore is what seasoned riders would call an adequate scooter. It is Apollo's third-best offering, only topped by the frighteningly fast Apollo Ghost and its flagship model Apollo Phantom. It is clear that the manufacturer wanted to be a bit more practical this time, both in terms of performance and budget.
A single 1,000-watt motor capable of long-range distances and impressive acceleration makes all the difference. Ride quality is aided by pneumatic tires equipped with front and rear suspensions, and a lightweight, foldable frame making the Explore ultra-portable.
As a commuter with a tight budget, could you do any better than Apollo Explore?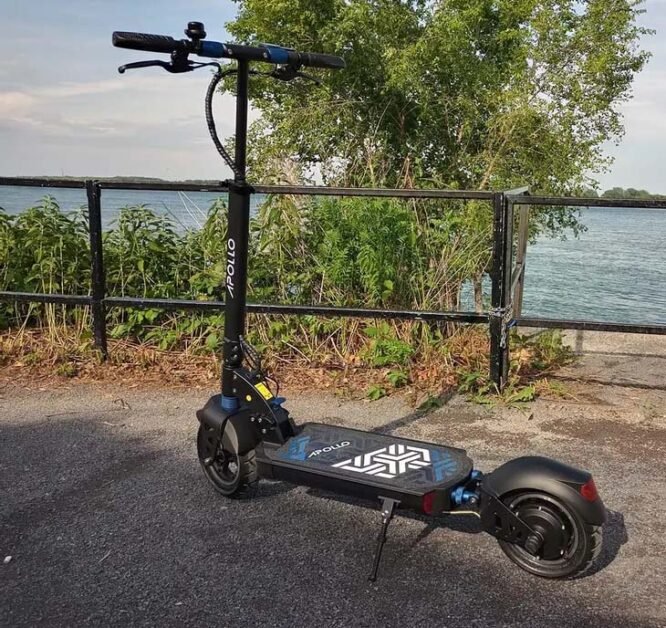 MSRP: $1,399
Apollo Scooters
Overview
Apollo Explore – Who is it for?
The Explore is a workhorse that promises at least seven years of daily commutes before you have to replace the battery.
It can comfortably carry a rider weighing 265 pounds and measuring up to six feet four inches tall, which puts it well within the reach of the larger-than-average commuter.
Apollo Explore Full Specs
| | |
| --- | --- |
| Motor | 1,000W |
| Battery | 52V 18.2Ah (946Wh) Dynavolt |
| Recharge Time | 9 hours (4.5 hours with fast charger) |
| Max Speed | 31 mph |
| Max Range | 35 miles |
| Brakes | Mechanical Disc + Electric Regenerative Braking |
| Suspension | Front Spring & Rear Dual-Spring |
| Weight | 52 lbs |
| Weight Capacity | 265 lbs |
| Tires | 10″ Pneumatic |
| Lights | White Front LEDs, Red Rear LEDs + Blue LEDs on Stem & Deck |
| Dimensions | 46″ x 22.5″ x 48″ |
| Folded Dimension | 46″ x 7.7″ x 17″ |
| Display | Finger Throttle Display |
| IP Rating | IP54 |
Pros
Good Value for Money
Great Ride Quality + Good Handling
Quite Portable (Foldable Handlebars + Telescoping Stem)
Great Balance Between Speed & Range
Regenerative Braking
Cons
Dull Front Lights
Heavy
Display Could Be Brighter
Performance
It's incredible how smooth and soundless the scooter is while riding.
What's also impressive is how well the single-motor scooter handles rough terrain. It's not going to outperform the Wolf Warrior 11 out in the wilderness, but on your daily commute, its 10-inch air tires will easily roll up hills and ride over rough terrain to get you where you need to go quickly and comfortably.
Speed & Acceleration

The speed of the Apollo Explore tops out at 31 MPH, just 7 MPH slower than its more powerful sibling, the Apollo Ghost. It takes the electric scooter 9.6 seconds to accelerate from 0 to 25 MPH, which is reasonably fast for a commuting scooter with a single motor.
You might be wondering how a 1,000-watt motor is capable of such feats, but the answer is quite straightforward. At peak performance, the electric motor can put out up to 1,400 watts of power, enough to facilitate the punchy acceleration that the Apollo Explore achieves.
Hill Climbing
The Explore is by no means a hill-climbing monster, but to its credit, its lightweight build and powerful electric motor allow it to dominate hills like the best of them. It can comfortably climb up a 10% grade hill with a 160-pound rider at around 11 MPH, making it far better than your typical rental scooter.
Battery & Range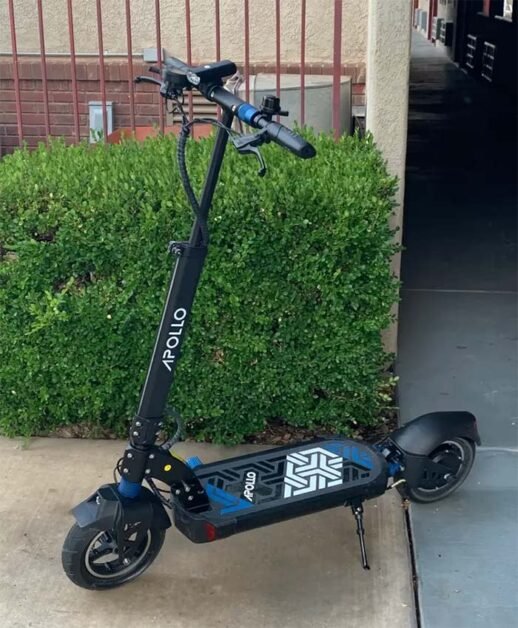 Apollo fitted the Explore with a 52V 18.2Ah (946 Watt-hours) Dynavolt battery that gives you a maximum range of around 35 miles on a single charge. For commuting purposes, that's more than adequate range, whether you're headed off to work or to explore some nearby trails.
Dynavolt manufactures most of the motorcycle batteries in the market today. Considering the price tag on the Explore, you'll be hard-pressed to find this kind of battery performance on any other electric scooter in this price range.
Charging
The large battery only needs four to five hours to charge to completion if you use the fast chargers that Apollo sells separately. It offers 2,600 charge cycles, which translates to about seven years of daily charging. It is also covered by a 24-month warranty, which is a rare and exceptionally long type of coverage, possibly the best you can hope for in the electric scooter industry.
Brakes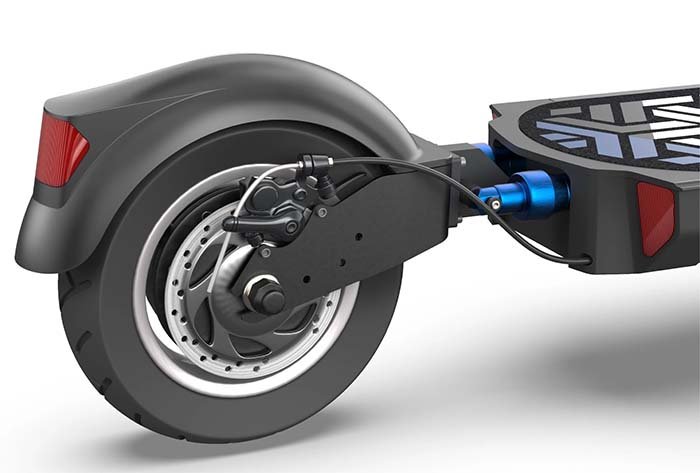 The Explore offers exceptional stopping power to match its punchy speed and acceleration. It equips you with two sets of brakes—a pair of high-performance mechanical disc brakes on the rear and front wheels and a rear regenerative brake that slows the motor down by passing a reverse current through it.
The regenerative electric brake recharges the battery every time you slow down. You don't need to push a separate button to activate it; it activates automatically when you pull down on the brake lever. You can adjust its strength in the Apollo Explore P-Settings.
Braking is relatively smooth, and you can adjust each brake individually to suit your preferences. The triple-redundant braking system makes the Explore safe enough to ride on the highway.
Suspensions
To say that Explore has excellent ride quality would be an accurate assessment. The spring suspension in the front and rear tires is well balanced—not too soft yet not too stiff—which makes for a buttery smooth ride on smooth roads and a comfortable trip over rough roads and potholes.
The quality of the suspension shows when going over bumps, where you'll notice that the springs don't rattle or creak. This quality suspension system also boosts the electric scooter's stability at top speeds.
Design and Features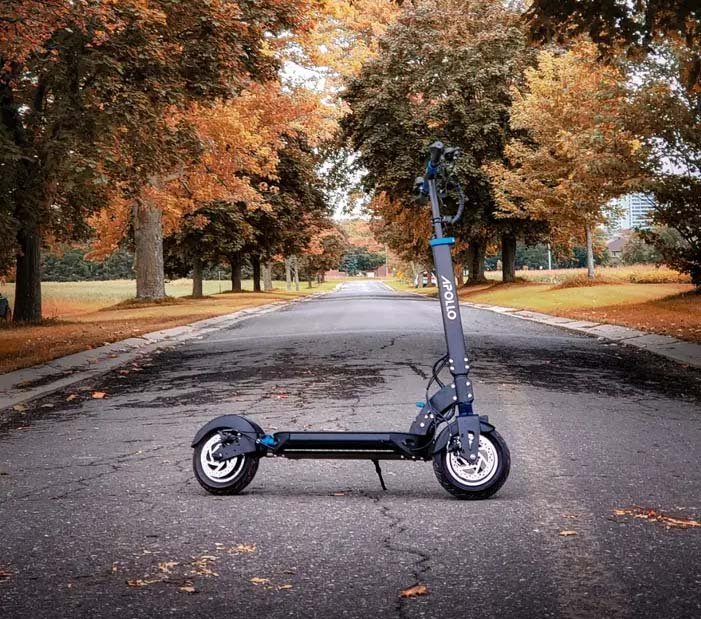 Build Quality
Overall, the build quality of Explore leaves nothing to desire. It is solid where it needs to be; its moving parts function so smoothly to deliver the whisper-quiet ride performance that earns the Explore its reputation for discretion.
Its forged aluminum exoskeleton is lightweight but stiff enough to provide the kind of ride stability you would expect from a much heavier electric scooter. Rigorous quality controls from the manufacturer ensure that this sub $2,000 scooter is as durable as they come.
Out of the box, you'll hardly need to adjust it, except maybe to set it up according to your own preferences.
Is Apollo Explore Waterproof?
Apollo Explore has an IP rating of IP54, a fair amount of water resistance considering the price tag. It should be able to tolerate light rain and splashes without a problem.
However, you should note that the manufacturer's warranty does not cover water damage to the scooter. Their stand is that they're aware of the scooter's limits in terms of water resistance, and therefore can't know whether the rider has exceeded the recommended rating.
Wheels & Tires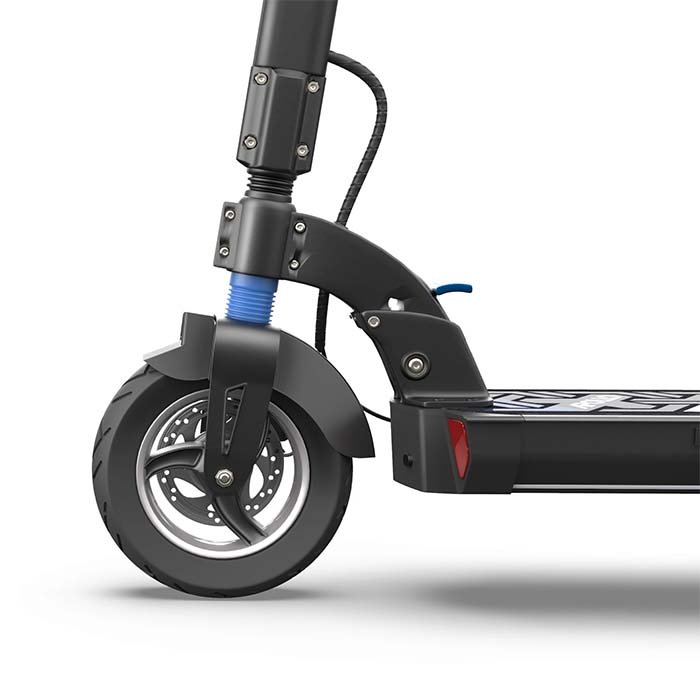 The Explore is equipped with 10-inch by 3.15-inch pneumatic tires from HOTA. These tires play a huge role in the stability and smoothness of the ride.
Their large width makes the ride feel more stable, almost as if the scooter is self-stabilizing. Their diameter allows them to roll over potholes easily rather than get stuck in them.
Using air-filled tires also has a massive advantage in terms of ride quality. On the Apollo Explore, the pneumatic wheels work together with the suspension to facilitate an exceptionally smooth ride.
Deck
Deck space is nothing if not adequate on the Apollo Explore. There is plenty of standing room on the 20-inch by 9-inch deck, which means sufficient wiggle room for quick foot changes on the go. The deck is raised 5 inches off the ground so that you won't be scraping on protruding rocks easily.
The Explore shows off its versatility with its telescoping stem, which allows riders of different heights to ride comfortably. Depending on your riding style, you can adjust the deck-to-handlebar distance to any length between 27.5 inches and 38 inches.
Portability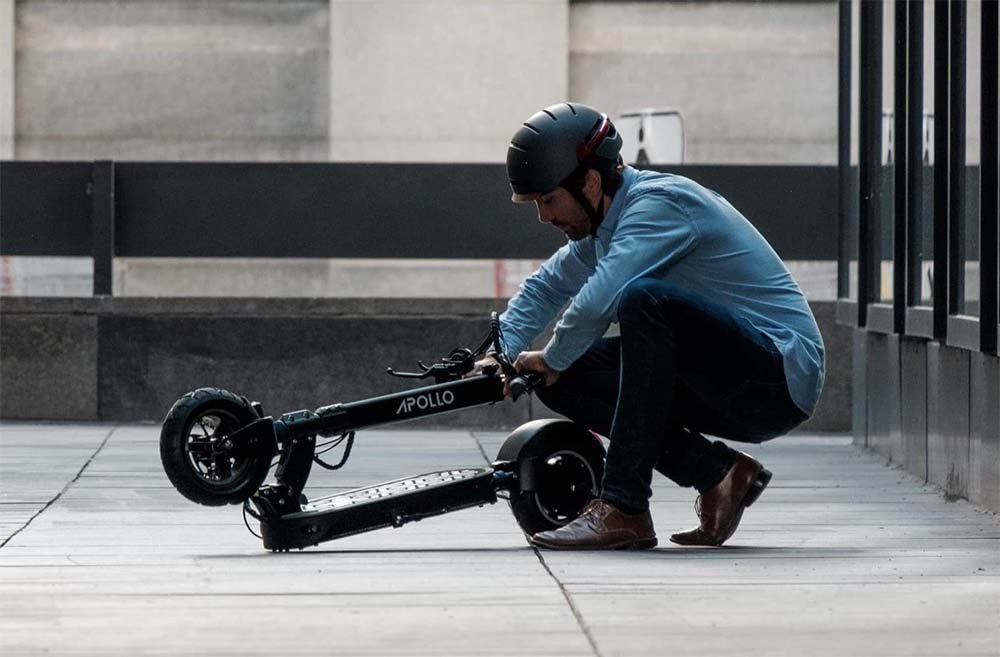 The Apollo Explore is remarkably portable for a scooter of its capabilities. For starters, it weighs only 52 pounds, and although this weight is significant, it's not above the comfortable lifting weight of a commuter's scooter.
More important is its ability to transform into a compact, folded package that you can store out of sight in a cinch. When folded, it passes the trunk test with room to spare, so it may well live in your car if you don't have enough room for it.
Folding Mechanism
The Explore can be shrunk down in two ways. The first way involves the telescoping mechanism of the stem, which allows you to extend or reduce its height.
The second is a traditional folding mechanism that folds the stem parallel to the deck. Crucially, it includes a locking mechanism to keep it in place.
That means that the stem remains stable when folded. To assure you of its security, the lock produces a satisfying click when activated. The handlebars also fold into the stem to increase the scooter's portability. They use a screw-type mechanism to stay locked; it's more reliable than spring-loaded locking mechanisms.
Lights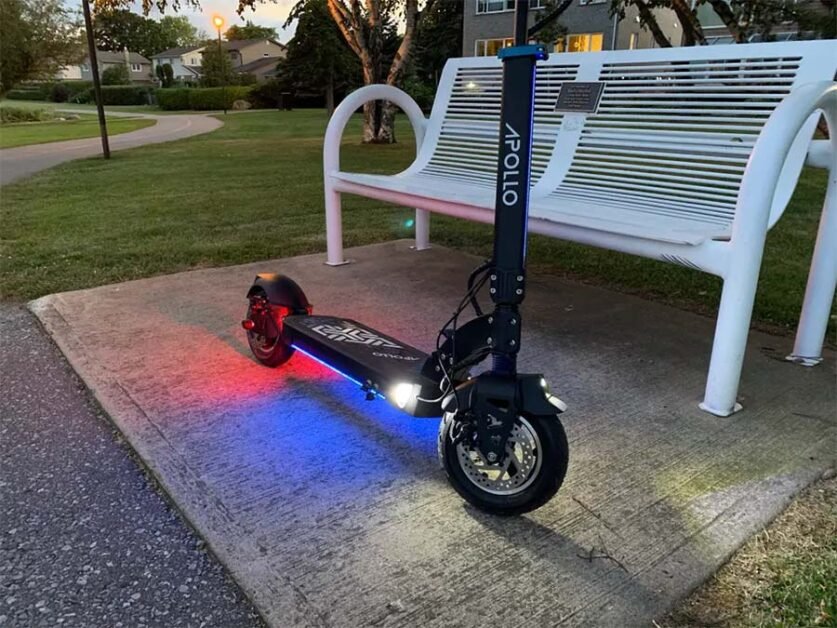 Although the Apollo Explore comes with built-in LED lights, they are too low to provide any real visibility at a distance. You may need to invest in a handlebar-mounted LED lamp if you plan on doing a lot of night traveling.
The lights on the Explore include a couple in the deck, side deck, and on the stem. The rear fender doesn't have a light, but it does come with a reflector.
Cockpit

There's not much to look at on the cockpit of the Apollo Explore—just a couple of brake levers and a trigger-style throttle. Most riders would want this kind of simplicity.
The QS-S4 trigger throttle is accompanied by an integrated color LCD that serves as the speedometer, odometer, and battery status display. It's the same display that you'll use to adjust the regenerative braking strength, adjust the acceleration, and manipulate the onboard LED lights.
The trigger-style throttle can be tedious over a long distance, which is why Apollo has equipped the Explore with cruise control.
How to Access P-Settings of Apollo Explore?
To access advanced P-settings of Apollo Explore, just press and hold the power and mode button at the same time. To cycle through different settings, press the power button. For changing the values of the current setting, press the mode button. See from the video below, what you can change on your scooter through the P-settings.
Customer Support + Warranty
Apollo's customer support is as professional as you would expect it to be. But, the game-changing feature is their 24-month warranty, which includes at-cost repairs for wear-and-tear components within that same period. This is almost unheard of in the scooter industry. Most warranties only provide coverage for the first 12 months.
For defective scooters, Apollo covers the shipping costs for all returns. Users only need to pay for shipping when sending their scooters back for wear-and-tear repairs.
Comparisons
Apollo Explore vs Apollo City
When they go head-to-head against each other, the Apollo City is slower (28 MPH) and has a shorter range (28 miles) than the Apollo Explore. Both electric scooters, nevertheless, have the same water-resistance rating (IP54).
However, when it comes to portability, the City is the better scooter. At about 40 pounds, it is more than ten pounds lighter than the Explore. It is also slightly smaller when folded (42.91×7.87×13.78 in) and therefore much easier to commute with on a regular basis.
Unfortunately, its smaller tires (8.27 in) don't inspire good off-road performances or comfortable rides over long distances.
Apollo Explore vs EMOVE Cruiser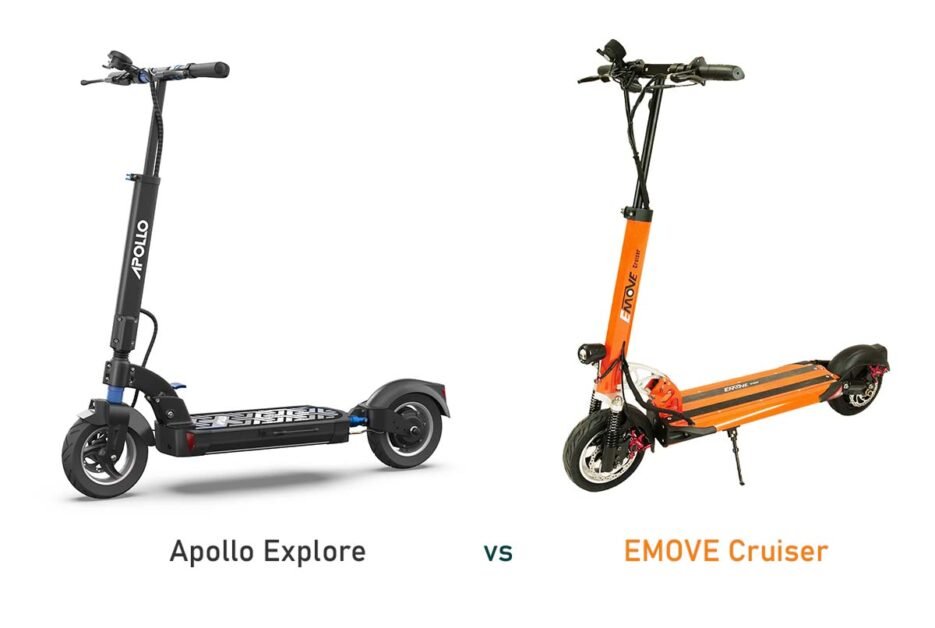 Apart from its significant range advantage (62 miles), the performance of the EMOVE Cruiser is pretty much on par with that of the Apollo Explore.
That said, the Explore is much faster and has better acceleration than the long-distance scooter because its motor is significantly more powerful.
However, the EMOVE Cruiser has a bigger payload capacity (348 pounds) and better water resistance (IP67), so it's more rugged and reliable.
It's also surprisingly small despite its stronger build quality, standing at only a couple of inches taller (47.64×9.84×15.75) than the Explore when folded.
Its only flaw is its motor, which is only 600W. The Explore blows it out of the water in a head-to-head power competition. Nevertheless, both scooters feature pneumatic tires and reliable disc brakes.
Conclusion – Is Apollo Explore Worth It?
If you're looking for a scooter with well-balanced features and an extra-long warranty, then look no further. This is a scooter that's designed to go the distance each day and provide a premium ride experience for riders with a small budget.
It is a bit heavy to carry, so it's not the best option if you live up several flights of stairs or use the subway frequently.
But in terms of speed, range, ride quality, and hill-climbing performance, the Apollo Explore is one of the best electric scooters for commuting.