Those growing teen years are the best time to begin teaching your child about the streets, the traffic, and traveling on their own. While roller-blades or bikes are preferred by some, electric scooters seem to have made a total rage in recent years.
They are an amazingly cool means of transport when it comes to riding around the neighborhood, heading to school, or simply exploring the streets with friends.
There are so many motorized electric scooters out there for kids, offering the right features and design to suit small riders. Several brands manufacture cool e-scooters with features like fast top speeds, folding mechanisms, solid but lightweight construction, very efficient brakes, and more.
If you are looking for the best electric scooter for teenagers, we have bundled up the top 7 products on the market below, along with a few tips for parents to make it all easier.
Electric Wheelers is reader-supported. Although we independently research and test products, we may receive a commission on purchases made from our chosen links. Read more…
Top 7 Electric Scooters for Teenagers
Related: Best Electric Scooters for Kids
---
1. NIU KQi3
Electric scooter for a trendy teen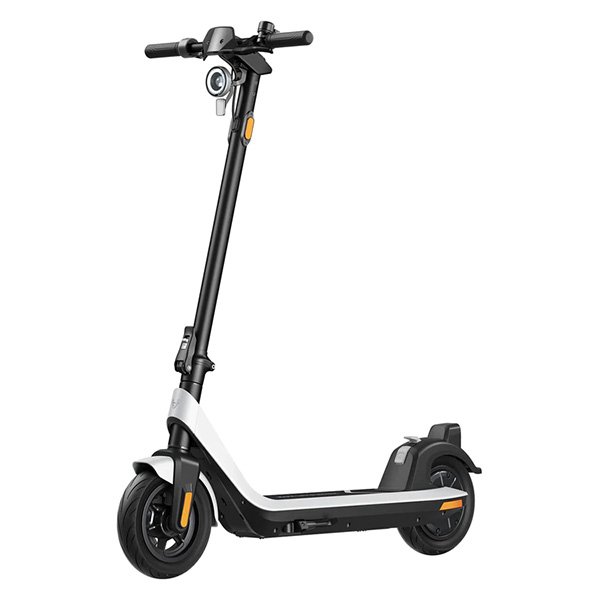 Check Price from Amazon | Check Price from NIU
The whole idea behind this commuter scooter and its design is to provide kids the freedom and flexibility to move around freely. NIU KQi3 offers good max speed, great construction, and a comparatively quick charging time.
Specifically, the top speed is up to 20 mph while the range goes up to 40 miles. That's what makes this e-scooter the perfect motorized scooter for teens focusing on both speed and distance.
The NIU KQi3 Series comes with 3 different trim levels – Sport, Pro, and Max.
Sport has a 300W motor with a top speed of 17.4 mph and 24.9 miles range.
The Pro model comes with a 350W motor, goes up to 19.9 mph, and can cover up to 31 miles.
The Max has a motor of 450W, which can provide a top speed of 20 mph. The range is 40 miles.
The large 9.5-inch wheels with pneumatic tires allow the user to ride over slightly rough terrains too. The aircraft-grade powder-coated aluminum makes it durable, while a bright headlight and tail reflector keep the rider safe in the dark.
Pros
Great folding mechanism
Decent speed
Solid range
Constructed with aircraft-grade aluminum
Low-maintenance
Cons
A bit heavier than some lightweight electric scooters
Rough riding experience on very bumpy surfaces
---
2. Segway Ninebot MAX
Best electric scooter for teens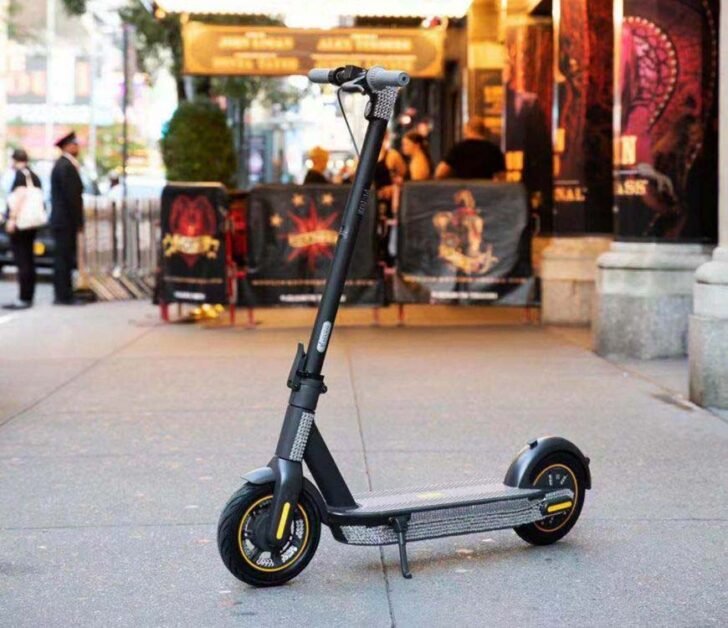 If budget is not a concern and the best-in-class features are what you are looking for, the Segway Ninebot MAX is definitely, what you want for your kid.
Speaking of top speed, the scooter reaches 18.6 MPH and totally smashes its competition with a strong 36V 15Ah battery that allows the e-scooter to run 40.4 miles when you charge it once. If your kid is going to ride to school, getting them back and forth is not going to be an issue as this scooter can be a more-than-perfect solution to the same.
It has a wide deck that lets the kid enjoy a long ride with great comfort. The wheels are accompanied by an aluminum rim, while the body of the scooter is worked up with high-quality aluminum for extra durability. It has also a disc brake on the front wheels.
Although the Ninebot Max weighs 42 lbs, its 350-watt motor explains it all very well, along with 10-inch tires and a large battery. It is a must mention that the warranty on the e-scooter lasts for 12 months, which is more than most competing models in stores.
Pros
Long-range
Self-healing tires
Cruise control
LED display
Cons
No suspension
Portable but on the heavy side
---
3. Hiboy S2
One of the most affordable electric scooters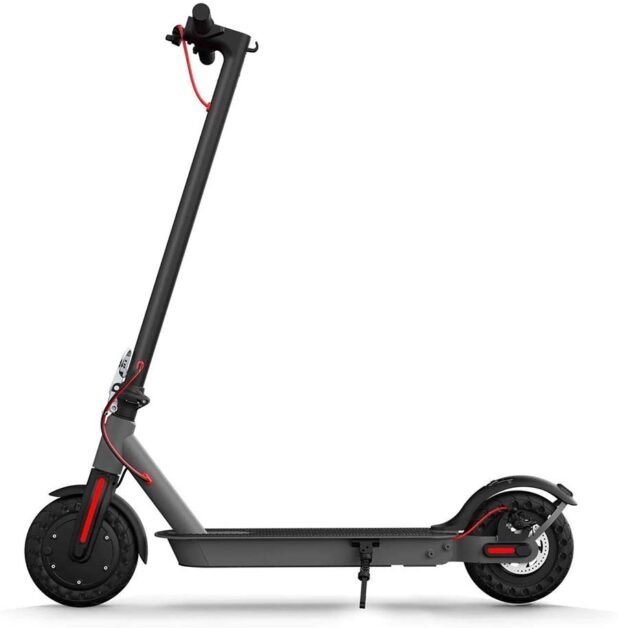 Check Price from Hiboy | Check Price from Amazon
Hiboy S2 is very similar to one of the most loved electric scooters Xiaomi M365. Hiboy S2 has the same great features. It's not only quite affordable but also well-built and fast.
While most e-scooters out there in this price range can't go over 12.5 mph, the S2 is capable of reaching up to 18 mph, thereby giving tough competition to its contemporaries. This also makes the scooter more suitable for riding in bike lanes without holding riders up too much.
It doesn't lack safety at all when it comes to the brakes and lights. The scooter sports a double braking system, with both front and rear brakes that offer strong stopping power in sudden braking, that too without leading to any back lifting. The vehicle has got an integrated rear light too, while the tires feature anti-slip treads to handle smooth surfaces.
Pros
Sleek and impressive build quality with a strong aluminum frame
Regerative front e-brake
Flat-free solid tires
Cons
Some users feel that the motor could do with a bit more power
---
4. Razor E300 Electric Scooter
Best Razor electric scooter for teenagers
Razor, one of the most outstanding electric scooter makers, is widely known for its battery-operated models. The Razor E300 electric scooter is a great pick with a decent motor, good top speeds, and strong wheels. Razor E300 is a wonderful choice if you want an electric scooter for 13 years old or older teenager.
One of the most affordable scooters out there, this one provides 15 mph for top speeds, which is good enough for kids who like riding fast. The credit for the speed limit goes to a strong 24-volt motor accompanied by lead-acid batteries, which are capable of providing enough power for an uninterrupted 45-minute ride. In other words, it rides about 7.5 miles in ideal conditions.
Another great feature is the large wheels on the Razor E300, precisely measuring 9 inches. The wheels of the e-scooter are air-filled that works wonders for shock absorption to make the rides less bumpy. The large size of the wheels makes them support more weight, and that's why the scooter can handle a max rider weight of 220 pounds.
Pros
Wide deck for extra comfort
Amazingly easy to operate
Decent maximum riding speeds
A quiet motor
Cons
Long charging time
Can be too heavy for young kids
---
5. Razor E100 Electric Scooter
Perfect electric scooter for 10-year-old
The Razor E100 is the perfect children's electric scooter that comes with a little yet very powerful motor that can reach comfortable speeds. The scooter is surely an impressive one, letting you control the throttle and handbrake with the handles. A safety feature stops the motor from engaging until the kid is ready to ride.
The children's electric scooter comes with a wide deck and an easily adjustable handlebar, but the available colors make it totally happening. Whether your kid likes Hello Kitty or a lovely black, this one has got it all.
It comes with a high-torque chain-driven motor that can reach a maximum speed of 10 mph. The grip twist throttle allows you to control the speed, and you have also got a hand brake for the rear wheel. To ensure that the kid doesn't kick in with maximum speed, they must start the motor by actually moving the bike. The engine will not engage until the vehicle reaches three miles per hour.
The handlebar is amazingly easy to adjust to work just right for different sizes. The scooter is mainly designed for kids and weighs up to 120 pounds. It's equipped with a large 8-inch pneumatic front tire while the smaller rear tire is made from urethane to smooth out bumps and yield a comfortable ride.
Pros
Super smooth riding experience
Easily adjustable handlebar
Powerful motor
Cons
Some users have experienced slight issues with the brakes
The chain cover is not that durable and also considerably large
---
6. Segway Ninebot ES2
Great electric scooter for 14-year-old or older
Considering the amazing specifications and cool features, the Ninebot ES2 comes for quite a cheap price while sporting a great design at the same time.
The strong battery of the e-scooter makes it ride for quite a good distance on a single charge. Specifically, it runs around 15.5 miles per charge. That said, the ES2 surely has a lot to recommend it. The superior one-touch folding system of the electric scooter makes it super convenient, particularly if your kid plans to carry it along on public transport or wants to tuck it in under the desk.
Ninebot ES2 is a great motorized scooter for teens because it features cool front and rear integrated lights, along with front and rear suspensions. However, some riders may not be that fond of the fact that the lights are always on.
Another point to note is that the scooter allows you to extend its range by adding a secondary battery pack. Although the extra pack can add 50 percent more to the price, it makes sure that your vehicle keeps rolling for nearly 28 miles, while also boosting the top speed to 18.6 mph.
Pros
Modern and sleek design
Lightweight
Cruise control
Customizable color lights
Cons
Uneven terrains may make the ride feel bumpy
Some cheaper models perform similarly
---
7. Razor E200 Electric Scooter
Another great Razor electric scooter for teens
The Razor E200 Electric Scooter is marked by flexibility and equally amazing performance. The super sleek design of the scooter gives you the option to ride it without a seat, letting you install or remove it as and when needed, while also adjusting its post to suit the child's needs.
The scooter is powered by an efficient high-performance motor that lets the kid get a maximum speed of 12 miles per hour. Plus, they can easily control the cruising speed using the twist-grip throttle connected to the handlebars.
It has got a sturdy steel frame and rear-wheel drive that allows riders of all ages to travel with utmost convenience and safety. Those 8-inch pneumatic tires and a retractable kickstand provide the right support and balance while making the motorized scooter for teens ease of use. However, one only gets 40 minutes of riding in one charge.
Pros
Soft and comfortable seat
Use as both, stand-up and sit-down scooter
Sufficient speed
Easy controls
Cons
Some users find the 40-minute ride insufficient after 12 hours of charging
---
Tips For Parents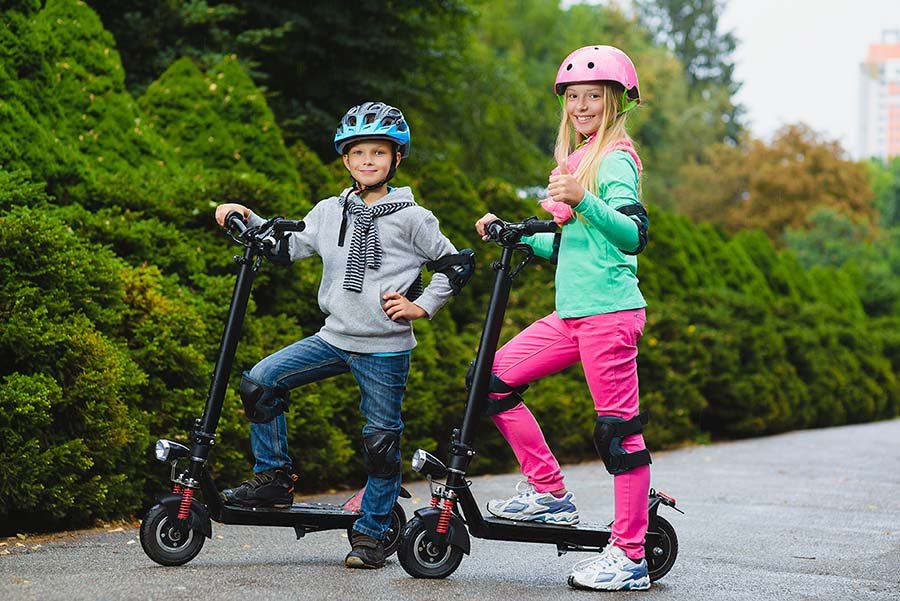 How to Choose an Electric Scooter For Your Kid?
Related: Best Electric Scooters for Kids
How big is your kid – Scooters have weight limit
It's essential to make sure that the electric scooter is strong enough to carry enough weight as your child grows. Most of the good ones out there can easily do that, but some cheap models come with a low weight limit, which makes them work only for a year or two. Simply match the age and weight of your kid to the recommendations of the manufacturer. Exceeding the weight capacity may decrease the scooter's performance, or even break it.
How far does your kid have to go – Scooters have range and battery limits
Charging an electric scooter may require up to 12 hours, so they must provide enough ride time. Most scooters go for about 40- to 60-minutes when charged, that too with the maximum load at maximum speed. If your kiddo is lighter and rides slowly, they can ride longer. Pricier models can ride for about 10-mile round trips in one charge, thereby being ideal for kids commuting to and from school.
---
Essential Electric Scooter Safety Measures
Even electric scooters can lead to injuries or accidents if the proper safety measures aren't followed. Make sure your kid keeps the following in practice.
Helmet and gear
Wearing a sturdy e-scooter helmet is the most important thing while riding. Other gear to ensure safety include wrist guards, knee pads, and elbow pads.
Lights
Always equip the e-scooter with proper lighting and turn them on when riding in low-light environments.
Start slowly
There's no need to purchase the fastest scooter in the market. Also, make sure your kid learns how to brake and use the throttle properly.
Avoid traffic and follow rules
The kid must stay away from traffic unless it becomes unavoidable. It's recommended to ride around safe neighborhood roads, while it's essential to follow traffic rules when riding in public. Tell the kids to also be mindful of other motorists and pedestrians.
---
Conclusions
It can rightly be concluded that a motorized scooter for teens is not only about fun and adventure, but also makes the kids so much more independent and aware of the roads.
Even more amazing is the fact that they are available in different budgets and sport different features to suit your child just right.
However, before allowing them to ride alone, all you need to do is make them learn about the necessary safety measures, while also not rushing at high speeds just for the sake of the thrill. After all, being responsible with their electric scooter is the foremost thing to do.