Electric Wheelers is reader-supported. Although we independently research and test products, we may receive a commission on purchases made from our chosen links. Read more…
This unique fusion of a skateboard with the self-operating elements of a scooter makes hoverboards another name for outdoor thrill and joy. If your child is above 8 years of age, presenting them with a hoverboard would be one of the best choices.
The rising popularity of hoverboards has made them a dream gift for most kids!
Hoverboards or self-balancing scooters are very trendy these days. Since technology is evolving rapidly, most hoverboards for kids have got some really fascinating innovations. On decent hoverboards, you can expect features like:
Bluetooth connectivity
Colorful lights
Multiple riding modes
Efficient self-balancing technologies
Strong tires
And so much more
The hoverboard is not just an adventurous toy, but also a one-of-a-kind means to learn and enhance your child's cognitive abilities.
However, buying a hoverboard for kids is not only about the fun factor – it calls for so many other considerations, including safety, battery life, top speeds, design, budget, and more. The fact that the market is loaded with numerous models coming with a set of different features makes it even harder to take a pick and get a board that excites your child and caters to your concerns. 
As long as the model is age-appropriate and comes with the right safety certificates, you can get exactly what you are looking for as most boards are crafted with the safety of kids in mind. After thorough research, we have gathered a list of the 6 best hoverboards for kids that make sure your kiddo gets the most amazing ride while being totally safe and secure at the same time.
Best Hoverboards for Kids
Tomoloo Music-Rhythmed Hoverboard
Perfect hoverboard for boys and girls with lots of features
Not just a regular hoverboard – this one by Tomoloo comes with some of the most exciting features out there.
While the superior self-balancing technology offers a stable riding experience, the board is certified to international standards to minimize injury risks. Weighing 17.6 lbs, it delivers cruising speeds of up to 7.5 mph and can go 6 miles in a single charge.
This premium music-rhythmed hoverboard comes with a built-in Bluetooth speaker that adds to the overall fun of the ride. It has got numerous hits, including the 'Baby Shark Dance', and features an RGB lighting design that matches the playback beats.
You can use an app to control the speed, speakers, steering sensitivity, startup, and shutdown of the board.
---
SISIGAD Hoverboard
One of highest rated hoverboard in Amazon
This gorgeous self-balancing Sisigad hoverboard is perfect for even the most novice riders.
Traveling up to nine miles per hour gives your kid plenty of adventure. The Sisigad hoverboard ensures a smooth and enjoyable ride with its 6.5-inch rubber tires. Also, non-slip pedals keep the experience totally safe for your child.
Additionally, this model comes with an in-built Bluetooth speaker that you can easily connect to your kid's portable devices, allowing effortlessly them to tune in to their favorite audiobook or music.
Bright LED lights make sure that kids can cherish their new toy even during the evenings and night-time.
---
StreetSaw DailySaw
One of the fastest hoverboards for kids
One of the fastest hoverboards out there, Dailysaw comes with a powerful 700W motor and can deliver a top speed of 10.5 mph. You can travel around 12.5 miles on a single charge which takes no more than 2 hours to go from zero to a hundred percent.
DailySaw hoverboard has an IP54 waterproof rating!
A true all-rounder in terms of performance, this model steals the show with its aesthetic construction and cool design. The sleek look of the board is rightly complemented by its dual LED headlights, while protective bumpers make the board safe to ride.
Like most modern hoverboards, DailySaw also comes with Bluetooth speakers as an additional feature.
Although it can easily climb 20-degree slopes, it's not crafted for rough terrains.
---
Hoverstar Hoverboard HS 2.0v
One of the most affordable hoverboards with safety certification
The very first glance at this gold-hued Hoverstar hoverboard explains its futuristic and appealing design.
When your kid plays music on the in-built Bluetooth speaker, the LED lights on the board light up in innovative ways to add so much more to the beauty of the HS 2.0.
The cyber-truck theme unconventional style is combined with well-tested lithium batteries that comply with all safety standards.
The makers have used long-lasting premium quality plastic for the construction, while the Bluetooth speakers add to its functionality.
Although the board can carry kids and adults alike, it's not meant for too heavy riders.
---
Swagtron Swagboard
A cute pink hoverboard for girls from a trusted manufacturer
Swagtron markets this hoverboard for kids as a way to express their adventurous selves.
One of the best parts about this high-quality board is that it's free from fire hazards as it features a non-lithium battery that has passed thorough battery charging tests. The board meets all UL standards.
The Swagboard also has got lots of indicators or turn signals, including movement indicators and light indicators for battery power and system issues. It's constructed of an impact-resistant ABS polymer and weighs only 22 pounds which makes it easy to carry along for kids.
The powerful 250-watt dual motors can reach the top speed of 7 mph and can climb 30-degree hills. However, it doesn't have Bluetooth speakers.
---
UNI-SUN Hoverboards
Purple hoverboard with great ratings on Amazon
Another amazing hoverboard for kids, the Uni-Sun board passes all necessary safety tests, accompanied by fire safety and charging system inspections.
You really don't need to worry about the safety of your kid as this board is also equipped with an efficient self-balancing system that helps amateurs to learn from scratch.
It has got sturdy and very firm tires with 6.5″ flashing wheels charmed up by LED Flashlights on both sides.
This board's durable structure and strong shell house a 48Wh lithium-ion battery and a dual 300-watt hub motor. It charges quickly and comes with great Bluetooth support.
However, some users have complained that sometimes the battery may die faster than advertised.
---
Conclusion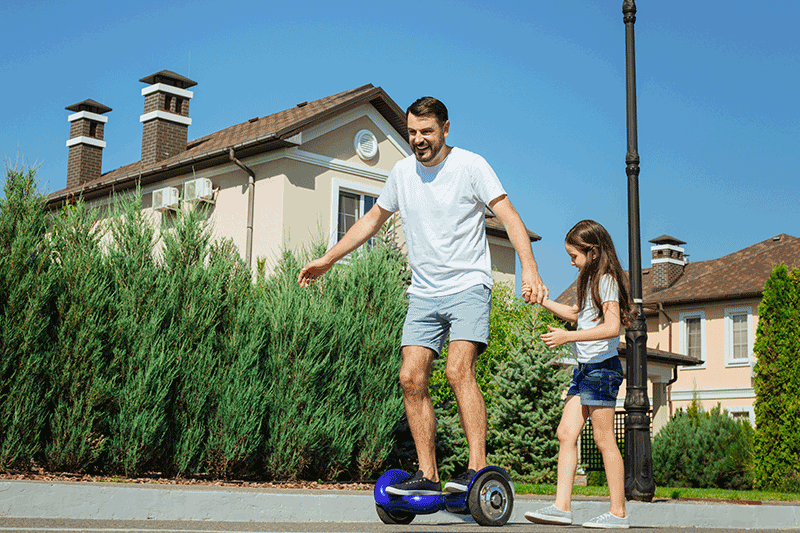 Whether you are looking for a cool hoverboard for girls or a durable and rugged hoverboard for boys, the aforesaid list has one or other models rightly fit your requirements.
In fact, these top-notch models make it so risk-free and reliable that your little one can start their journey of adventures without a doubt. Offering some of the best features out there on reasonable budgets, these hoverboards are all your child needs to get outdoors for a fun-filled ride!
---
FAQs
How to Choose a Hoverboard for Kids?
Buy a certified product. UL2272 is a certification, which is given to electrical mobility devices that are gone through safety tests and met all the standards. Make sure to never go for a hoverboard that's not UL2272 certified.
Check manufacturer's restrictions and limits. They usually add weight and age limits. Go for a hoverboard that suits your childs age and weight.
Weight of the hoverboard. It is important if you or your kid must transport the hoverboard. Lightweight hoverboards might be a little bit more expensive, but they are much more portable.
Mileage. Some hoverboards can go just couple of miles, while others can go over ten miles. So this is definitely a factor to consider.
Motor. The higher is the motor wattage, the more efficient the hoverboard is. Cheaper models have motors of around 400W, while a more advanced model can have around 800 watts. Bigger motor can ride faster, climb slopes, and carry more weight.
Charging time. Some hoverboards will get fully charged within 1-2 hours, while some models will charge 5-6 hours.
Are Hoverboards Safe?
Hoverboards are great fun but sometimes it's quite common for children to fall off their hoverboards. It can end up with injuries to the wrists, head, and forearms. While some say that falling and getting up is just a part of being a child, I would suggest some safety tips:
Wear the appropriate gear. A helmet, knee pads, wrist guards, and elbow pads are a MUST. If your kid is wearing safety gear, most of the risks are already eliminated.
Get away from traffic. Child with a hoverboard in the middle of cars and other vehicles can be dangerous.
Right falling technique. Teach your kids some hoverboard lessons . The right falling technique will prevent injuries and accidents.
There are videos on the internet about some hoverboards that have caught fire. There are also some smart tips to avoid such hoverboards.
UL-Certification. As mentioned above, buy a certified product. Then you know your hoverboard is tested and met all safety standards.
Don't overcharge. When the battery is full, unplug it. It is even recommended to take your hoverboard for a short ride after charging. So the battery level wouldn't be 100% when you store it for a longer time.
Avoid direct sunlight. Don't keep the hoverboard too long under the sunlight. Check that battery won't get too hot.
Don't drop your hoverboard. Don't let your kid to kick or drop the hoverboard. Be gentle with the hoverboard and by that you  avoid damaging the separator sheets in the battery.