Electric Wheelers is reader-supported. Although we independently research and test products, we may receive a commission on purchases made from our chosen links.
The Dualtron Strom is one of the premium electric scooters on the market right now.
Of course, it has a great removable battery system, but there are tons of other great features such as its wheels, acceleration rate, and range. It really is a great scooter whether you are looking for something to ride to work or seeking your next thrill.
In this Dualtron Storm review, we are going to break down all of the different features that you need to know about before deciding whether or not this is the scooter for you.
Electric Wheelers is reader-supported. Although we independently research and test products, we may receive a commission on purchases made from our chosen links. Read more…
Dualtron Storm Overview
MSRP: $4,690
To Whom?
Although it has powerful dual motors and great suspensions, it is not meant for off-roading. It comes with street tires, so it indicates its belonging to the urban environment.
It's not an entry-level city commuter either. You don't need so powerful scooter just for commuting.
Dualtron Storm is built for experienced riders who want to experience extreme accelerations, fast speeds, and premium quality.
It is also suitable for heavy adults since the scooter can hold up to 330 lbs.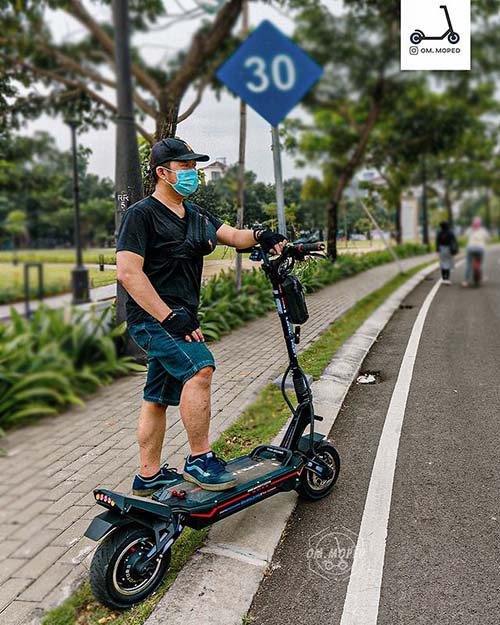 Dualtron Storm Specs
| | |
| --- | --- |
| Motor | 2 x 3,320W Dual Motors |
| Max Speed | 55 mph |
| Battery | 72V 31.5Ah (2,268Wh) LG Removable battery |
| Max Range | 80 miles |
| Recharge Time | 10 hours with 2 standard chargers, 5 hours with quick charger |
| Brakes | Dual hydraulic brakes + electronic brake with ABS |
| Suspension | Double rubber suspension system |
| Weight | 102 lbs |
| Weight Capacity | 330 lbs |
| Tires | 11″ tubeless pneumatic street tires |
| Lights | Dual LED headlights, taillight, brake light, turn signals, stem lighting |
| Hill Grade | 35 degrees |
| Dimensions | 51.1″ x 47.6″ |
| Folded Dimension | 23.8″ x 47.6″ |
| IP Rating | – |
Pros
Removable battery
Great range + amazing speed
Premium build quality
Cons
No IP rating
Very heavy
Not very bright headlights
Dualtron Storm Performance
Speed and Acceleration
Perhaps the spec that people are most interested in when looking at high-speed electric scooters is the top speed and how fast it accelerates. Well, the Dualtron Storm scooter is definitely competitive in this area.
It's advertised to get up to 55 miles per hour, and riders have found this to be true.
As far as acceleration goes, it can get from 0 to 15 in just 2.1 seconds and 0 to 30 in just 4.5, which is right on par with other top-tier electric scooters on the market right now.
Hill Climbing
Dualtron Storm is one of the best hill climbers among all electric scooters.
It is capable to climb hills up to 35 degrees. This kind of incline is really steep. It's even difficult to climb it by walking. But the Storm can easily handle it thanks to powerful motors and ultra-sharp torque.
The video below demonstrates how steep a 30-degree hill is.
Battery and Range
One of the coolest features of this scooter is actually the battery.
Dualtron has designed one of the largest removable batteries ever put into an electric scooter. It fits snuggly into the deck and is super easy to take in and out.
With just one battery, you can ride this scooter for up to 80 miles, and if you carry the second battery with you, you could ride it for 160 miles before you have to stop and recharge it.
This means that you could go all the way from Philadelphia to New York without having to recharge your scooter.
Brakes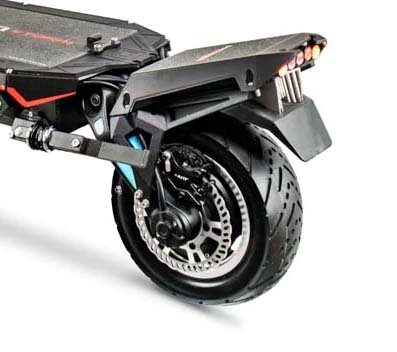 If you are going to get a high-speed electric scooter, you need to be sure that you can trust the breaks.
The good news is, the Storm is highly competitive when it comes to its braking system.
It can go from 15 miles per hour to nothing in under eleven feet, which means it is in the top-tier of braking systems, though there are a few slightly better on the market right now.
The other important thing to keep in mind is that the Dualtron Storm does have a higher deck, which means it is more prone to the rear wheel lifting up if you have to hard break.
Suspensions
The Dualtron Storm has a rubber suspension system that helps you maintain control of your scooter while breaking, even if you find yourself needing to slam on the breaks a bit.
There are some riders that say that they find the suspension to be a bit stiff, but it is easy to switch out if you decide that you want a different suspension system with a little bit more give.
Nevertheless, lots of different people have used this scooter, and the suspension has been proven to work well even with bigger or more aggressive riders.
Dualtron Storm Design and Features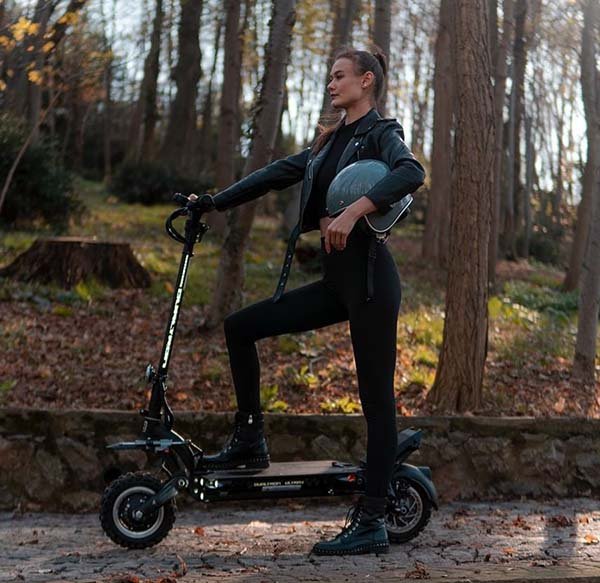 Build Quality
The build quality on the Dualtron Storm is really quite exceptional. It is stable, durable, and extremely well made.
Some people do find that the handlebars squeak a little bit, but with a little WD-40, this problem can be easily solved.
It is also really easy to make most other adjustments to the build that you might want to make. For instance, it is really easy to add a bar riser or to change out the tires.
However, this scooter is truly beautifully crafted, so you will not have to make a lot of adjustments to enjoy it.
Is Dualtron Storm Waterproof?
Dualtron Storm scooter is not waterproof. It doesn't have an official IP rating. It is one of the biggest drawbacks of this scooter.
It means that you should not ride Dualtron Storm when it's raining or snowing outside. Warranty doesn't cover damages done by the rain.
Portability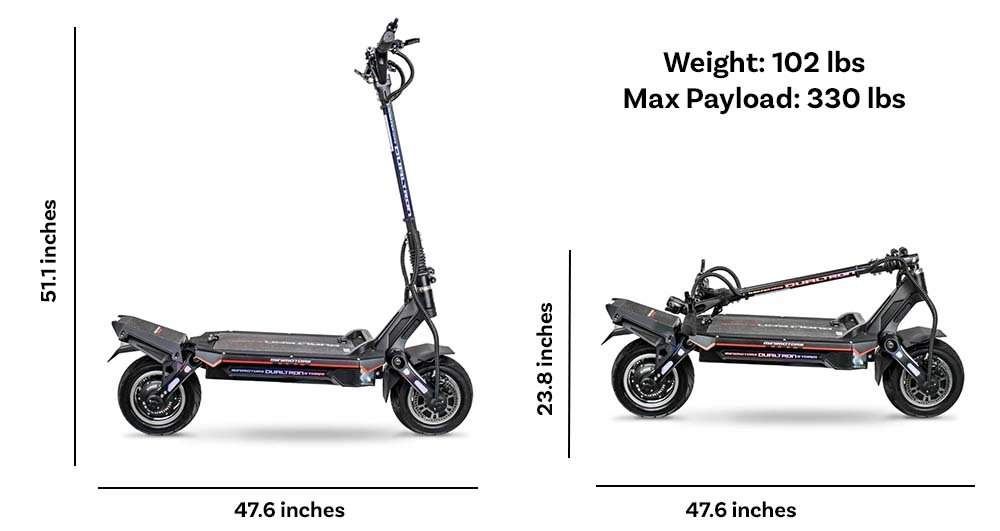 If you are looking for a super portable electric scooter, this may not be the scooter for you as it does weigh about 102 pounds.
While this hefty weight does mean it is pretty durable, it unfortunately also means that it is not super easy to carry around. You are definitely not going to want to lug it up and down a set of stairs every day.
Folding Mechanism
However, the scooter handlebars do fold down, which does make it smaller and much easier to store.
Once folded, the scooter is just under 24 inches tall and 48 inches long. The battery is also pretty portable, so you can easily take it out to carry it to its charging port.
Or, if you are going on a ride and want to take multiple batteries with you, one will fit comfortably into most backpacks.
Wheels and Tires
The two tires on the Dualtron Strom scooter are pretty standard in size at 11 inches in diameter.
While the tires that come with the scooter are not really designed for anything but on-road riding, the designers at Dualtron kept all of you off-roaders in mind when creating this scooter.
You see, the rims on the tires are separate from the motor. This means that by switching out the rims, you can easily switch out the tires between on-road tires and off-road tires.
Deck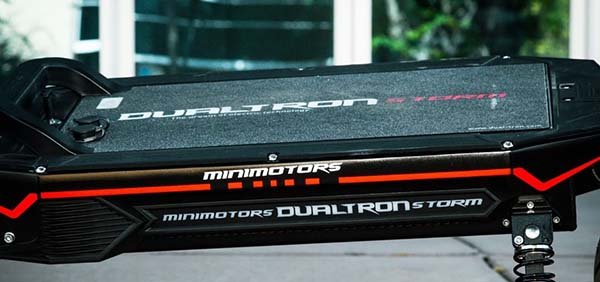 The deck is huge. It has a nice grippy cover on it for better traction. Since the whole deck is basically a battery, there is a small voltage display on it.
The deck also has a nice extension at the rear. Since the scooter has insane acceleration, it is comfortable to put your leg on that extension.
This deck extension has one more important function. It houses the controller of the scooter. I think it's a very clever design.
Cockpit
The cockpit on this scooter is sleek and easy to use.
One of the features that really make the Dualtron Storm cockpit stand out is the turn signals. The turn signal is operated with a switch so that you can feel whether or not the turn signal is on without having to look down.
A lot of scooters operate the turn signal with a button, which means you do have to physically look down to know whether or not the turn signal is on.
EY3 Display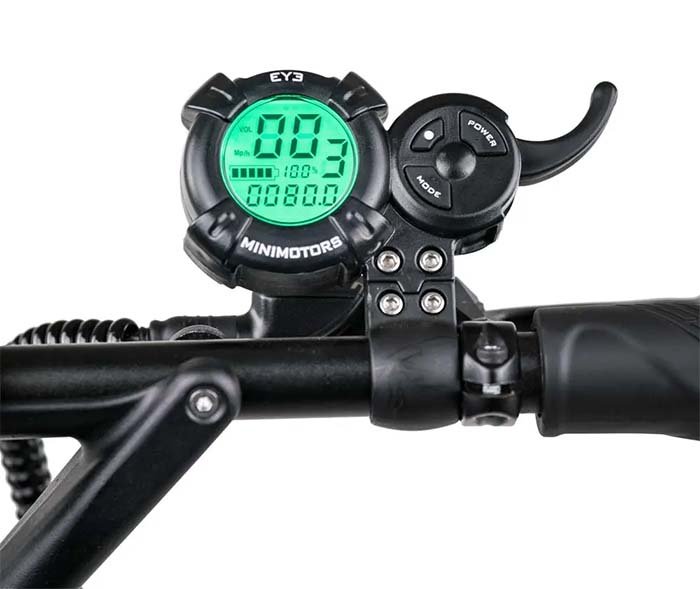 The Storm has the same EY3 display as every other Dualtron scooter. It's a reliable and durable display, where you can monitor all the necessary data.
In addition to regular data like speed, range, and trip time, you can use the screen to enter into the P-settings. There you can adjust numerous things like screen brightness, acceleration style, ABS system, cruise control, and much more.
Lights
Dualtron Storm has a decent lighting package. It has:
Double headlights
Taillight + brake light
Turning signals
Stem lighting
All lights are customizable via remote control. It can be seen from afar that there is a strong emphasis on appearance and style. The lighting is indeed very fancy but not entirely practical.
Although the Storm has double headlights, they are not very bright. Headlights are low mounted and they don't show very far.
Ride Quality
The Dualtron Storm definitely provides its riders with a bit of a thrill, as the ride is rather intense, and the throttle can feel a bit abrupt, especially if you are new to operating electric scooters.
However, as long as you are a decent rider, you should not run into any problems. Everyone from more laid-back riders on their way to work to more aggressive riders looking for a thrill should enjoy riding this scooter.
Comparisons
Dualtron Storm vs Thunder vs Ultra 2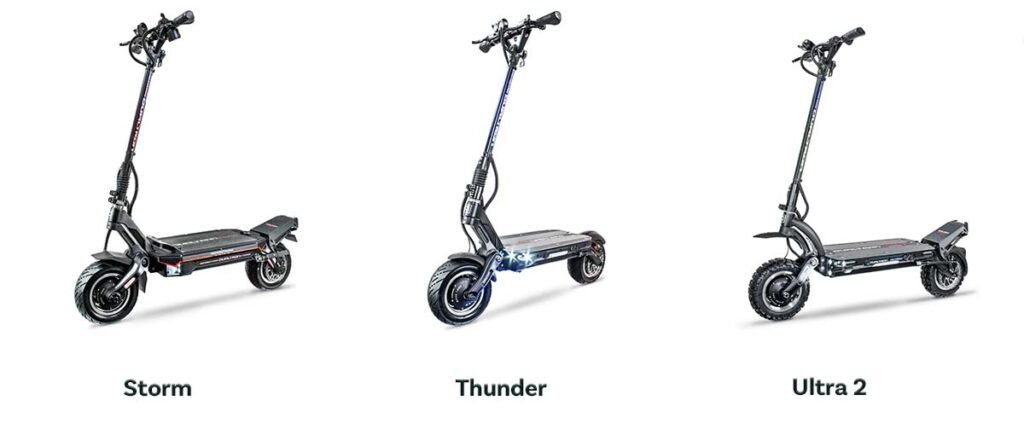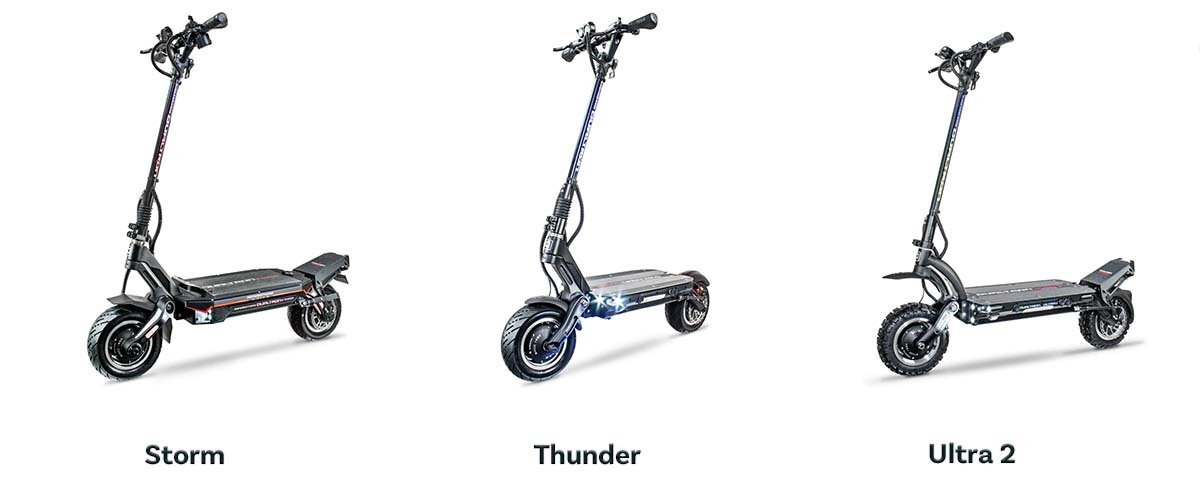 | | | | |
| --- | --- | --- | --- |
| | Dualtron Storm | Dualtron Thunder | Dualtron Ultra 2 |
| Motor | 2 x 3,320W | 2 x 2,700W | 2 x 3,320W |
| Max Speed | 55 mph | 50 mph | 55 mph |
| Battery | 72V 31.5Ah (2,268Wh) | 60V 35Ah (2,100Wh) | 72V 40Ah (2,880Wh) |
| Max Range | 80 miles | 75 miles | 60 miles |
| Weight | 102 lbs | 95 lbs | 88 lbs |
| Weight Capacity | 330 lbs | 265 lbs | 330 lbs |
| Hill Grade | 35 degrees | 35 degreed | 35 degrees |
| Dimensions | 51.1″ x 47.6″ | 48″ x 48.7 | 48″ x 47.6″ |
| Folded Dimension | 23.8″ x 47.6″ | 21.4″ x 48.7″ | 20.7″ x 47.6″ |
| IP Rating | – | – | – |
| Price | $4,690 | $4,590 | $4,190 |
Dualtron Storm vs Nami Burn-E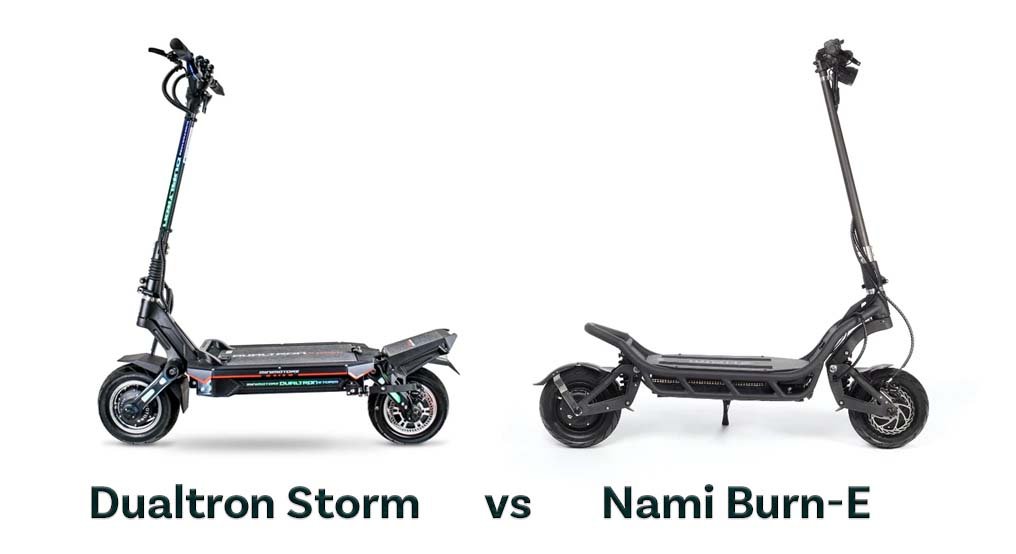 One of the biggest advantages of Nami is the IP rating. However, the Storm has much more powerful motors. But this is not reflected in top speed.
Overall, very similar scooters performance-wise with a very similar price point. See the related topic in Reddit, where the crowd is divided into 2. About half of them prefer the Storm while another half prefers Nami.
| | | |
| --- | --- | --- |
| Dualtron Storm | | Nami Burn-E |
| 2 x 3,320W | Motor | 2 x 1,500W |
| 55 mph | Max Speed | 60 mph |
| 72V 31.5Ah (2,268Wh) | Battery | 72V 32Ah (2,304Wh) |
| 80 miles | Max Range | 90 miles |
| 102 lbs | Weight | 103 lbs |
| 330 lbs | Weight Capacity | 330 lbs |
| 35 degrees | Hill Grade | n/a |
| 51.1″ x 47.6″ | Dimensions | 57″ x 53″ |
| 23.8″ x 47.6″ | Folded Dimension | 25″ x 53″ |
| – | IP Rating | IP55 |
| $4,690 | Price | $4,500 |
Dualtron Storm Review Conclusions
Dualtron Storm is a premium-quality scooter for an experienced rider.
That said, it's definitely not for everyone.
If you are an electric scooter enthusiast who likes aggressive riding then you wouldn't regret getting a Dualtron Storm.