Electric Wheelers is reader-supported. Although we independently research and test products, we may receive a commission on purchases made from our chosen links. Read more…
The Gotrax GXL V2 commuting electric scooter has quality disc brakes, pneumatic tires, and built-in LEDs. Quite frankly, you couldn't ask more of a $300 e-scooter. Also, it's one of the best-selling electric scooters on Amazon.
It is a classic beginner's scooter with an excellent balance of features, a good weight, and a decent range, making it a remarkably good scooter for urban commuters.
Overview
Gotrax GXL V2 – Who's it for?
Gotrax GXL electric scooter is an ideal option for riders that want a cheap but functional scooter.
It's not fast or powerful, and judging by its lack of suspension, the GXL V2 is not an off-road scooter either.
What it is a scooter for beginners that need to get from point A to B without breaking the bank.
Gotrax GXL V2 Specs
| | |
| --- | --- |
| Motor | 250W |
| Battery | 36V 5.2Ah (187Wh) |
| Recharge Time | 4 hours |
| Max Speed | 15.5 mph |
| Max Range | 12 miles |
| Brakes | Disc brakes + regenerative |
| Suspension | – |
| Weight | 27 lbs |
| Weight Capacity | 220 lbs |
| Tires | 8.5″ pneumatic tires |
| Lights | Headlight |
| Folded Dimension | 39″ x 17″ x 14″ |
| IP Rating | IPX4 |
Pros
Great value for the price
Good build quality
Cruise control
Pneumatic tires
Cons
No zero-start feature
Not suitable for heavy riders
Low top speed
Gotrax GXL V2 Performance
Speed and Acceleration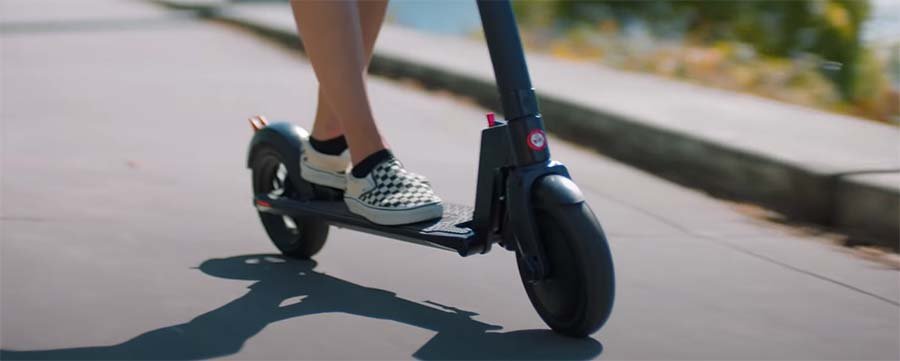 The Gotrax GXL V2 electric scooter has a manufacturer-claimed top speed of 16 MPH and a tested top speed of 13.5 MPH. Its 250-Watt brushless DC motor delivers relatively high torque despite maintaining low power consumption.
However, it's clear that this scooter wasn't built to carry heavy riders, which explains the sizeable difference between its claimed and tested top speed.
Acceleration tests show that the GXL V2 takes 10 seconds to go from zero to 15 MPH, which is not bad at all. In comparison, the Xiaomi M365, which costs a good $200 more, takes 6.3 seconds.
It's a little disappointing that you can only kick-start the GXL V2. It lacks a zero start feature, so you have to kick it up to speeds of about 2 MPH before the motor kicks into gear.
How do you use cruise control on a Gotrax scooter?

Gotrax GXL scooter has a cruise control feature. To activate cruise control, you have to maintain the speed for 10 seconds. Basically, the only way to activate the cruise control, you have to full throttle all the way down for 10 seconds. It's hard to engage it at a lower speed.
Gotrax GXL V2 Hill Climbing Capabilities?
A standardized hill-climb test with a 160-pound rider saw the GXL V2 take on a 10% hill and complete it in 20.9 seconds. It averaged a speed of 6.5 MPH on the climb.
This is very close to the hill-climbing abilities of the M365, the proclaimed king of budget scooters, which takes 20.8 seconds at a 6.5 MPH average climbing speed.
Gotrax GXL V2 Battery and Range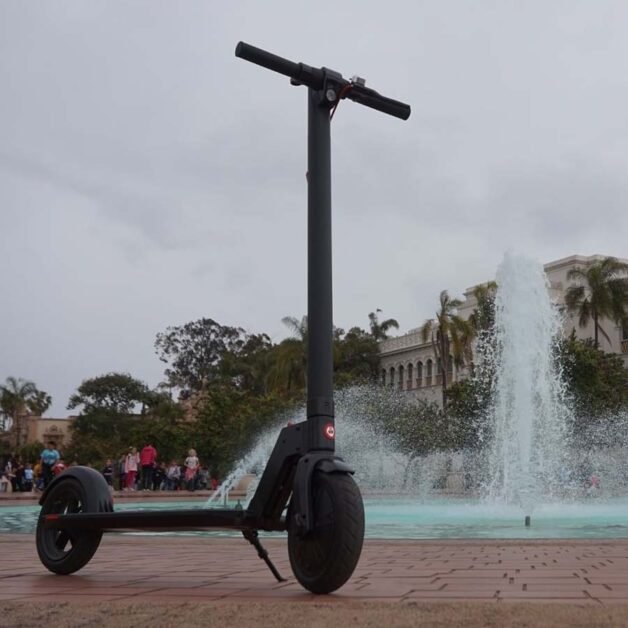 Powering the Gotrax GXL Commuter V2 is a 36V 5.2Ah battery, which gives you 9 – 12 miles on a full charge.
The manufacturer-claimed range is 12 miles, but on a standardized urban loop, the 187-Watt-hour lithium-ion battery pack managed 10 miles before running out of juice.
Expect to get less out of this battery when riding in cold temperatures, stopping frequently, climbing hills, and riding at higher speeds. However, don't expect a dead battery to stop this scooter dead in its tracks.
Owing to its lightweight build and low deck, the GXL V2 quickly becomes an ordinary kick scooter when push comes to shove.
Brakes
Upfront, the GXL Commuter V2 sports a regenerative brake, whereas the rear tire gets its stopping power from disc brakes.
This rear brake was foot-operated in the GXL Commuter V1, but the manufacturer ditched that design for a more practical hand lever.
This e-scooter has remarkable braking capabilities. Its stopping distance of 16 feet matches that of the best-in-class M365, which costs hundreds of dollars more.
Furthermore, the left-placed brake lever dramatically improves the scooter's safety, allowing riders to have a dedicated braking hand.
Gotrax GXL V2 Design and Features
Build Quality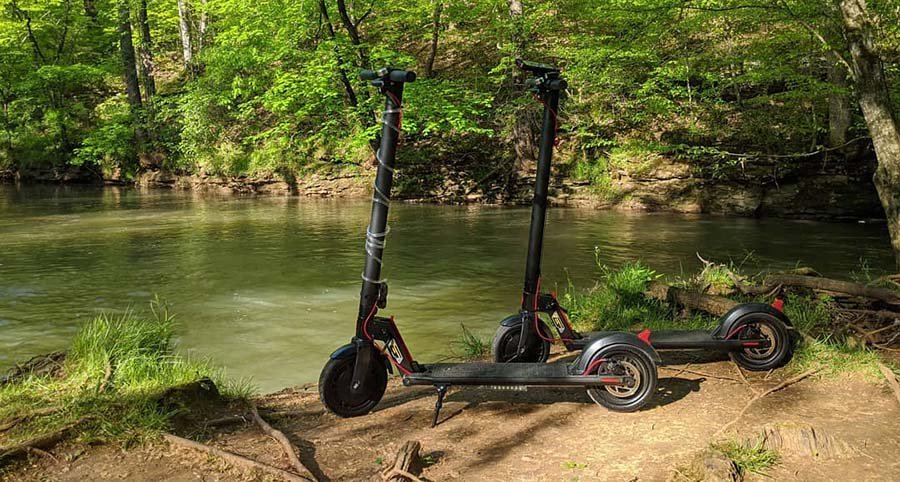 The build quality of the GXL Commuter V2, to sum it up, is an unexpected surprise.
It may not be the fastest or the fanciest commuter scooter, but GOTRAX has made sure that it can handle the rigors of daily commuting.
You start to notice its excellent design during its assembly, where it comes together easily and quickly with the provided tools. Whether folded or unfolded, the GXL V2 feels very solid.
Everything, including the folding mechanism, seems beefed up slightly to make up for its otherwise lackluster array of features.
That's not to the discredit of its straightforward control layout. This minimal design doesn't bombard you with knobs and switches that you don't need.
Instead, it adopts a practical layout that's easy to become familiar with if it's your first time riding an e-scooter.
Is Gotrax GXL V2 Waterproof?
Thanks to its IP54 water-resistance rating, the GXL V2 can comfortably ride in wet conditions. It will withstand splashing water and very light rainfall, but not submersion.
One can say that it is adequately protected against sudden and unavoidable exposure to water.
Portability
At 26 pounds, the GXL V2 comfortably fits into the ultra-portable class. Scooters rarely get lighter than this. Even the M365 weighs about the same, suggesting that this is the sweet spot for lightness.
It features a stem-folding mechanism which, let's face it, is as basic as it gets. Still, the folding mechanism feels quite robust – like it can fold and unfold a million times without any wear and tear.
Folding it is a quick and easy affair, and it brings it down to a compact 39 by 17 by 14 inches. The folding mechanism locks in place, so you can lift it by the stem when it's folded.
Cockpit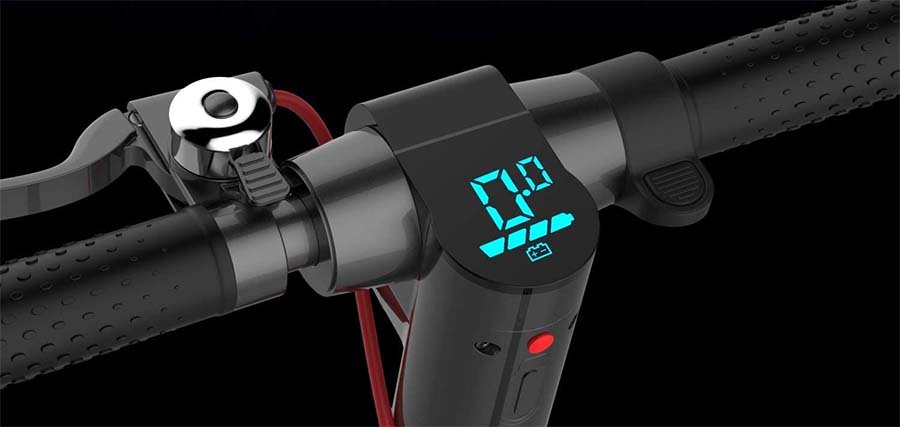 The cockpit of the GXL V2 retains the minimalist design that seems to be the theme of this budget commuter scooter.
The LED display is bright, but like the brake lever on the left and the thumb throttle on the right, it sits rather subtly at the center of the cockpit, fully functional yet very minimalist.
Wheels and Tires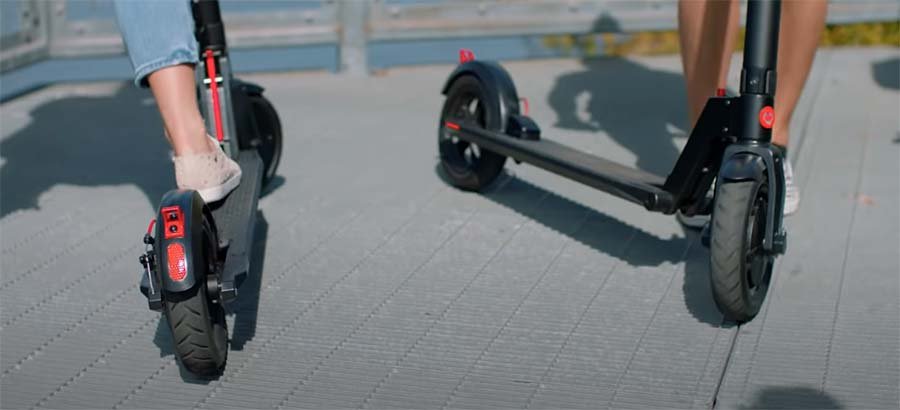 The GXL V2 features 8.5-inch pneumatic inner tube tires. These provide plenty of damping to make the ride comfortable despite the lack of any form of suspension.
Also, as is usually the case, the pneumatic tires allow the GXL V2 to perform better in wet conditions. Although they are prone to flats, the inclusion of air-filled tires makes this scooter safer and more comfortable to ride.
Ride Quality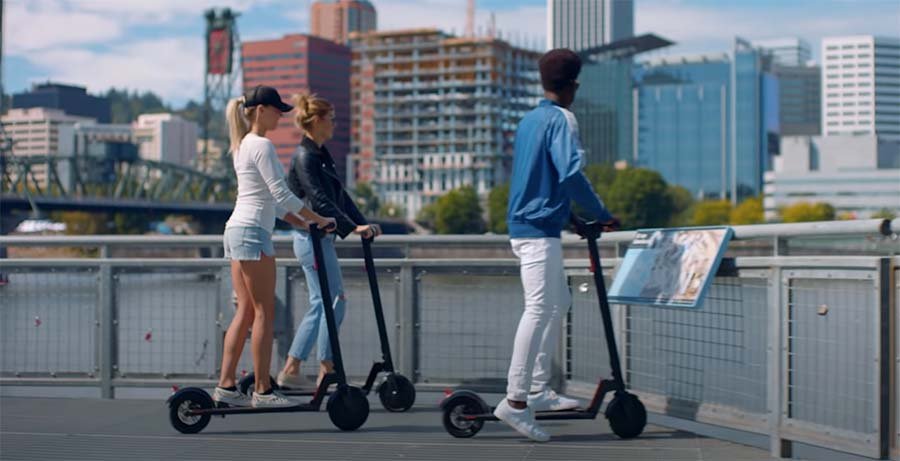 The lack of suspension notwithstanding, the GXL V2 delivers a relatively smooth and fun ride. Its lightweight frame is nimble, and its 8.5-inch tires are large enough to roll over most road obstacles.
The pneumatic tires make all the difference in ride quality. They provide enough bounce to make the ride quality on smooth roads amazing. Though they cancel out many bumps on rough roads, the lack of suspension means that you shouldn't be taking the less-traveled path too much when riding the GXL V2.
It is prone to vibrations when riding off-road, which you'll feel on your hands and legs. It gets pretty uncomfortable after some time.
That means that the GXL V2 should only be your top choice if you're going to be riding on good roads most of the time.
Comparisons
What is the difference between Gotrax GXL and GXL V2?

Main differences between the original and new Gotrax GXL electric scooters:
Different braking system. V2 has a hand-operated disc brake, while version 1 has a foot-operated disc brake.
Gotrax GXL V1 is slightly cheaper than the 2nd version but most users think that V2 is worth that extra money.
Version 2 has a stronger rear fender.
Gotrax GXL vs Gotrax XR Elite
| | | |
| --- | --- | --- |
| Gotrax GXL V2 | | Gotrax XR Elite |
| 250W | Motor | 300W |
| 187Wh | Battery | 281Wh |
| 15.5 mph | Max Speed | 15.5 mph |
| 12 miles | Max Range | 18.6 miles |
| – | Suspension | – |
| 27 lbs | Weight | 32 lbs |
| 220 lbs | Weight Capacity | 220 lbs |
| 8.5″ pneumatic tires | Tires | 8.5″ pneumatic tires |
| 39″ x 17″ x 14″ | Folded Dimension | 43″ x 17″ x 15″ |
| IPX4 | IP Rating | IP54 |
| $300 | Price | $400 |
Gotrax GXL V2 vs Segway ES1L
| | | |
| --- | --- | --- |
| Gotrax GXL V2 | | Segway ES1L |
| 250W | Motor | 250W |
| 187Wh | Battery | 184Wh |
| 15.5 mph | Max Speed | 12.4 mph |
| 12 miles | Max Range | 12 miles |
| – | Suspension | Front suspension |
| 27 lbs | Weight | 25 lbs |
| 220 lbs | Weight Capacity | 220 lbs |
| 8.5″ pneumatic tires | Tires | 8″ solid tires |
| 39″ x 17″ x 14″ | Folded Dimension | 45″ x 16″ x 13″ |
| IPX4 | IP Rating | IPX4 |
| $300 | Price | $300 |
Gotrax GXL V2 vs M365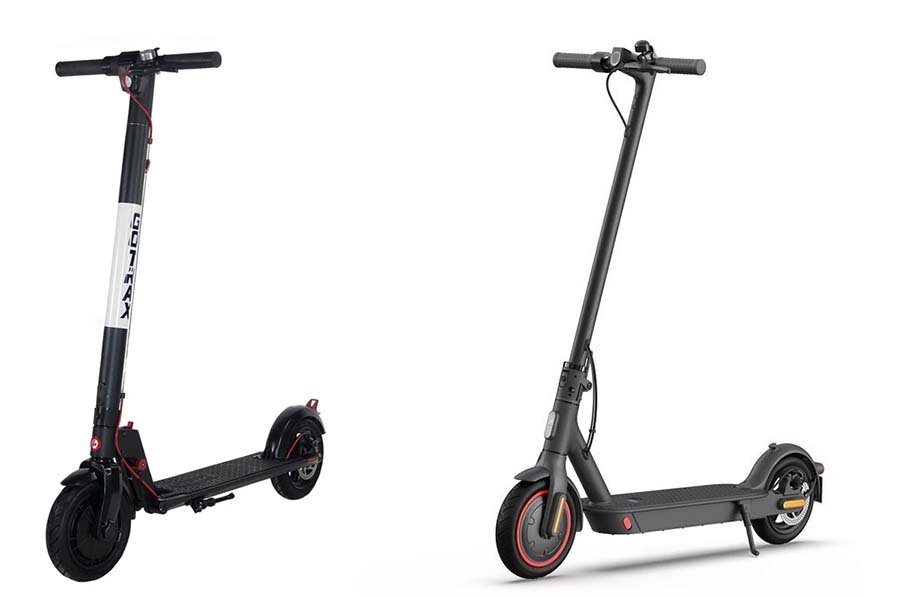 | | | |
| --- | --- | --- |
| Gotrax GXL V2 | | Xiaomi Mi M365 |
| 250W | Motor | 250W |
| 187Wh | Battery | 280Wh |
| 15.5 mph | Max Speed | 16 mph |
| 12 miles | Max Range | 28 miles |
| 27 lbs | Weight | 27 lbs |
| 220 lbs | Weight Capacity | 220 lbs |
| 8.5″ pneumatic tires | Tires | 8.5″ pneumatic tires |
| 39″ x 17″ x 14″ | Folded Dimension | 42″ x 19″ x 17″ |
| IPX4 | IP Rating | IP54 |
| $300 | Price | $600 |
Gotrax GXL V2 Review Conclusions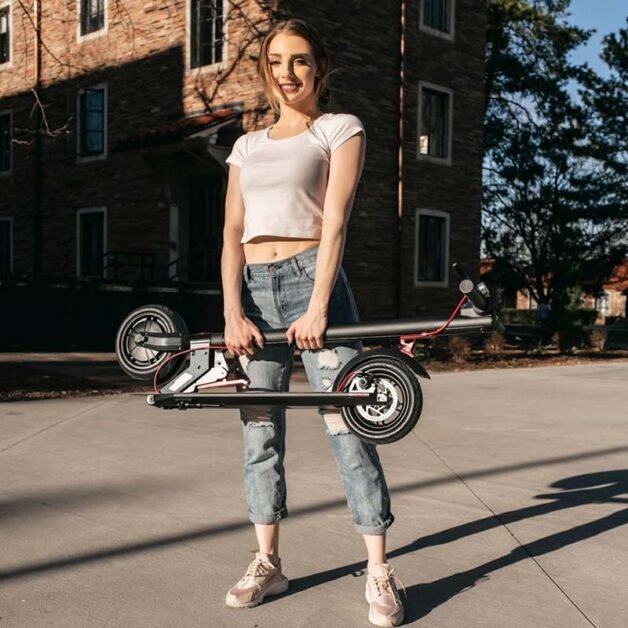 It's clear that the GXL Commuter V2 is a class above most budget scooters in its price range. It will feel slow and sluggish on the climb, especially if you're used to more powerful scooters, but that's about the only downside.
What it lacks in power and speed, it makes up for with its sturdy, light, and ultra-portable build. Its minimalist design and control layout makes it ideal for first-time riders, and there's no denying that the inclusion of pneumatic tires makes it a safer and more comfortable ride.
Overall, the GXL Commuter V2 is an excellent beginner scooter, especially for riders that don't want to spend too much on their first scooter.