Electric Wheelers is reader-supported. Although we independently research and test products, we may receive a commission on purchases made from our chosen links. Read more…
Electric scooters in the "budget commuter" range can only offer two things: comfort and durability. That's why riding the Hiboy MAX feels like riding one of those cheaply-made electric scooters. No one would fault you for judging it on these merits alone.
Park it and take a step back, however, and you start to notice its distinguishing features. It's not fast, and it doesn't give you a whole lot of range, but there are many positives to take from its design and build quality.
If you only have a few hundred dollars for a scooter, the Hiboy MAX would be a pretty good investment – all things considered.
It's simple yet stunning and very durably constructed, even though its ride quality is only just a step up from what you'd expect from a shared scooter.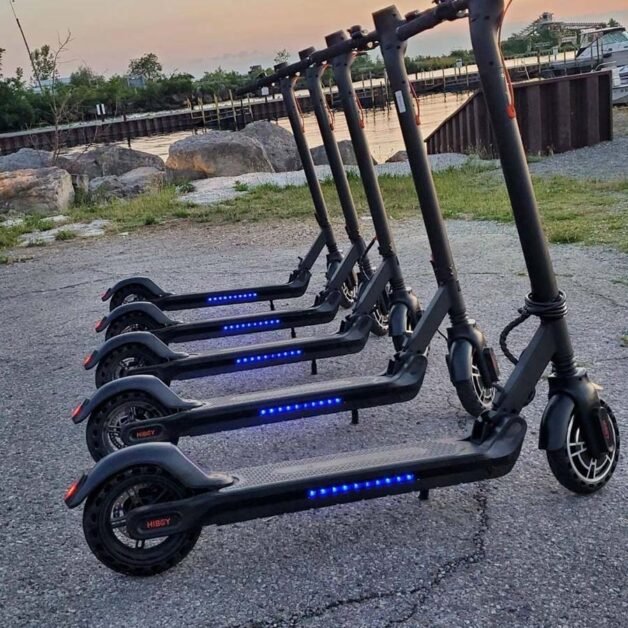 MSRP: From $410
Hiboy.com
Overview
Who's it for?
The Hiboy MAX is very easy to control, which makes it a suitable beginner scooter for both teens and adults. If you're coming from shared scooters, you'll only need to adjust to its straight, lowered handlebars and slightly higher top speed.
Its stiff frame makes it quite responsive, which allows you to focus on mastering the controls. Acceleration and braking are conveniently thumb-controlled, and the deck has plenty of room for riders to test out different stances.
Its simple and convenient design suggests that it's a scooter for easy riding, one that's sturdy and light enough to be a practical urban companion.
Hiboy MAX Full Specs
| | |
| --- | --- |
| Motor | 350W |
| Battery | 36V 7.5Ah |
| Recharge Time | 4-6 hours |
| Max Speed | 18.6 mph |
| Max Range | 17 miles |
| Brakes | Rear disc + front regenerative e-brake |
| Suspension | Front suspension |
| Weight | 34 lbs |
| Weight Capacity | 260 lbs |
| Tires | 8.5″ solid tires |
| Lights | Dual LED headlights + rear brake light |
| Dimensions | 44.5″ x 18.8″ x 43.7″ |
| Folded Dimension | 44.5″ x 18.8 x 15.7″ |
| Display | LED Display |
| IP Rating | IP54 |
Where to Buy Hiboy Scooters?
Performance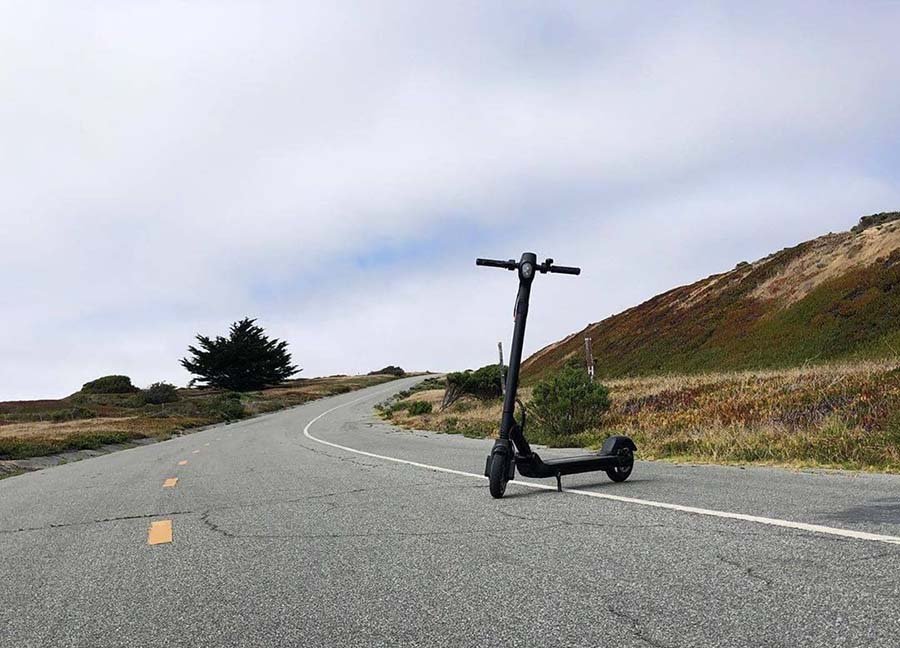 Speed & Acceleration
Even though the Hiboy MAX's design is reminiscent of the early shared scooters from Lime and Bird, it is much faster than most shared scooters. Its 350W motor can achieve speeds of up to 18.6 MPH, which is nothing to sneeze at when you look at the price range.
The torque that the single motor provides is enough to get you up mild hills (15% gradient at the highest) and launch from a dead stop with a decent amount of power. With a 160 lb rider on board, the Hiboy MAX takes 9.1 seconds to go from 0 – 15 MPH.
Battery & Range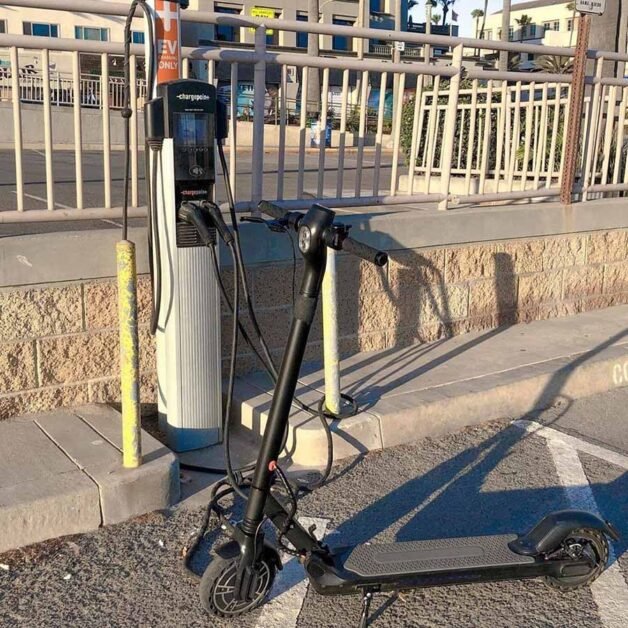 The small 7.5Ah 36V battery contributes greatly to the MAX's lightweight build, but it only gives you about 9 miles of range from a single charge. Hiboy claims the maximum range is 17 miles, but if you're anywhere close to its maximum weight limit (265 pounds), I'd take that with a grain of salt.
There's nothing wrong with short-range scooters. They're the better choices for short-distance riding, and the MAX is no different. You won't even notice this limitation if you travel four miles or less to and from work. Or if you only take it out on the weekends for a quick ride around the neighborhood.
Brakes
Cheap or not, there's no reason a budget scooter should be unsafe. The Hiboy MAX makes a strong case of this. It employs a pair of powerful brakes to manage a stopping distance of only 18ft, which are more effective thanks to distance riding speed.
There is a regenerative brake up front and a disc brake on the rear wheel. Both brakes have separate controls, a beneficial redundancy to find in an electric scooter this cheap.
The regen brake has enough power to bring the scooter to a complete stop, so it's possible to rely on it alone when you want to spare your rear brakes and extend your range. It's also independently thumb-controlled.
The disc brake is smooth and responsive as well and activated by a lever on the left handlebar. When you pull down this lever, you also engage the regen brake. The braking on the Hiboy MAX is one of its best features.
Design and Features
Hiboy MAX Build Quality
When you stand on the Hiboy MAX, it's easy to forget how little you're paying for it. The wobble-free stem and the spacious, durable deck are surprisingly solid and premium-looking. It would cut a sleek, performance-worthy profile if it weren't for the clacky fenders and suspension.
Disappointingly, its build quality is beneath that of the Segway ES4, a shared scooter supplied by Lime, despite their striking resemblance. You don't want a noisy suspension to be the reason why you're attracting attention from pedestrians.
It's a good thing that the motor is whisper-quiet in all performance modes. The Hiboy MAX is quite the silent ride if you don't put the suspension to work, and that puts it well above most of the other options in this knockoff-ridden price range.
Is Hiboy MAX Waterproof?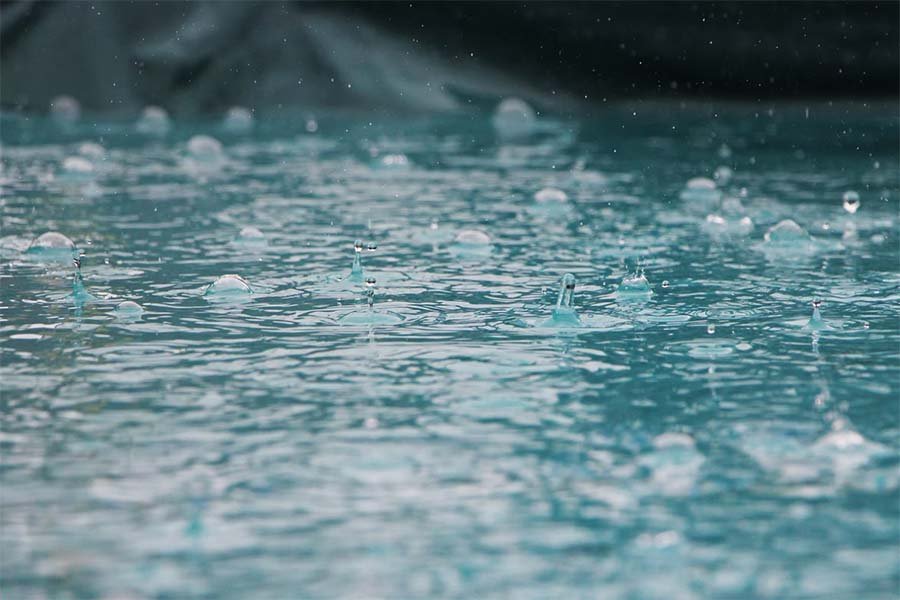 The Hiboy MAX has a waterproof rating of IP54. That's not nearly enough to be frolicking around in puddles or riding in the rain, but it can survive accidental exposure to moisture.
If you remember not to immerse the deck in water, then the MAX would be a perfectly durable commuting scooter for most riding conditions.
Portability
We can debate all day about how light the ideal scooter should be, and the Hiboy MAX would still fit the profile. It only weighs 34 pounds, and when folded, it shrinks down from a height of 44 inches to 16 inches.
It has a one-step folding design which leaves something to desire. Unfolding the stem demands a little more force than usual; plus, you have to use both arms and a leg to simultaneously disengage the latch, hold down the deck, and push the stem into an upright position.
Pertinently, it is a secure folding mechanism that doesn't compromise the quality of the stem. There is very little flex to the MAX's stem, although its diameter feels a bit too large to wield comfortably if you have small hands.
Cockpit
The cockpit on the Hiboy MAX is what you'd expect; clean and simple. Thumb controls flank a center-mounted display on each side. There's the thumb brake on the left and an equally convenient thumb throttle on the right.
The cockpit's intuitive design features a right-hand brake lever for the rear disc brake. The texturized handgrips don't leave much to be desired, although they can get unscrewed while riding. They don't loosen enough to become a riding hazard, but it's good to know what you're up against when riding with screw-on handgrips.
The display is crisp, and when you activate cruise control, a notification pops up. Even some high-end electric scooters lack this functionality, so it's great to find it on this cheap budget scooter.
Wheels & Tires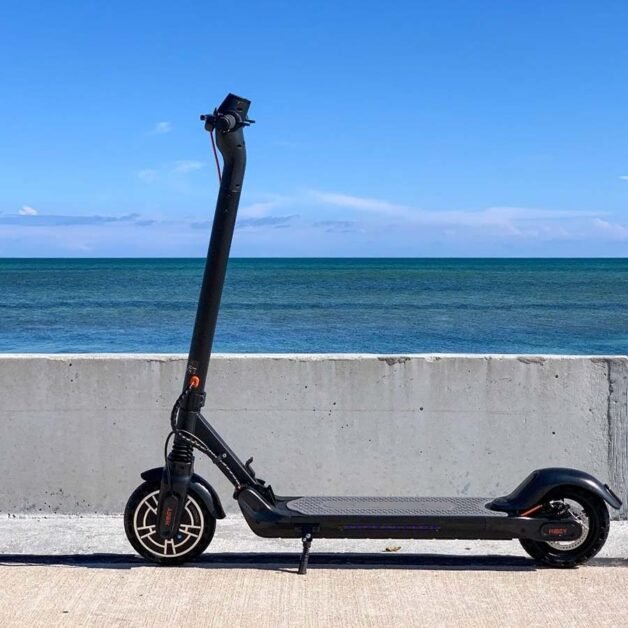 On the upside, the solid 8.5-inch tires on the MAX are durable and low-maintenance. That's what you get with tubeless tires, but the compromise is often the ride quality.
Owing to their stiff design, they can feel unstable, especially when riding on cracks that are parallel to your direction of travel. They also lack the dampening effect of air-filled tires, so ride quality is usually worse when the scooter has solid tires.
More worryingly, the small-profile solid tires don't conform to the road, so they're significantly less stable at higher speeds. Fortunately, that's not much of a concern when you're working with a top speed that's below 20 MPH.
Deck
All 22 inches by 6 inches of the deck is covered in high-quality texturized rubber. It looks pretty sleek, and if you want something premium-looking, you couldn't ask for more.
The Hiboy MAX's deck, notably, is also larger than what you'd expect from a scooter in this price range (by roughly 5 inches), so whichever way you ride, you have plenty of standing room. Its distance from the ground is 3.5 inches, which is adequate but not immune to curbs and large rocks.
Lights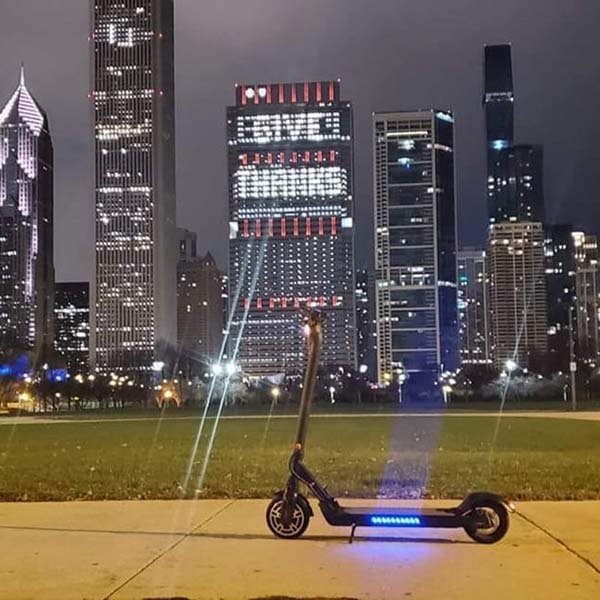 The lights on the Hiboy MAX exceed all expectations. The high-mounted headlamp is pretty good, and it's nice to see a brake-activated rear taillight at this price point. The deck also has blue lights running along its sides.
You'll probably need a couple of stronger headlights to travel safely at night, but what you get out of the box is sufficient for speeds below 15 MPH.
Ride Quality
To be frank, the solid 8.5-inch tires on the Hiboy MAX don't exactly make for an exhilarating ride. That's okay, though, because you're looking for durability and comfort, as we said earlier.
The ride quality of the MAX is fair, but nothing to write home about. You have three riding modes at your disposal; Beginner Mode (blue), Normal Mode (Yellow), and Sport Mode (Red), which give you different top speeds but do not exceed the 18.6 MPH limit.
The throttle is smooth and gradual, but it struggles quite a bit on inclines. You engage Cruise Control when you hold a constant speed for 6-8 seconds, but the short stem will still have you feeling like you're reaching down if you're taller than 5'5″.
As for the suspension, expect to hear them before you feel their effect when encountering dips and bumps. They're very noisy, but they don't affect the overall stability of the scooter. You can thank the stem and the quiet motor and the wobble-free stem for that.
Comparisons
Hiboy MAX vs MAX V2 vs MAX3
All the Hiboy MAX electric scooters have the reinforced PC-ABS chassis, a durable iteration of performance-scooter decks. They all look quite eye-catching thanks to the aesthetic design and intuitive lines. What sets them apart is their performance.
To that end, there's little to set them apart. The MAX3 has a similar top speed as the MAX and MAX V2, so that shouldn't factor into your decision. In the end, it's mostly a matter of preference because, either way, you're getting the same top speed and range.
However, Hiboy MAX3 has a little bit better tire combination. It has a 10-inch pneumatic front tire and a 10″ solid tire at the rear. At the same time, MAX3 has no suspension.
Hiboy MAX vs Hiboy S2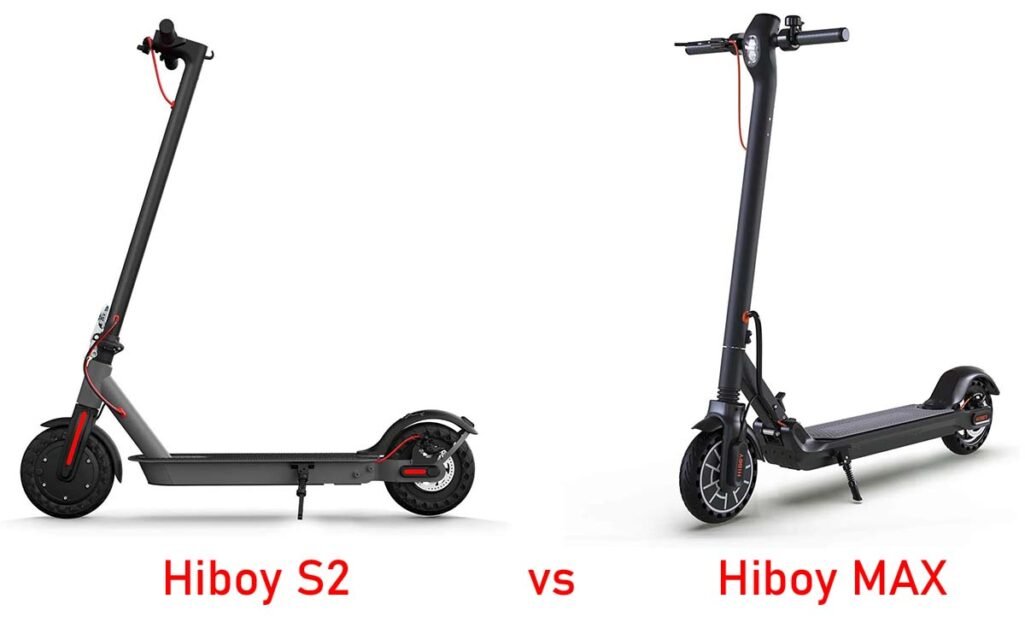 Those two Hiboy scooters are actually very similar.
One of the biggest differences is the weight. Hiboy MAX weighs over 10 pounds more than S2. At the same time, the performance levels are almost the same. Thanks to the extra weight, the MAX also has a higher rider weight limit, which is 265 pounds. Hiboy S2 has a payload capacity of 220 lbs.
The Max has much better ride quality than S2. It's mostly because of better tire and suspension configuration.
Related: Hiboy S2 Full Review
Conclusion
You'll need to bend your knees slightly when you ride the Hiboy MAX, but does that mean that it's a lousy scooter? You truly get what you pay for when it comes to electric scooters, and it's only fair for the Hiboy MAX to offer 18.6 MPH and 17 miles of range, considering its pedigree.
There are much better options out there, no doubt, but for this price, you're lucky to get away with suspension, excellent braking, and build quality to rival performance-grade models.
You're not settling for second-best when you buy the Hiboy MAX. If you're in the market for basic scooter functionality and nothing more, then you've got way more than you need in this affordable package.