The best way to describe the Inokim OXO electric scooter is simply amazing. This machine is a serious upgrade from the previous Inokim OX, with great dual motors that provide ample power, which will have you speeding up to maximum speeds that are incredibly mind-blowing.
One thing that makes the OXO's build brilliant is incorporating a smart rubber suspension, which makes this e-scooter glide at high speeds, bumps, and rough terrain effortlessly. Besides, this gem will cruise off-road routes like they are nothing.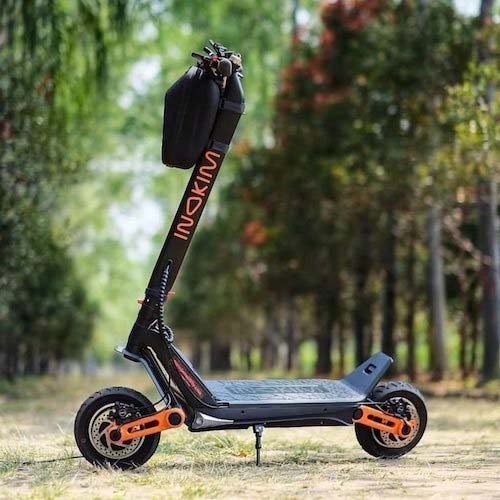 MSRP: $2,799 FluidFreeRide
Overview
Who's it for?
This premium scooter is ideal if you're looking to explore your love for riding in off-road and on-road conditions. To put it simply, the Inokim OXO is the crème del a crème of e-scooters in terms of durability, comfort, and speed.
Its potent motors can handle individuals of up to 260 lbs. with a height of 2 meters or taller. This is the ideal embodiment of a perfect electric scooter.
Inokim OxO Full Specs
| | |
| --- | --- |
| Motor | 2×1,000W (2,600W Peak) |
| Battery | 60V 26Ah (1,560Wh) LG |
| Recharge Time | 12-14h (5-7h with fast charger) |
| Max Speed | 40mph |
| Max Range | 52 miles |
| Brakes | Dual Hydraulic Disc |
| Suspension | Adjustable Front & Rear OSAP Polymer Suspensions |
| Weight | 74 lbs |
| Weight Capacity | 265 lbs |
| Tires | 10″ x 2.5″ Pneumatic |
| Lights | Front & Rear LED |
| Dimensions | 48″ x 23″ x 51″ |
| Folded Dimension | 48″ x 23″ x 22″ |
| Display | Thumb Throttle Display |
| IP Rating | – |
Inokim OxO Pros
Long range
Quality suspensions
Strong braking system
Good build quality
Inokim OxO Problems
Throttle lag
Plastic deck
Loose rear fender
Where to Buy Inokim OxO?
North-America
Europe
Performance
Speed & Acceleration
Inokim rear-wheel drive electric scooters usually have one motor, with the exception of the Mini 2. That being said, the OXO e-scooter features an engine on either wheel.
These gearless hub motors, packing 1000 watts, offer the OXO maximum power of approximately 2600-watt. At its peak, this scooter can reach up to 40MPH and effortlessly climb hills. This is impressive torque and speed.
How Can I Make Inokim Faster?
Sometimes the speed might be limited. If you know that it wouldn't make you any trouble, here's a video of how to unlock Inokim full speed:
Hill Climbing
The dual motors combined with impressive torque and speed make the OXO e-scooter excellent at climbing.
The climbing angle has an interesting twist that's rare. Inokim has marketed the OXO with a climbing angle of 15 degrees. And while this is no small angle, most users have come out to say that it can climb up to 25 degrees effortlessly.
Battery & Range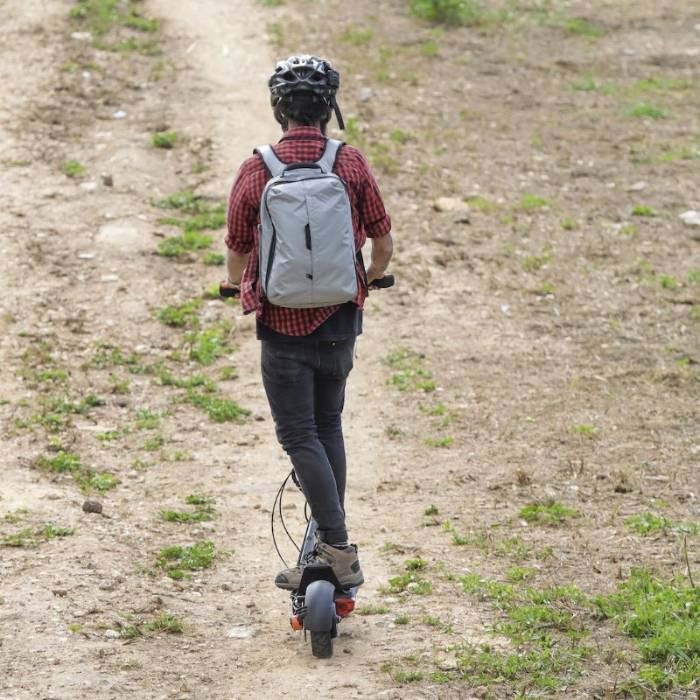 Under ideal conditions with a consistent speed of 15 MPH, the OXO e-scooter can go up to 50 miles when fully charged. Nevertheless, your weight, speed, and terrain can always affect the distance covered.
While riding at high speeds, the range reduces to about 25 miles.
That being said, the extensive range is thanks to the impressive 60V 25.8Ah lithium-ion battery, with 1,536 watt-hours of power. But it does take a long time to fully charge, from 12 to 14 hours, and it's recommended that you allow it to be wholly discharged several times annually.
Brakes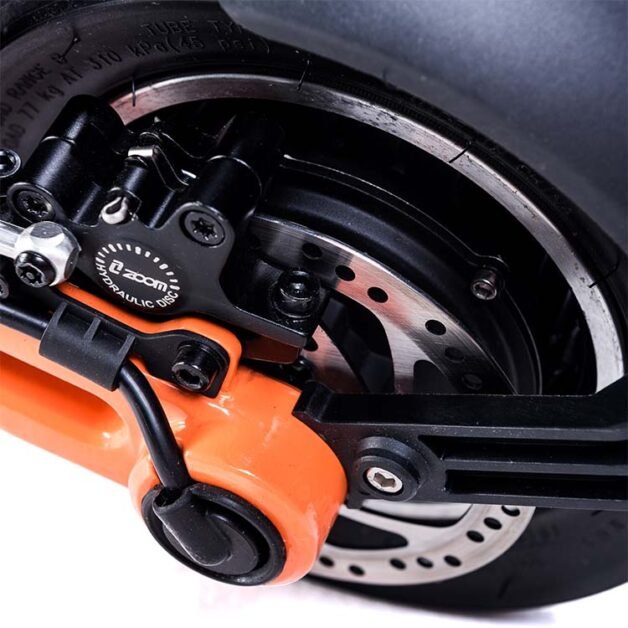 The OXO's braking system is no joke. It features a drum rear and front cable disc braking system for superior modulated braking. Besides, the firm levers offer excellent feedback translating to little effort when stopping.
Since they don't feature electric or regenerative brakes, using them feels like a marginal pull to a hard press when applying the emergency brakes.
Suspensions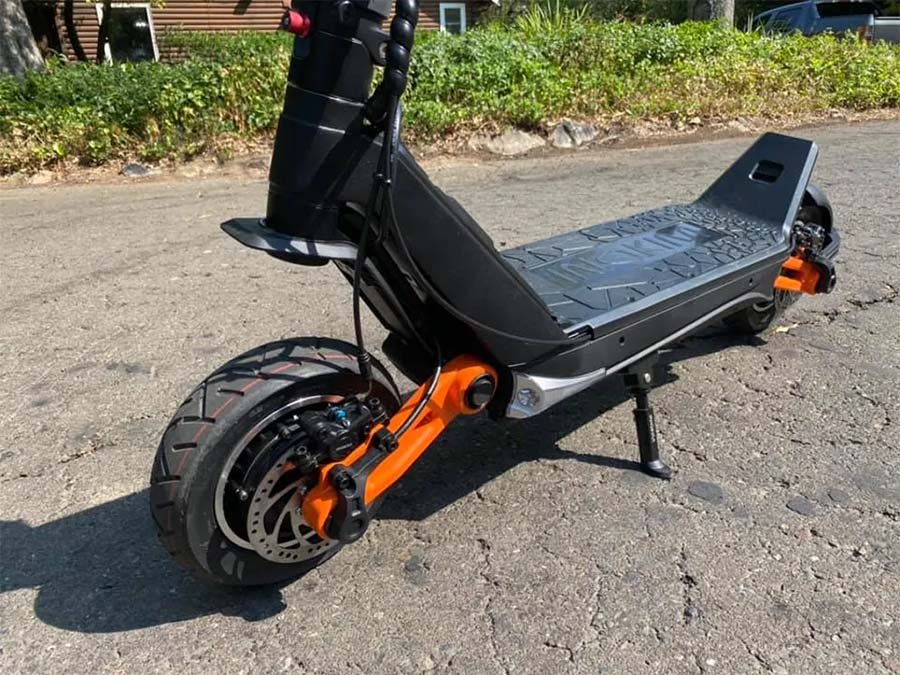 The OXO e-scooter boasts a single-sided swing-arm suspension, among the most unique yet controversial suspension system designs. Some manufacturers have tried to copy this design but have failed.
It doesn't properly fit, neither is it unstable, and it still manages to provide ideal maintenance access. Plus, the OXO makes it easy to switch the height of the suspension since all the tools and parts required for dropping and lifting come with it.
The OXO electric scooter suspension system decently handles rough terrain; thus, weightier riders will experience the float sensation for longer.
Design and Features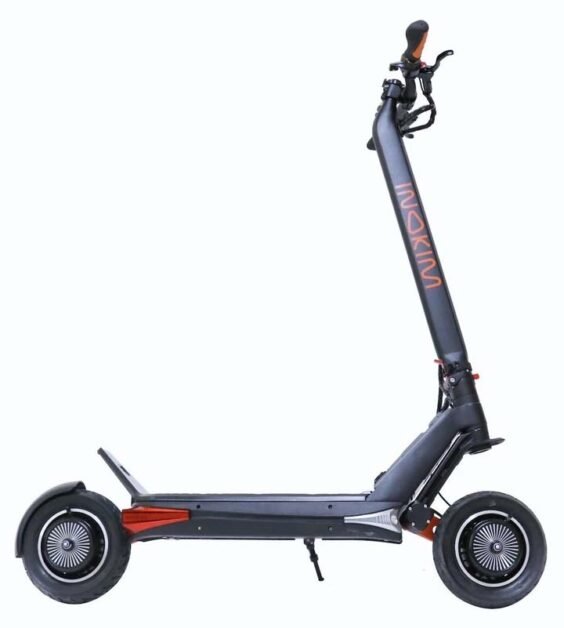 Inokim OxO Build Quality
As this is a premium e-scooter, you can only expect the best.
OXO is made using top-quality materials, including robust flight-grade aluminum alloy, thus offering unmatched durability. Plus, it has pneumatic tires guaranteeing a comfy and smooth ride on different routes. If you're looking to go off-road, you can switch the default tires with those more suited for off-road terrain.
Weighing 74 lbs, this scooter is not one of the most lightweight electric scooters on the market. Also, it's easily foldable, making it somewhat easy to carry, though not for long distances.
Is Inokim OxO Waterproof?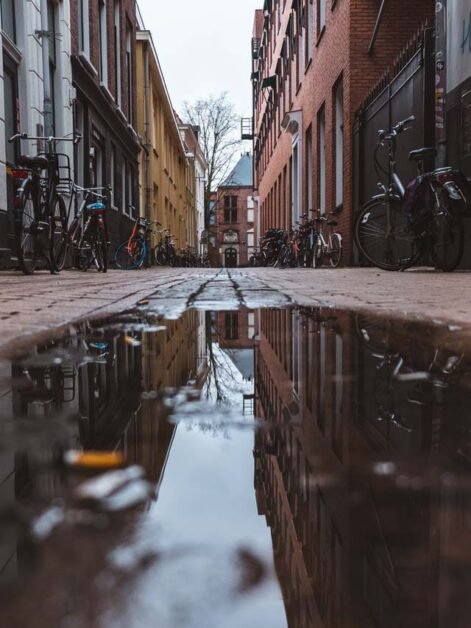 So far, the OXO e-scooter doesn't have an IP rating, except its splash-proof back mud-guard. It means that Inokim OXO is definitely not waterproof or water-resistant. Although many Inokim scooter owners say that there have been no problems when riding with rain.
That being said, you should still avoid water puddles to be totally safe.
Portability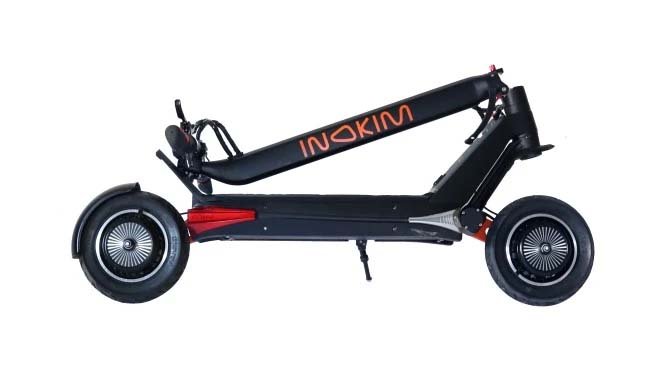 The OXO e-scooter is not among the lightweight scooters on the market, with its weight at 74 lbs, which impacts its portability. While you can improve its portability by folding it, it is still a bit heavy. Its folded dimensions are 48 by 23 by 21 inches, and a ground allowance of 4.3 inches.
Folding Mechanism
Flawless is the best way to describe this beast's folding mechanism.
It is durable, strong, and doesn't wobble. It applies a lever to handle the claw-like system, which positions the stem adequately, and the rubber covers the stem to secure the lever in place. What's more, the red dial opposite the stem comes in handy in loosening or tightening the system
Cockpit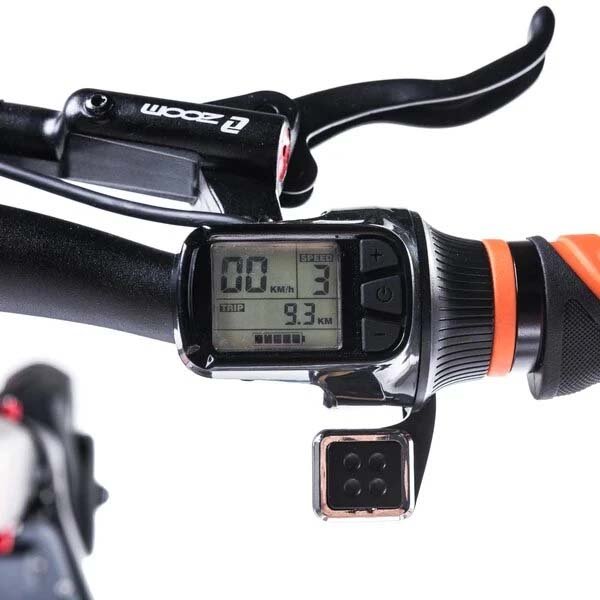 The Inokim OXO's cockpit is remarkable, with sophisticated tapered handlebars which work decently. The hand grasps are fitted close to the stem, though not on the overlooking side. This means that they can rotate as you ride. Regardless they offer ample support.
On the handlebar's left side are a red button and a 90dB bell. Pressing the red button activates the dual-motor mode. However, if it is popped out, it's on a single motor, particularly the rear motor.
There's a handy minimal display with a minus and a plus sign, a thumb throttle, and power buttons on the right side. This display is similar to the one on OX, and it is still as impressive.
Nevertheless, don't underestimate this small display's usefulness and sophistication, as it can display all the essential details by simply pushing the power button once. Again, long-pressing the buttons gives you access to the p-settings.
Lastly, the hydraulic brake cylinders look plush, and the neatly organized cables inside the cockpit are impressive. The cockpit's design is complete, neat, and simple design.
Wheels & Tires
This incredibly handy and sophisticated e-scooter comes with two pneumatic tires. They each measure 10 x 2.5 inches, which is relatively narrow for the frame's size. Even though this sounds like a downside, the slim profile allows for the steering to stay nimble.
Besides, the slender design of the tires makes them more suitable for on-road than off-road riding. All the same, the OXO e-scooter offers fantastic ride quality on off-roads as well. Moreover, on off-road routes, consider switching the tires to those better-suited for off-road.
As with any other scooter, tires play a significant role in the quality of the ride, and the OXO e-scooter offers nothing short of smooth and superior ride quality on any terrain.
Lights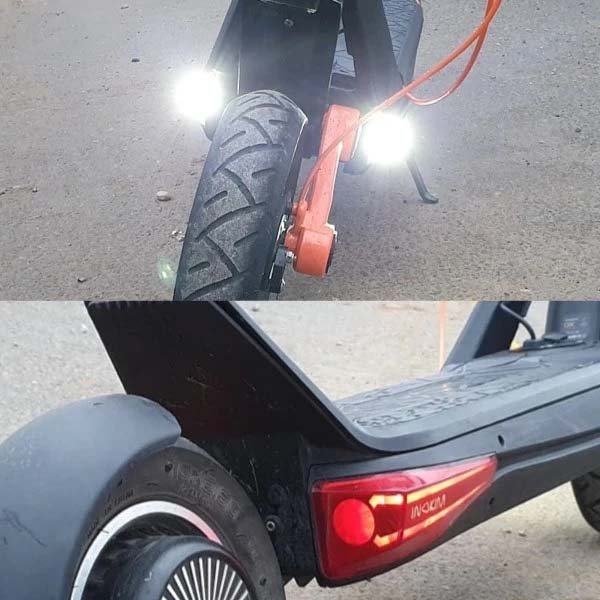 The mounted auto-sensing lights and headlights light up from the deck's front except for the rear light at the back right corner. The light response is relatively low, though you can fix this to turn on dim as opposed to dark surroundings.
Deck
So far, the features we've covered have been nothing short of impressive, and the deck is no exception. It offers ample space to place your foot securely, and while it does not have deck tape, you won't slip off.
Furthermore, the kickstand feature makes it easy for you to support this somewhat lightweight scooter with reduced effort and shields the fancy exterior from damage.
Comparisons
Inokim OxO vs Inokim Ox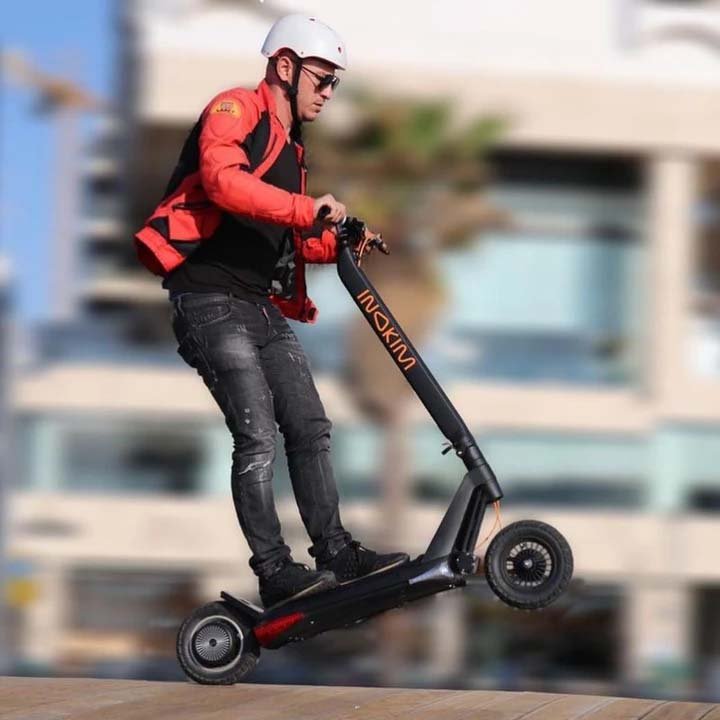 The OXO is an upgrade from the OX and has been enhanced in multiple areas. The most significant upgrade is the incorporation of an additional motor. This is undoubtedly a game-changer, especially in terms of maximum speed, improved torque, higher climbing angle, and boosted overall performance.
Furthermore, the OXO has approximately 6 miles in additional range as compared to the OX version. Again, the suspension mechanism is a substantial upgrade. Both scooters have fantastic suspension systems.
On the other hand, a few things remain the same, including build, controls, and the deck. Still, the OXO is better than the OX, though this doesn't mean that the Inokim OX won't give you excellent service. The OX could be a better option if you are on a budget and don't require additional power.
Inokim OxO vs Zero 10X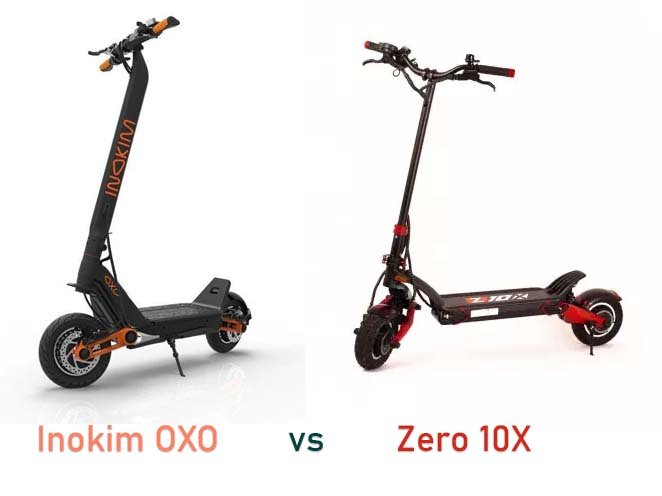 The Zero scooter is one of a kind with a dual motor, like its competitor, the OXO. It has impressive build quality, power, and range. Also, it can be customized to your liking. However, it would help if you avoided hefting it inside the car or upstairs.
However, the OXO has a top speed of 40 mph while the Zero 10X has 36 mph. The Zero is a better option if you want your e-scooter customized and modified according to your preferences and don't require that much speed.
Conclusion
Big and potent, this somewhat portable beast is the best from Inokim. Its supreme speed is thanks to the dual motors and the potent 60V 25.8Ah battery that delivers an extensive range.
The two pneumatic tires and effective suspension mechanism guarantee a comfortable ride on all surfaces. With the Inokim OXO, you don't have to pick between an all-terrain and city scooter. And while it might not be cheap, you'll definitely get what you pay for!