Among all the various types of e-bikes, fat tire e-bikes provide the most significant advantages for riders. You may think that fat tires for bikes are a recent development, but surprisingly fat tires have been around for a long time.
There are historical indications of fat tire bikes in the early 1900s, and we know that serious experimentation happened no later than about 1988. Simultaneously, in two widely separated US states, seriously productive interest in fat tires was developing. These bikes were the forerunners of modern-day fat-tire electric bikes.
When you think about it, you quickly realize that a 4″ wide tire offers a lot more traction on any surface or any type of terrain when compared to a 2″ or smaller tire. The fatter tires also provide a more stable and secure ride. And then the fat tire also opens up a truly diverse option for terrain choices:
sand
gravel
snow
forest pathways
rocky trails
All mentioned terrain types are much more rideable with fat tires. This makes fat tire e-bikes a great choice, especially from a reputable brand like Magicycle.
Tidbits of Fat Tire History
In Alaska, the interest in fat tires was motivated by a need to ride in snowy conditions. In New Mexico, there was a similar need, but soft sand was the motivator. Amazingly, the earliest fat tires were created by welding 2 or 3 tire rims together!
By the year 2000, there were two companies manufacturing fat tire bikes.
Bike builders became more interested by 2001, and quickly the term "fat tire bike" came into use. Within a very few years, several companies jumped on the bandwagon.
Today there are many brands of fat tire electric bikes available. There is room for caution, though, because too many brands are "cookie-cutter" e-bikes.
n other words, the company is simply buying products from some factory that supplies fat tire e-bikes to several brands. You'll be glad to know that Magicycle is one of the few high-quality brands that actually own the factory – that's a very important factor in quality control.
E-bikes continue to grow in popularity, including the fat tire electric bikes. In fact, you might call it a boom. Sales are up more than 145% since 2019, and still climbing! Thanks to that massive demand, a wide variety of e-bike styles are now readily available. Most certainly, there is one for you. Magicycle offers the best blend of quality, reliability, variety, and affordability…so let's take a look at their fat tire e-bikes.
The Original Fat Tire Cruiser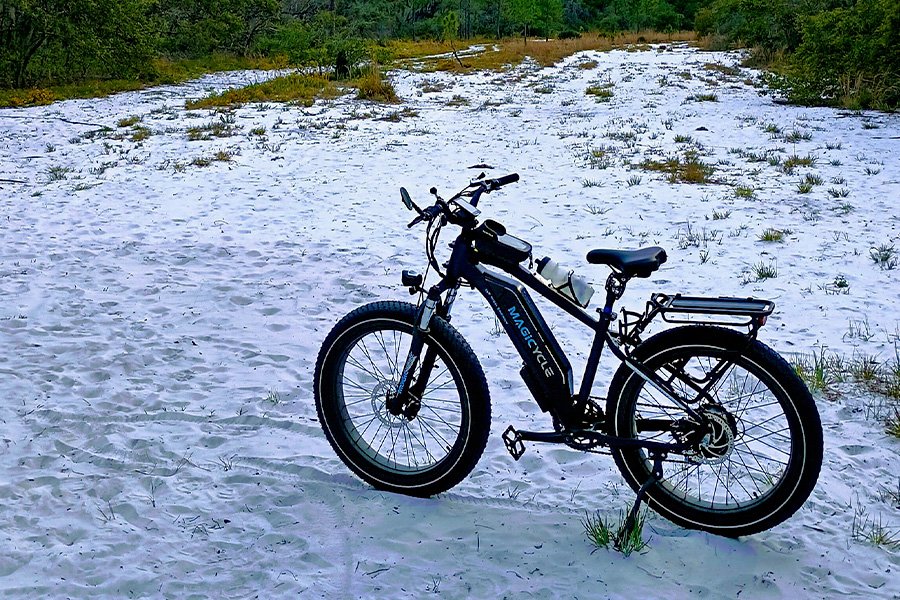 Magicycle exploded into the all-terrain fat tire e-bike market with its beautiful cruiser design. From the beginning, the Magicycle design team was focused on quality, safety, and comfort — and insisted on an affordable price. Indeed, there is no other competitively priced brand that can match this Cruiser.
Read also: Magicycle Cruiser Full Review
This comfortable fat tire e-bike design was immediately a big hit. Still available for e-bike shoppers, it comes fully equipped with a 750-watt (peak 1100) motor and an industry-leading 52-volt battery.
This ride is still the best bang for the buck! Of course, this spectacular cruiser fat tire electric bike is also provided in a mid-step-thru style.
Upgraded Fat tire E-bike: Magicycle Cruiser Pro
The lasting popularity of the original Magicycle Cruiser Fat Tire E-bike is well deserved, and it still provides customers with a powerful, reliable, high-quality ride.
Magicycle has passed along all the best features of the original and included them in this upgraded model, the Magicycle Cruiser Pro.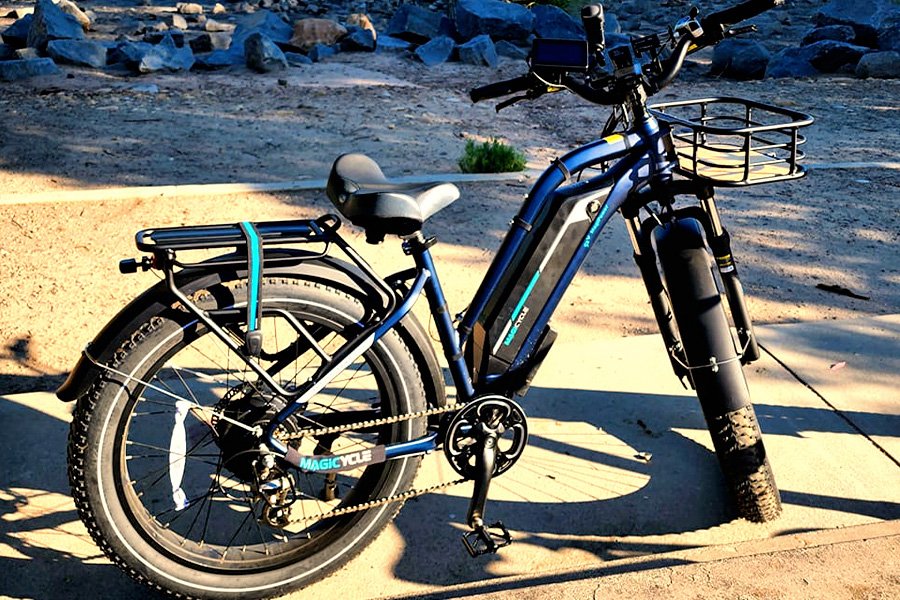 The upgrades include more torque from the motor, which is great for hill climbing or fast starts to navigate heavy traffic. Along with the new motor, you'll also find hydraulic disc brakes which is a great upgrade to the mechanical disc brakes on the original cruiser. Additionally, the battery is upgraded to 52 volts and 20 amp hours to give you a nice long range.
Its 350 lb payload (total weight capacity) allows heavier riders to feel confident and safe while riding this gorgeous upgraded fat tire e-bike. The bright and easy-to-read color LCD display remains the same, along with the combination of integrated built-in lighting and an included rear rack/full fender package.
These features help make the Magicycle Cruiser Pro not only a top-quality commuter but also the perfect all-terrain fat tire e-bike for trail riding and scenic cruising.
Magicycle Ocelot Pro
The full-size e-bikes with 26″ fat tires are great fun to ride, but they can be a challenge for shorter riders. Riders with physical problems may also find it tough to mount the full-size fat tire e-bikes.
Many requests have been received for a Magicycle Cruiser that is more easily ridden by riders as small as 4'10' and yet also comfortable for riders up to 6'2".
The Magicycle Design Team worked long and hard to perfectly meet the demand for such a bike. The introduction of the 20" tire Magicycle Ocelot Pro has brought fresh excitement to fat tire e-bike enthusiasts.
Read also: Magicycle Ocelot Pro Full Review
If you've dreamed of a smaller, stylish, quality fat tire cruiser that retains both power and comfort, this is it. The Ocelot has a laid-back beach cruiser styling – nimble, beautiful, and comfortable.
For riders uncomfortable with the big 26" tire cruisers, the Ocelot opens up a whole new world of cruising comfort. Although smaller, it has no lack of power and torque.
Magicycle Jaguarundi Folding Step-Thru
Another fat tire e-bike addition to the Magicyle line is the Jaguarundi Folding Step-Thru. This fat-tire electric bike is the ultimate in convenience. With its small form factor and folding capability, almost anyone has room for this Magicycle.
Indeed, the new folding electric bike is the model that many riders will think of as the most user-friendly ride produced to date by Magicycle. It is a fun, powerful, and compact fat tire electric bike that can take you to work or the local park—and it can get you there on pavement or trail in style and comfort.
Fat tire e-bikes are great for riding on all types of terrain, but their sheer size can make them difficult to transport on a bike rack. Folding fat tire e-bikes are less common than more traditional frames, but they conveniently open the door to new possibilities.
For example, you might need to toss your fat tire e-bike into the trunk or rear seat of your car. Even within your home, you might choose to fold it into a compact rectangle that fits nicely in a corner of the room. Or perhaps just fold down the handlebars to let the Jaguarundi rest neatly against a wall.
City riders who don't need to transport their bikes are nevertheless very appreciative of the Jaguarundi's convenience. The ability to fold means it takes up less space in the home, perhaps fitting in a corner or under a desk. Without the folding feature, a fat tire electric bike could be an impossibility for a small apartment situation.
The Magicycle Fat Tire ESUV Bike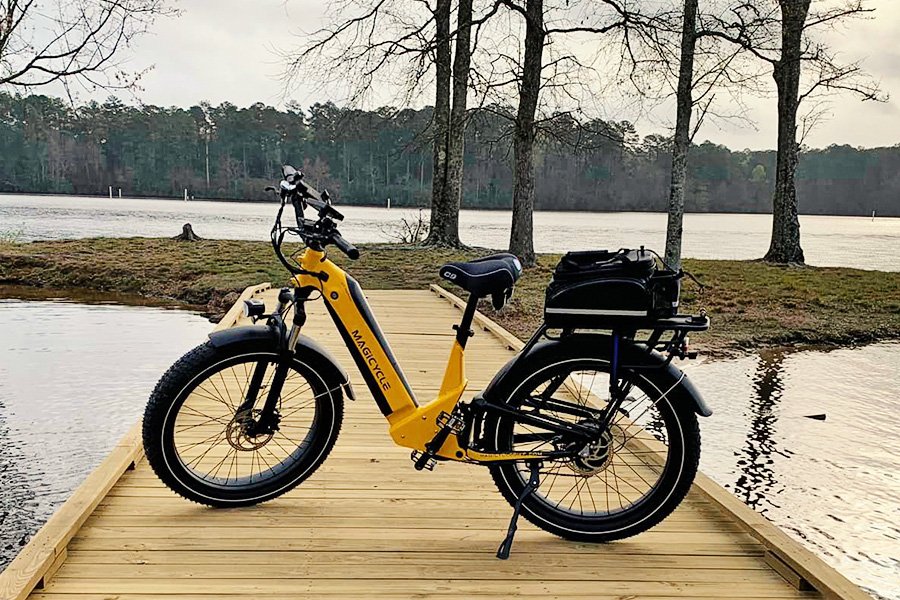 This beautiful ESUV (Electric Sport Utility bike) is known as the Magicycle Deer All-Terrain ESUV. ESUV bikes are relatively new to the e-bike market, and they are an impressive combination of cruiser comfort and EMTB off-road capability.
You get the power and torque to handle the steep hills and a very generous payload of 400 pounds!
Magicycle once again proves itself to be a consumer-oriented company by giving you a choice of styles: step-over or step-thru.
Most manufacturers of ESUVs are not providing a step-thru model, so this convenient frame style is very hard to find. Off-road adventures are sometimes thought of as an activity reserved for the young and strong, but that is not actually the case.
Read also: Magicycle Deer Full Review
Magicycle feels that almost anyone can enjoy owning a fat tire electric bike that can take you down city streets or up a mountain trail with equal ease and comfort — and this includes riders of all sizes. This makes the step-thru design very significant: a convenient fat tire e-bike that can take you just about anywhere, on the road or off.
Reliable and Economical Transportation
Fuel prices are up and down these days, but everyone agrees that prices are still much too high. The average American has expenses of more than $15,000 annually just for commuting to work, routine driving, and perhaps an occasional leisure trip.
When you add a Magicycle Deer fat tire e-bike to your life, you can give yourself a very nice discount on the cost of getting from Point A to Point B.
You'll love commuting to work worry-free or running routine errands for mere pennies in energy expense. You know you'll get there on time and you'll do it for a mere fraction of the cost involved with an automobile…or even public transportation.
In fact, you could easily save more than $400 monthly compared to automobile gas or diesel expenses. It doesn't require a math whiz to quickly see that your monthly transportation savings could easily cover the payment on your shiny new Deer ESUV.
Quality Components
The full-suspension Magicycle Deer is far more than just a pretty face! This ESUV has all the power you'll need to tackle the steep hills, city streets, and off-road trails. It also features a very effective design, meaning that it has rear wheel suspension in addition to the usual font fork suspension. Talk about a smooth ride — this is it!
It's unfortunately not unusual to find fat tire electric bike brands that provide a decent frame, but then "go cheap" on outfitting the frame for riding. Not Magicycle!
Like all Magicycle fat tire e-bikes, the Deer ESUV is equipped with quality components. For example, the original Magicycle Cruiser has a strong and reliable branded motor, and it would be simple for the Magicycle Design Team to just copy that motor and use it for the Deer.
Rather than go the easy and cheap route, they have given the Deer an upgraded motor that is even more reliable. It provides everything a good ESUV needs. With 1100 peak watts and a ton of torque, Deer riders are the king of the hill!
To accompany all that power from the Deer, riders also get an amazing amount of torque. After all, the Magicycle Deer is a full-suspension fat tire e-bike intended for riding on any terrain, including tough and steep trails. To accomplish this, it absolutely must have a motor that delivers excellent torque.
The Magicycle Deer's motor is meticulously engineered to produce industry-leading torque — 96.8 Newton meters! You won't find many e-bikes that can give you that kind of torque. In fact, the Magicycle Deer has about the same torque as an 800cc motorcycle!
The Perfect Fat Tire E-bike is Yours
You can order your favorite Magicycle fat tire e-bike online from the comfort of your home, and it will arrive on your doorstep in 7 days or less! By now you probably realize that you can't go wrong with Magicycle.
If you are in the market for a quality fat tire e-bike at a consumer-friendly price point, you are the perfect Magicycle rider. Just click here to get all the details, and then get riding!