In this article, we will talk about some notable features of the Mercane WideWheel Pro that will help you to make a sensible buying decision. Overall, this is definitely a great scooter but if it is perfect for you too, only you can decide. So let's dig in!
Quick Specs
Electronics
| | |
| --- | --- |
| Motor | 2 x 500W |
| Top Speed | 26 mph |
| Battery | 48V 15Ah (720Wh) |
| Range | 30 miles |
| Charge Time | 8-9 hours |
Features
| | |
| --- | --- |
| Weight | 54 lbs |
| Weight Limit | 220 lbs |
| Tires | 8″ x 3.9″ Solid Airless |
| Brakes | Front & Rear Disc |
| Suspension | Front & Rear Springs |
| Lights | Front & Rear LED |
| Dimensions | 43.1″ x 21.6″ x 43.3″ |
| Folded Dimensions | 43.1″ x 8.6″ x 16.1″ |
MSRP: $1,369
See Availability: FluidFreeRide
Battery and Motor
A new battery has been installed by Mercane for this scooter which is actually a robust lithium-ion battery built for power. It can boast of having a longer range of approximately 15% as compared to the older model and is 1 mile per hour faster. You will come across a couple of 500W motors having fantastic acceleration and torque. The good thing is that this scooter will be able to handle 35% inclines with no problems at all.
Speed and Range
It will be feasible to get the top speed around 28 mph on a flat surface. When it comes to range, a 150-pound rider will be able to get approximately 20 miles on a flat pavement at full speed. It will be possible to switch to the Eco mode in case range is important to you and you can receive a minimum of 30 miles on a single charge. It will take around 6 hours for filling up the scooter in terms of charge.
Construction of Mercane Wide Wheel
Re-designed Aluminium Frame
Speed cannot be considered to be the sole upgrade on this device. The aluminum frame which has been re-designed is much more stable and durable. Several components such as the neck and the stem have been thickened as well. This will provide you with more safety in case you are riding on rough conditions. The scooter will not feel wobbly after all.
While riding along quite fast, this strength is of prime importance. In fact, the handlebar used to become loose over time in the 2019 model, and this has been fixed by the manufacturer in the 2020 version.
The Deck
Although the deck of the scooter is 5 inches in width, there is adequate room for the riders. Mercane WideWheel will be able to hold as much as 210 lbs which is definitely on the lighter side. Moreover, the weight of the scooter is 55 pounds which implies that it is not super portable. However, it is able to fold up and is not that heavy for you to carry for some time.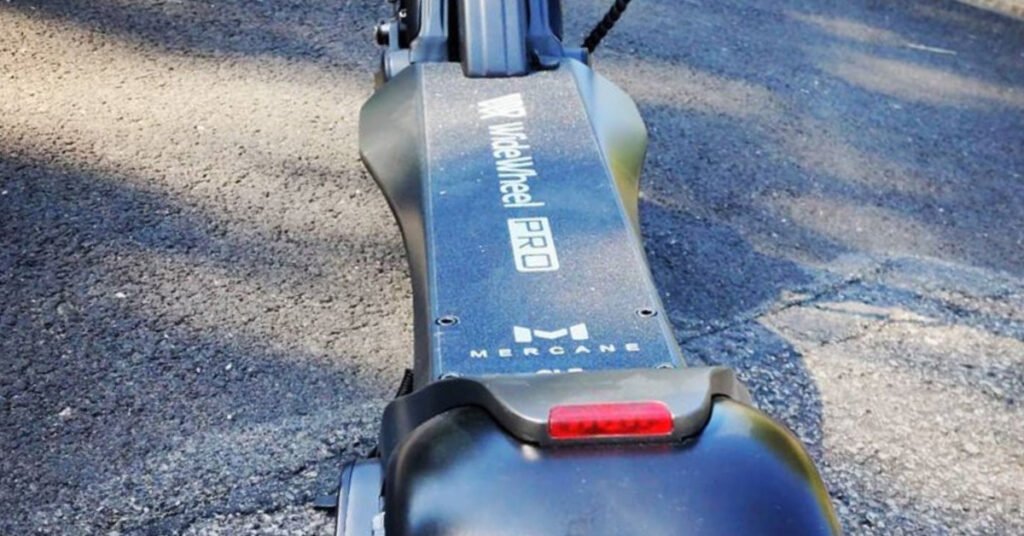 Tires
Let us talk about the tires now. As suggested by the name, the tires are wide measuring 8″ x 4″. The tires which are airless are quite soft and the ride will be smooth mainly because of the front as well as rear suspension. Mercane Wide Wheel will be able to handle rough surfaces in the city without any issues whatsoever.
One important advantage provided by airless tires is the fact that they will never go flat. Nevertheless, the drawback is that the traction is not that great particularly on wet grounds. As a matter of fact, this scooter is intended for flat and dry roads with hills occasionally.
Lighting and Breaking
The braking system is extremely important on a robust electric scooter like this one mentioned here. There is a minor change from the older version with a front as well as a rear disc brake. Better stopping power is offered by this innovative dual braking system. Each brake comes with a handle.
If you plan to ride your electric scooter in darker evenings as well, you need to focus on lighting. The dual LED lights at the front of this scooter are quite bright which will allow you to see what is in front of you in case you are traveling at night. You will be made more visible by this light which will keep you safe as well.
Smart Display
One of the most significant upgrades on the Mercane Wide Wheel is the innovative smart display apart from the battery and the motor. The display provides you with speed, battery charge, as well as mileage. It will also be possible for you to change gears while riding.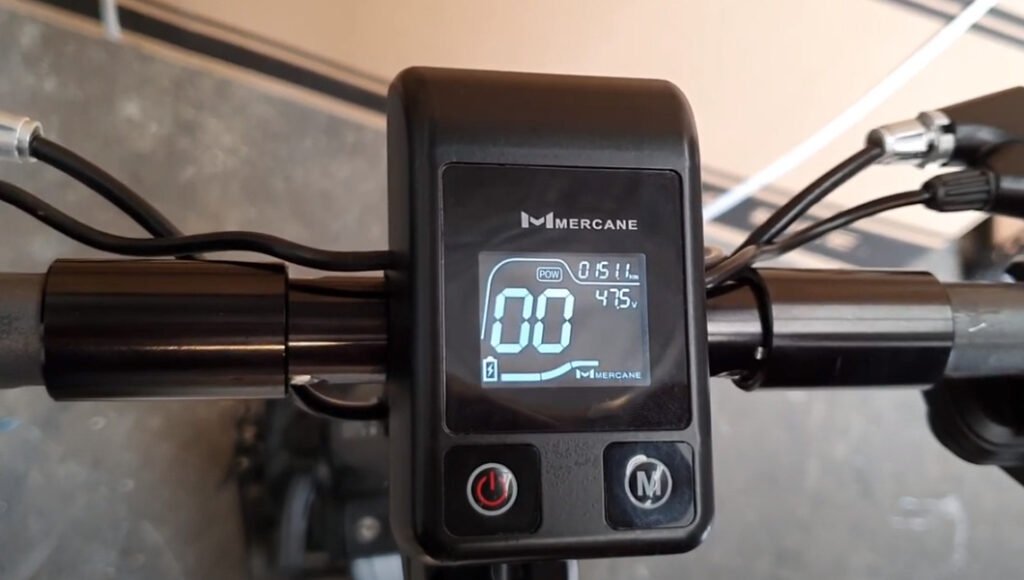 You can also adjust your scooter to Eco or Power mode from the display. Eco mode helps you to use power more effectively and get the maximum range. The Power mode offers you maximum torque and top speeds. The cruise control will effectively allow you to maintain your speed.
Check out how to use this display from the video below:
Minor Drawbacks
For an electric scooter like this, the optimum rider weight is somewhat low, and the airless tires come with some drawbacks. The traction is not up to the mark particularly on wet grounds, and therefore, you have to be careful while braking. Apart from this, there is no major downside when it comes to the Mercane Wide Wheel.
Other electric scooter to consider:
Conclusion
Mercane Wide Wheel Pro 2020 is definitely a big step forward compared to its previous models. It is more powerful, more enjoyable to ride, and better built. The battery and the motor provide better speed as well as range and the brakes are smooth as well.
Although you will come across certain drawbacks such as inadequate traction but on a dry surface you are all good. Overall, the positive aspects of the Mercane Wide Wheel definitely outweigh the downsides.