Are you looking for an efficient electric scooter for commuting to work or for your leisure activities? Well, look no further the Qiewa Q1Hummer is taking the market by storm, and purchasing one will guarantee you maximum convenience.
Manufactured by Qiewa, a reputable firm in scooter production, the Qiewa Q1Hummer is the latest release in their scooter series. Moreover, the adult electric scooter has fantastic features that will wow you. Let's deeply review this scooter.
Quick Specs
| | |
| --- | --- |
| Motor | 800W |
| Top Speed | 37 mph |
| Battery | 48V 25Ah (1,200Wh) |
| Range | 65 miles |
| Charge Time | 12 hours |
| Suspension | Dual Shock Absorbers |
| Brakes | Double Disc Brakes |
| Lights | Front light + rear brake light |
| Tires | 10″ Pneumatic |
| Weight | 55 lbs |
| Max Payload | 550 lbs |
| Dimensions | 48″ x 44″ |
| Folded Dimensions | 15″ x 39″ |
| Price | $719 |
Motor, Speed, and Acceleration
The primary question in this segment is, how does the Qiewa scooter perform? The scooter has been tested and the tests have proved that it is a reliable scooter and it exceeds all industry stakeholders' expectations.
Under optimal conditions, the scooter can cover an impressive 67 miles at a top-notch speed of up to 37 MPH (60 KMH). Moreover, to facilitate these high stats, Qiewa Q1 Hummer has an energy-efficient 800-watt motor under the hood. Furthermore, the scooter provides riders with the capability to adjust the speed to between 12 or 25 or 37 MPH (20/40/60 KMH).
Battery and range
The scooter has a battery capacity of 1246Wh and charging time up to full battery is between 8 – 12 hours. Qiewa Q1Hummer has an impressive range. Max driving distance is 67 miles (108 km). It is better than most of the competitors.
This model's drive test statistics have shown that Qiewa Q1Hummer can cover a round trip of up to 10 miles with a total of over 380-foot grade uphill incline utilizing less than 40% of the battery charge as the day comes to an end. With such a positive power consumption rate, it would arguably make sense for riders with lots of uphill incline in their daily routines.
Suspension
The strong protruding shock-absorbers are suitable for off-road terrain and tarmacked terrain. A lot of electric scooters don't have suspensions at all. Some of them have one suspension to make the riding smoother. With Qiewa Q1Hummer you would get both front and rear suspensions. These shocks provide extra comfort and a smooth ride since it soaks up harsh bumps and hits. You can easily make some off-road rides with this electric scooter.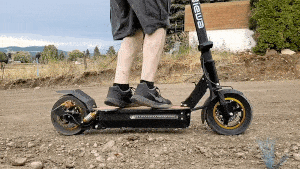 Breaking and Tires
The braking systems have been professionally made and surpassed all the applicable safety measures. The double disk brakes produce the best braking power during emergency braking. Moreover, it allows for smooth and stable braking. The foot brakes are light in weight and enabling you to step on them softly. The scooter has 10-inch pneumatic tires designed by Taiwan specialists giving the rider confidence on the additional grip and shock absorption. Remarkably, these tires are also suitable for both off-train and city roads.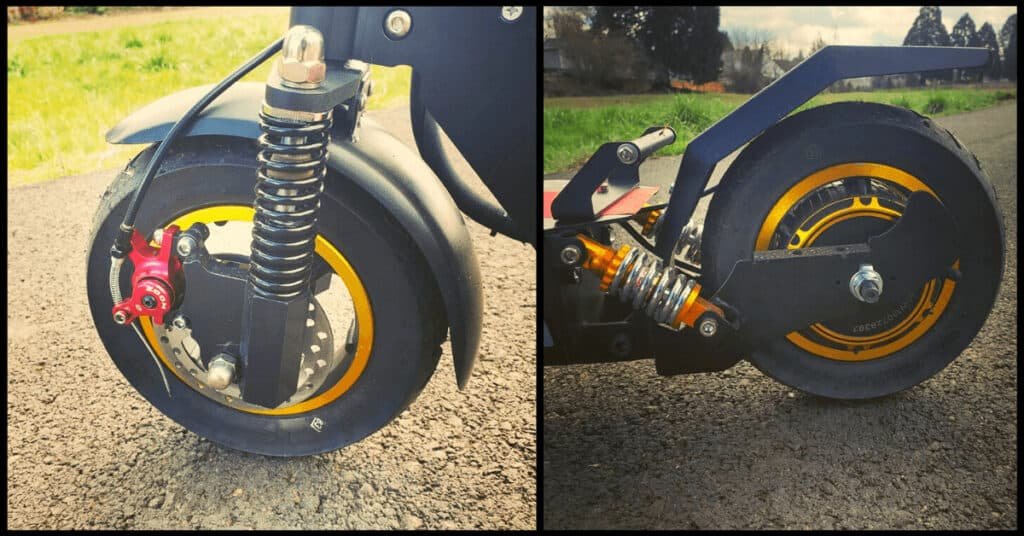 Main features
Screen
You can control the scooter via a simplified LED screen panel on the handle. Among the screen's crucial features include the acceleration button that enables you to select your speed limit. Also, there is an indicator to show the battery percentage and a speedometer showing you your speed limit. The scooter has a 25A controller to achieve the best battery and speed stamina.
Lights
The Qiewa Q1Hummer has a series of LED lights spread all over the frame, making it visible in dimly lit environments. The brake lights are high-end to allow other motorists to notice you when slowing down or to stop.
Max Weight
A good scooter should support the weight of the rider or the load. Qiewa Q1Hummer can support an impressive 540 lbs (240 kg). With this load or weight capacity, it is probably one of the strongest E-scooter ever invented. Despite this extraordinary carrying capacity, the scooter itself weighs 27 kg making it very portable.
Portability
The scooter has an allowance for folding and placing it in the trunk of your car or rooftop of your van for ease of commuting. This scooter folds down to half; thus, riders are assured that the convenience and portability puzzle has been solved.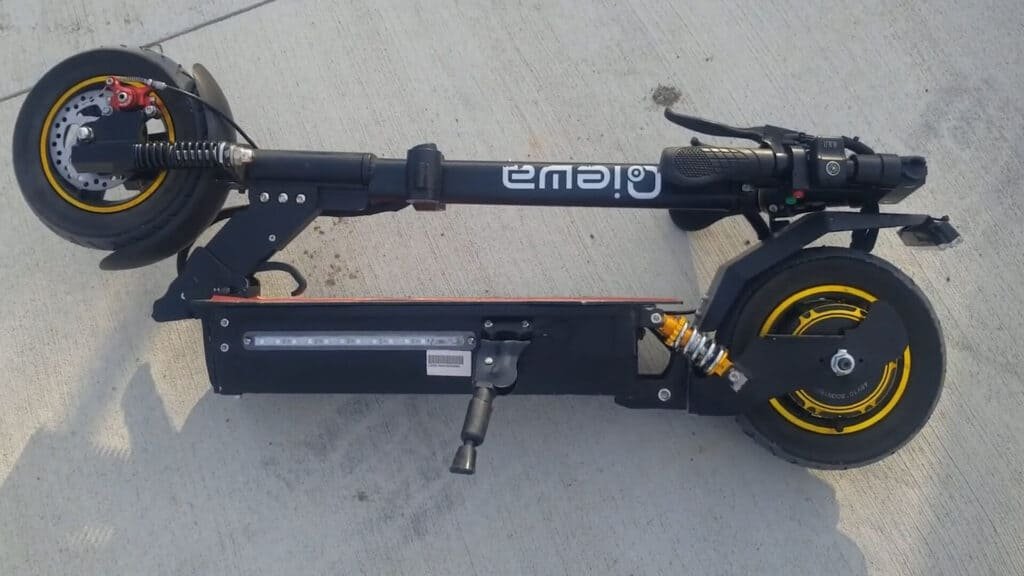 Built Quality
The scooter has a solid-construction body made up of lightweight and durable aluminum alloy. For this reason, Qiewa Q1 stands out as one of the most reliable electric scooters in the market. The scooter has been designed with a hard-folding mechanism that is strong enough to absorb impact and vibration with no deformation. The height of the handlebar is adjustable to fit the rider's suitability. You are also able to ride during rainy days because this scooter has a waterproof mechanism.
Furthermore, the manufacturer has gone higher to incorporate anti-theft technology on the scooter allowing you to control and look using a remote. Additionally, Qiewa Q1 is fitted with an alarm which immensely aids to prevent burglary. Another fantastic feature is the USB charging functionality allowing you to charge your smartphone while on the move.
Qiewa Q1Hummer Competitors
Qiewa is not the only company that produces high-quality electric scooters. The two major companies actively competing with Qiewa are Mercane and Zero.
Mercane WideWheel
The unique nature of WideWheel scooter compared to Qiewa are listed below:
More portable;
Higher motor power of 1000W compared to Qiewa's Q1 800W;
It uses solid rubber tires, which are more durable than pneumatic tires used by Qiewa's Q1Hummer.
Zero 10x
It has also some unique features:
A 1000W motor powers it compared to Qiewa's 800W.
The recharge time is at 10 hours compared to Qiewa's 12 hours.
Didn't find what you were looking for?
What can be improved on Qiewa Q1Hummer?
I must say that Qiewa has made one superb electric scooter, that will definitely fulfill even the most demanding riders, but still, there is always room for improvement. Below are the notable improvements and adjustments needed to increase Q1Hummers efficiency.
Increase the battery capacity from 800W to 1200W to increase the distance covered and the general power of the scooter.
The manufacturer should consider the replacement of pneumatic tires with solid tires. Pneumatic tires can burst easily upon puncturing by sharp and pricky objects such as nails and thorns.
Incorporate the scooter with Bluetooth connectivity; hence riders can listen to their favorite music while moving from their smartphones.
Conclusion
Electric scooters are fast becoming the best alternatives to escape the hustle of having to endure long hours in traffic. Moreover, scooters are very eco-friendly locomotives since rechargeable batteries power them. Since Qiewa Q1Hummer can go really fast, has an impressive range, can fit easily in the trunk of your car, and can also hold some heavy adults, it is definitely worth considering if you are planning to buy yourself a new electric scooter!