Electric Wheelers is reader-supported. Although we independently research and test products, we may receive a commission on purchases made from our chosen links. Read more…
No one buys the Ninebot ES1L because it's fast or smooth. The fact is, if you're buying this sub $500 e-scooter, you're looking for something affordable and functional.
At the very least, that's what the ES1L is – a basic commuter scooter. Solid tires and a single shock absorber don't necessarily facilitate the smoothest ride quality. The fact that it's nearly 25 pounds heavy doesn't do it any favors either.
But if you want to cut your errand time in half or zip around the neighborhood at faster than walking speed, all without spending your entire paycheck, then Segway's Ninebot ES1L may be what you need.
Overview
Segway Ninebot ES1L – Who's it for?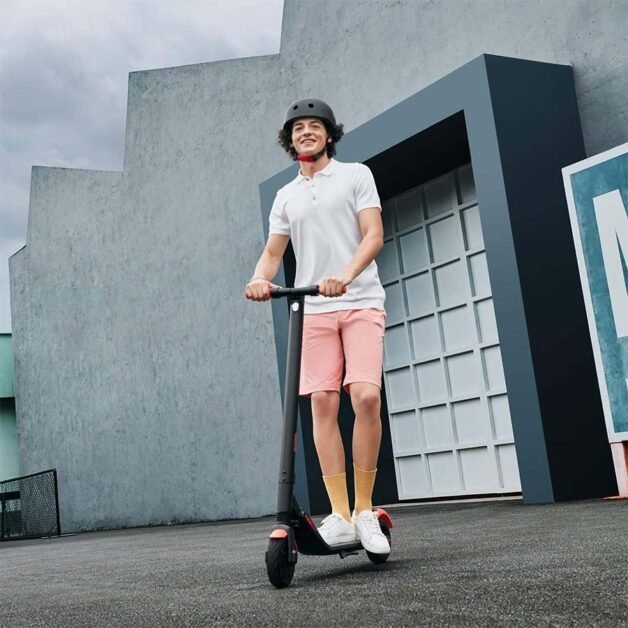 Bus and subway commuters and students looking to get around campus effortlessly will thoroughly enjoy the Ninebot ES1L e-scooter.
The former crowd will love how nimbly it rides, which will undoubtedly help them maneuver through congested streets in style and comfort. The latter group can take advantage of the scooter's fast yet safe top speed to get to class on time-and without breaking a sweat.
Segway Ninebot ES1L Specs
| | |
| --- | --- |
| Motor | 250W |
| Battery | 36V 5.1Ah (184Wh) |
| Recharge Time | ~6 hours |
| Max Speed | 12.4 mph |
| Max Range | 12.4 miles |
| Brakes | Electronic brake + rear foot brake |
| Suspension | Front shock absorber |
| Weight | 25 lbs |
| Weight Capacity | 220 lbs |
| Tires | 8″ solid tires |
| Lights | LED headlight |
| Dimensions | 40″ x 16″ x 44.5″ |
| Folded Dimension | 44.5″ x 16.3″ x 12.6″ |
| IP Rating | IPX4 |
Where to Buy Segway Ninebot Scooters?
Segway Ninebot ES1L Performance
Speed and Acceleration
The Ninebot ES1L runs on a 250W continuous, 500W peak power brushless motor that gives you a top speed of 12.4 MPH. It has a decent amount of torque, and beginners should be wary of the lurch it makes when you kick off in Sport Mode.
It takes off with quite a kick and can go from zero to 15 MPH in just under 11 seconds. Even with such a low top speed, the ES1L is capable of some thrilling moments of sheer velocity. But at 12.4 MPH, you're barely outgunning cyclists, let alone other motorists.
Hill Climbing Capabilities
The manufacturer states that the ES1L is good for climbing slopes of 7-degree gradients at most. They're not wrong. It feels very slow going up inclines, and if you're in a hurry, you'll be forced to help it along with a few kicks.
Stick to mild slopes around the suburbs or streets. This scooter won't do you any favors on hilly terrains.
Battery and Range
The 5,100mAh battery powering the Ninebot ES1L is good for 12.4 miles of range per charge.
It seems to charge in segments. It jumps from zero to 20 percent in 30 minutes but then takes nearly five more hours to get to a full charge.
The battery is well protected with waterproof resistance and multiple protection mechanisms (shock resistance, flame retardancy, etc.).
Brakes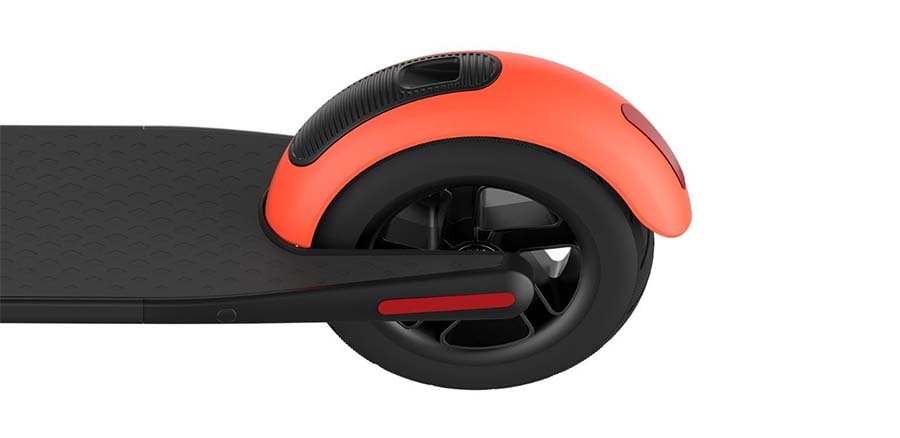 The Ninebot ES1L features an electric front brake and a foot-operated rear brake. Together, they offer a stopping distance of just under five feet.
The front brake is thumb-operated, which may suit learners better. To activate the rear brake, you have to step down on the rear fender to increase its friction with the rear wheel. Overall, the brakes are great. However, the front brake is not very effective if you're pushing the scooter's 220-pound limit.
Design and Features
Segway Ninebot ES1L Build Quality
For such a small profile scooter, the ES1L is unexpectedly heavy. However, to the credit of its bulky design, it's quite robust, give or take a few design flaws.
For starters, the battery pack is not on the deck; it's on the stem. That gives it a uniquely thin deck, which kind of looks like a skateboard with a stem.
This deck can comfortably support up to 220 pounds, but it is just too low (ground clearance). Protruding bumps are certainly a huge risk since they can rip right through the thin deck.
Also, the battery pack makes the stem thick and unwieldy. That's a problem because you can only carry the Ninebot ES1L by the stem when it's folded.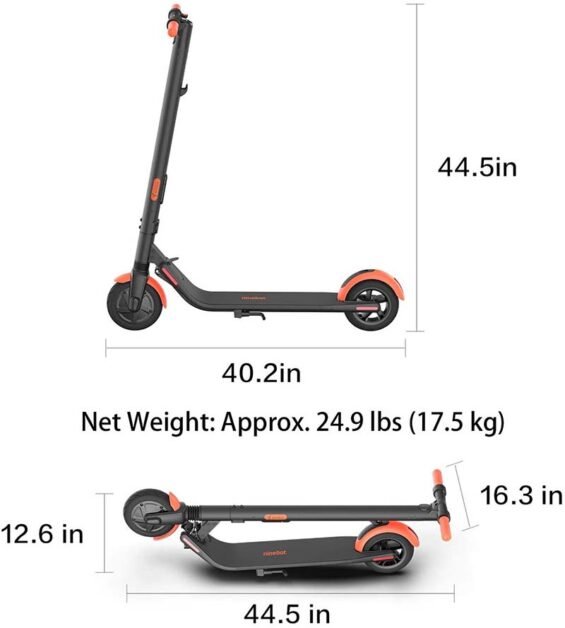 Is Segway Ninebot ES1L Waterproof?
The waterproof rating on the Segway Ninebot ES1L, IPX4, is a clear indicator that it's not designed for deep puddles or heavy rain. Not that you should be riding any e-scooter in the pouring rain.
Still, it will only survive small splashes of water, such as those you get riding over shallow puddles.
Portability
The Ninebot ES1L has a unibody design, which means the stem and the deck are fused together.
A pedal on the lower end of the stem allows you to fold it back and hook it onto the rear fender to secure it. It's a simple folding mechanism, and the scooter feels solid whether folded or unfolded.
It can fit underneath a bus seat or work desk, but carrying all 24.9 pounds up three or four flights of stairs will be an experience to forget.
Cockpit
The single-button control is the one qualm riders seem to have with the cockpit. Whether you want to set it to Sport Mode, check the speed, or adjust the electric brake, this is the button you have to press.
The thumb controls on either side of the display LED, brakes on the left, and throttle on the right make this tedious central button control a little less heinous.
Wheels and Tires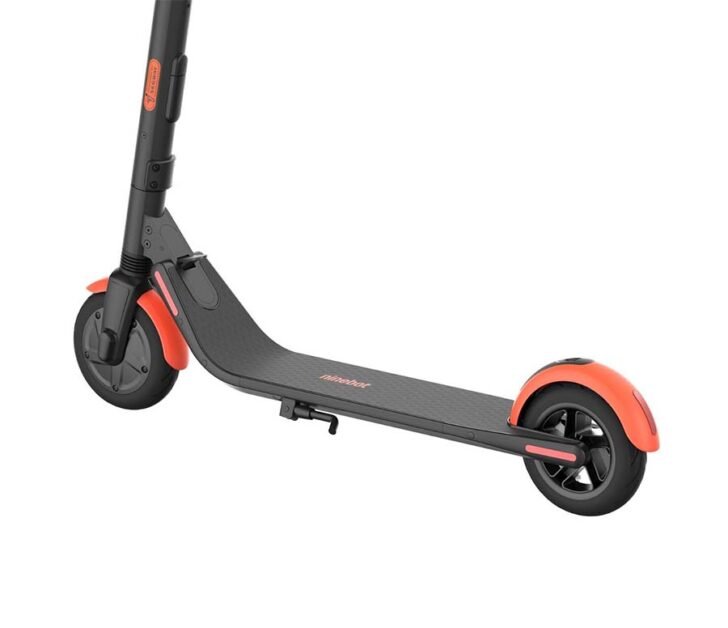 Riding on 8-inch solid (tubeless) tires is not as fun as it may seem. The ES1L has excellent wheels. Wide enough to provide stability and great on smooth roads. However, venture out onto any bumps, and it's a different story.
The lack of rear-wheel suspension doesn't do the scooter any favors either. On paved roads and streets, it's a perfectly good scooter. If only it could handle bumps with a little less vibration.
Ride Quality
Riding the Segway Ninebot ES1L feels like riding a rented scooter, but only just. The solid tires perform well enough on smooth roads, and you might even be impressed by how well they handle around turns and bends.
There is suspension on the front wheel, but you'll still feel some bumps here and there which is perfectly okay at this price point.
There is no rear suspension whatsoever. The solid wheels are only as good as the road is smooth. Riding on bumpy trails sends some harsh vibrations up your ankles and wrists, which is uncomfortable.
Nevertheless, you can't hate the scooter's agility and speedy launches, making it almost as fun to ride as some high-end options in the market.
Comparisons
What is the difference between the ES1 and the ES1L?
Basically, the ES1L is like a younger and less powerful brother to ES1.
While Ninebot ES1 has a maximum range of 15.5 miles, ES1L has only 12.5 miles of range. The same goes for the maximum speed (16 mph vs 12.5 mph). In many countries, there are laws that restrict electric scooters to go faster than 20 km/h (12.5 mph). Ninebot ES1L is made for those markets where such restrictions apply.
Also, ES1L has no Bluetooth and has some cheaper parts to get the price point lower.
Segway E22 vs Segway ES1L
Both scooters have the same top speed of 12.5 mph. However, E22 has a slightly better battery capacity. It can travel up to 13.7 miles while ES1L can go up to 12.4 miles. So the difference is very marginal.
Although Ninebot E22 has a bigger battery, the charging time is almost 2 times faster than ES1L (6 hours vs 3.5).
One noteworthy difference is that ES1L has a single shock absorber at the front, while E22 has no suspensions at all.
The price difference between those two is about $100 in favor of ES1L.
Segway Ninebot ES1L vs Gotrax GXL V2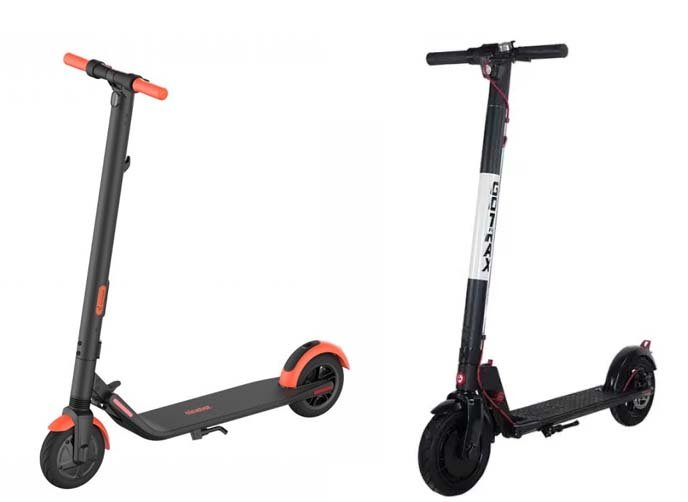 Both are one of the most affordable electric scooters available on the market.
Ninebot scooter is slower than Gotrax GXL V2 (12.5mph vs 15.5 mph). However, the battery of ES1L seems to be a little bit more efficient than the one on the Gotrax.
For some adults, the handlebar of the ES1L scooter is too narrow. The handlebar of Gotrax GXL is wider and provides more stability.
One of the main differences between Ninebot ES1L and Gotrax GXL V2 is that Ninebot has 8″ solid tires and Gotrax has 8.5″ pneumatic tires.
It means that the tires of Ninebot ES1L will never go flat. On the other hand, if the road is not perfectly smooth, the ride will be very rough.
Since Gotrax GXL has air-filled tires, they can get popped. But as you know, air-filled tires provide better ride quality than solid tires. So both scooters have some pros and cons.
Segway Ninebot ES1L Review Conclusions
If you need a scooter to halve your transport times, especially when you're walking, not driving, then the Segway Ninebot ES1L is as good as it gets.
Don't expect any fancy bells and whistles on this sub $500 scooter.
Expect a reliable build and decent performances, but don't think you'll be gliding over bumps and speeding up inclines because that's not where the ES1L's strengths lie.
It is a reliable micro-mobility device designed to sit quietly in the corner until you have to make a quick run to the grocery store or get to an afternoon class on time. If that's all you use it for, it will never let you down.