Which step to take when you don't feel like taking any step and walking becomes hard for you? Riding a bicycle can make you feel exhausted and sweaty. So, what can be a far better way than walking or riding a bicycle? A revolutionized world calls for an innovative solution to help people travel faster than walking and easier than cycling. An electric scooter will offer this benefit like a pro.
Jumping into the market, you can explore numerous e-scooters, but are all of them worthy of investment? If you are wondering about this fact, let us tell you that the answer is no. Many options can prove to be bone-shakers for you. For choosing the right model, certain things need special consideration. These include tires, suspension, and brakes as well.
Amongst this category of products, the Xiaomi M365 proved to be successful in topping the charts in being one of the best e-scooters. The brand then launched a more dynamic and innovative version of this model, named Xiaomi M365 Pro. Many may also know it by the name Xiaomi Mijia M365 Pro.
Full Specs
| | |
| --- | --- |
| Brand | Xiaomi |
| Model | M365 Pro |
| Weight | 14 kg |
| Folded dimensions | 44″ x 17″ x 19″ |
| Motor power | 300 W (Continuous) |
| Top speed | 16 mph |
| Range | 28mi |
| Battery capacity | 474Wh |
| Recharge time | 8-9 hrs |
| Max rider weight | 220 lbs |
| Brake type | Regenerative and Disc |
| Tire type | Pneumatic |
| Water-resistance | IP54 |
| Warranty | 12 Months |
| Price | ~$400 |
Why Xiaomi?
A well-known entrepreneur, Lei Jun, established Xiaomi in 2010. The brand claims high quality coupled with an innovative approach to serve the best to its customers. With the support of this company's loyal fans, the owners successfully go into the creation of fantastic hardware, efficient applications and software, and magnificent internet services.
The brand works devotedly for its customers, and this vision makes them able to take its feedback seriously and incorporate it into its upcoming launches. With a decade of experience and high-level expertise in the field, the brand has gained global recognition.
---
Main Features
When it is to purchase an electric scooter, several features are what the purchaser is looking for. The same is the case with the Xiaomi M365 Pro electric scooter. This upgrade version offers you many features that are bound to provoke your interest in this model. Let us take you through all the power-packed features and details about this electric scooter.
LED Screen
The most innovative feature of this pro model is that it comes with an installed LED display screen in the cockpit area. The screen is capable enough to adjust its brightness automatically according to day and night. Who wouldn't want to know about the speed they are currently riding on? This LED screen plays a significant part in displaying your speed, lighting status, battery, and connections regarding Bluetooth.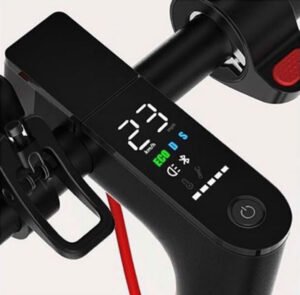 Headlight and Taillight
Wouldn't a ride be useless if it doesn't feature a headlight for night-time riding? Well, you don't have to worry about darkness with the Xioami M365 Pro, as it features a bright headlight for your safety. Placement is the best aspect of this headlight. The perfect level of positioning paves the way for better visibility and safety.
The rear taillight that this unique scooter features lighten up whenever you use the brakes. These factors make the whole system more commendable and safer for the riders.
However, if you are expecting a higher brightness, these lights won't provide that to you. For getting this additional feature, you can choose to invest in an extra light that is ultra-bright.
Brakes
Safety is the first concern for everyone, right? For this, the braking system of a ride is essential to evaluate. As for this particular model, the regenerative brakes at the front and mechanical disc brakes at the back couple amazingly provide you with an experience to remember.
For activating this brake system, you simply have to pull the hand brake lever. However, a major problem that people face more often is the brakes' sudden and rough operation. Does M365 Pro do the same? The answer is an absolute no; the smoothness of these brakes is what makes them highly appreciable. The strength of the front brakes is adjustable via the Bluetooth application.
Acceleration
It would have been wonderful if the scooter had zero starting mode. But, instead of that, you would have to kick for starting it up. Still, the acceleration of this model is quite impressive as compared to other available scooters. The time that this one takes to go from 0 to 25 kilometers per hour takes just some seconds. Surprising, isn't it?
This whole factor depends on the scooter's motor.
Motor
The whole functionality of such electric rides depends on their motors, right? This is why this factor is extremely important for us to throw light upon. The electric motor that is a part of this superb ride can supply you with a continuing power of 300 watts. If you are now wondering about the surge power, you will be more than pleased to know about 600 watts delivery by this motor.
Top-speed
Speed is one of the most enticing factors, and the Xiaomi M365 electric scooter succeeds in meeting your expectations as well. You will be able to get a top-level speed of up to 25.8 km per hour by this scooter bound to exceed the limits.
Range
The range is one of the best qualities of Xiaomi 365 Pro. Why so? Well, with a weight of 14kgs, this scooter can provide you a range of about 40 km. It is nothing special but for a scooter in this price range, it is more than okay.
Tires
Have you ever experienced a rough and body-shaking ride on an e-scooter? That's mainly due to the quality and type of tire. However, in this classic model, the pneumatic tires with the inner air-filled tube will allow you to travel smoothly. With the help of supple rubber, you will not lose your grip even on wet surfaces.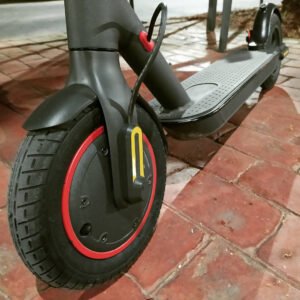 Handle and Grip
The easy-to-use features placed close to the handles of this unit will win you for sure. With the handlebars' quality grips, you will never feel as if your hands feel sticky or slipping.
Controlling the brake lever and the accelerator are both quite easy as they have been made handy. The accelerator features a thumb pad made from rubber to offer you quality and ease side by side.
Design and Appearance
Who wouldn't want to have a ride that looks great and functions amazingly as well? Both the design and the appearance of this amazing model are truly praise-worthy. With the red and black's enthralling combination, this scooter is bound to catch your eyes immediately.
Other than the magnificent look, the foldable design of this e-scooter is yet another feature that makes it one of the bests to invest in. Due to this design, it will become easy for you to travel along with it. Moreover, it can fit easily into your car's trunk as well. Hence, you will get an additional benefit of "portability," too.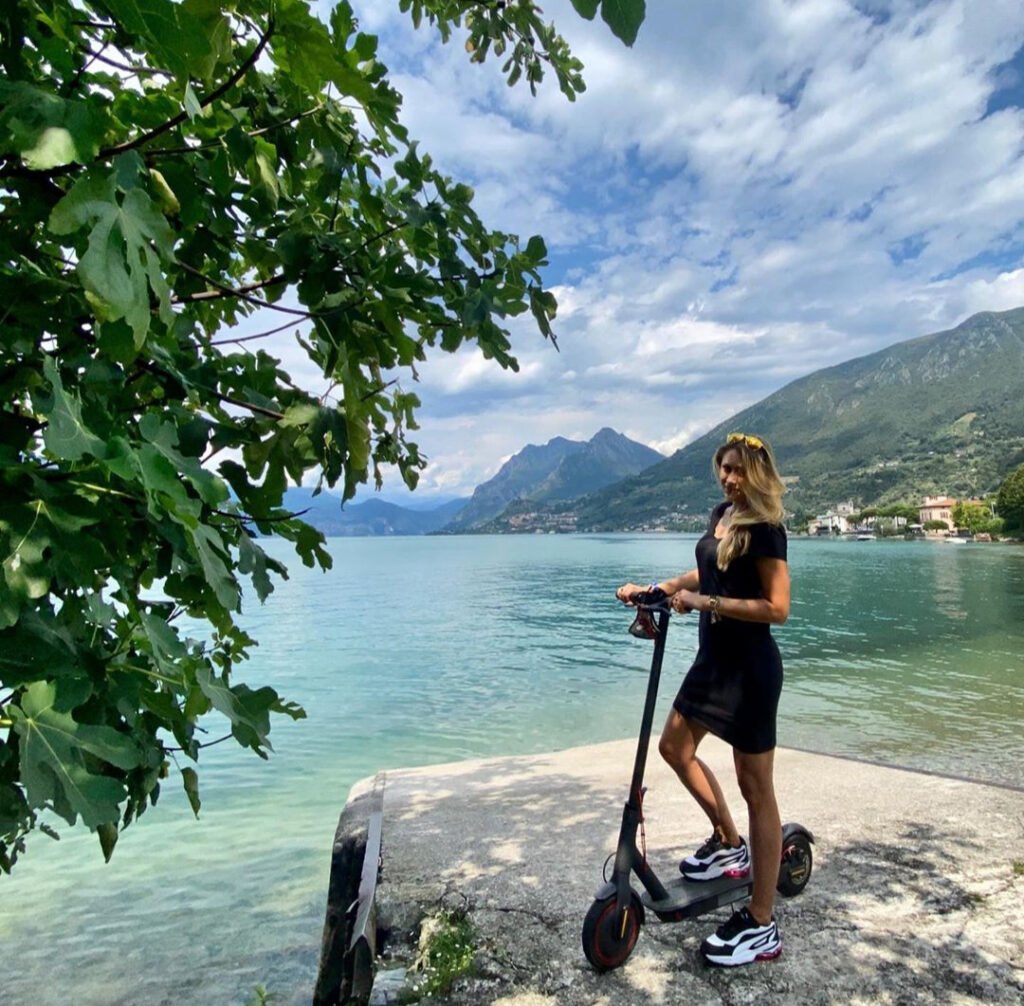 Deck
For the deck, you will probably want a wider size that allows you to rest your feet easily on it. Well, if so, then be happy because you will get exactly the same through this scooter by Xiaomi. Another great fact about this deck is that it featured a rubberized cover for offering enhanced traction to the rider.
Battery and Charging
The charging slot of this scooter comes with a magnetic rubberized cover for the utmost protection. The charger display red and green light to show you the status of charging. But, the main highlight is the display of charged battery percentage on the LED screen.
The featured lithium-ion battery is of the 474-watt hour power for exceeding performance and a better experience.
---
Competitors
Xiaomi has succeeded in producing this quality e-scooter that has left many impressed. The rivals and competitors for this model include the following:
---
What Can Be Better?
Although there is not much that the brand has left for us to be unsatisfied, still, we would like to pinpoint a couple of things. The foldable design is undoubtedly commendable, but the fact that the handle stays wide open can make it difficult for you to store the scooter.
Other than this, the height of this scooter above the ground is only three inches. This factor can damage your scooter from the bottom when you are dropping off from larger curves.
---
The Closing Thoughts
Xiaomi M365 Pro price is about $400. For that, the scooter has all those features in a single model that was once a dream for riders to get. The brand has lifted the bar of standard and quality with its amazing work.
From top speed to range and acceleration of this scooter, every other aspect is worthy of applause, as it has left many top names behind. With the IP54 water resistance, you can carry on with your ride even in slightly wet conditions.