People buy electric scooters for different reasons, including:
having fun on weekends,
seeking cheaper means of transportation,
opting for eco-friendlier forms of transportation,
etc.
In this review, we are taking a close look at Yume D5 dual-motor electric scooter.
Yume D5 is a beast. It's an amazing electric scooter that excels where it was designed to (off-roading) and performs competitively in other sectors.
Electric Wheelers is reader-supported. Although we independently research and test products, we may receive a commission on purchases made from our chosen links. Read more…
Yume D5 Overview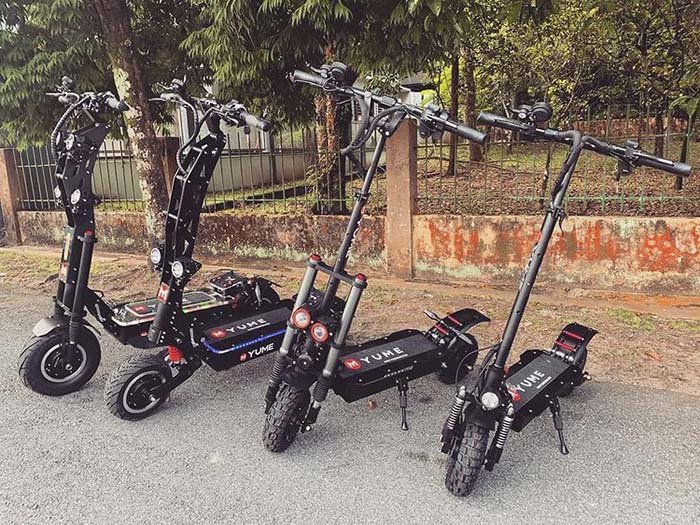 Related: See All Yume E-Scooters
To Whom?
Yume understands that electric vehicles are not cheap and not everyone can afford electric cars or expensive electric bikes.
This is why the company has developed various cost-effective products to help such individuals acquire cost-friendly means of transportation. However, you should note that it provides limited value for money but keeps the price lower.
The Yume D5 is designed for adults that want to invest in a cost-friendly vehicle they can use to run their errands. You could use the scooter to travel to work, school, buy groceries, etc.
Yume D5 Specs
| | |
| --- | --- |
| Motor | 2 x 1,200W Dual Drive |
| Top Speed | 40 mph / 64 km/h |
| Battery | 52V 23.4Ah (1,216 Wh) |
| Max Range | 40 miles / 64 km |
| Recharge Time | 4-5 hours |
| Brakes | Hydraulic Disc Brakes |
| Suspension | 4 Front Spring Shock Absorbers + 1 Rear Spring Shock Absorber |
| Weight | 75 lbs / 34 kg |
| Weight Capacity | 440 lbs / 200 kg |
| Tires | 10″ Pneumatic Off-Road Tires |
| Lights | 1 LED Headlight |
| Hill Grade | 30 Degrees |
| Dimensions | 21″ x 19″ x 10″ (53 x 47x 26 cm) |
| Folded Dimension | 9″ x 19″ x 4″ (23 x 47 x 9 cm) |
| IP Rating | – |
Yume D5 Performance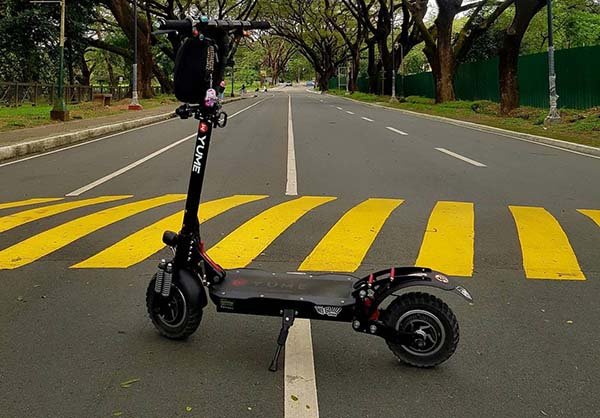 Speed and Acceleration
The Yume D5 has more than average motors that provide a 40-mile-per-hour speed limit (or 65 KM/H), which is quite more than enough when navigating regular traffic. However, you should note that it is illegal to ride that fast on most bike lanes.
Yume D5 can still easily manage all urban and average offroad challenges.
The scooter has reliable acceleration provided by its dual motors. Each motor provides 1200 watts of individual power output, which (when combined) becomes 2400 watts.
Hill Climbing
The Yume D5 has a 30˚ hill climb. However, you have to be aware that it's likely to become more sluggish once it reaches 20 to 24˚. That said, a 30˚ hill climb is sufficient for most off-road activities and more than enough for most urban settings.
Tip: Always accelerate more when climbing hills to get to the top quicker and increase the distance the scooter takes before beginning to slow down.
Battery and Range
The Yume D5 has a good battery for its price range.
Yume installed their 52V, 23.4 ampere-hour Lithium-Ion battery in the deck, allowing you to travel 40 miles or 64 km per single charge. Additionally, the scooter has an impressive charging time because of its dual charging ports.
You can charge the battery using one or two charging ports located on the deck's side using one or two chargers, reducing the charge time significantly. You can get the scooter fully charged within 4 – 5 hours.
Brakes
Yume claims to have the best braking system on their Yume D5.
Oil-based hydraulic brakes can stop their electric scooter instantly by locking the wheels in place.
We tested the brakes and noticed they were adequate. However, riders should be careful when applying them because the scooter may skid a bit.
Adjusting your weight and shifting it for maximum absorption by the tires may help you stop more smoothly.
Yume D5 Design and Features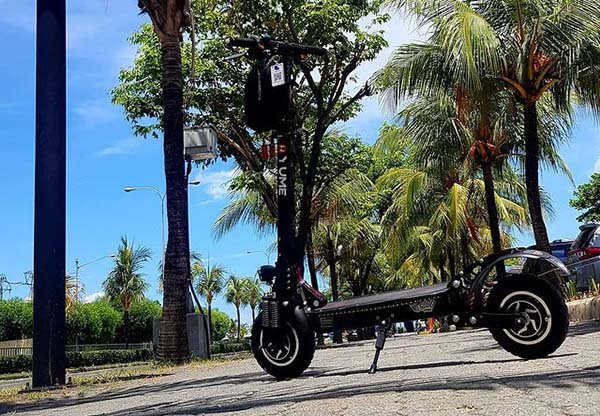 Frame and Deck
Yume designed their D5 with the same high-quality aluminum used when designing other high-end e-scooters.
The company reduced most lighting on their scooter to make them more affordable to people with restricted budgets and youngsters. The scooter has dimensions of 43" to 53" by 25.6" by 47.2".
The scooter's length remains the same after folding. However, its height reduces to 23.2". Yume designed their e-scooter with a rubber throttle for better grip and control. Additionally, they have an optional seat attachment that allows riders to sit comfortably when riding the electric scooter.
Also, the scooter has a mudguard fitted at the rear end to keep the scooter and rider clean and a kickstand on the side to help the rider with parking.
Is Yume D5 Waterproof?
It's not mentioned on their website whether the Yume D5 has any water-resistant rating. Therefore, you should avoid exposing the scooter to water and dry it as soon as you return home after riding it in the rain.
This will prevent possible electrical damage to the circuits and keep your scooter in good working condition.
Suspensions
The Yume D5 has a spring suspension system generally preferable in the scooter market.
The spring suspension is effective and ensures the scooter status stable even on uneven ground. However, the suspension is not as effective or advanced as hydraulic suspension systems but is fair for the scooter's price.
Portability
The scooter weighs 75 pounds, which isn't exactly light. It can't be carried around for extended periods like you'd do some other scooters.
However, you can easily fold it at the handlebars and deck for easy transportation. The scooter can be bent downward at the handlebars and folded inward between the front wheel and deck, making it easy to store in the trunk of a vehicle and transport between locations.
Wheels and Tires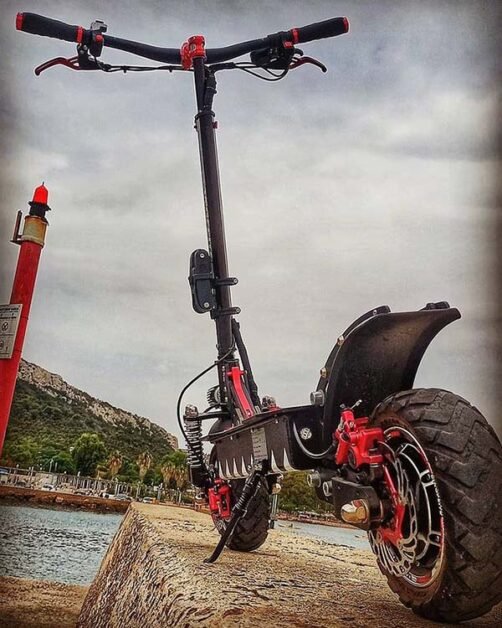 The Yume D5 has pneumatic 10" tires designed for off-road capabilities. The tires allow riders to ride the scooter on and off-road terrain.
The scooter's tires provide an excellent grip that makes it perfect for sandy, snowy, and rough terrain.
Additionally, the scooter's tires provide excellent balance and can be changed easily by unscrewing several bolts and attaching them to the motor.
Handlebar
The scooter's handlebar is foldable and has a rubber-covered throttle for easy griping.
The handlebar is fitted with several control buttons designed to make it easier to control the e-scooter. The handlebar has eco and turbo mode buttons that manage how power is consumed.
Additionally, you can find a horn, an ignition button, and a manual key on the handlebar.
Lights
Yume has reduced the number of lights in their D5 to make it cost-effective. Additionally, doing this reduces power consumption, making the batteries last longer than they would normally.
The Yume D5 only has an LED headlight. It has no brake lights or indicators, making riding a bit unsafe, especially in the dark.
Ride Quality
The Yume D5 is easy to ride in any terrain because of its huge 10-inch pneumatic tires. The tires provide the best riding experience in snow and sand by providing enough grip.
They are also perfect in round terrain since they provide better balance allowing riders to climb up and down inclines more effortlessly.
Other features
Free Shipping – Yume offers free shipping and duty on all its products.
6-Month Warranty – Yume has a 12-month wear warranty policy and a 6-month defect warranty.
7-Day Returns – Buyers can return scooters within seven days of receiving their product. Ensure you check your scooter to see if it's what you want and return it within seven days.
Yume D5 Review Conclusions
The Yume D5 is a relatively simple vehicle with few luxurious features.
The electric scooter's price is below $1500, making it one of the most inexpensive offroad e-scooters you can ever find. The company reduced unwanted or redundant features in the e-scooter and focused on creating a reliable scooter with a better riding experience.
The scooter might be dangerous since it has no brake lights or turn indicators. This can be problematic for riders that want to ride at night or those that want to ride in heavy traffic.