The Senada Archon Pro is the perfect bike for individuals looking for a reliable all-terrain bike for off-road adventures.
The powerful 1000-watt fat tire e-bike has a 300-pound payload capacity and enough power to go over rough, mountainous terrain. Additionally, the Archon is quite large and perfect for most tall riders.
Keep reading to learn more about the bike!
Electric Wheelers is reader-supported. Although we independently research and test products, we may receive a commission on purchases made from our chosen links. Read more…
Senada Archon Pro Review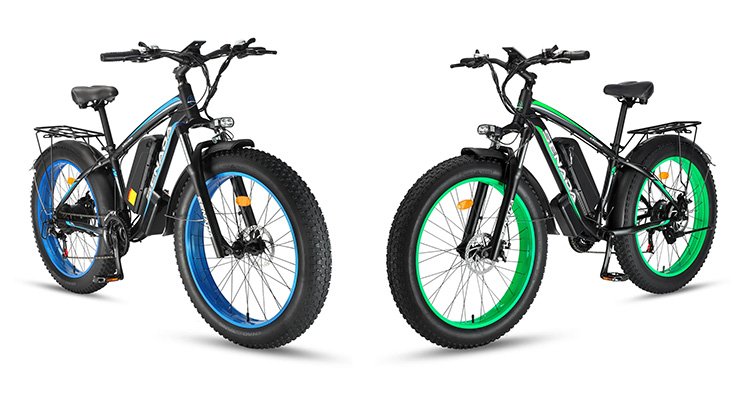 Motor: 1,000W | Top Speed: 28 mph | Max Payload: 330 lbs | Battery: 840Wh | Max Range: 65 miles
Pros and Cons of Senada Archon Pro
Senada Archon Pro Performance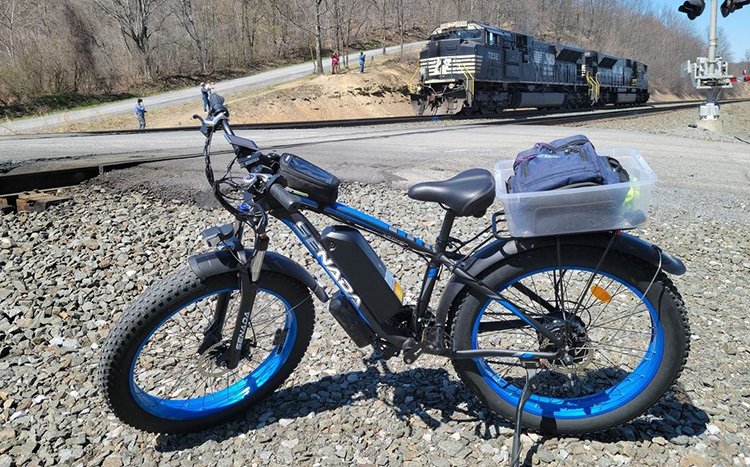 1000W Motor
The Senada Archon Pro has a 1000W brushless motor that provides 82Nm of torque, enough for most off-road adventures. The bike's high-speed brushless motor produces almost no noise and can easily counter most rugged terrains.
In this video, you can see that the bike easily accelerates over 20 mph (even with a throttle). It has five intelligent pedal assist levels, providing a seamless experience with minimal rider input. The acceleration in PAS5 is really aggressive.
The motor's features make it perfect for individuals living in hilly terrain or riders who enjoy fun weekends and offroad adventures.
Read also: Overview of All Senada E-Bikes
840Wh Removable Battery
The e-bike's 48V 17.5Ah Lithium battery is one of its most essential components. Senada designed the bike's battery for performance and durability. For instance, it delivers well, even when used in rough terrain, and has a long lifespan which is a perfect addition for most riders searching for reliable e-bikes.
The Archon's battery provides a 33-mile range on throttle mode and a 65-mile range on pedal-assist mode per single charge. These metrics may change depending on various factors such as riding mode, the rider's weight, and terrain type.
Additionally, the battery is removable. Thus, riders can buy two batteries and replace the primary battery when it runs out for a more extended range.
Lastly, Senada provides a 1-year warranty on the bike's original battery, which is incredible if you find the battery faulty after purchase.
Mechanical Disc Brakes
Mechanical disc brakes are good enough for the Archon Pro since they provide sufficient stopping power. It's important because the e-bike is relatively fast and heavy (more so when carrying heavy loads). Of course, we would like to see hydraulic brakes on the bike this heavy but this would make the bike much more expensive.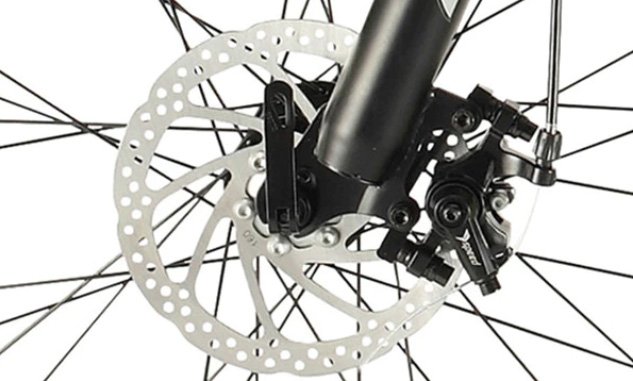 The bike's disc brakes are efficient, providing superior modulation and better fade resistance. They also work better in wet conditions than cantilever or rim brakes that become lethally feeble. While the e-bike's mechanical disc brakes aren't as effective as hydraulic brakes, they are sufficient depending on how the rider uses the e-bike.
21-Speed Shimano Gearing
The Senada Archon Pro has a 21-speed Shimano gearing system. This means that it has seven cogs in the rear and three in the front. The gears are efficient when shifting, allowing riders to enjoy a wholesome riding experience.

You rarely see so wide gearing on electric bikes. Usually, e-bikes have a 7 or 8-speed gearing system.
Additionally, the 21-speed gearing system provides riders a wide selection of options depending on the terrain and its incline. For instance, shifting to low gear allows riders to tackle hilly terrain while experiencing minimal fatigue. The design dramatically reduces the riders' effort, making it easier to ride the bike in various terrain.
Senada Archon Pro Design and Features
Frame
Senada makes Archon's mountain bike frame from a 6061 aluminum alloy. The Alloy is durable and has a high tensile strength, allowing the bike to carry up to 330 pounds of payload capacity. The bike is quite big, making it perfect for tall riders.
The Archon has a stand-over height of 31 inches, making it fit for riders between 5'7" and 6'6" (calculated from an average of all test rider's heights).
Additionally, you can adjust the seat to sit more comfortably if you are taller than the average rider. Riders shorter than 5'7" will experience difficulty riding the e-bike, especially on rough terrain.
Front Suspension
The Archon has a reliable front suspension fork with lockout. The front suspension works efficiently, especially when riding through rough terrain since it absorbs all the impact allowing riders to have a comfortable experience.
Additionally, the Archon has 26×4-inch fat tires that cushion the riding even more. Together with suspensions, they provide a great experience on rough terrain.
Cockpit
The Archon has comfort grip levers designed with a motor cut-off switch. Additionally, it has two brake levers and a half-twist throttle with a softer grip texture.
The bike has gear levers on both sides of the handlebars for quick and efficient gear control. Additionally, the handlebars have a horn on one side and a button to control the lights on the left side of the handlebar.
The mountain bike saddle is wide and quite comfortable, and you can adjust it to fit your height and make it even more comfortable. The seat height is 35.4" to 39.4", providing a sufficient height difference that tall riders can adjust to get more comfortable.
Lastly, the e-bike has a pretty efficient LCD display that is bright enough even during the day. The e-bike's high-quality backlit LCD display is easy to manage and read even on extremely sunny days.
The LCD shows vital information, including the current riding speed, pedal assistance power adjustment, the odometer, and the energy bar. Additionally, riders can adjust the metrics displayed to either MPH or KM/H.
Additional Features
The Archon has a front and rear fender to protect riders from dirt and debris when riding on muddy surfaces. It also has a rack for carrying various cargo during off-roading adventures.
Finally, the e-bike has dual front lights perfect for lighting your way in the dark. Unfortunately, the bike doesn't have a rear light. So you must buy it separately if you are using the bike in the dark.
Senada Archon Pro Review Conclusions
The Senada Archon is a great bike made from high-quality materials and has a great design. The e-bike is durable and handles perfectly, making it suitable for various terrain.
The bike's frame design, carrying capacity, tires, and sturdiness make it an excellent choice for most off-roading adventures. It is the perfect solution for tall riders looking for a reliable mountain e-bike option.
The e-bike has a removable, high-quality battery for faster and longer cycling adventures. The e-bike has all the essential features for an all-terrain commuter bike and is made by a solid brand known for producing dependable products.
The Senada Archon is a good option for individuals looking for a robust and powerful e-bike without breaking the budget.
Senada Archon Pro Specs
General
| | |
| --- | --- |
| Bike Name | Senada Archon Pro |
| E-Bike Class | Class 3 |
| Availability | United States |
| Warranty | 2 Years (battery 1 year) |
Electronics
| | |
| --- | --- |
| Motor Type | Rear-Hub Drive |
| Motor Power | 1,000W |
| Top Speed | 28 mph |
| Battery | 48V 17.5Ah (840Wh) |
| Range | Up to 65 miles |
| Display | LCD |
Bike Details
| | |
| --- | --- |
| Dimensions | 74.8″ x 41.7″ |
| Frame Material | Aluminum Alloy |
| Frame Size | One Size |
| Frame Type | Step-Over |
| Recommended Rider Height | 5'7″ – 6'6″ |
| Frame Colors | White/red, black/blue, black/green |
| Fork | Front Suspension |
| Rear Suspension | – |
| Gearing | 3×7-Speed Shimano |
| Brakes | Mechanical Disc |
| Wheel Size | 26″ |
| Tires | 26″ x 4″ Fat Tires |
| Weight | 67 lbs |
| Weight Capacity | 330 lbs |