Buying folding electric bikes can be complicated since several are available on the market. However, it doesn't have to be hard. There are several ways to choose the best folding electric bike. You may look at bike reviews on the company website and other B2C websites like Amazon.
The other great way to analyze and get the best folding electric bike is by reading electric bike reviews on websites – like you are doing now.
Almost each electric bike brand has folding e-bikes in its inventory. Read on to find out the best electric folding bikes that suit your needs.
Electric Wheelers is reader-supported. Although we independently research and test products, we may receive a commission on purchases made from our chosen links. Read more…
Why Choose a Folding E-Bike?
Folding e-bikes are one of the many types of electric bikes.
One aspect most people overlook when purchasing e-bikes is the practicality of the frame. For instance, buyers that live in small apartments or commute through the city may prefer folding bikes instead of variants with a fixed frame.
There are 2 main reasons you should choose a folding e-bike:
Folding e-bikes are easy to transport. They fit in most trunks.
Electric folding bikes are space-friendly, making them easy to store at home or in the office.
Best Electric Folding Bikes
Rad Power Bikes RadExpand 5
This folding ebike has fatter tires designed to tackle all sorts of adventures. The bike features a step-through frame and allows riders to customize the handlebars for increased comfort.
It also has four levels of pedal assist and seven speeds and is quite affordable. Additionally, the bike has a 45-mile range and can support 275 pounds of weight.
Rad Power Bikes RadExpand 5 is perfect for individuals interested in an ebike they can use for daily commutes and weekend off-roading fun.
The bike has a great suspension perfect for off-road fun and on-road commutes. The ebike is competitively priced for its features and perfect for individuals that want the best foldable ebike on a budget.
Engwe C20 Pro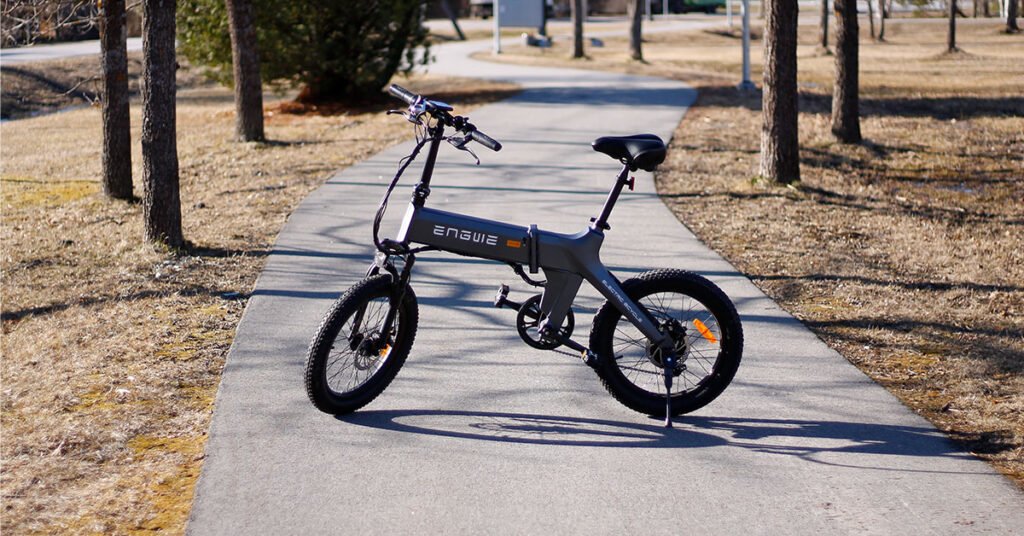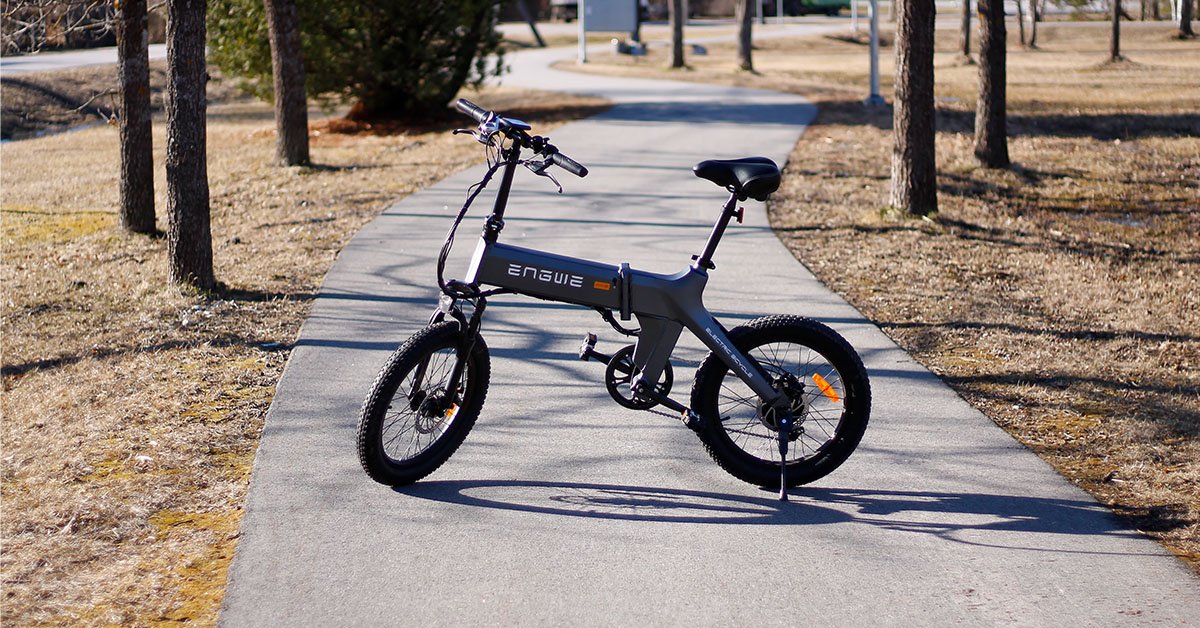 Engwe launched this foldable e-bike in 2022 and it's one of the most affordable ebikes on the market.
They focused on the bike's performance, battery and price when designing the bike. Additionally, the ebike is more lightweight than other bikes on their catalog.
Its battery has excellent performance and provides great mileage.
Related: Engwe C20 Full Review
The bike has a great price-to-quality ratio and is one of the foldable bikes that hasn't increased its price following the recent trend.
The design of the bike is attractive and has proven to be one of the best e-bikes for city commutes. The bike has 20" wheels and a comfortable seat that makes commutes pleasant for the rider.
Lectric XP 2.0 Long-Range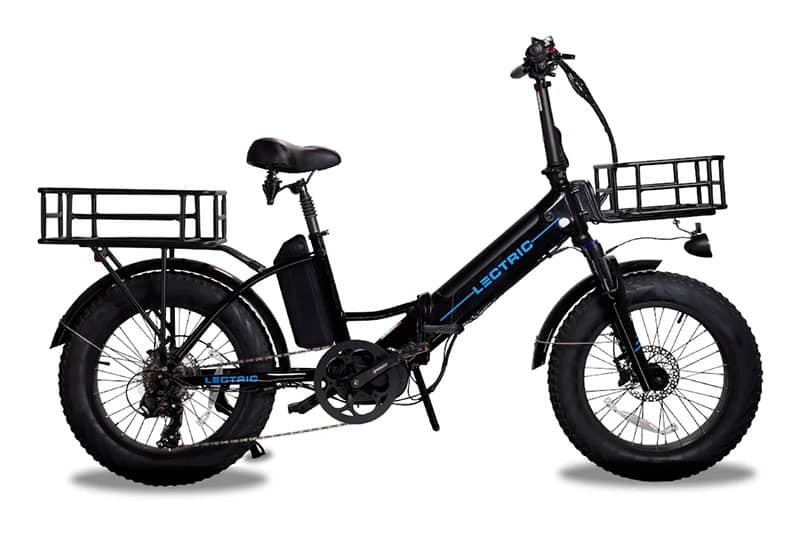 Several reviews on this foldable ebike state that it provides excellent value for money. The bike comes fully assembled, has a throttle, and has quick acceleration.
Its folding feature also makes it perfect to store and transport. The bike has 3.0-inch fat tires, making it the go-to brand for off-roading enthusiasts.
The tests confirmed that the bike is quite comfortable. You can adjust the handlebar and seat so the bike would fit exactly you.
Also, you can manually adjust the top speed. Right out of the box, it's a class 2 e-bike with a 20 mph top speed. But you can increase the top speed to 28 mph and make it a Class 3 e-bike.
The bike is perfect for city commuters and those looking for a weekend of off-roading fun.
Senada Roamer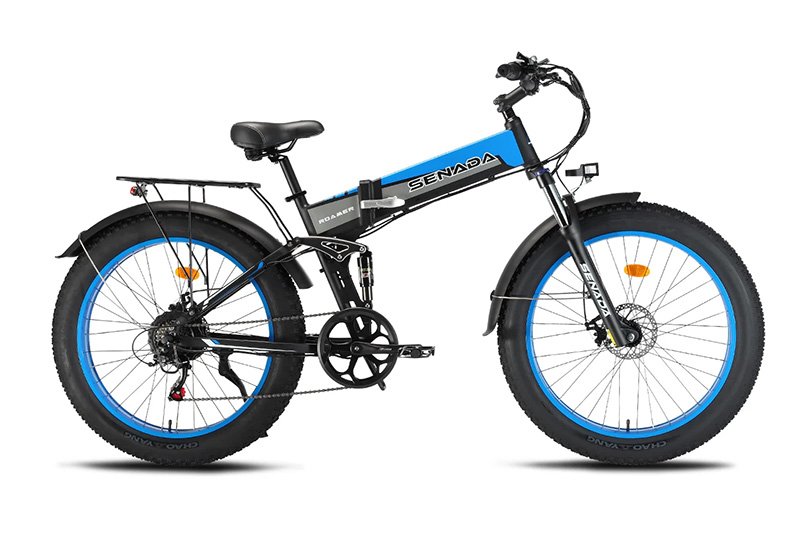 Senada is based in Hong Kong and is a fairly new e-bike brand. They launched their first e-bike in 2020.
Senada Roamer folding electric bike is quite unique among other bikes on the list. Can you identify its biggest differences?
It's the only folding electric bike on the list that has 26-inch wheels. Usually, folding bikes have 20″ wheels to maintain compactness. But the Roamer has much bigger wheels and 4-inch-wide fat tires on top of that.
Therefore, Senada Roamer is not so compact when folded but at the same time, it provides different ride comfort due to full-size wheels.
Related: Senada Roamer Full Review
Additionally, Senada Roamer is a full-suspension e-bike. It's something you rarely see on folding bikes. Yes, we have to admit that the rear shock is not the highest quality. But it definitely adds some ride comfort on bumpy roads.
And there's more. Just like other Senada bikes, the Roamer is equipped with a 1,000W motor. It makes it the most powerful folding ebike on the list.
Senada Roamer is a really interesting bike and is definitely worth considering.
Magicycle Jaguarundi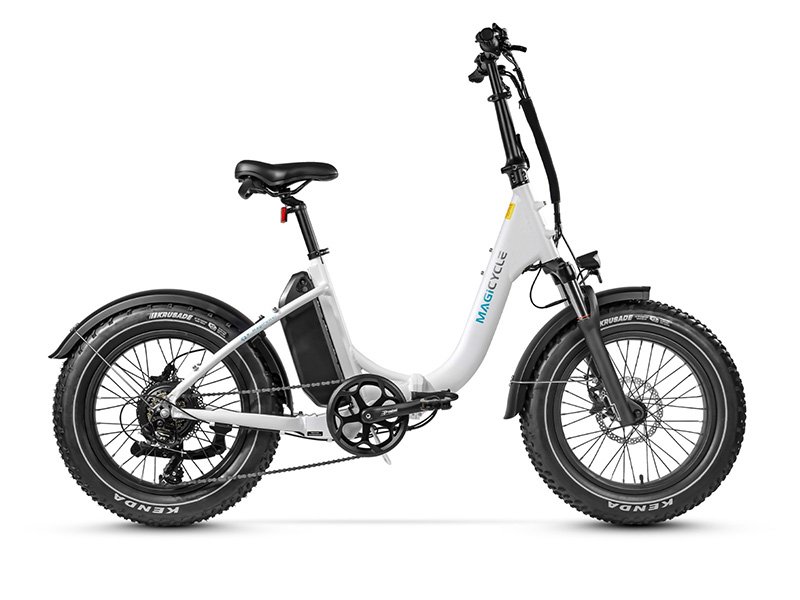 Magicycle is a Chinese-based e-bike brand that has over 10 years of experience in bicycle production.
Jaguarundi is the company's only folding bike. Unlike most other e-bikes in this list, Jaguarundi has a low step-through frame, which is suitable for seniors and people with mobility issues.
The bike is equipped with a 600W rear hub motor and the top assisted speed is 20 mph. Also, thanks to the 70 Nm of torque, the bike can easily climb moderate inclines.
Jaguarundi comes with a quite big battery (52V 15Ah) that can provide a range of 55 miles. Additionally, the bike has hydraulic disc brakes, which are quite rare for a bike in this price range.
For a little bit of extra money, you can buy the bike with a rear rack. This will add even more practicality to this e-bike.
Aventon Sinch Foldable Ebike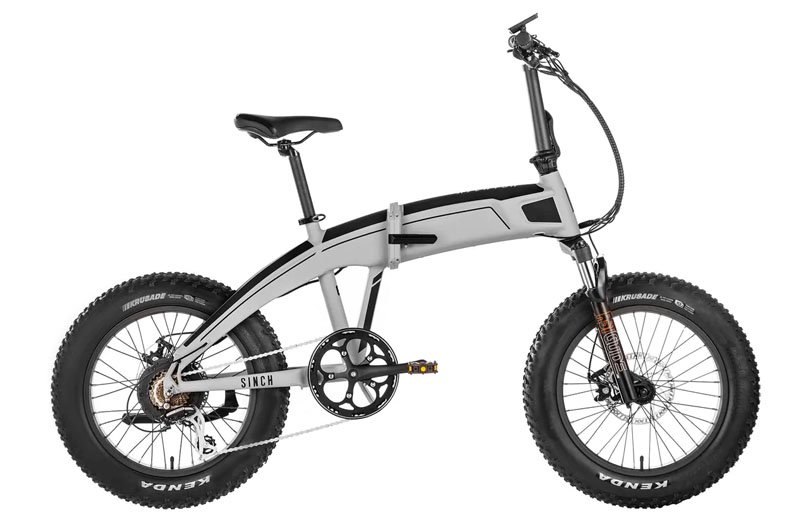 The Aventon Sinch Foldable Ebike is perfect for individuals with small storage space. The bike is powerful, comfortable, storable, portable, and foldable. The bike fits in most places, and you can even store it under your desk.
It's one of the most portable bikes, and you can take it any place you want because you can store it in your trunk or carry it in your RV.
The bike has a powerful motor, a throttle, and an LCD that displays all the vital information you'll need for a comfortable ride. It can go up to 20mph and has a removable battery that provides a 40-mile range on average.
The bike is perfect for city commuters. However, you can also use it to tackle the trails.
KBO Flip Folding Electric Bike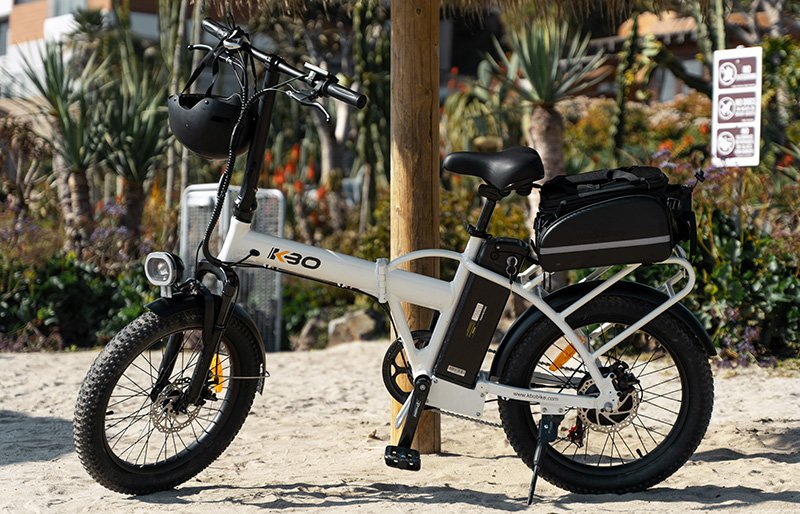 The KBO Flip folding electric bike may be the bike you are looking for if you want a comfortable e-bike for fun weekends.
The bike has decent speed, range, and a reliable but powerful motor. Thanks to the folding frame and collapsible handlebar stem, the bike is easy to store or take on public transit rides.
Related: KBO Flip Review
The KBO folding e-bike looks great and has all features most riders desire. It has a 500W motor that provides a 20mph top speed. The recharging time is about 5 hours and it can provide a 30-mile range in pure electric mode.
The bike is not lightweight. It weighs 57 pounds, which makes it quite heavy. However, it can withstand a payload of up to 275 pounds, which makes it suitable for heavier riders too.
One strong feature of this bike is its long warranty. All KBO bikes are covered with a 2-year warranty, which is very nice.
The bike is perfect for city commuters and individuals looking to tackle the trails for a weekend of fun.
Engwe EP-2 Pro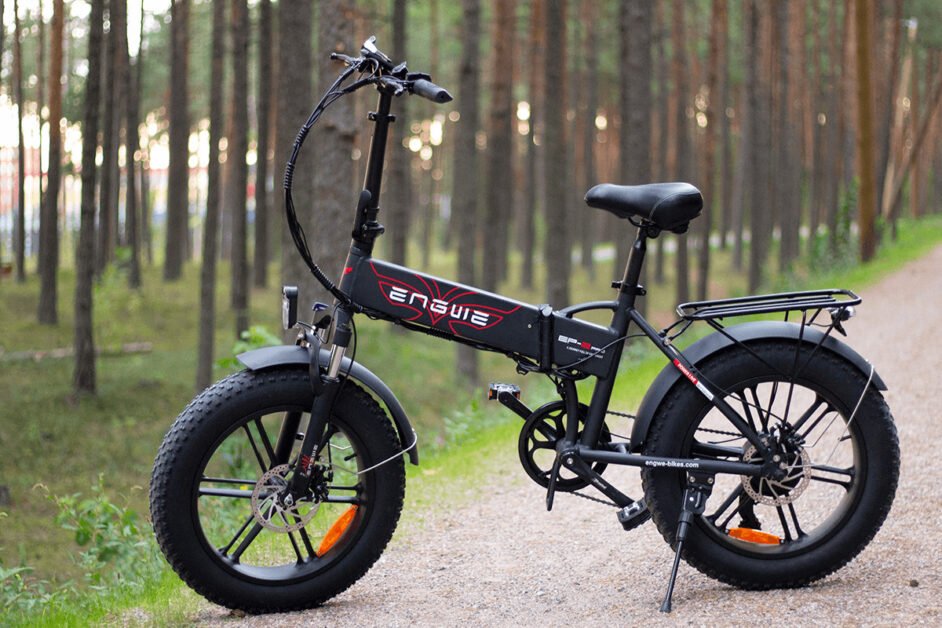 The Engwe EP-2 Pro performs surprisingly well on rough terrains and is a good foldable electric commuter bike.
Engwe designed this bike by incorporating a great design and efficient performance. The bike provides a fun riding experience and has become immensely popular among riders who love adventures.
Related: Engwe EP2 Pro Full Review
The bike has a rear hub drive with a 750W motor that produces a speed of 28mph. It takes about 6 hours to charge and provides a 30-mile minimum range on every single charge.
Engwe EP2 weighs 70 pounds and can support a weight capacity of 330 pounds. It fits easily in most trunks. Riders can use the bike for daily commutes or off-roading fun.
Brompton C Line Electric
These foldable electric bikes are smart and reliable. They are the best option for individuals looking to explore urban terrains and have pedal assist up to 25 km/h.
The Brompton foldable e-bike weighs 17 kg, which is lighter than most e-bikes, making them extremely portable. The bike has an efficient gearing motor and battery, making them quite reliable.
The bike is highly maneuverable and capable of quick acceleration. Additionally, it has an intelligent pedal assist that gives you an extra push when climbing hills.
Its folding feature makes it easy for users to store the bike and transport it wherever they like in the trunk of their vehicle. The bike is perfect for urban commuters.
Gocycle G4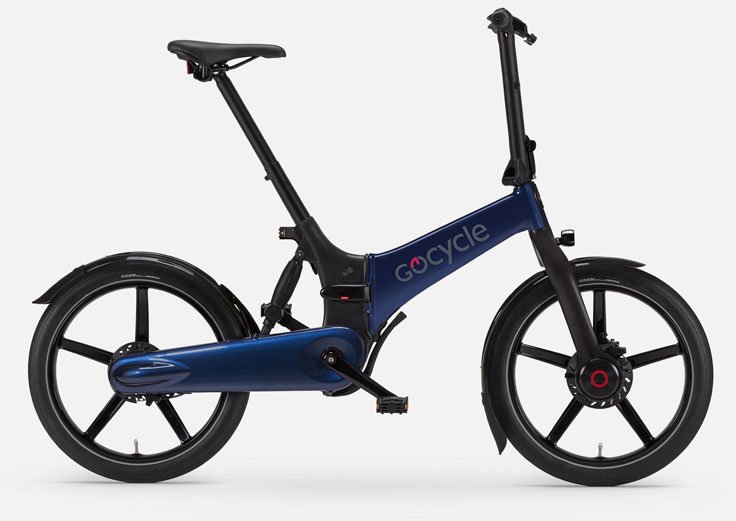 The Gocycle G4 has a great ride, a smart design, fast charging, and an app you can use to record the ride's details and customize the bike.
The bike has a three-speed Shimano Nexus hub gear ideal for urban and suburban riding. It also has efficient disc brakes that feature rotor covers.
Gocycle G4 differs from other folding bikes because it has a mid-drive motor and a single-sided front fork.
Additionally, it has a neat design and a motor to climb most urban inclines. The bike has cadence sensors that monitor and judge how much power riders need. However, riders can override this programming with a bar-mounted button for some extra boost when starting a climb or navigating traffic.
SAMEBIKE 750W Fat Tire Ebike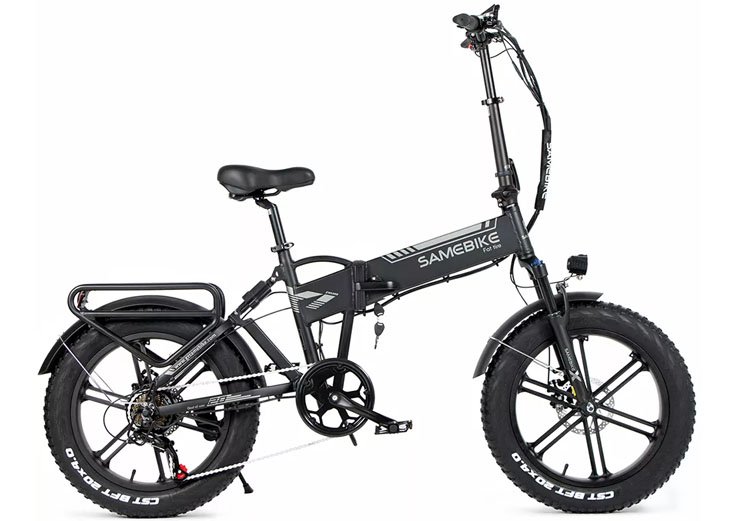 SAMEBIKE Fat Tire Ebike has fat 4" tires that absorb any bumps in the rider's path, ensuring they enjoy the most comfortable ride ever.
The bikes have a powerful 750W motor and a durable battery that gives riders sufficient speed and range of 30-60 miles.
Samebike has other features like an LCD and shock absorbers and is foldable.
The top speed of the bike is 25mph and it can handle a 330-pound payload. and a 30 to 60-mile range on a single charge. The bike is durable, comfortable, and best suited for urban commuters.
How to Choose Electric Folding Bike?
Price vs Value
Like buying any other electric bike or product, it would be great to ensure your folding electric provides value for its price. After all, it is an investment, and it would be better if you choose a folding bike that provides value for your money.
There are lots of folding ebikes in the market, and choosing the right one that provides value for money is a little tricky. However, there are some key aspects you should consider. For instance, you should choose a bike with a durable frame, a long battery life, and a powerful motor. Additionally, remember that expensive bikes don't always translate to good bikes.
Range and Speed
It only makes sense that you select ebikes with the best range and speed. However, since users often have a budget limit, selecting such bikes becomes tricky. However, you should still choose from the bikes within your price range and find one that has the best range and speed.
For instance, you should try and select bikes that can take you to your daily destination and have some power left over. You wouldn't want your bike dying on you before you finish your commute.
Wheel Size and Tires
Your bike's wheel size and tires dictate how comfortable your ride will be.
For instance, you should select e-bikes with fat tires if you plan on using your bike for off-roading activities.
Conversely, you should select regular tires if you plan on using the e-bike for urban commuting.
Folding electric bikes usually comes with 20-inch or 16-inch wheels. Thanks to the small wheels, these bikes can more easily be folded and fit into tight spaces.
While 20-inch folding bikes provide better ride quality, 16-inch folding bikes are lighter and more portable.
How Good is the Folding Mechanism?
There are different types of folding mechanisms, and they determine how quickly you can fold your e-bike.
The folding mechanisms include split-fold, triangular hinges, and break-away. Split-fold mechanisms are the most popular in regular 20" bikes. They are quick and easy to fold.
Triangular hinge mechanisms are quite common and have gotten more popular. This folding mechanism uses very little space when in effect and is the best option for users that go through public transport. The breakaway mechanism is the rarest form and involves splitting the ebike in two and reassembling it when required.
FAQs
Are folding e-bikes durable?
Folding bikes are durable and structurally strong. Manufacturers design bikes to be strong and reliable.
They won't break unless you place too much weight on them. Putting too much weight on your bike could affect the brakes by damaging any materials that comprise the braking system.
Are electric folding bikes safe?
Electric folding bikes are safe if users follow weight restrictions and all safety measures. Each bike has a weight capacity that users shouldn't exceed.
Additionally, you should follow the manufacturer's instructions when using the bike.
How much weight a folding electric bike can support?
Most manufacturers set a range between 220 and 300 pounds for their folding ebikes. However, manufacturers design other ebikes to carry cargo. These ebikes can have weight limits exceeding 550 pounds.
Is it worth getting an electric folding bike?
Folding electric bikes are better alternatives to regular ebikes for individuals worried about portability and storage space.
They work like regular bikes with the added advantage of easier transportation and storage.
How to fold an electric bike?