Velotric is one of the fast growing e-bike brands. A team of experts is put together to make unique e-bikes that are comfortable to ride and perform excellently.
They have several models in the market and are generally known to not compromise on quality. To get the best Velotric e-bike that suits your needs, read this article to the end.
Electric Wheelers is reader-supported. Although we independently research and test products, we may receive a commission on purchases made from our chosen links. Read more…
Velotric E-Bikes Overview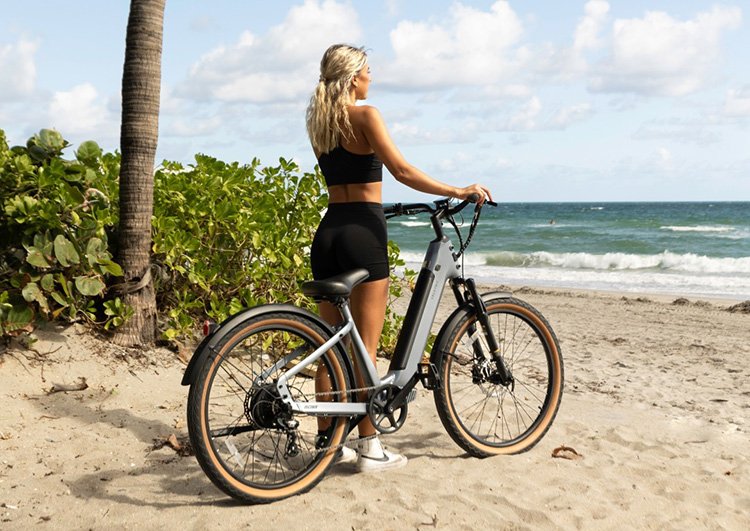 Website | Facebook | Instagram | Youtube
Velotric was founded in 2020 by Adam Zhang, the co-founder of Lime, a transportation company based in the US. He started his startup, Velotric, in 2020 with a team of experts and put his experiences to use. Since then, the company has recorded a lot of success and is fast becoming a household name. 
Velotric is headquartered in Shenzhen City, China but they have a corporate office in Carson, California. They make commuter e-bikes, and all-terrain e-bikes that are great for adventures.
Velotric Electric Bikes Reviews
Velotric T1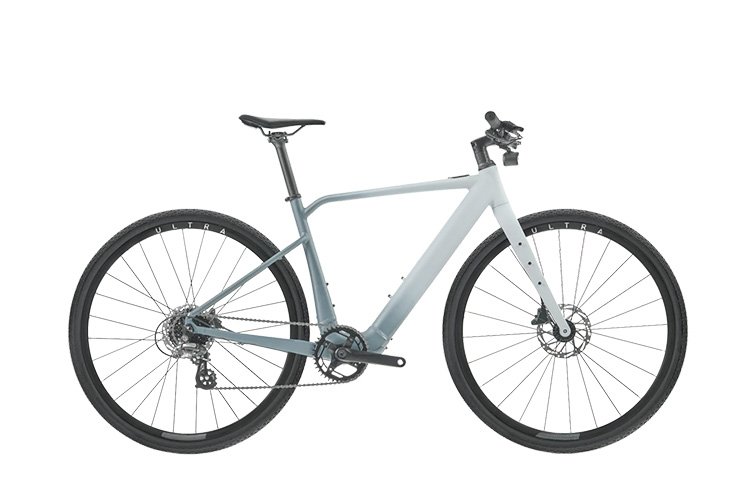 The Velotric T1 and the T1 ST are sleek-looking e-bikes that look like regular bikes at first glance, with no cumbersome parts. You would miss their batteries and motors if you didn't take a second look which makes them a popular choice amongst bike enthusiasts.
These e-bike models are built for city riding/commuting and perform excellently well on paved roads. They also do well on small hills.
With a weight of just 36 pounds (16kg), the Velotric T1 and T1ST are light, easy to control, and easy to transport. With front and rear lights, torque sensors, mounting points for fenders, and bottle cages, these e-bike models are great for commuters or people who run errands often. 
Although similar, there are a few differences between the T1 and T1ST. While both have 350W motors, the T1 has a range of about 70 miles on a single charge while the T1ST has a range of 52 miles. They are both class 1 e-bikes but can be unlocked to class 3 and ride at a speed of 25mph.
The Velotric T1 works with their mobile app where numerous options and settings are available, while the T1 ST cannot do that. However, the T1 ST is cheaper.
Overall, both are great commuter e-bikes and are worth every cent.
Velotric Nomad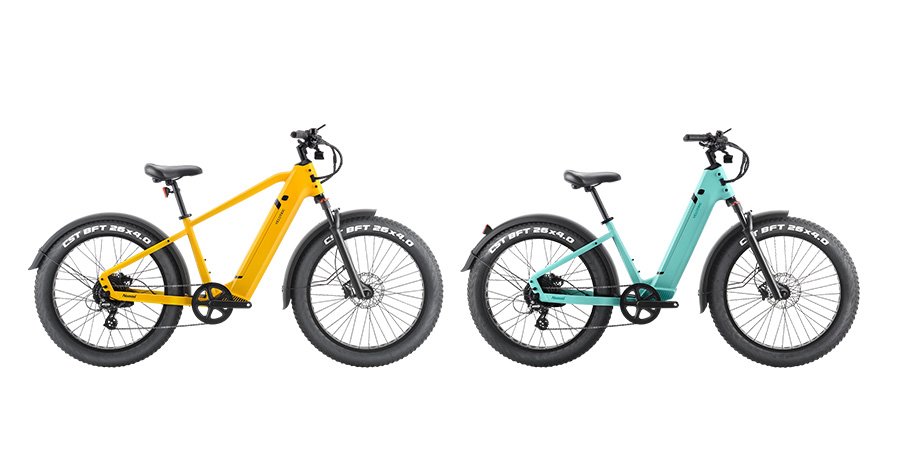 The Velotric Nomad 1 is a fat tire e-bike that is built to be versatile and perform excellently on all terrains. The 4" tires and front suspension fork absorb impacts and ensure that the rider's body is not affected by the tremors of off-road trails. 
This e-bike model comes with a powerful motor of 750W and peaks at a whopping 1200W with 75 nm torque. This is a fast e-bike despite weighing 73 pounds. 
It also comes with a 48V 14.4Ah battery that lasts about 55 miles on a single charge, with pedal assistance. It ships as a class 2 e-bike and has a speed of 20mph. Occasionally you may get 25mph.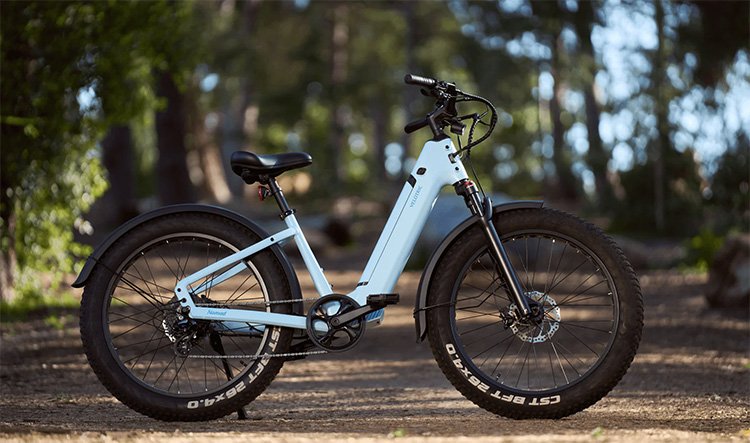 The Velotric Nomad 1 comes in step-through and step-over frame styles. The step-through frame design is meant for riders with heights between 5ft 1" and 6ft 4" while the step-over frame is meant for taller riders with heights between 5ft 6" and 6ft 9".
The Nomad 1 is great for adventurers, and people who love off-road cycling and climb hills regularly. Although it is fast, it is not so nimble so it is not so great for commuting.
Velotric Discover
The Velotric Discover 1 is a class 2 e-bike that is designed to feel comfortable like a cruiser while sporting all the features of a commuting e-bike. It is the combination of comfort and agility.
This e-bike model is great for city riding/commuting and does not shy away from rough terrains. Its full fenders protect you from the sand and dirt from off-road trails.
The Velotric Discover 1 is lightweight and has slim tires of just 2.5 inches. This makes it nimble, and very easy to control and transport. It is great for commuters. Like the Nomad 1, it also comes in both step-through and step-over styles. 
Related: Velotric Discover Full Review
Although very similar in appearance to the Velotric Nomad, there are some differences between the two models. The Discover comes with a 500W motor and peaks at 900W.  However, because the Discover 1 is lighter than the Nomad, it is faster. The battery also lasts longer and has a better range of 60 miles.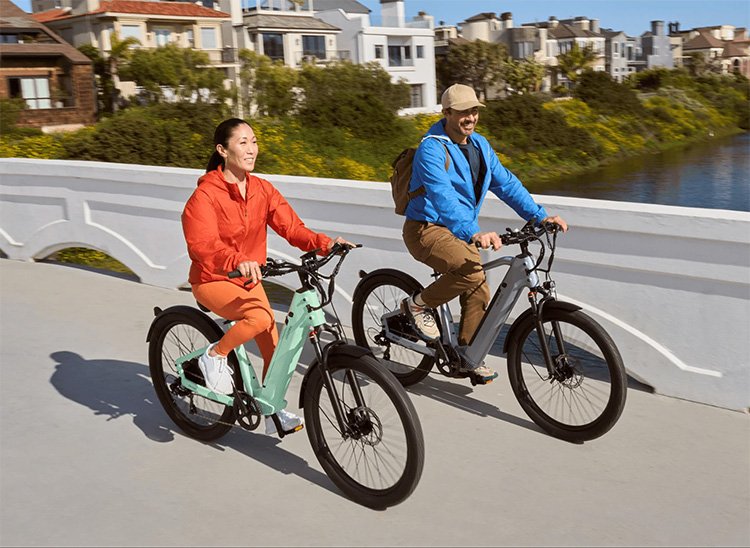 The Nomad comes with 5 levels of pedal assist while the Discover comes with 3 levels, making jumping between speeds noticeable. The Nomad sports an 8-speed Shimano shifter while the Discover sports a 7-speed shifter.
Overall, they are great bikes and suit different purposes. The Discover 1 is an entry-level e-bike great for commuters, while the Nomad 1 is great for riders who love powerful e-bikes for off-road cycling.
Velotric FAQs
Where is Velotric from?
Velotric is from China. However, they market their ebikes mainly in the USA.
How fast are Velotric bikes?
Velotric e-bikes are either class 1 or  2 bikes and move as fast as 20mph. However, they can be unlocked to a speed of 25mph.
Where are Velotric e-bikes made?
Velotric e-bikes are made in China.
Conclusion – Is Velotric a Good Brand?
In conclusion, Velotric offers a diverse range of electric bike models to cater to different preferences and needs.
The Velotric T1 and T1 ST are sleek and lightweight e-bikes, ideal for city riding and commuting. Both models provide a seamless blend of traditional bicycle aesthetics and electric power, making them popular among bike enthusiasts.
The Velotric Nomad 1, on the other hand, is a versatile fat tire e-bike designed for off-road adventures and hill climbing. With its powerful motor and durable construction, it is perfect for riders who seek thrilling off-road experiences.
Lastly, the Velotric Discover 1 strikes a balance between comfort and agility, making it suitable for both city commuting and tackling rough terrains. With its lightweight design and extended battery range, it offers a great option for entry-level e-bike riders.
Overall, Velotric electric bikes excel in performance and cater to various riding preferences, providing quality options for both commuters and adventure enthusiasts alike.