Senada Bikes is a relatively new electric bike brand. However, they already have many different e-bike models in their lineup.
All Senada e-bikes have 1,000-Watt motors and quite big batteries. Another commonality between all Senada bikes is fat tires. Thanks to those, Senada bikes are suitable for all kinds of terrain.
In this article, we introduce to you each Senada electric bike in more detail and help you to figure out if one of its models is a good fit for you.
Electric Wheelers is reader-supported. Although we independently research and test products, we may receive a commission on purchases made from our chosen links. Read more…
Senada eBike Overview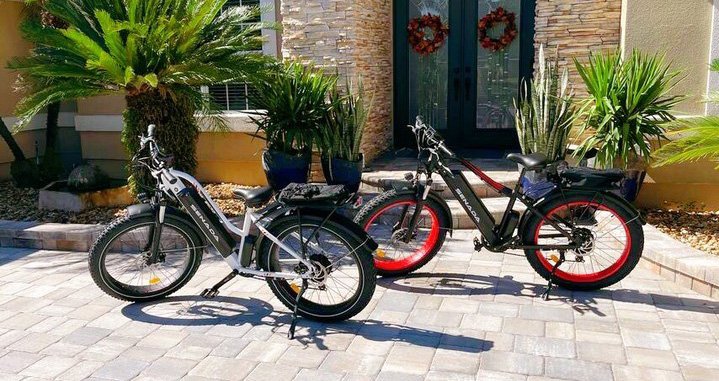 Instagram | Facebook | Website
Where are Senada Bikes Made?
Senada Bikes is a Hong Kong-based start-up and the e-bike brand was launched in the spring of 2020. Although Senada is an Asian company and the bicycles are manufactured there, Senada's main goal is to serve its customers in the United States.
Therefore, the company has one warehouse in California and another in New Jersey.
To Whom Senada E-Bikes are Made?
Senada E-Bikes are designed for individuals who want to enjoy a comfortable and eco-friendly mode of transportation while also staying stylish.
Whether you're a daily commuter, weekend adventurer, or simply looking for a fun and easy way to get around town, Senada E-Bikes offer a convenient and efficient solution.
With powerful 1000W motors and sturdy 4″ fat tires, Senada E-Bikes are perfect for tackling any terrain. Additionally, the company's commitment to making e-bikes a fashionable element in daily life ensures that you'll look good doing it too.
Where Can You Buy Senada Electric Bikes?
Senada serves its customers through the online shop. When buying Senada ebike through their website, it will arrive to you within a week.
You can also find manuals for each Senada e-bike right from their website.
How Long is Warranty for Senada eBikes?
As with many other e-bikes, the Senada's warranty is divided into two parts: warranty for the bicycle and warranty for the battery.
Each Senada bicycle comes with a 2-year warranty. It covers all manufacturing defects including problems in the motor, controller, display, frame, etc.
However, each battery has a warranty of 1 year. If something happens with the battery out of warranty, Senada still services it for extra money.
Senada Electric Bike Reviews
Senada Viper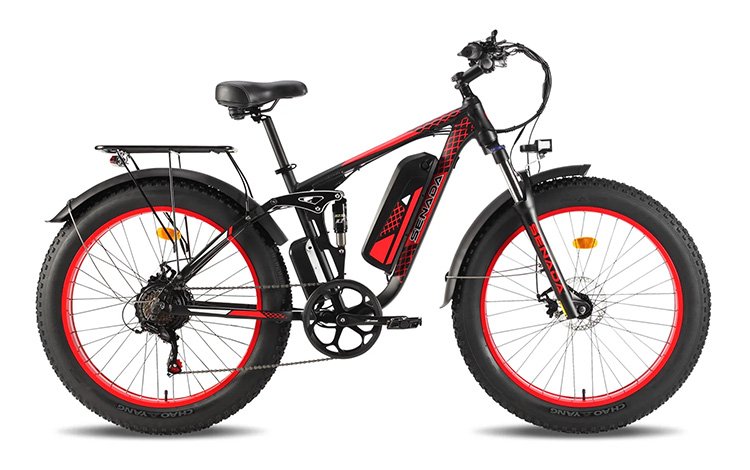 Senada Viper is a newest model in the company's e-bike selection. It was released in the summer of 2023. Viper is a full shock mountain bike. In addition to the front fork suspension, it has durable rear spring suspension that significantly reduces impacts from rough terrain.
Like many other Senada ebikes, the Viper has a powerful 1,000W hub motor. The maximum peak output is even higher (1,300W) and the motor provides a nice torque of 82Nm. So it has enough torque to climb hills and conquer any terrain.
The battery isn't bad either. The Viper has a strong 840Wh battery that provides a maximum range of about 65 miles. However, if you use only the throttle on demand, you can expect a range of about 30 miles.
Although the full suspension frame design already provides great ride comfort, it gets even better. The Viper is equipped with 4″ mountain bike fat tires, which give excellent grip and traction. These tires make the ride quality on rough surfaces even better.
The gearing system is similar to Senada Archon. They both have 21-speed Shimano gearing. This much variety of different gears is quite uncommon on electric bikes.
Additionally, Senada Viper features mechanical disc brakes, full fenders, a rear rack, and front and rear lights.
Senada Saber Pro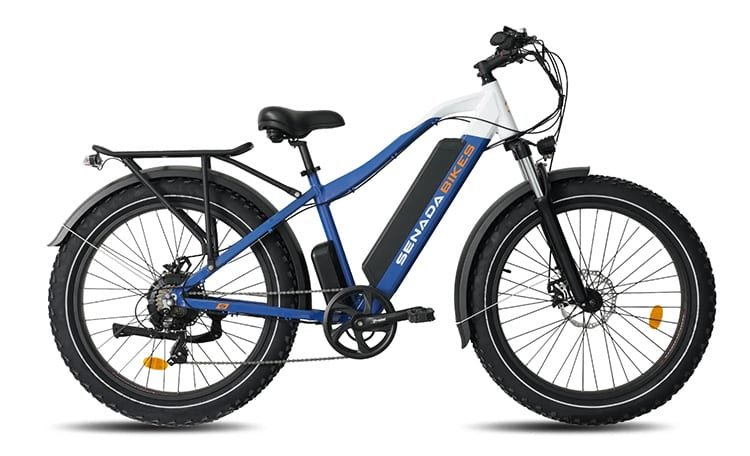 Senada Saber Pro is an all-terrain electric bike, which is suitable for smooth terrain as well as a sandy beach or dirt road in the forest.
The bike comes with a 1,000W rear hub motor, which can provide 95Nm of torque. This kind of torque is enough for excellent hill climbing and going through mud or sand.
The 21-amp battery is definitely one of the strongest parts of this e-bike. We don't see often so big e-bike batteries. Although the bike is quite heavy (78 lbs), the battery is strong enough to provide up to 80 miles of range. The exact range depends on the type of terrain, the weight of the rider, and the pedal-assist mode.
Read also: Senada Saber Full Review
Another strong feature of Senada Saber is its tires. 26×4-inch fat tires provide great ride quality. The front suspension fork adds even more comfort.
For stopping, the Saber Pro has mechanical disc brakes. However, we would like to see hydraulic brakes on a bike this heavy. But you rarely see hydro-brakes at this price level.
Additionally, Senada Sabre Pro features full fenders, a comfortable saddle, a rear rack, and good lighting.
Senada Archon Pro
At first look, Senada Archon Pro looks really similar to Senada Saber Pro. To be honest, the performance is quite similar too.
The Archon Pro is also equipped with a 1,000-watt motor. However, this motor gives you a bit less torque (82Nm). But the Archon e-bike is lighter (67 lbs), so the bike is still relatively good at hill-climbing and going through rough terrain.
Another difference is the battery size. The battery of Archon Pro contains 17.5 Ah of energy capacity. The maximum range is about 60 miles.
Read also: Senada Archon Pro Full Review
While the Saber is equipped with a 7-speed gearing system, the Archon comes with a 21-speed system. It means there are 3 cogs in the front and 7 cogs at the rear. Usually, such a gearing system for an e-bike is quite uncommon.
Additionally, the Archon Pro comes with mechanical disc brakes, 4-inch fat tires, fenders, and a rear rack.
Senada Osprey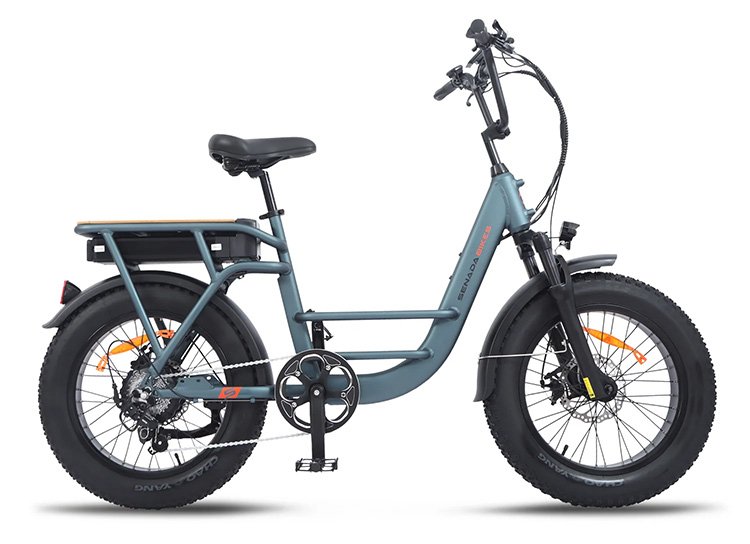 The Senada Osprey was launched as a specialized fishing cargo electric bike. It's designed to cater to the needs of fishing enthusiasts and those who require a cargo e-bike for their daily activities.
At its core, the Osprey is powered by a 500-watt motor, which can peak at 700 watts, ensuring that riders have enough power to tackle various terrains. This motor, combined with a robust 48-volt 20 amp-hour li-ion battery, ensures that riders can travel distances of up to 75 miles on pedal-assist mode. If you're relying solely on electric power, expect a commendable range of around 40 miles.
With a recommended rider height ranging from 5'2″ to 6'2″, it's evident that Senada has designed this e-bike to be as inclusive as possible. This is further emphasized by the bike's sturdy 6061 Aluminum full suspension frame, capable of supporting a maximum load of 350 lbs.
For those concerned about the ride's comfort, the Osprey features Chaoyang 20″ x 4″ fat tires, ensuring a smooth ride regardless of the terrain. The inclusion of a Justek soft saddle and an adjustable seat post further enhances the riding experience.
Safety hasn't been compromised. The Osprey is equipped with anti-slip grip levers that come with a motor cutoff switch. The 180mm brakes ensure timely and effective stopping, while the suspension fork with lockout and adjustment guarantees a smooth ride even on bumpy terrains.
A Notable Difference: The Torque Sensor
Distinguishing the Senada Osprey from other models in the Senada lineup is its advanced torque sensor. While other models utilize cadence sensors, the Osprey's torque sensor offers a series of benefits that enhance the riding experience:
More natural riding feel
Precision in assistance
Efficient battery use
Swift starts
Safety and stability
Senada Gladiator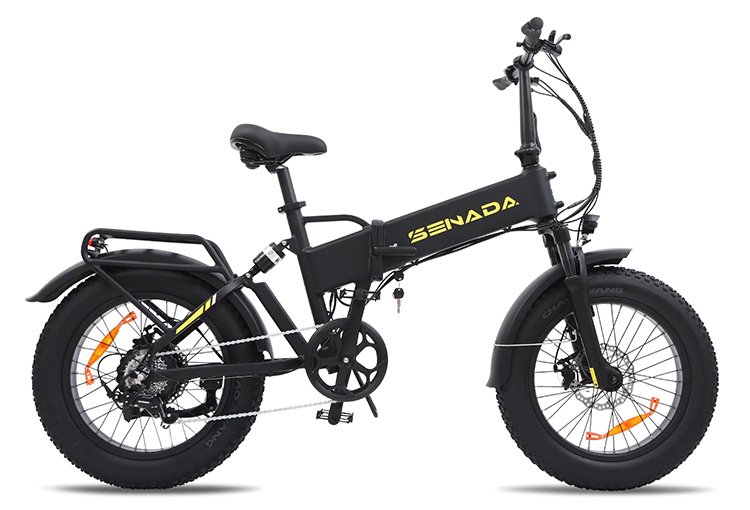 Introducing the Senada Gladiator, a state-of-the-art cargo electric bike that promises both power and versatility. The Gladiator is designed to cater to those who seek a blend of efficiency, sustainability, and adaptability in their rides.
At its heart, the Gladiator boasts a 750-watt motor, peaking at 900 watts. This, combined with a 48-volt 15 amp-hour li-ion battery, ensures riders can cover distances of up to 65 miles. This range is perfect for both city commutes and weekend adventures.
Electronically, the Gladiator is equipped with a 2.83″ LCD color display, acting as a smart computer for riders. Safety remains paramount, with a 650 lm headlight and a 30 lm taillight ensuring visibility during nighttime rides.
Ride comfort is enhanced with Chaoyang 20″ x 4″ fat tires, ensuring a smooth experience even on rugged terrains. The Shimano 7-speed gear shifter system guarantees seamless transitions between different terrains and inclines. And for those who prefer a less physically demanding ride, the thumb throttle offers easy acceleration without the need for pedaling.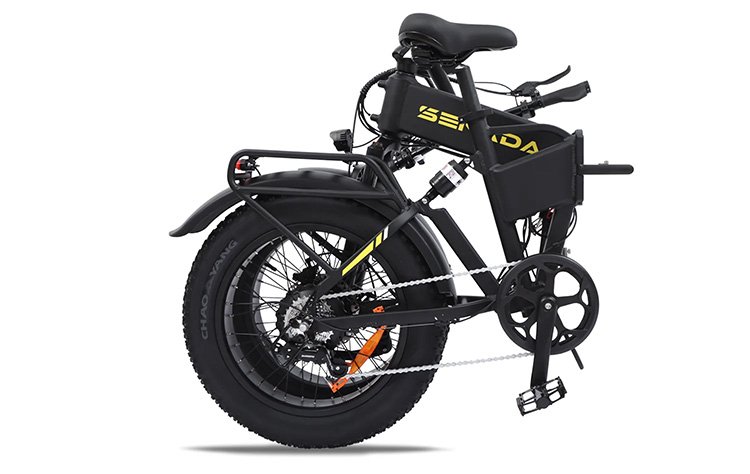 One of the standout features of the Gladiator is its foldable design. This makes it an ideal choice for city dwellers and travelers alike, allowing for easy storage and transportation. Whether you're commuting in a bustling city or exploring nature during weekends, the Gladiator's compact design ensures it can be tucked away neatly or even carried on public transport.
Senada Herald Pro
To my eye, Senada Herald Pro is like a step-through version of Senada Saber Pro.
The Hearld Pro also comes with a 1,000W motor with 95Nm of torque. It also comes with the same battery, which has 1,008Wh of energy capacity. Once again, this kind of battery size is quite impressive. Usually, e-bikes have a battery of around 600-700 Watt-hours.
The downside of a battery this big is its long charging time. It takes about 10 hours to fully recharge the battery.
In addition to the aforementioned components, the Herald Pro has a nice LCD display. It shows battery capacity, odometer, speed, pedal-assist level, and wattmeter. There is a USB port on the display. So you can use your bike's battery to charge your phone too.
Although the bike is quite heavy, mechanical disc brakes can provide enough stopping power.
Senada Roamer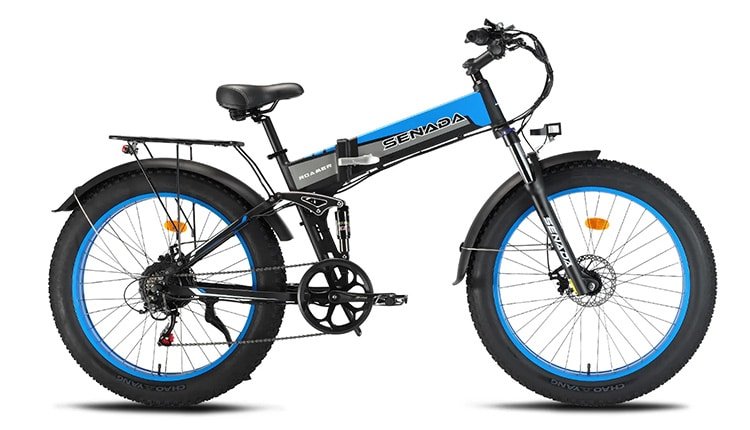 All other Senada e-bikes are quite similar. But Senada Roamer differs quite clearly from the rest.
Senada Roamer is also an all-terrain electric bike. But in addition, it has a folding frame. It means you can fold the bike for easier storage. Folding bikes can even fit into the trunk of regular cars.
The Roamer has a rear hub motor that contains 1,000 Watts of power. It has a bit less torque than other Senada bikes but it's still enough to cover rough terrain.
The battery is hidden inside the frame. However, the battery is still removable. You can detach the battery after folding the bike. The Roamer has a range of up to 50 miles.
Read also: Senada Roamer Full Review
While most folding electric bikes have 20-inch wheels, the Senada Roamer comes with 26″ wheels. Bigger wheels increase ride comfort. On the other hand, a folding bike with 26-inch wheels isn't so compact after folding.
Other than that, the Roamer has similar bike components to other Senada electric bikes, including 4″ fat tires, Shimano gearing, mechanical brakes, and front suspension. But Roamer also has a middle suspension that no other Senada bike has.
Senada Drifter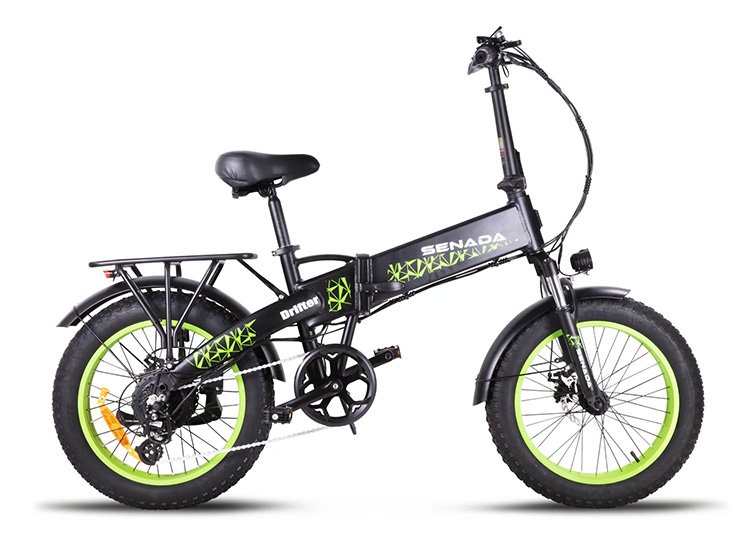 At first glance, Senada Drifter looks really similar to Senada Roamer. But it's actually quite different. However, they are both folding bikes.
While the Roamer had unusually large wheels for a folding bike, the Drifter is more traditional in this area. It has 20-inch wheels with fat tires.
"Under the hood" you can find a 500W motor, which is actually located in the rear hub. So it's a bit less powerful than other Senada bikes. But still, the motor provides a 28 mph top speed with throttle only.
The battery contains 672Wh of energy (48V 14Ah) and it can provide up to 60 miles of range. But you should note that in throttle mode the range will be about 20-30 miles. And the charging time is just 5-6 hours.
The bike weighs 64 pounds and the maximum payload capacity is 330 pounds.
Conclusion – Are Senada Bikes Worth It?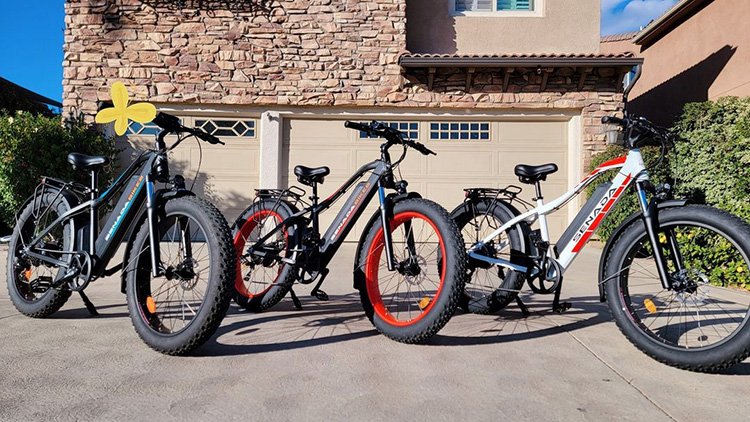 To sum it up, we can definitely see the value of Senada electric bikes.
Each of their bikes has a powerful motor and strong battery. Also, fat tires and suspension forks add a lot to the overall ride comfort. Additionally, all bikes have a rack and full fenders, which are essential features for an all-terrain commuter bike.
We must acknowledge that the gearing systems and lack of hydraulic brakes on Senada bikes are of lower quality. However, considering the price point, we shouldn't expect top-of-the-line features.
Anyway, Senada Bikes is a solid brand and if you are looking for a robust fat tire commuter e-bike, then Senada e-bikes are worth considering.