Dualtron Achilleus is one of the most recent additions to the Minimotors family. The name is new but the features and the look resemble a lot one of the most famous electric scooters of all time – Dualtron Thunder.
An electric scooter helps reduce your transportation costs, the time you spend in traffic and boosts your overall health.
The scooter boasts a 50mph top speed, making it one of the fastest on the market. It has excellent handling and top-quality brakes.
In this Dualtron Achilleus review, we are going to find out if this e-scooter is good enough to compare to Thunder.
Electric Wheelers is reader-supported. Although we independently research and test products, we may receive a commission on purchases made from our chosen links. Read more…
Dualtron Achilleus Overview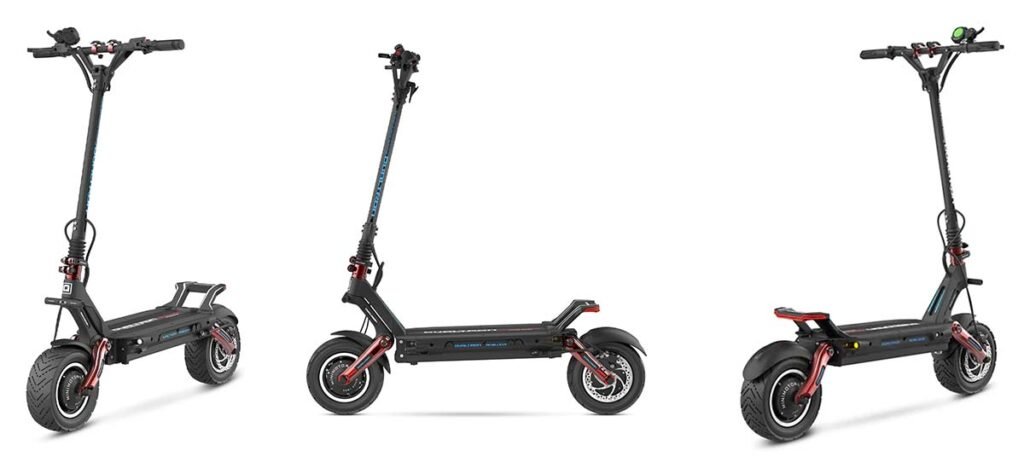 MSRP: $3,599 Voro Motors
To Whom?
Dualtron designed their Achilleus scooter for anyone interested in riding e-scooters. However, Achilleus covers all spectrums and has the best features to suit most e-scooter fanatics.
Dualtron's design for Achilleus is good for people who weigh less than 265 pounds (120 kgs).
Since the scooter comes with street tires, it is meant for the urban environment. However, it has got one of the best suspensions. So, you could swap its tires for off-road tires and get one of the best off-road experiences ever.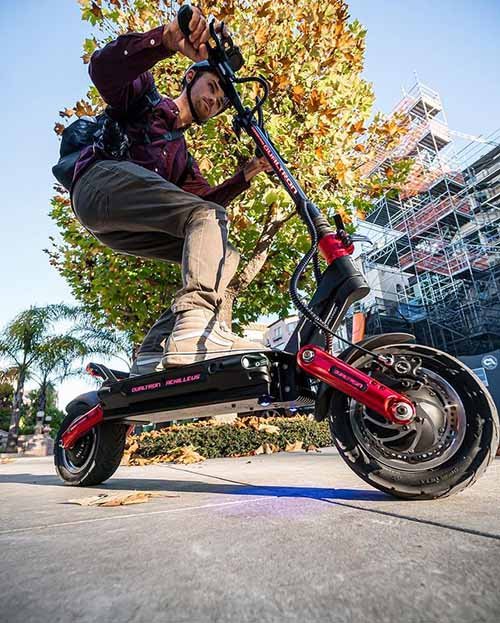 Dualtron Achilleus Specs
| | |
| --- | --- |
| Motor | 2 x 2,324W Dual Motors |
| Max Speed | 47 mph |
| Battery | 60V 35Ah (2,100Wh) LG Battery |
| Max Range | 70 miles |
| Recharge Time | 18 hours |
| Brakes | NUTT Hydraulic brakes (160mm rotors) |
| Suspension | Dual suspensions with rubber cartridge |
| Weight | 88.6 lbs |
| Weight Capacity | 264.5 lbs |
| Tires | 11″ Tubeless street tires |
| Lights | Headlight, brake light, stem lighting, sidelights, and bottom lighting |
| Hill Grade | 30 degrees |
| Dimensions | 49.2″ x 24″ x 48.8″ |
| Folded Dimension | 49.2″ x 10.8″ x 22″ |
| IP Rating | – |
Pros
Powerful dual motors
Solid range
Great braking system
Cons
Long charging time
No water-resistance rating
Heavy
---
Dualtron Achilleus Performance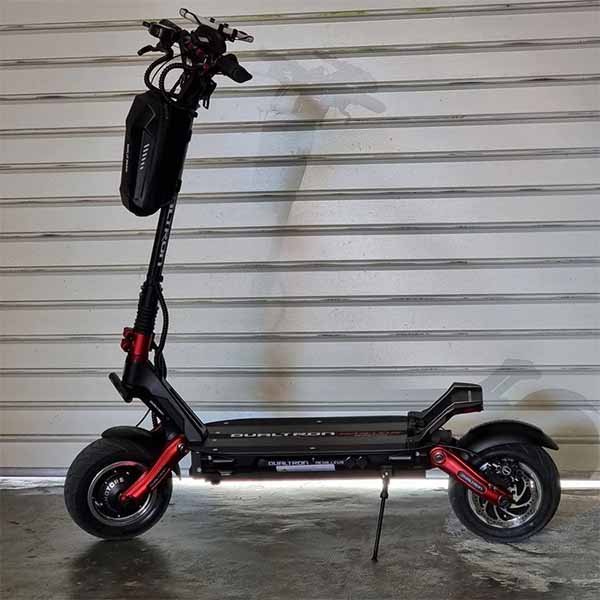 Speed and Acceleration
As mentioned before, Dualtron Achilleus has a 50mph (or 80km/h) recorded top speed. The scooter achieves these speeds due to its powerful motors and tires designed to produce maximum traction. It also has incredible acceleration due to its brushless motors designed to produce maximum torque.
The scooter has three different speed modes – normal, eco, and super-eco.
The super-eco mode allows riders to ride further but with limited speeds. Normal mode allows riders to go faster but reduces the range.
Battery and Range
The Dualtron Achilleus e-scooter has a 60V 35Ah Li-ion battery that provides riders with excellent power output and range.
In a range test with a 165-pound rider, the scooter was able to cover 75 miles.
It's worth noting that the e-scooter was fully charged, and there was a flat surface. Changing one (or all) of these factors affects the scooter's range.
As mentioned before, the scooter is great for daily leisure use and commutes to work or school. The scooter's battery (manufactured by LG) has a long lifespan and can deliver power consistently for years. However, the charging time is quite long. Approximately 4 to 20 hours depending on your charger.
Brakes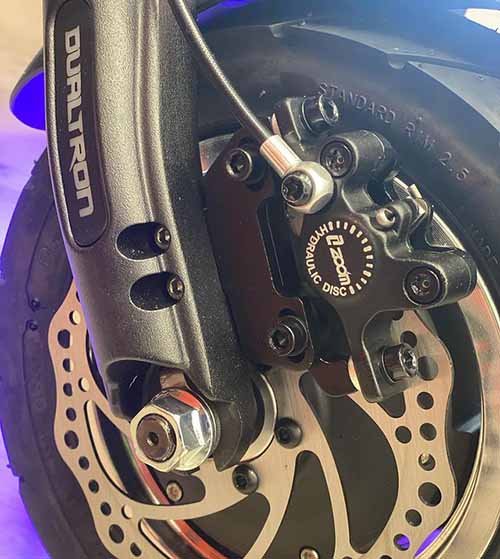 Dualtron Achilleus' braking system is fitted with an ABS braking system, and rear & front hydraulic brakes, which significantly boosts its performance. It's one of the first scooters to incorporate an ABS braking system.
Levers placed on either side of the handlebar control the brakes. The braking system is quite handy when riding the scooter in wet or off-road conditions. The brakes provide added safety by preventing skidding when riders are forced to engage the emergency brakes.
Suspensions
The Dualtron Achilleus is fitted with the best suspension designed to provide riders optimal stability and maximum comfort.
It has dual suspension placed on its rear and front end, with a cartridge system designed to absorb shock to make the ride smoother. The suspension comes in handy, especially when the rider rides through bumpy obstacles.
The Dualtron Achilleus suspension system is adjustable to 45 positions and customized to fit the rider's riding style. You can do this by adjusting the motor (too low, intermediate, or high), the suspension arm's angle (three positions), and replacing the scooter's cartridges (5 different options).
Dualtron Achilleus Design and Features
Build Quality
Dualtron Achilleus is extremely sturdy and durable. It's a blend between the latest cutting-edge technology and a futuristic style that provides an unmatched experience.
The covers are made from polypropylene, allowing them to withstand falls and bumps. This protects the E-scooter's delicate internal components.
In addition, the e-scooters cables are hidden internally to protect them from damage.
Its clean and modern design is appealing. It features a redesigned deck, a multifunction EYE3 display, and LED lights on its stem and around the deck.
Very few electric scooters come close to overtaking the Dualtron Achilleus in range, speed, and overall comfort.
The e-scooter's handle and frame's design incorporate a strong aluminum alloy and light carbon fiber. Its deck has an elegant finish complete with a handlebar hook, night lights, and brake lights. It also has a kickstand for easier parking. 
Portability
On a scale of portability, Dualtron Achilleus is rather on the lower end. Although the scooter can be easily folded, it is still too long to fit comfortably into the trunk of a regular sedan.
Also, this scooter is not very easy to carry around. Weighing about 90 pounds, it is quite bulky.
Wheels and Tires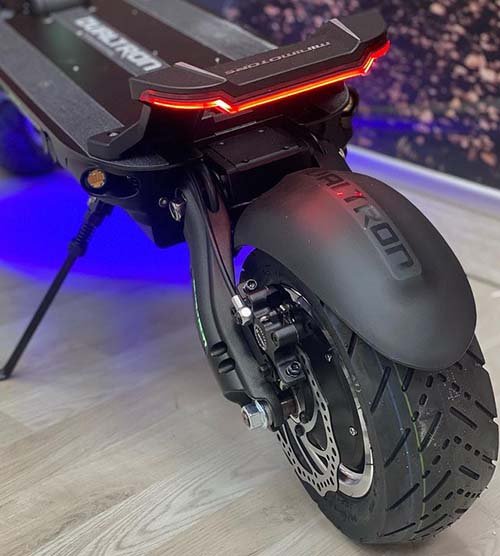 The Dualtron Achilleus has massive, Ultra-wide, 11-inch, tubeless tires that act as additional suspensions, absorbing shock and ensuring users enjoy their ride. The tires are designed with the "never flat" technology that makes them resistant to leaks or punctures.
The e-scooter's tubeless tires ensure minimal instances of blowouts or flat tires.
They roll fairly easily because of their wide design, making riding them more comfortable for individuals who plan to use it for long commutes.
The large wheels minimize vibrations, especially when ridden on bumpy surfaces. In addition, its double-walled rims ensure that the wheels can sustain bigger hits more easily.
Cockpit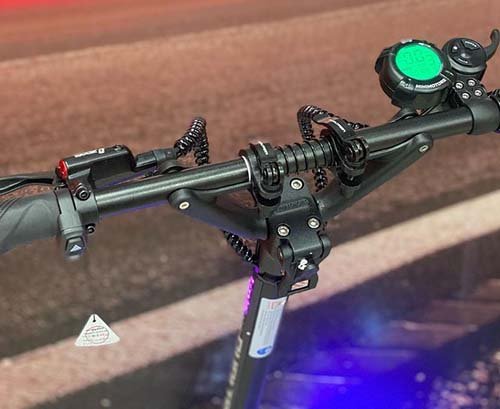 The Dualtron Achilleus has sleek and minimalistic features that make it stylish. The scooter has ergonomic brake levers on an otherwise clean handlebar. On the left side, it has minimalistic control buttons. These are used when shifting riding modes or switching on warning lights.
The EYE3 LCD is placed on the right of the scooter's handlebar. It's also fitted with a throttle that's controlled with the index finger. Its LCD console displays various information like range, speed, battery life, etc. It has buttons that riders can use for customization to adjust the scooter's power and other settings.
Ride Quality
The Dualtron Achilleus has a smooth ride quality because of its effective suspension and large wheel design.
The scooter is easy to control due to its agile turning radius and lightweight design. Its wide tires improve its handling, which significantly increases its stability. Riders can also buy a steering damper to increase the scooter's riding stability.
In addition, the scooter has a longer deck designed to make the rider's feet more comfortable. It's also got sandpaper-like coatings, ensuring that riders' feet are firmly planted to the scooter's surface while they ride.
Dualtron Achilleus also has a high clearance designed to reduce impact with surface irregularities and small bumps. Lastly, the scooter has rubberized handgrips designed to give riders a comfortable grip. They are also designed to provide the wrists with a comfortable resting position.
Dualtron Achilleus vs Dualtron Thunder 2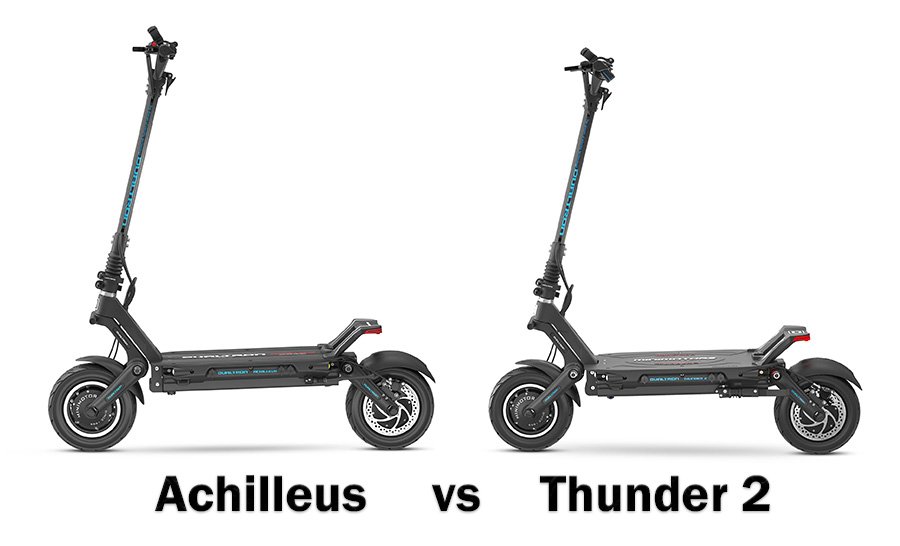 Dualtron Thunder and Dualtron Achilleus look extremely similar. Basically, Achilleus is a more lightweight version of the Thunder.
However, Thunder beats Achilleus in almost every aspect of performance. Thunder has more powerful motors, a bigger battery, and also a higher price tag.
Even being less powerful than Thunder 2, Achilleus is still a top-quality electric scooter.
| | | |
| --- | --- | --- |
| Dualtron Achilleus | | Dualtron Thunder 2 |
| 2 x 2,324W Dual Motors | Motor | 2 x 2,700W Dual Motors |
| 47 mph | Max Speed | 60 mph |
| 60V 35Ah (2,100Wh) LG | Battery | 72V 40Ah (2880Wh) LG |
| 70 miles | Max Range | 72 miles |
| 18 hours | Recharge Time | 28 hours |
| NUTT Hydraulic | Brakes | NUTT Hydraulic |
| 88.6 lbs | Weight | 104.3 lbs |
| 264.5 lbs | Weight Capacity | 265 lbs |
| 30 degrees | Hill Grade | 35 degrees |
| $3,599 | Price | $4,299 |
Related: Dualtron Thunder Review
Dualtron Achilleus Review Conclusions
The Dualtron Achilleus' design allows riders to go fast, for longer distances, comfortably. It does all this while ensuring the rider's safety.
In addition, it's designed in line with Dualtron's standards of quality that ensure its reliability. However, its heavy-duty parts add weight, making its portability more challenging.
Regardless, the scooter is foldable and easy to transport or store.
Dualtron Achilleus is one of the most reliable and durable e-scooter you could ever want.
The Dualtron Achilleus has incredible speed, acceleration, and aesthetics. It's also safe because of the ABS braking and effective suspension systems. It has an impressive range and is worth every penny. Have fun riding!