Varla is an established electric scooter company that has designed high-quality electric scooters for over one million individuals in over 30 countries.
The company focuses on creating high-quality, eco-friendly, affordable, and efficient transportation solutions. Additionally, Varla is using durable components and materials when manufacturing its scooters.
Varla Falcon electric scooter is one of the two new e-scooter models, including the Wasp, that was launched in the spring of 2023. It has impressive features, including a long-range battery, powerful motor, and impressive suspension system, providing a comfortable, safe, and enjoyable riding experience.
Let's dive in and learn more about Varla's Falcon electric scooter.
Electric Wheelers is reader-supported. Although we independently research and test products, we may receive a commission on purchases made from our chosen links. Read more…
Varla Falcon Review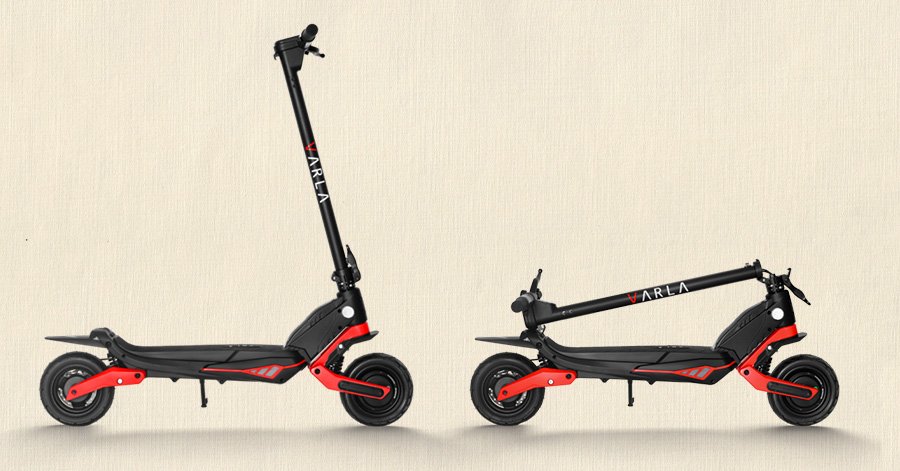 Motor: 500W |Top Speed: 22 mph |Battery: 10.4 Ah (360 Wh) |Max Range: 25 miles
Pros
Strong build quality
Great ride comfort
Trusted brand
Internally routed cables
Cons
The range could be better
Only one disc brake
Varla Falcon Performance
Motor and Speed
The Falcon has a 500W motor with a 700W peak power output. It is powered by a 25A speed controller that always maintains optimal performance.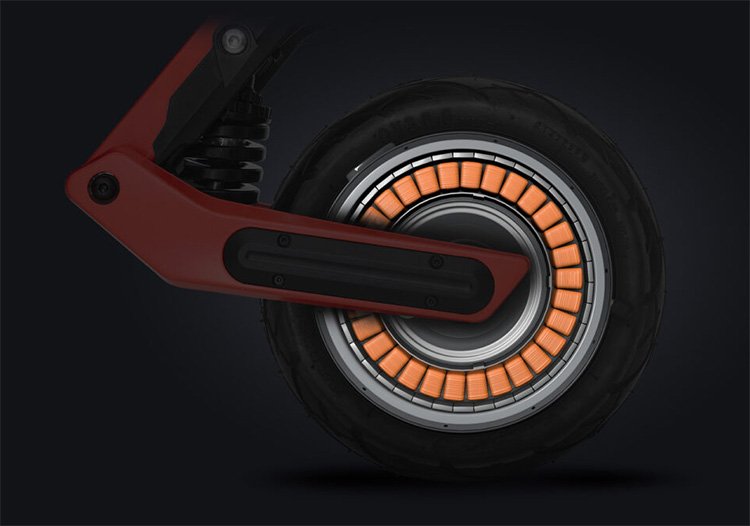 The motor provides 28Nm of torque and a 22mph top speed. This speed is perfectly legal in most US states. To speed up the scooter, there is a simple thumb throttle. It is much more intuitive than index-finger throttles.
Additionally, the scooter can handle a 19% maximum slope, showing its motor's capability. However, riders should expect lower top speed when climbing such inclines since most scooters work best on flat terrain.
Battery and Range
The Falcon has a 48V 10.4Ah lithium-ion battery with short-circuit, low-voltage, and overcharge protection. The battery also has work temperature protection, power equalization output, and current output protection. 
Additionally, an intelligent battery management system indicates the battery's health and protects it. These features help protect the battery, making it durable and safe for long-term use.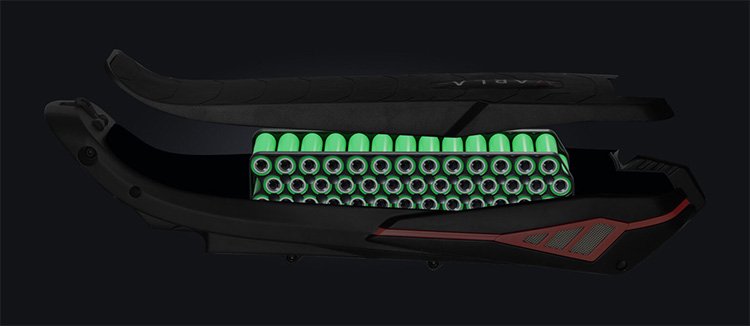 The scooter's battery takes four hours to charge and provides a 25-mile range per single charge, which is sufficient for most daily urban users. However, you should keep in mind that its performance depends on the riding conditions. Varla Falcon scooter is perfect for riders who live in a relatively flat area and provides optimal performance on smooth terrain.
Brakes
Brakes are an essential feature in a scooter, and the Falcon has a good set of brakes riders can rely on. The scooter has a combination of electronic and disc brakes providing sufficient stopping power.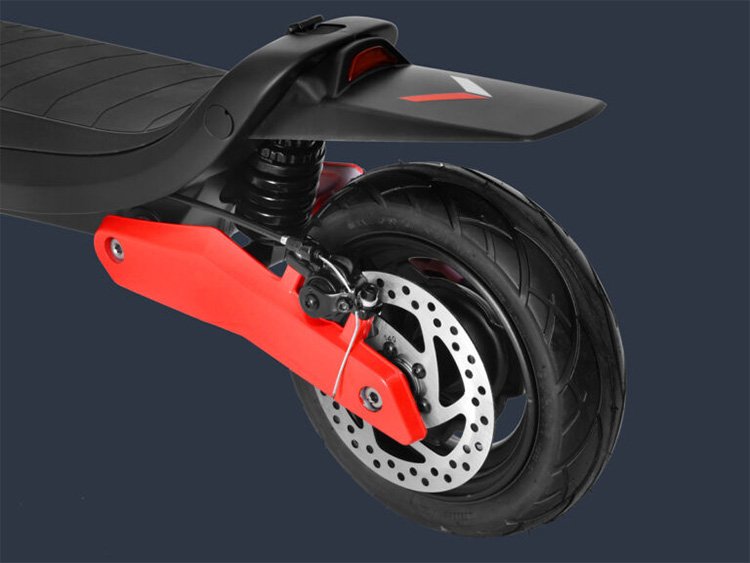 Only one disc brake would have been too weak. Also, an electronic brake alone wouldn't provide enough safety. However, combined braking involving electronic and disc brakes provides sufficient stopping power, perfect for most situations.
Varla Falcon Features
Deck and Frame
Varla's Falcon has a 7.1" expansive deck with enough room for riders to place their feet side by side. Although it is not recommended to keep your feet like this, many people still like it. And with Falcon, it's possible. The scooter's deck and frame are made from durable materials and can support a maximum load of 265 pounds.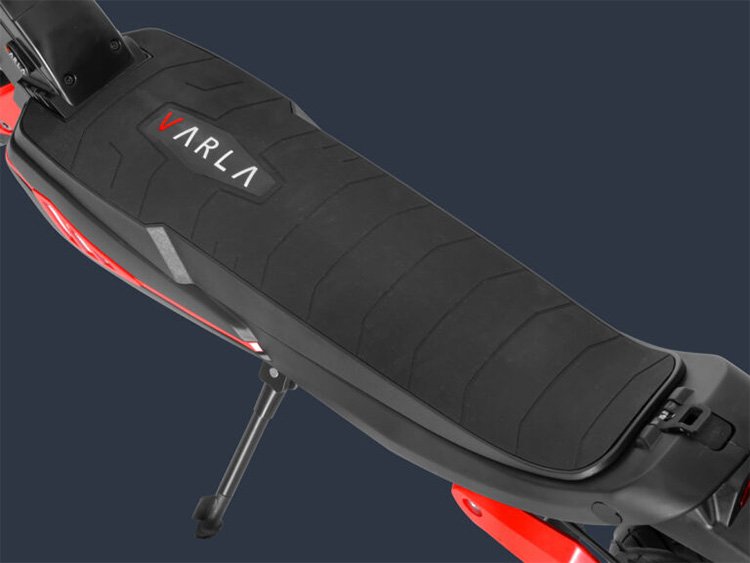 The scooter has an IP54 waterproof rating. This means the scooter is safe from water splashes from any direction and has protection from limited dust ingress. Additionally, you should dry the scooter immediately after riding it in the rain.
The scooter's handlebar has a digital LED screen that indicates its performance and working status. The screen shows vital information like the speed, remaining battery, riding mode, etc., to help you make informed decisions during the ride. Also, the push throttle is also located on the handlebar.
Dual Suspensions
Varla Falcon electric scooter has a front and rear independent suspension that absorbs any shock experienced when riding on rough terrain. The shocks help provide a safer and more comfortable riding experience, making it easy for various buyers to enjoy a stress-free experience.
The shocks (combined with its 9" tires) increase the scooter's capacity for shock absorption, significantly increasing its performance.
Portability and Folding Mechanism
The Falcon weighs 50 pounds (or approximately 22 kg). So it is not a very lightweight scooter. However, it's not too bulky either.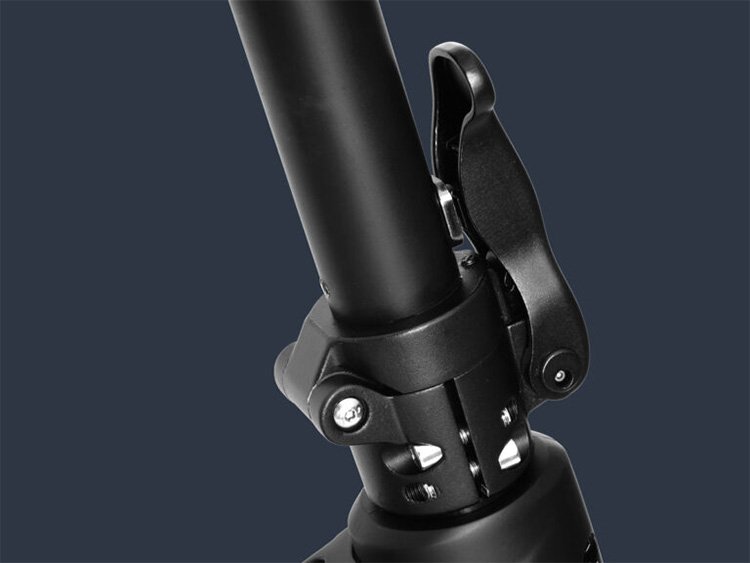 The scooter has a simple folding mechanism. The stem folds down and can be attached to the deck. Therefore, it is convenient to carry and store in buses, trains, or your car when traveling. The scooter's foldable design makes it easy to store for people with tight storage spaces.
Wheels and Tires
The Falcon has 9" tubeless tires, providing sufficient shock absorption and a comfortable riding experience when using your scooter on various terrains.
Regardless, we don't recommend using the scooter on uneven, off-road terrain since the tires aren't designed for such surfaces and could provide a bad riding experience.
Lights
The Falcon has dual LED lights (a headlight and taillight) that help illuminate your way in the dark, make you more visible, and remind other road users of your presence.
The headlights light the road in front to help you see the road more clearly and avoid obstacles. The taillights are activated by pulling the brake and lighting up to remind other road users of your position.
Varla Falcon Review Conclusions
The Varla Falcon has all the necessary features to be your efficient helper in last-mile transport. It has enough power and reasonable mileage. This makes the scooter a good option for urban commuters or people who just want to discover the neighborhood.
The Falcon is not as powerful as one of the best dual-motor scooters Varla Eagle One. But nevertheless, it fits perfectly into the Varla model range and will surely find many fans.
Varla Falcon Specs
| | |
| --- | --- |
| Motor | 500W Front Hub Motor |
| Top Speed | 22 mph |
| Battery | 48V 10.4Ah (500 Wh) |
| Max Range | 25 miles |
| Recharge Time | 4 Hours |
| Brakes | Mechanical Disc + Electronic |
| Suspension | Dual Suspensions |
| Weight | 50 lbs (23 kg) |
| Weight Capacity | 265 lbs |
| Tires | 9″ Tubeless Pneumatic |
| Lights | Front and Rear LED |
| Hill Grade | 19% |
| Dimensions | 45.7″ x 24.8″ x 49.8″ |
| Folded Dimensions | 45.7″ x 24.8″ x 20.1″ |
| IP Rating | IP54 |
| Display | LCD |