Varla electric scooters have become a reputable name in the electric scooter industry. To be exact, they are famous players in the field of dual-motor electric scooters. However, they now have also single-motor electric scooters.
In this article, we introduce you to the Varla brand in more detail and take a closer look at all their electric scooter models. Keep reading to learn more about this awesome company.
Electric Wheelers is reader-supported. Although we independently research and test products, we may receive a commission on purchases made from our chosen links. Read more…
Varla Scooters Overview

Facebook | Youtube | Instagram | Store
Where is Varla Scooters Located?
Varla Electric Scooters is headquartered in El Monte, California. However, although they are not a very old company, they already have branches also in Europe and Asia.
The Varla brand was born in 2018 and the first electric scooter (Eagle One) was launched in the summer of 2019. Now, they have a decent selection of scooters and there are tens of thousands of Varla riders around the globe.
How Fast Does Varla Scooter Go?
The most entry-level Varla scooter has a top speed of 16 mph. However, the most high-end scooter can go up to 45 mph. The top speed of the rest of the scooters is around 25 mph.
How Long Does Varla Scooter Battery Last?
Varla electric scooters come in different price ranges and therefore, the battery capacity varies. But overall, the cheaper models of Varla have a mileage of about 20 miles, while the pricier models can go up to 45 miles.
How Long is the Warranty of Varla Electric Scooters?
All Varla scooters come with a solid warranty. The most important parts, like the motor and the battery, have a 12-month warranty. If these parts need maintenance during this period, it's free. The frame of the scooter has an even longer warranty – 2 years.
Additionally, there is a 1-month warranty for spare parts like fenders, brake pads, and inner tubes. It definitely shows that the company trusts its quality.
Varla E-Scooters Review
New Release – Varla Falcon
Varla Falcon was launched in the spring of 2023. So far, there were only dual-motor electric scooters in Varla's selection. So, Varla Falcon was a perfect addition to their scooter family.
Although the Falcon is a single-motor electric scooter, it has plenty of power. It comes with a 500W front-hub motor that can speed up the scooter up to 22 mph. This kind of speed is sufficient for most commuters and the motor complies well with the law in most countries.
Related: Varla Falcon Full Review
Additionally, the scooter has a 10.4-ampere-hour battery that can provide about 25 miles of range. Compared with Varla's previous scooters, this kind of mileage is not spectacular. However, it's enough for shorter commutes.
Overall, the scooter looks really good and has many other great features like dual suspensions.
New Release – Varla Wasp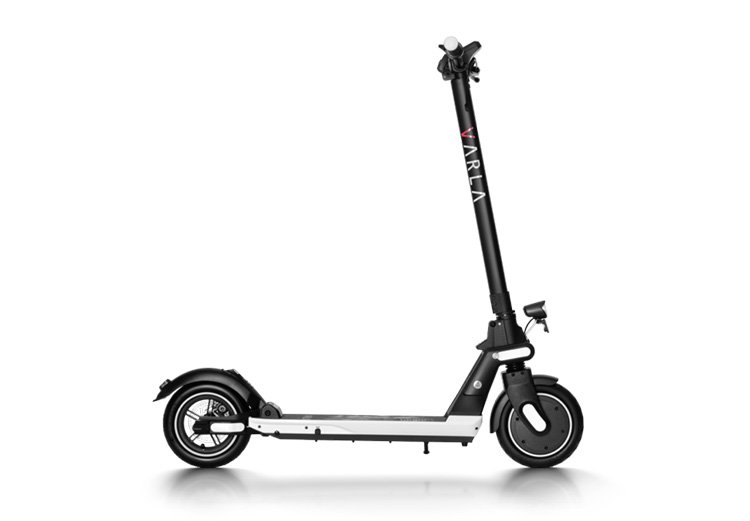 Varla Wasp was another model that was released in the spring of 2023. So far, the company didn't have an ultra-affordable electric scooter that would be perfect for beginner riders. So, the newly added models fit well into Varla's lineup.
Varla Wasp is powered by a 350W front hub motor. The top speed of the scooter is 16 mph. These metrics are very similar to other scooters in this price range.
The battery of the scooter has 270 Wh of energy capacity, which can give you about 19 miles of range. Therefore, Varla Wasp is perfect for a person whose daily commutes are not too long.
Related: Varla Wasp Full Review
One of the advantages of the Wasp scooter is its compact size. It fits in most trunks and can be easily stored. Also, it's not ultra-lightweight but anyone can lift it when it is necessary to go up the stairs. The weight of the scooter is just 33 lbs.
Varla Eagle One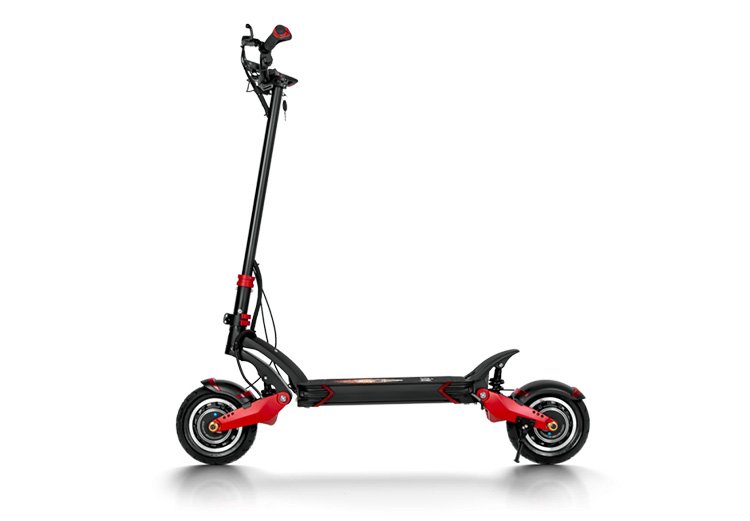 Varla Eagle One was Varla's first electric scooter. And still, it's their best-selling model. It's pretty awesome that they hit the nail on the head with their first model.
Varla Eagle One is a dual-motor electric scooter with 1,000-Watt motors in both of the wheel hubs. The top speed of the scooter is 40 mph. It has a quite good battery as well (52V 18.2Ah). The battery provides a mileage of about 40 miles.
In addition to that, Varla Eagle One has top-quality hydraulic brakes for great stopping power and a dual suspension system for comfortable off-road rides.
The scooter has all the premium-quality features but at the same time comes with a fairly affordable price. Thanks to the good price/quality ratio, we have listed the Eagle One as one of the best dual-motor electric scooters.
Varla Eagle One V2.0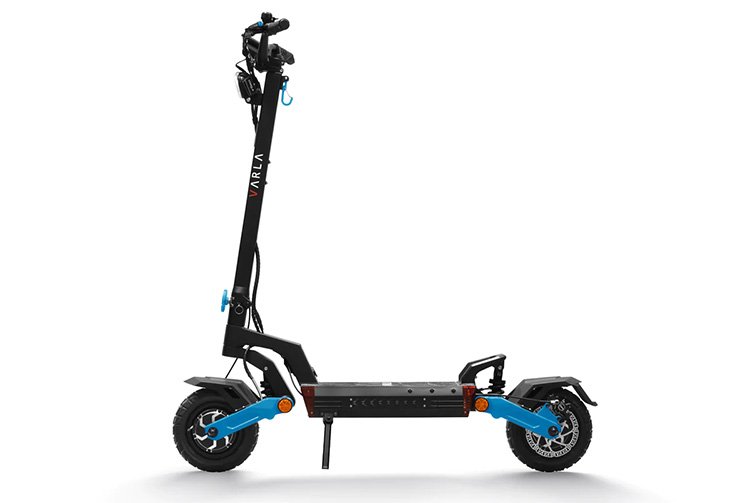 Building on the success of their inaugural model, Varla introduced the Eagle One V2.0, a testament to their commitment to innovation and excellence. This upgraded version retains the essence of the original while introducing several enhancements that riders will appreciate.
The Eagle One V2.0 boasts dual motors, each delivering a powerful 1,000 Watts, making uphill climbs and rapid accelerations a breeze. With a top speed of 40 mph and an improved battery (52V 20.8Ah), riders can expect a more extended range of up to 42 miles on a single charge.
Related: Varla Eagle One V2.0 Review
The V2.0 features advanced hydraulic brakes ensuring reliable stopping power, and the enhanced dual suspension system guarantees smoother rides, especially off-road. The wider handlebar offers better control, and the inclusion of more intuitive controls and displays makes for a more user-friendly experience.
While it's packed with premium features, the Eagle One V2.0 remains competitively priced, further solidifying its position as a top contender in the dual-motor electric scooter market.
Varla Eagle One Pro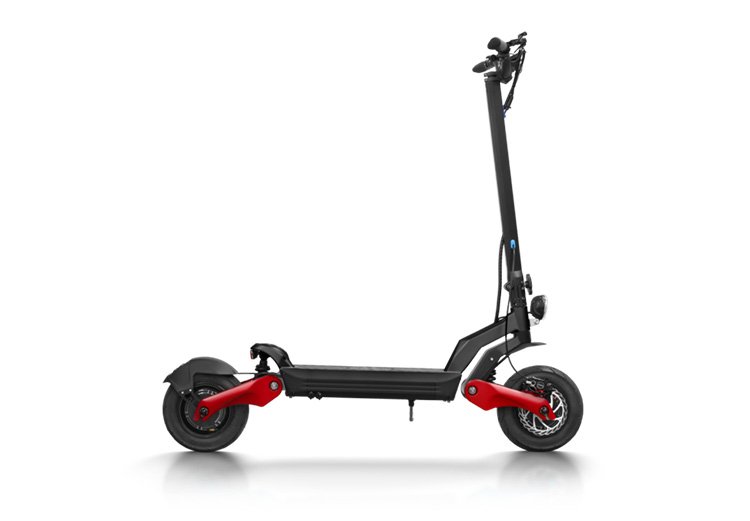 Varla Eagle One Pro is very similar to the non-pro version. But of course, there are some improvements.
Just like the Eagle One, The Pro also has two 1,000W motors. However, the Eagle One Pro has a bit higher top speed. It can go up to 45 mph. Additionally, the Pro has a 71% bigger battery. But it doesn't have as much effect on the maximum range. Since the Pro is much heavier, the bigger battery can provide only 5 miles more range.
Related: Varla Eagle One Pro Full Review
Additionally, the Eagle One Pro has bigger tires (11″) and better hill-climbing ability. So, the Eagle One Pro is best for off-roading and all-terrain rides.
Varla Pegasus
Varla Pegasus is a city-commuter electric scooter. But unlike other commuter scooters, Varla Pegasus has dual motors.
500W dual motors can speed up the scooter up to 28 mph. Also, those motors can provide 25Nm of torque, so the scooter can tackle some moderate inclines too.
Additionally, the Pegasus comes with a 748Wh battery that can provide a range of up to 28 miles. It's a bit more than a regular city scooter.
Related: Varla Pegasus Full Review
Just like other Varla scooters, the Pegasus also has a suspension system. So if the city streets have some occasional bumps, it won't bother you much.
Conclusion: Are Varla Scooters Worth It?
Varla has proven that they are an e-scooter brand to be taken seriously. People have warmly received their vehicles and Varla has a very clear place in the scooter industry.
Varla Eagle One has been a total hit and there are no electric scooter enthusiasts, who haven't heard about it. Additionally, over the years they have added interesting models that fit well into their selection.
Today, they have powerful dual-motor scooters, solid commuters, and one entry-level scooter for beginner riders. So there's something for everyone.