Electric Wheelers is reader-supported. Although we independently research and test products, we may receive a commission on purchases made from our chosen links. Read more…
Minimotors is a company that produces premium quality electric scooters. The company was founded in 1999 in Busan, South Korea. In just a year, the company rose to be the top seller of motor boards in Korea's domestic market.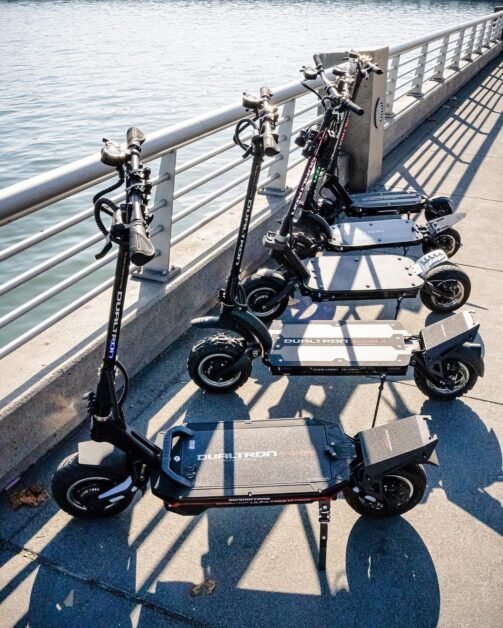 After about six years in the game, Minimotors penned a contract to be the official and the only distributor of Goped, a US brand. This happened to be the same time that Minimotors launched their Silverwing, an electric scooter made for seniors.
The company continued growing exponentially, and by 2009, it opened an office in China and launched an electric ATV quad.
The steady success saw the company change to a corporation in 2010 and subsequently moved its headquarters to Ilsan, Gyounggi-do. This led to more popularity which in turn led Minimotors to become the exclusive Korean distributor of the Japanese Fukiplanning and the German Puma moto.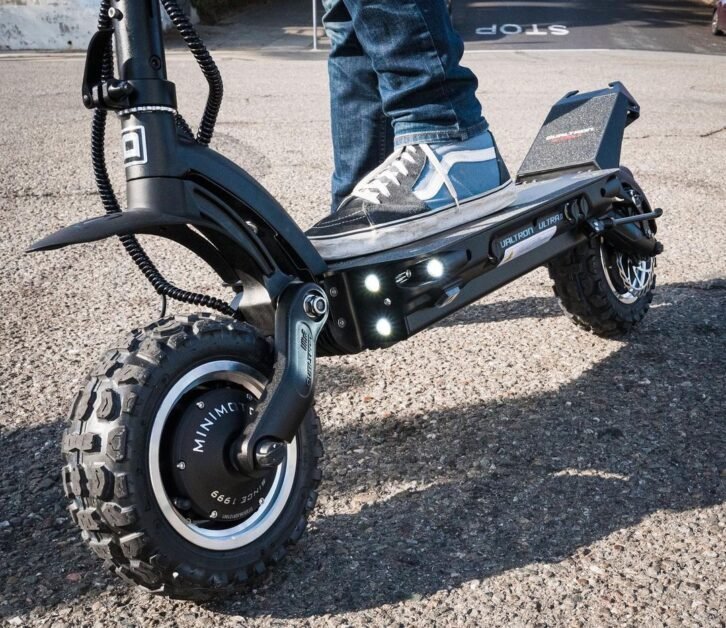 Success rose again steadily in the following year (2011) after Minimotors introduced the first-ever electric scooter made in Korea – the Fireball. Subsequently, Minimotors won another contract to become the exclusive distributor of the French Shark Helmet in Korea.
In 2013, Minimotors opened their official Naber cafe "Minimotors club", where Fireball2 was launched as the club's pioneering brand.
Minimotors strive to build the best electric scooters in the world, a mission they've kept up with up to now. If you need an electric scooter for urban or off-road use, Minimotors have got you covered.
Brands of Minimotors

Minimotors specialize in producing high-quality mini motorized vehicles that are easy to use and economical. The company offers various scooter models for all ages and abilities, from the lightest eScooter to the most powerful one. Up to this moment, they manufacture e-scooters under three primary brands:
Dualtron
Speedway
Futecher
Dualtron
The off-road scooter Dualtron is a flagship model that debuted in 2015.
The distinguishing features of Dualtron include two BLDC HUB engines, two controllers, two off-road suspension systems, two disk brakes, LED headlights and taillights, and single and dual motor mode operations.
Dualtron scooters differentiate from the other two Minimotors brands because it offers a larger deck size and wider tires.
The Dualtron line is for a true electric scooter fan. Dualtron scooters come with the most durable frames and give you the best mileage. With Dualtron scooters you can experience one of the best electric scooters in the world.
Let's take a closer look at each Dualtron model!
Dualtron X2
MSRP $6,490
The Dualtron X2 is one of the most powerful electric scooters available on the market. It has a top speed of at least 55mph and a range of 93 miles on a full charge. It really is an unbeatable powerhouse.
Other impressive features include this scooter include an LCD with easy-to-use controls and an inbuilt battery meter, which will tell you the current charge and how long until it is fully charged.
The eScooter also has regenerative braking, meaning that you can extend the life of your batteries by using them more efficiently!
On the downside, you have to dig deep into the pocket. A unit comes at a $6,500 price tag.
Motor: 8,300W dual hub motor
Top speed: 55mph
Battery: 3,024Wh
Range: 93mi
Weight: 145 lbs
Payload Capacity: 265 lbs
---
Dualtron Storm
MSRP $4,690
The Dualtron Storm is another robust option from the company. It comes with an impressive 55mph top speed and 80-mile range. Overall, you can go to work from Monday to Friday without requiring you to top up the charge.
Like the X series, this escooter features many of the same great specs, such as regenerative braking and easy-to-use controls. When comparing it to the X2, the Storm is a little bit lighter but can withstand heavier riders.
A downside is quite a long charging time. With a standard charger, it takes 21 hours to fully charge the battery. Although, with a quick charger the same work can be done only in 5 hours.
Motor: 6,640W dual hub motor
Top speed: 55mph
Battery: 2,268Wh
Range: 80mi
Weight: 102 lbs
Payload Capacity: 330 lbs
---
Dualtron Thunder
MSRP $3,899
Being one of the company's flagship models, Dualtron Thunder is the result of an attempt to compete with high-performance scooters from other manufacturers.
Related: Dualtron Thunder Full Review
The scooter has a top speed of up 50mph and a range of up to 75 miles. It takes just 5.3 hours to fast-charge the battery pack. Despite having a max load of 265lbs, this electric scooter weighs just 95 lbs.
Dualtron Thunder is the first electric scooter that had an ABS anti-lock braking system.
The price tag? Currently discounted $3,690 – so it's not a bad deal for one of the best performing electric scooters in the world.
Motor: 5,400W dual hub motor
Top speed: 50mph
Battery: 2,060Wh
Range: 75mi
Weight: 95 lbs
Payload Capacity: 265 lbs
---
Dualtron Ultra
MSRP $3,399
Dualtron Ultra is one of the most popular and revolutionary electric scooters.
This king of road electric scooters have now the second version (V2), which has EYE throttle and ABS as a standard.
Front and rear swing arms are made from forged aluminum, which makes this electric scooter ultra-durable on off-road surfaces.
Motor: 5,400W dual hub motor
Top speed: 50mph
Battery: 1,920Wh
Range: 75mi
Weight: 81 lbs
Payload Capacity: 265 lbs
---
Dualtron Ultra 2
MSRP $4,190
Ultra 2 is an upgraded version of the standard Ultra.
In Ultra 2, they moved smart motor controllers to the kicktail. This allows fitting the huge battery better.
Dualtron Ultra 2 is one of the highest-performing electric scooters on the market today.
When comparing Ultra 2 to regular Ultra, it has a bigger motor and battery, higher top speed, and better range. Ultra 2 can hold 65 lbs more load but weighs only 7 lbs more than Ultra.
Motor: 6,640W dual hub motor
Top speed: 55mph
Battery: 2,520Wh
Range: 87mi
Weight: 88 lbs
Payload Capacity: 330 lbs
---
Dualtron Victor
MSRP $2,899
Again, very similar electric scooter to the rest of the Dualtron machines. In reality, some changes have been made with the frame of Dualtron Victor.
Victor has extra-wide 3-inch tires and a sliding collar that can be quickly released. Also, Victor has full hydraulic brakes, which gives you perfect stopping power.
Motor: 4,000W dual hub motor
Top speed: 50mph
Battery: 1,800Wh
Range: 62mi
Weight: 73 lbs
Payload Capacity: 265 lbs
---
Dualtron Compact
MSRP $2,649
Dualtron Compact is a little bit smaller-sized scooter than other Dualtron machines.
The most notable difference is small wheels. The Compact has 8-inch solid tires. They might be smaller by diameter but they are ultra-wide, giving you very good traction. When most of the Dualtron scooters have disc brakes, this model has dual drum brakes with ABS.
Motor: 3,400W dual hub motor
Top speed: 40mph
Battery: 1,260Wh
Range: 50mi
Weight: 70 lbs
Payload Capacity: 265 lbs
---
Dualtron Raptor 2
MSRP $2,000
Some say that Dualtron Raptor is the smaller brother to Dualtron Compact. They have very similar specs, only Raptor is a little bit less powerful.
Raptor 2 is built for riding on city streets, that's why it doesn't have large off-road tires. 8-inch solid tires are almost maintenance-free.
When comparing Raptor 2 to its predecessor, it has some great upgrades. Raptor 2 now has ABS brakes and stem lighting, giving you better safety. Also, the EYE throttle comes as a standard now with this model.
Motor: 3,000W dual hub motor
Top speed: 37mph
Battery: 1,092Wh
Range: 37mi
Weight: 50 lbs
Payload Capacity: 220 lbs
---
Dualtron Spider
MSRP $2,850
If you thought that every Dualtron scooter is bulky and heavy, then you are not correct.
Dualtron Spider is the lightest dual drive electric scooter in the world.
When most Dualtron scooters weigh about 70-80 lbs, some even over 100 lbs, then Dualtron Spider is just 44 pounds. It is lightweight enough to take it to the bus or train with you. The weight loss is mostly achieved thanks to the carbon handlebar and magnesium alloy motors.
Motor: 3,000W dual hub motor
Top speed: 37mph
Battery: 1,050Wh
Range: 37mi
Weight: 44 lbs
Payload Capacity: 220 lbs
---
Dualtron Eagle Pro
MSRP $2,290
The Dualtron Eagle Pro is basically a replacement for the popular Dualtron 2. This model fits perfectly between Dualtron 3 and Spider.
Dualtron Eagle Pro is the newest Dualtron electric scooter.
Motor: 3,300W dual hub motor
Top speed: 40mph
Battery: 1,344Wh
Range: 50mi
Weight: 66 lbs
Payload Capacity: 265 lbs
---
Dualtron Mini
MSRP $1,499
Dualtron Mini is the smallest in the range of Dualtron scooters.
Related: Dualtron Mini Full Review
Although the name is Mini, it still has great performance. It doesn't have a dual motor, but 1,450 watts is quite good. It can give you a top speed of 32mph and a 1,050Wh battery gives the range of 34 miles.
Dualtron Mini is definitely a step up from Speedway Leger or Speedway Mini but still remains quite affordable.
Motor: 1,450W hub motor
Top speed: 32mph
Battery: 1,050Wh
Range: 34mi
Weight: 48 lbs
Payload Capacity: 220 lbs
---
Speedway
Speedway Scooters are specially manufactured to be lightweight, rugged, and easy to carry. These scooters are perfect for people who are looking for their first electric scooter.
However, these entry-level scooters still have a very good build quality and don't let you down on performance. This makes Speedway scooters very popular by scooter-share companies across the USA.
If you need a comfortable commuter, the Speedway scooter might be your best option.
Speedway models are:
Speedway Leger
Speedway Leger Pro
Speedway Mini 4 Pro
---
Speedway Leger
MSRP $1,290
A great entry-level electric scooter for those who are making the first steps in e-scooter world.
Leger has a mileage of up to 34 miles and it takes just 6 hours to charge the battery. This scooter weighs just 45 lbs but the max load capacity is still 265 lbs like most of the scooters mentioned in this article.
Although it doesn't have the best components, it is the perfect vehicle to get to work or school without breaking a sweat.
---
Speedway Leger Pro
MSRP $1,490
As you can guess from the name, Leger Pro is an upgraded version of the aforementioned Leger.
Leger Pro upgrades over Leger:
More powerful motor (

1,450W vs 1,360W

)
Higher battery capacity (

1,331Wh vs 748Wh

)
Longer range (

45mi vs 30mi

)
Higher top speed (

31mph vs 28mph

)
So, if your budget allows you to spend an extra $200, Leger Pro gives you clearly better performance.
---
Speedway Mini 4 Pro
MSRP $1,150
As the name suggests, it is a small and lightweight scooter.
Mini 4 Pro weighs just 36 lbs, so it is suitable even for children. Even though this scooter is small, it has plenty of power to get a top speed of 28mph and get you as far as 30 miles.
Motor: 1,360W hub motor
Top speed: 28mph
Battery: 748Wh
Range: 30mi
Weight: 36 lbs
Payload Capacity: 265 lbs
---
Futetcher
When Minimotors started to build Futetcher, the top priority was to pack remarkable performance and great mileage with the lowest price possible. Although the components used in this electric scooter are not as high-end as other Minimotors brands, you don't have to worry about performance.
So far, Futetcher series has only one model, which I am going to introduce to you right away.
Futecher Gun Pro
MSRP $1,100
The Futecher Gun Pro is the perfect scooter to get you from your dorm room to class. With a range of up to 45 miles, this scooter will take you almost anywhere around campus or the workplace. Plus, it's very lightweight and easy to carry — it only weighs 46 pounds in total.
This model also has an LED dashboard screen that shows distance traveled and battery life left before needing another charge!
Plus, with its low price tag (considering how much mileage it gives), this Electric Scooter is definitely worth checking out.
Motor: 1,760W hub motor
Top speed: 31mph
Battery: 1,080Wh
Range: 45mi
Weight: 46 lbs
Payload Capacity: 265 lbs
---
Where to buy Minimotors electric scooters?
Minimotors have a lot of distributors across the globe from Australia to the USA.
In the United States, the most trustworthy shops to buy a new Dualtron or Speedway electric scooter is Voro Motors or MinimotorsUSA.
NB! Get 7% OFF from Voro Motors using a coupon code EWHEELERS.
The rest of the dealers and partners of Minimotors are listed here.
---
Conclusion
As you just saw from the article, Minimotors has an electric scooter for everyone. No matter your needs, how tall or heavy you are, you definitely find a model from Minimotors range that suits you.
Moreover, Minimotors' first priority is still to produce high-end scooters with specs that no other company makes. Dualtron Scooters have a legendary spot in the evolution of electric scooters.
On the other hand, Speedway and Futetcher scooters provide great quality and performance with a little bit more affordable prices.