Wing Bikes Freedom ST is the company's only electric bike with a step-through frame.
So if you are looking for an e-bike that offers the most upright riding position, you should read through this review.
Electric Wheelers is reader-supported. Although we independently research and test products, we may receive a commission on purchases made from our chosen links. Read more…
Wing Bikes Freedom ST Overview
Wing Bikes Freedom ST is a step-through version of one of the most popular e-bikes in Wing Bikes selection – Freedom 2.
It has a comfortable step-thru frame for easier mounting and dismounting.
Freedom ST is meant for riders who are looking for a casual everyday commuter e-bike.
General
| | |
| --- | --- |
| Bike Name | Wing Bikes Freedom ST |
| E-Bike Class | Class 2, Class 3 |
| Availability | United States |
| Warranty | 1 year (up to 3 years for an additional fee) |
Electronics
| | |
| --- | --- |
| Motor Type | Rear-Hub Drive |
| Motor Power | 550W Bafang |
| Torque | 45 Nm |
| Top Speed | up to 25 mph |
| Battery | Removable 36V 8.8/10.4/14 Ah Battery |
| Range | 35-60 Miles |
| Display | LCD |
Bike Components
| | |
| --- | --- |
| Frame Material | Aluminum Alloy |
| Frame Size | One Size |
| Frame Type | Step-Through |
| Recommended Rider Height | 5'1″ – 6'2″ |
| Frame Colors | Black, Blue, Silver |
| Fork | Rigid |
| Gearing | 1×7-Speed Shimano Tourney |
| Brakes | Front and Rear Mechanical Disc |
| Wheel Size | 26″ |
| Tires | 26″ x 1.75″ |
| Additional Features | Front Light, Rear light (Optional Rack, Fenders) |
| Weight | 39 lbs |
The Freedom ST has a Bafang motor (36V /550W) producing 45Nm of torque. The motor powers the bike to speeds of 25 MPH, which is pretty decent for casual rides.
The Freedom ST is perfect for individuals seeking an inexpensive and greener alternative to city navigation.
The bike's motor is capable of powering the bike through various inclines but is perfect for relatively flat terrain. You can rely on the motor to power you to work, a weekend of family adventure, or while running errands.
The bike's speed is decent enough to help you navigate traffic but not too much so that you may get involved in an accident.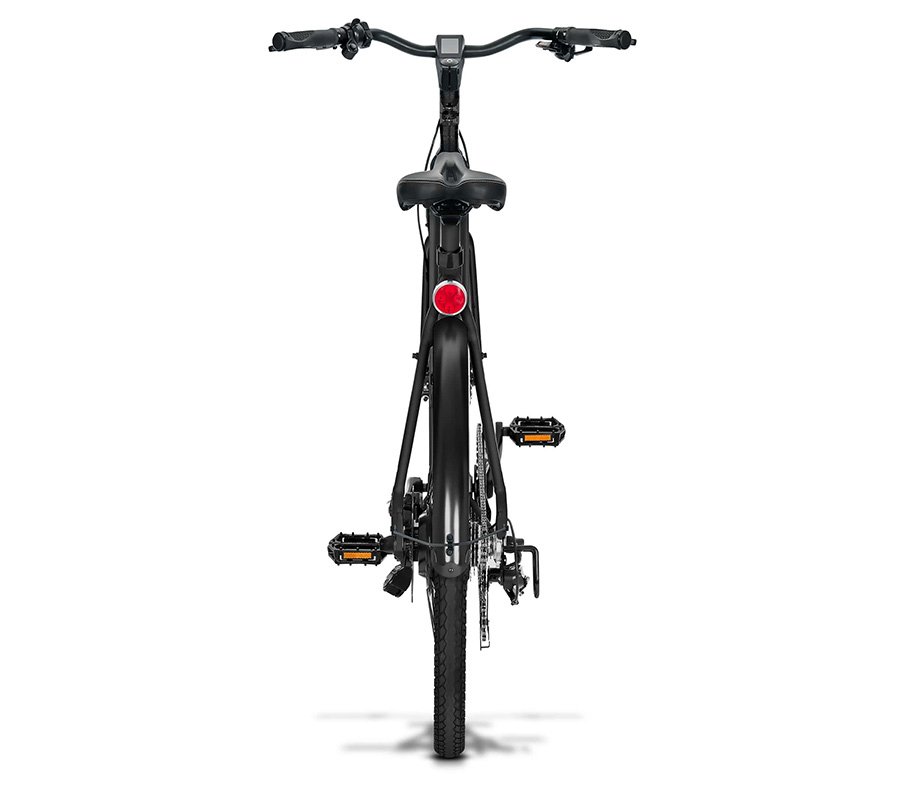 The Freedom ST has three battery options.
8.8 Ah battery

that provides riders with a 35-mile cycling range

10.4 Ah option

that powers up to 45 miles on a single, full charge

14ah option

that powers the bike for a range of up to 60 miles.
The Freedom ST's batteries are removable and interchangeable, meaning you can buy more than one battery, charge them all, and change them if you plan on going for long trips.
The batteries weigh 5 pounds, take 4 hours to charge, and are secured to your bike with a key. They are lightweight enough to be carried with you if you plan on replacing your current battery when it dies.
The Freedom ST has mechanical disc brakes that provide sufficient stopping power when cycling within the recommended speeds.
The bike's brakes aren't as good as their hydraulic disc brake variants. However, they work well and can be relied upon.
Please be noted, that with mechanical disc brakes there may be some squeaky noise when applying the brakes.
Shimano Tourney Drivetrain
The bike has a Shimano Tourney drivetrain that provides a smooth riding experience. When going uphill, you can switch to a lower gear for simpler pedaling.
The drivetrain is the cheapest version Shimano makes. However, it's no issue for a simple e-bike meant for urban environment.
Freedom ST Design and Features

The Freedom ST has a step-through design providing various advantages.
For instance, the design makes it easier for different riders to use the bike, including individuals with mobility issues.
Also, the design makes it easier for individuals to step off the bike quicker in case of an accident to prevent further injury.
Also, removing the frame reduces the learning curve, making it easier for beginners to learn how to ride the bike.
Lastly, the step-through design reduces the bike's overall weight to 39 pounds making it portable and easier to store.
Wing Freedom ST Dimensions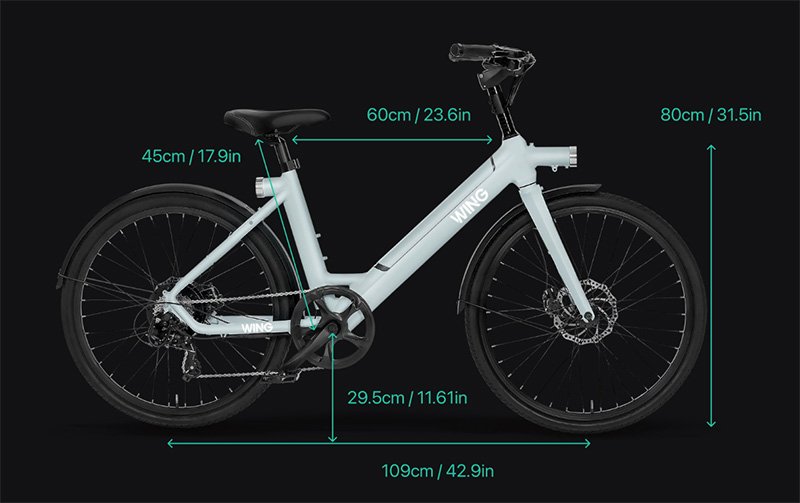 Recommended rider height for Wing Freedom ST: 5'1″-6'2″
You can get two sets of tire brands with the Freedom ST. They include Inova (grey) and Kenda (black).
The tires' dimensions are 26 by 1.75 and they are puncture-resistant. The bike tires are perfect for individuals that plan on using the Freedom ST for long trips because of their durability.
However, we will advise you not to use the ebike for offroading adventures since manufacturers didn't design their tires for those types of roads.
Wing Bikes makes their Freedom ST's double rims from an Aluminum alloy meant to make them stronger and more durable. The rims are strong enough to support most riders' weight and tough enough to handle most impacts without experiencing structural damage.
The freedom ST has a wide and comfortable saddle, ensuring riders have a pleasant riding experience. The bike has curved handlebars to give riders better control and comfort when navigating through traffic.
Lastly, it has a control display providing riders with vital information for a more comfortable experience.
For instance, the bike's control display tracks the rider's:
speed and distance
the provided assist level
battery level information.
Riders use this information to determine how to plan and have a better experience riding the Freedom ST. Additionally, you'll find other controls for the horn and light activation.
Unique Lock and Alarm System
The Freedom ST has a unique lock and alarm system designed to keep your bike safe whenever you are in public.
Users can engage the alarm after locking their bike on the street. The bike has a remote lock with a custom key fob linked to the bike.
Additionally, the alarm has tamper detection that makes an ear-bending noise whenever someone tries to steal the bike. The alarm system will make an initial warning noise if tampered with and a second continuous alarm if the thief persists.
Fenders – you don't have to worry about riding your bike in the rain. Even if you don't ride in wet conditions, you can use fenders purely for aesthetic purposes.
Throttle – You can also get a throttle for your Freedom ST. Usually, Wing bikes don't come standard with a throttle, and getting one can help you adjust your bike speeds depending on your needs.
Location tracking – You can get location tracking for your ebike if you live in urban areas or places where somebody is likely to steal your bike.
How to Assemble Wing Electric Bike?
Freedom ST Review Conclusions
The Freedom ST is a great bike for individuals on a budget who want a reliable bike they can use for their daily commute.
The bike has a decent motor, good lighting, decent tires, and a perfect design. Everything on this electric bike seems of good quality and we think it's a good option for this price.