Nanrobot N6 was released in the second half of 2022 and it's the newest electric scooter from its manufacturer.
Some even say the N6 might be the best e-scooter Nanrobot has made so far. In this review, we will find out if this is true.
Electric Wheelers is reader-supported. Although we independently research and test products, we may receive a commission on purchases made from our chosen links. Read more…
The N6 is averagely priced among Nanobot's scooters, which can save you money if you are an amateur scooter enthusiast with a tight budget but want a powerful dual-motor electric scooter.
| | |
| --- | --- |
| Motor | 2 x 1,000W Dual Motors (2,000W total) |
| Battery | 52V 26Ah (1,352Wh) |
| Recharge Time | 12 hours (8 hours with 2 chargers) |
| Max Speed | 40 mph (65 km/h) |
| Max Range | 40 miles (60 km) |
| Brakes | Hydraulic Disc Brakes |
| Suspension | Front & Rear Hydraulic Shock Absorbers |
| Weight | 88 lbs (40 kg) |
| Weight Capacity | 330 lbs (150 kg) |
| Tires | 10″ Hybrid Off-Road Pneumatic Tires |
| Lights | Front & Rear Lights + Stem & Deck Lighting |
| Dimensions | 53″ x 25″ x 54″ |
| Display | Digital LCD Color Display |
Get $60 Off With Exclusive Code: ElectricWheelers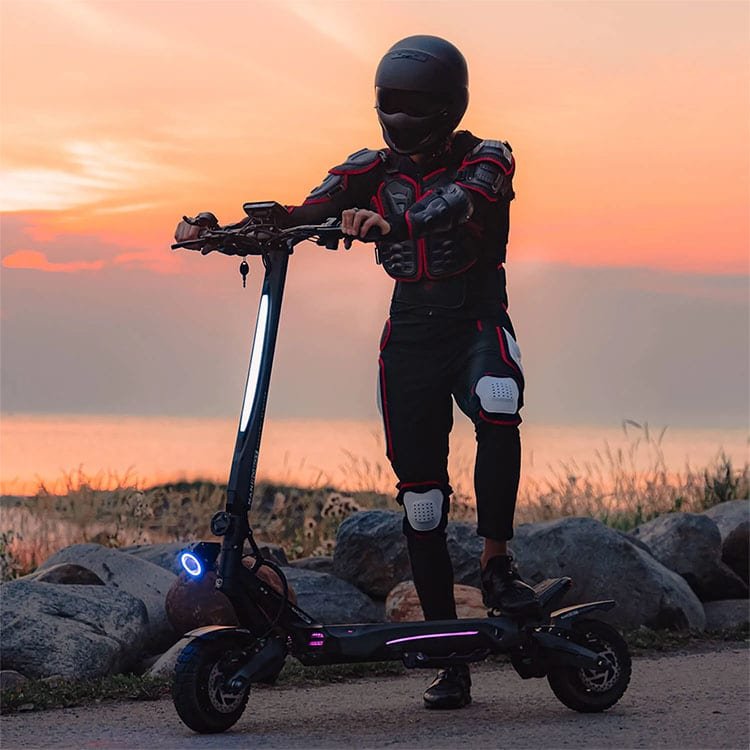 The scooter has a square wave controller and powerful 2,000W dual hub motors that propel the scooter to speeds of up to 40mph (64 km/h).
While the electric scooter reaches up to 40mph speeds, most riders shouldn't do this regularly. It's just too dangerous. We don't drive cars at 150 mph, even though they are capable of that.
Like other Nanrobot scooters, the N6 has 3 different speed modes. The third gear provides the best performance, while the first gear is for the best range.
Anyway, Nanrobot N6 is not just a commuter scooter to take you to groceries store. It's a very powerful off-roading beast with snappy acceleration and enormous top speed.
The N6's robust 52V 2KW power train is strong enough to easily power the scooter on a 35-degree hill climb. Once you combine power and its tire grip capability, small hills don't stand a chance against this beast.
The tires create traction, not allowing the wheels to spin backward as you ascend. Therefore, you can use it in regions with a bit of hilly terrain.
The N6 has a 52V 26AH Dynavolt battery pack. High-end Apollo scooters use the same batteries.
The battery pack can power the scooter for up to 40 miles. Although we are used to that advertised top range is usually unrealistic, it's not the case here.
In a range test, where mostly 2nd and 3rd riding gear was used, the N6 managed to cover 31 miles (50km). We believe in speed mode 1, you can easily go over 40 miles.
I like the scooter has a high-voltage battery because it provides more current and less heat compared to low-voltage batteries.
However, one challenge with this scooter's battery is that it takes 12 hours to charge. The battery has 2 charging ports but only 1 charger is included. If you get another charger, you can get the scooter charged within 8 hours.
Thus, you should plan your trips appropriately whenever you use them.
The N6 has full hydraulic brakes that are more durable and provide stronger stopping power.
The brakes are very precise and don't make any squeaky noise. Additionally, they require less maintenance apart from changing worn pads.
For instance, the brakes are sealed, preventing dirt from penetrating the covers and jamming the moving components. Additionally, the brakes are easier to set up and adjust.
Potholes or bumps on the road can be a nightmare with poor suspensions. But with Nanrobot N6, you don't have to worry about it.
The Nanrobot N6 electric scooter handles well off-road by effectively absorbing any shocks.
The suspensions of Nanrobot N6 are quite stiff, but they are softer than in Nanrobot D6+.
By combining premium offroad tires and front and rear hydraulic spring shock absorbers, the scooter remains stable even while riding through rocky paths, mountains, and city streets.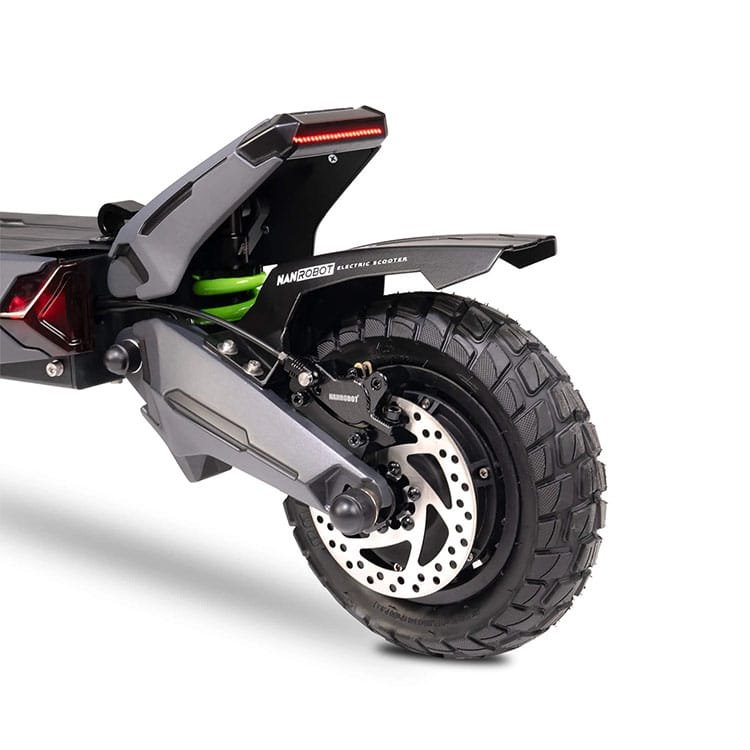 When you hit a bump, the hydraulic actuator fills with liquid and quickly expands, causing the actuator to push against the force and spring. The technology in this scooter is similar to a person jumping in the air as they use their legs to exert force.
The C-type hydraulic on this scooter promises to smoothen your journey for a better riding experience.
Get $60 Off With Exclusive Code: ElectricWheelers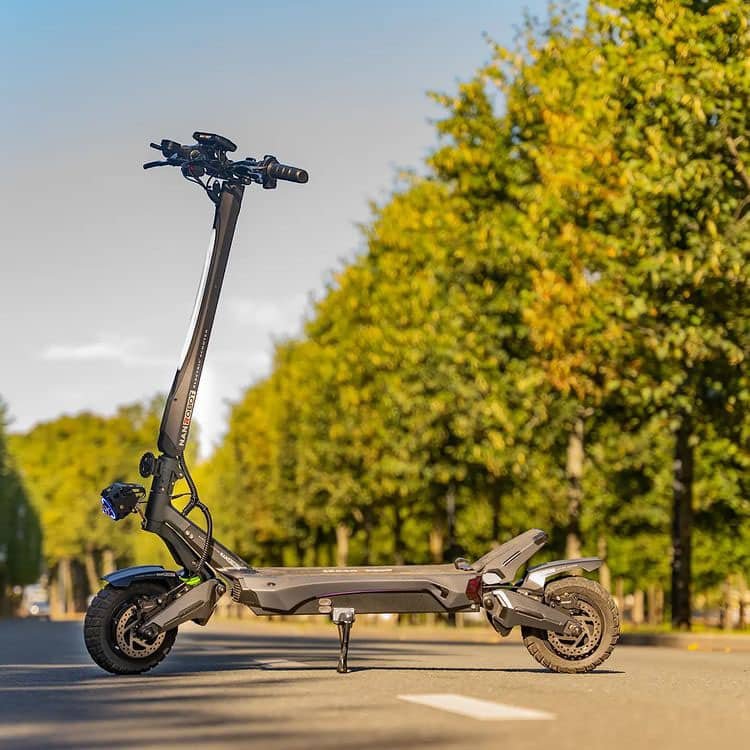 The frame of the Nanrobot N6 is forged from aluminum alloy, making it strong, sturdy, and durable.
The scooter's frame can support up to 330 lbs (150kg) without hassle. The scooter itself weighs about 88 pounds (40 kg).
Its frame features a 3-way foldable design, making it portable and easier to transport and store when not in use. The frame employs a stylish futuristic design, and everything perfect for the road.
Also, the scooter has good fenders from strong plastic to keep you clean on dirty roads.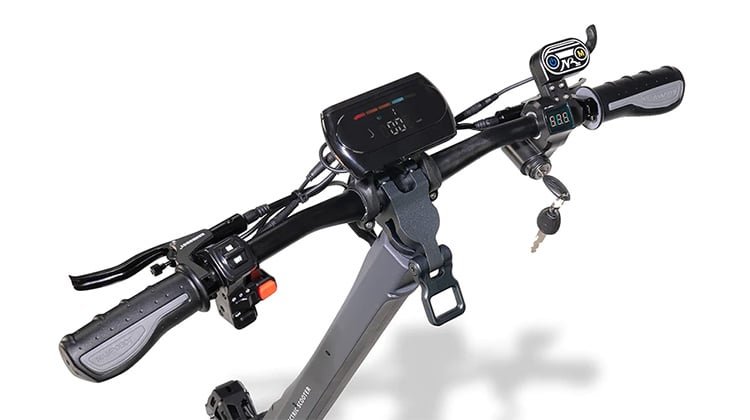 The handlebars rest on a sturdy aluminum frame, firmly fixed and balanced for greater control on sharp turns.
The handlebars feature a rubber covering tailored to generate a stronger grip on the bars. The rubber covering is strong, hard, thick, and firmly placed, meaning it won't budge even during a firm grip.
Both bars have brake levers, with the right side of the bar holding the general index finger throttle. On the other hand, the left side of the bar holds a rocker-type switch for turn signals, lights, the horn, and a lock ignition.
The bars give enough space for your palm and fingers to grip without leaving too much room to leave you unbalanced.
Additionally, in the middle of the handlebars, you can find a high-definition color display. It shows you the current speed, remaining mileage, and much more.
It features a 23cm wide foot panel, allowing ample space to firmly place your feet and comfortably shift your stance if needed.
The foot panel also contains a rubbery material to increase the grip of your feet on the panel. You will need this space and traction, especially at such speeds.
The tail has a bolted skeletal kick plate that covers the rear fender and provides a resting area for your foot. The plate comes in hand during quick stops or on rough roads.
Additionally, the deck size is the ideal length for carrying this scooter in its folded form, which makes lifting this monster simpler.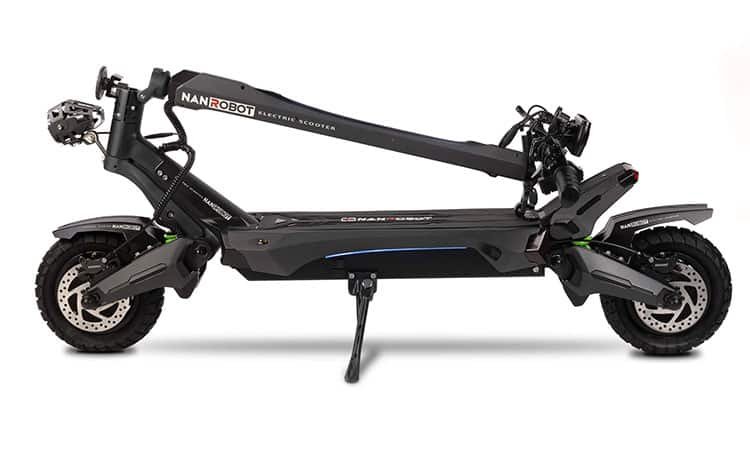 The N6 scooter employs a fast folding mechanism that makes it easier to fold or unfold it in mere seconds. It adopts a 3-way foldable function that, once folded, makes it easier to lift it into the trunk of your van.
However, the scooter weighs almost 90 pounds (40 kg), so carrying it around is actually not very comfortable. It means the scooter is not so portable if you need to carry it on several flights of stairs every day.
But the folding mechanism is indeed very simple. You only need to unfasten a knob, fold the pole, and use the buckle to latch the handlebar to the deck.
The electric scooter comes equipped with stunning 10-inch tires that are perfect on the road as they are off-road.
They offer great rolling efficiency, stability, and excellent grip on any roadside you choose to take on. You can even tackle small hills without a hitch.
The tires are durable, allowing the electric scooter to flourish and perform at its full potential. The wheels feature a stylish design with well-designed mudguards to shield you on muddy terrains.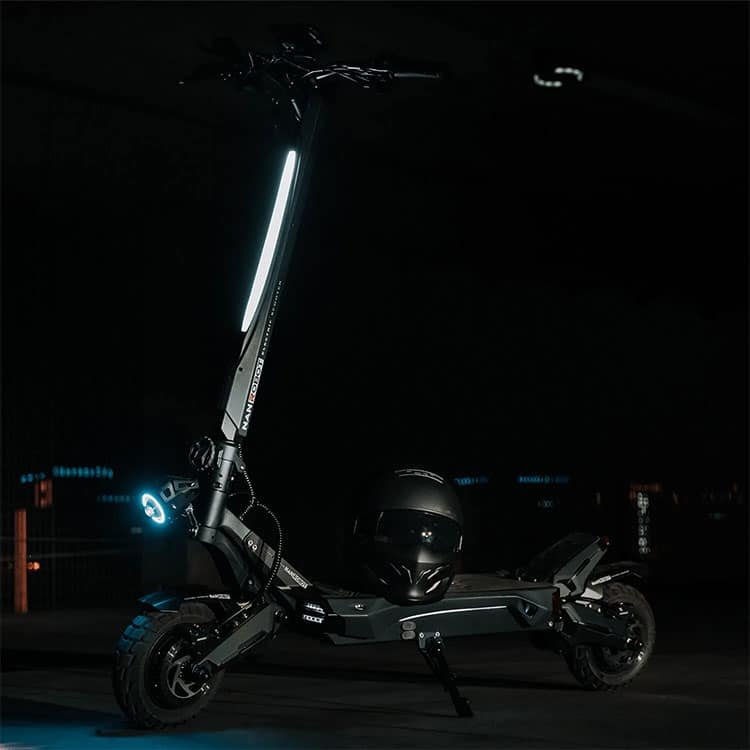 Spectacular is the perfect description for the light display the N6 has to offer.
Whether the lighting is an essential feature to you or not, this scooter's light design offers you a taste of unparalleled illumination. The N6 contains 64 colored LED lights with 36 changing modes. This allows the rider to switch the desired visual ambiance from time to time.
The pole also has an LED light with three brightness levels that can be adjusted when needed. In addition, the lighting system adopts voice-activated technology meaning it can swiftly change according to the rhythm of the music the rider plays.
Nanrobot N6 Review Conclusions
Overall we think the NanRobot N6 is a very decent electric scooter. The N6 is not as powerful as LS7+, but it's significantly cheaper.
For its price, you get a husky scooter with massive motors, a large battery, and a versatile frame with a nice finish. It's a work of art for its price.
Nanrobot N6 easily might be the company's best electric scooter so far.
This scooter deserves a shot, and you deserve an experience you won't forget. That is what the N6 has to offer.
Get $60 Off With Exclusive Code: ElectricWheelers