Wing Bikes Freedom 2 is the company's flagship electric bike that is designed for urban riding.
In this in-depth review, you are going to find out everything you should know about before the purchase. If we missed something, feel free to comment down below.
Electric Wheelers is reader-supported. Although we independently research and test products, we may receive a commission on purchases made from our chosen links. Read more…
Wing Bikes Freedom 2 Overview
The Freedom 2 by Wing Bikes is perfect for individuals looking for a reliable e-bike they can use to travel to work or go for a fun weekend bike riding experience, especially since you get to choose what battery and how many you want with your ebike.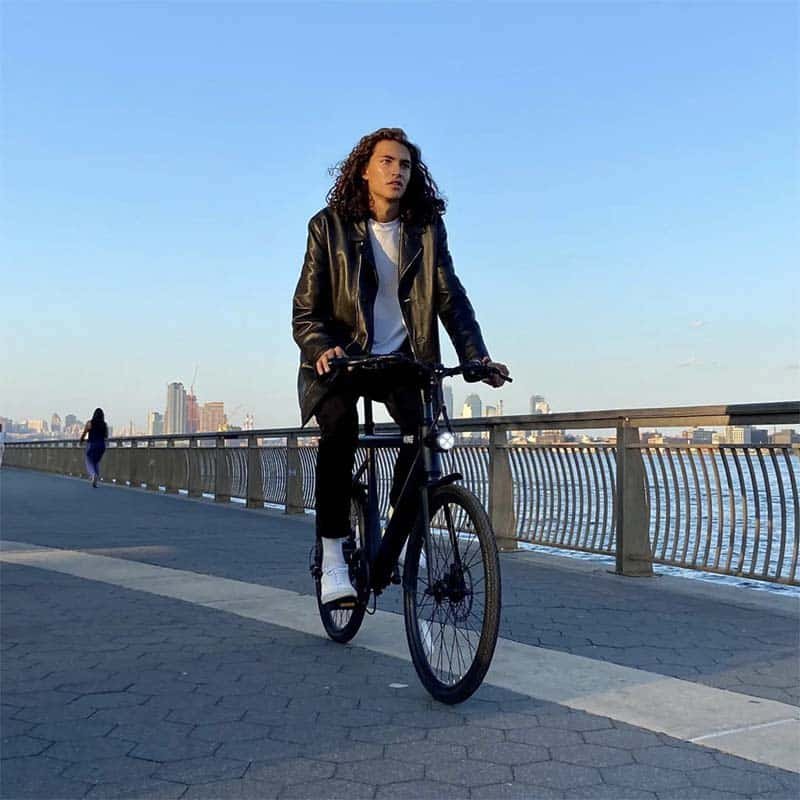 Freedom 2 Specs
General
| | |
| --- | --- |
| Bike Name | Wing Bikes Freedom 2 |
| E-Bike Class | Class 2, Class 3 |
| Availability | United States |
| Warranty | 1 year (up to 3 years for an additional fee) |
Electronics
| | |
| --- | --- |
| Motor Type | Rear-Hub Drive |
| Motor Power | 550W Bafang |
| Torque | 45 Nm |
| Top Speed | up to 25 mph |
| Battery | Removable 36V 8.8/10.4/14 Ah Battery |
| Range | 35-60 Miles |
| Display | LCD |
Bike Components
| | |
| --- | --- |
| Frame Material | Aluminum Alloy |
| Frame Size | One Size |
| Frame Type | Step Over |
| Recommended Rider Height | 5'6″ – 6'4″ |
| Frame Colors | Matte Black, Silver |
| Fork | Rigid |
| Gearing | 1×7-Speed Shimano Tourney |
| Brakes | Front and Rear Mechanical Disc |
| Wheel Size | 26″ |
| Tires | 26″ x 1.75″ |
| Additional Features | Front Light, Rear light (Optional Rack, Fenders) |
| Weight | 39 lbs |
Freedom 2 Performance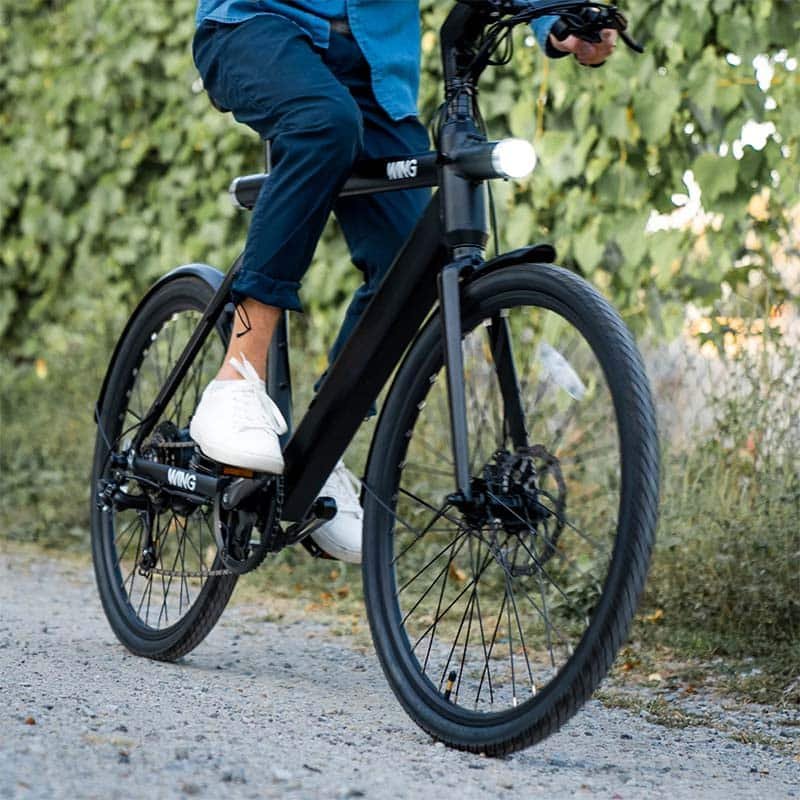 Motor and Speed
The Freedom 2 has a reliable motor for bikes in its category, which is an important factor in electric bikes.
Wing Bikes equips their Freedom 2 bikes with Bafang motors, known for their reliability and safety. The 36-volt, 550-watt motor provides 45Nm of torque, making the bike quite powerful.
The motor helps the bike easily develop speeds of up to 25 mph. This kind of speed is enough for commuting or running everyday errands.
Additionally, the motor has a cadence sensor that detects when users are pedaling and provides them with adequate assistance. However, better e-bikes utilize torque sensors that are more responsive and faster.
The Freedom 2's cadence sensor is slower when engaging in pedal assist mode. For instance, we had to crank it for a turn and a half before the pedal assist kicked in. Additionally, the ebike took a few seconds for the speed to kick in after pressing the throttle lever.
Removable Battery
Not most companies allow users to customize bikes as much as Wing Bike does.
They allow you to choose what size of battery you want on your e-bike. You have three battery options, and they are all quite impressive. You can choose between:
These batteries provide varying ranges. While the 14Ah battery provides a 60-mile range, the 10.4Ah and 8.8Ah batteries provide 45 and 35 miles of range.
So the 8.8Ah battery is perfect for individuals using their electric bikes to cruise around the town. And the 14Ah battery is a much safer bet for serious bikers planning long bike rides.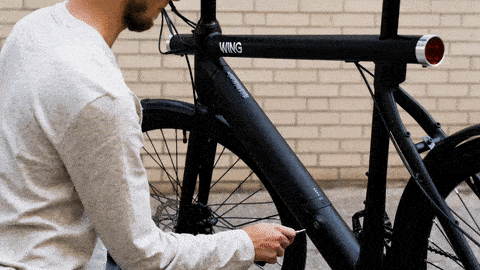 One great advantage of Wing Freedom 2 is the battery is removable.
For instance, you can charge two batteries and switch them up if you plan on cycling for long distances.
Additionally, removable batteries are perfect for individuals whose bike storage space doesn't have a charging spot. Then you can just take the battery with you and charge the battery in your room or office.
Braking and Gearing
Braking is vital for any form of transportation, and e-bikes are no different.
For instance, you wouldn't want sharp brakes that stop you in your tracks, throwing you over the handlebars. Alternatively, you wouldn't want brakes that don't stop your bike fast enough since it could lead to a serious accident.
The Freedom 2's mechanical disc brakes have 180mm rotors (stainless steel), providing good stopping power. The bike's brakes aren't sharp enough to throw you off the bike when stopping. At the same time, they aren't too soft either. So the brakes are capable of keeping you safe.
In addition to the motor and its assistant modes, there are regular bike gears as well.
It comes with a 7-speed Shimano Tourney derailleur. So if the battery runs out, you can set the proper bike gear for easier pedaling.
Freedom 2 Wing Bike Design and Features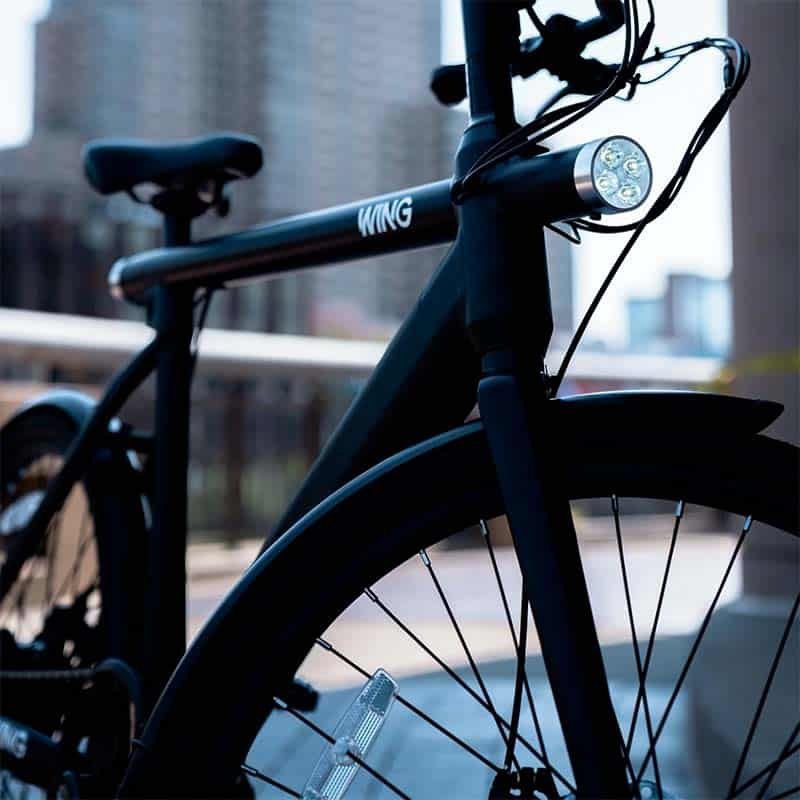 Frame
One thing that catches your attention when checking out Wing Bkes' e-bike lineup is the design. The Freedom 2's frame is distinctive and has a rather noticeable frame.
The tail and headlight are built in a frame in a quite unique way. Additionally, Wing Bikes fits the wires through the frame and out at the handlebars.
The e-bike is durable and sturdy but remains relatively lightweight at 39lbs. The bike is lightweight because it's made from aluminum (6061), which is strong but doesn't weigh much.
The frame has a smooth welding design and is scratch resistant. Also, the bike has a nice black matte finish.
The e-bike has an ergonomically curved handlebar that provides the perfect cycling experience by making it easy and comfortable to ride.
Wheels and Tires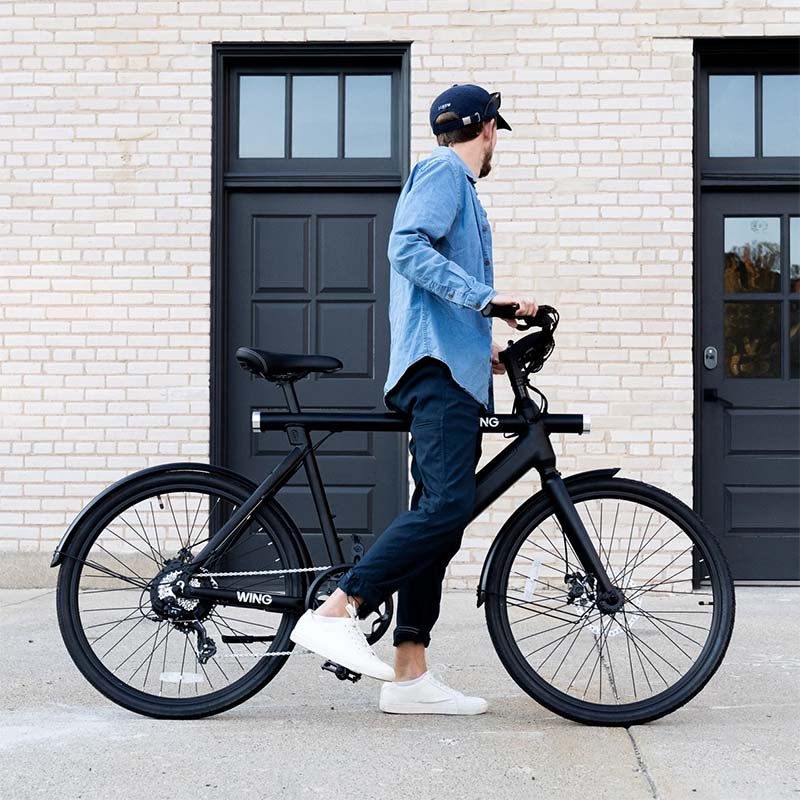 Wheels and tires are vital components of an ebike, and they determine your experience when riding the bike.
The Freedom 2 has puncture-resistant Innova (gray) or Kenda tires (black) with dimensions of 26 by 1.75. The tires provide an awesome riding experience and are surprisingly reliable and tough even for rough terrain.
Most people overlook rims because they think they aren't as important. However, rims are crucial for smooth riding. Wing Bike makes the Freedom 2's rims with a double-walled aluminum alloy that looks amazing and provides enough stability when commuting through the city.
Additionally, you can rely on the bike's strong motor if you want to go for some off-roading fun. However, it isn't designed for those activities.
Freedom 2 Dimensions and Sizings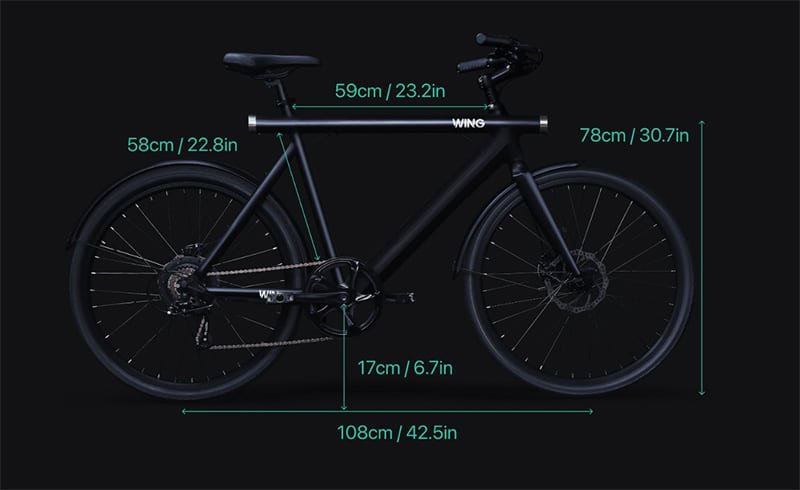 Recommended Rider Height: 5'6″ – 6'4″
Lighting
Wing Bike electric bikes are known for their high-quality, integrated lights.
The lights give the bike a distinctive and interesting design and make the bike convenient for use, especially for individuals commuting late at night or early in the morning.
Like other Wing Bike e-bikes, the Freedom 2 has integrated head and tail lights powered by its main battery.
The bright lights provide sufficient illumination when riding in the dark. This is a great safety measure considering ebikes don't make any noise. You can control when to activate the lights from buttons on the display panel. The buttons are easily accessible and navigatable.
Wing Bikes Freedom 2 Display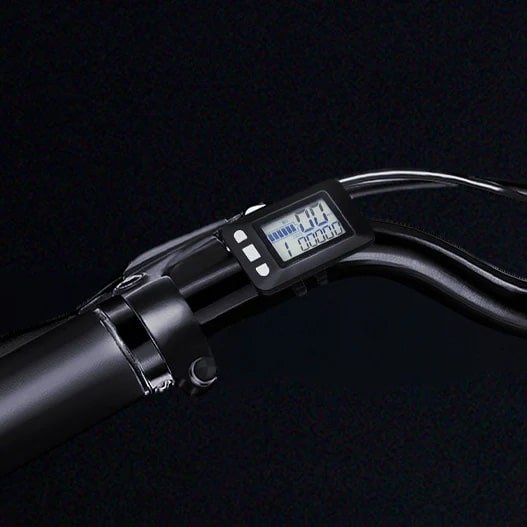 The Freedom 2 has a sleek, inbuilt display system that shows your speed, assist level, and battery level. It also controls speed and distance tracking, light activation, distance tracking, assistance level, and horn control.
The display system is not in color but provides adequate display, especially during the daytime.
Theft Defense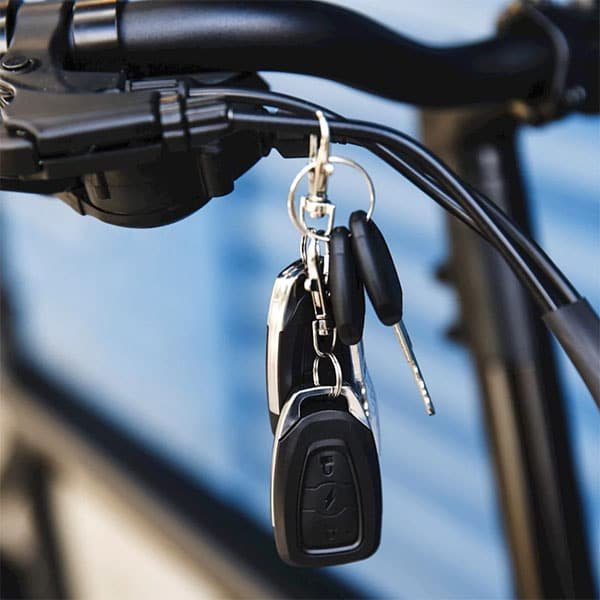 The Freedom 2 has a unique alarm and lock system, allowing users to feel safe when not using their bikes.
The bike has a speaker underneath the headlight that works as a horn and alarm. The bike has a key fob that riders use to disarm and arm the alarm. They can also use a third button to activate the siren.
The alarm is shockingly loud enough to deter thieves before going full mode. It activates when someone moves the bike. Locking the bike with the custom key fob gives users instant peace of mind.
However, some users have also reported that they hate built-in alarm, because they have to carry the key fob with them.
Optional Accessories
Wing Bikes have provided their bikes with lots of different optional accessories. Here are some examples:
Fenders – You can purchase fenders for your Freedom 2 ebike as an optional accessory. Fenders are great when offroading, especially in bad weather, since they prevent you from getting wet or dirty.
Throttle – You can also purchase a throttle as an additional accessory if you want an additional boost to your riding experience. Adding a throttle to your e-bike provides you with an option to control your speed and the amount of power the motor provides you.
Location Tracking – You can add a location tracking accessory to your ebike for additional safety. While the alarm is pretty effective, location tracking helps you recover the bike if the thief manages to get away with it.
Front and Rear Rack – You can add a front and rear rack to your bike if you plan on carrying some cargo with you. For instance, you could place your bag in the rear rack instead of carrying it on your back to work.
Sometimes they provide some of the accessories totally for free.
Freedom 2 vs Freedom X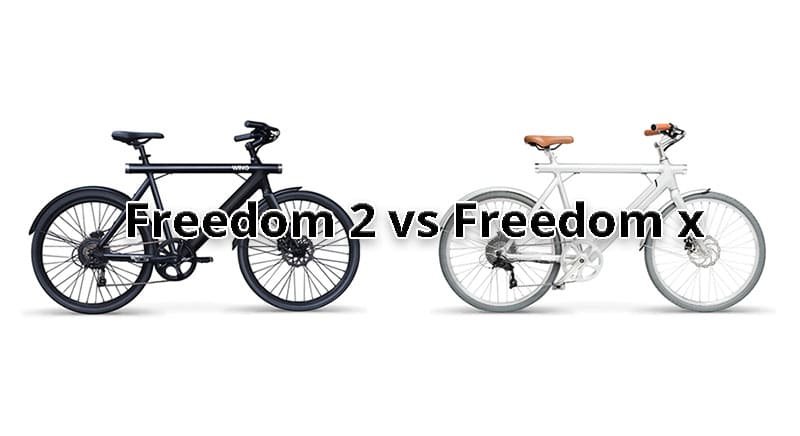 Freedom 2 and Freedom X e-bikes look very similar. But the price differs by about $350, let's see what are their main differences.
Basically, the Freedom X is the upgraded version built on the same frame as Freedom 2.
The main difference between those two is one electronic detail. While Freedom 2 has a cadence sensor, the Freedom X has a torque sensor.
A torque sensor feels more natural than a cadence sensor. Also, with a torque sensor, the battery usage is improved.
Additionally, the display of the Freedom X is center-mounted, which a bit more intuitive for the rider.
Wing Freedom 2 Review Conclusions
The Wing Freedom 2 has many features that make it a great bike. It has a great range (up to 60 miles) and a unique design. Additionally, the bike has a removable battery allowing users to purchase an extra battery for emergencies.
The bike has an anti-theft system, is lightweight, and is relatively inexpensive. Additional accessories may add some expenses to your purchase, but it's a huge win if you don't need them. The Freedom 2 is a good investment for users looking for a good electric bike to commute around urban environs. Plus, why not get one to provide you with some assistance while going uphill?