Segway Ninebot launched a feature-rich F-series in 2021. There are three different kickscooters in the F-series: F25, F30, and F40.
In this Segway Ninebot F40 review, we are going to reveal all its pros and cons and help you to decide whether this e-scooter is a good fit for you.
Keep reading!
Electric Wheelers is reader-supported. Although we independently research and test products, we may receive a commission on purchases made from our chosen links. Read more…
Segway Ninebot F40 Overview
Segway Ninebot F40e Specs
| | |
| --- | --- |
| Motor | 350W Front Hub Motor |
| Top Speed | 18.6 mph |
| Battery | 36V 10.2Ah (367 Wh) |
| Max Range | 25 miles |
| Recharge Time | 6-7 Hours |
| Brakes | Mechanical Disc + Electric |
| Suspension | – |
| Weight | 35 lbs |
| Weight Capacity | 265 lbs |
| Tires | 10″ Pneumatic |
| Lights | Front, Rear, and Brake Lights |
| Hill Grade | 15% |
| IP Rating | IPX5 |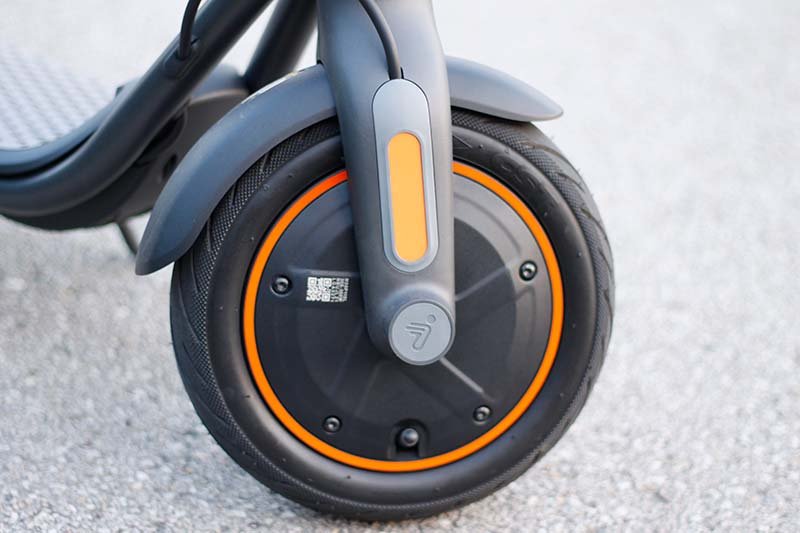 Ninebot F40 comes with a 350W front hub motor. The motor is a bit more powerful than other similar electric scooters. For example, Niu KQi2 and Xiaomi 3 have 300W motors. Also, other Ninebot scooters from the F-series have 300W motors.
Thanks to the slightly bigger motor, Ninebot F40 has a somewhat higher top speed and better hill-climbing capability.
The scooter is able to reach a top speed of 18.6 mph. To be honest, it's a sufficient speed for city rides. Also, the F40 can easily climb inclines of up to 15%.
When riding uphill, the top speed decreases, but not much. Of course, it also depends on the weight of the rider.
The acceleration of the scooter is very smooth and gradual. There is no zero-start feature, so you have to make a couple of kicks before the scooter starts accelerating.
You can choose between 3 riding modes:
In Eco mode, the scooter goes only up to 9.3 mph. Therefore, you can maximize the range.
In Standard mode, you can reach the max speed, but the acceleration is not the best. It's the mode you will probably use the most.
In Sport mode, the acceleration will be a bit more aggressive. It's useful when going uphill. But if you ride in this mode all the time, the battery will die quite fast.
Also Listed In: Amazon's Best-Selling Electric Scooters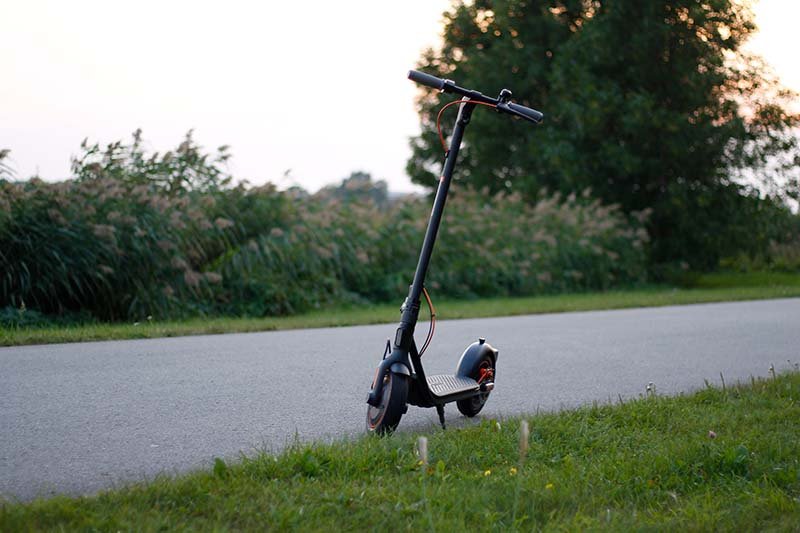 Ninebot F40 has a battery that can contain up to 367 Watt Hours of energy. Compared to other F-series scooters, F40 has the best battery.
The F30 has a battery of 275 Wh, while the F25 has a battery of just 183 Wh of energy capacity. It means that Ninebot F40 has a much longer range than its smaller brothers.
Talking of which, the maximum range of Segway Ninebot F40 is about 25 miles. You can achieve that when riding in Eco mode on flat surfaces and if you don't weigh much.
A more realistic range would be about 15 miles, which is still quite good. If the battery gets completely empty, it takes about 6-7 hours to recharge.
The scooter has 2 types of brakes: a mechanical disc brake and an electronic brake. The disc brake is at the rear and the electric brake is at the front. You can activate both brakes simultaneously from the single brake lever on the handlebar.
At first, I was disappointed about the stopping power. I weigh about 190 pounds and it took about 25 feet to stop from the speed of 15 mph.
After adjusting the brakes, I managed to shorten the stopping distance to 15 feet. Now, I can say that Ninebot F40 electric scooter provides enough stopping power for safe riding.
You can see from the video below, how I tested and adjusted the brakes:
Ninebot F40 Design and Features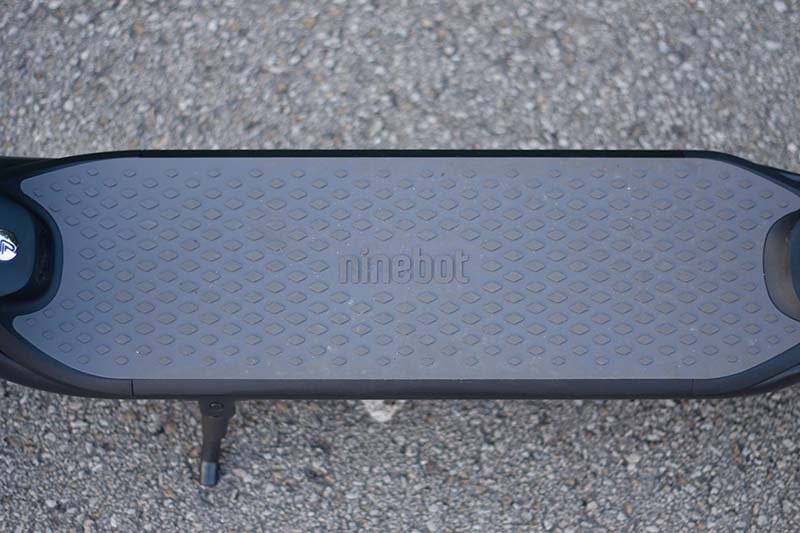 The frame of the Segway F40 is made from durable steel. It seems very strong and it can withstand a payload of up to 265 pounds.
When riding with the scooter, you don't hear any rattling from the folding joints.
The scooter weighs just 35 pounds, making it one of the most lightweight electric scooters on the market.
The deck provides plenty of room. You can easily fit your feet however you like. Also, the deck has nice rubber on it, which provides a good grip underneath your feet.
Additionally, there are integrated fenders on top of both wheels, so your clothes remain clean even if the road is dirty.
Although the handlebar is not collapsible, I would still classify Ninebot F40 as a very portable electric scooter.
As mentioned above, the scooter is quite lightweight. So everyone can carry it for a couple of flights of stairs.
Additionally, the scooter has a simple folding mechanism. When folded down, the F40 fits easily in most trunks.
It literally takes just 3 seconds to fold the scooter. There is a very smart way to lock the handlebar when it's folded down.
There is a hook on top of the rear fender, which attaches perfectly to the bell on the handlebar.
Also, the folding mechanism is strong and reliable, so you don't have to worry that the scooter folds itself down while you are riding.
The Ninebot F40 e-scooter comes with 10-inch wheels and pneumatic tires. Tires have an anti-skid feature that provides good ride quality on smooth terrain.
However, since the scooter doesn't have suspensions, it's not good on the bumpy road. Although these tires provide much better ride quality than solid tires, don't even think of going off-roading with this scooter.
The handlebar of this Ninebot scooter is comfortable. Nothing fancy there and not many buttons. Just a braking lever, a bell, a display, and a thumb throttle.
I really like the grips. They don't move around and they provide a good grip.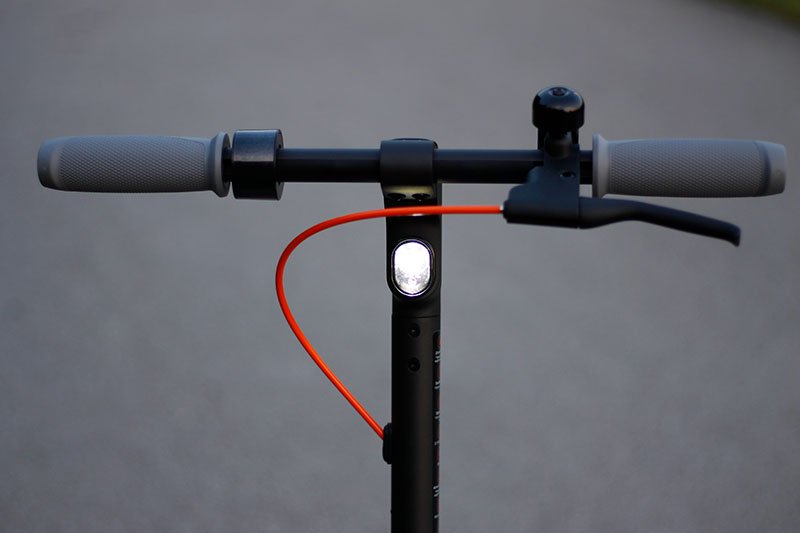 The scooter has all the necessary essentials including the lights.
It has a bright LED light at the front and red light at the rear. You must manually turn them on from the display. However, the brake light works all the time even if the main lights are turned off.
These lights provide enough illumination for riding in the dark. Also, you are well-seen by others.
Is Ninebot F40 Waterproof?
Segway Ninebot F40 is not waterproof and it is not advised to ride with it in the rain.
However, the e-scooter has an official IPX5 water-resistance rating. It means that the scooter can handle some low-pressure water jets. So, if you get caught in the rain while riding, you are not instantly in trouble.
Just make sure to get in a dry place as soon as possible.
Does Ninebot F40 Have an App?
Ninebot F40 has Bluetooth connectivity and an app for Android and iOS.
In the app, you can see the remaining battery percentage and mileage. Also, you can set the energy recovery strength.
If the scooter needs an update, this can be done through the app. Additionally, you can turn the scooter into walk mode.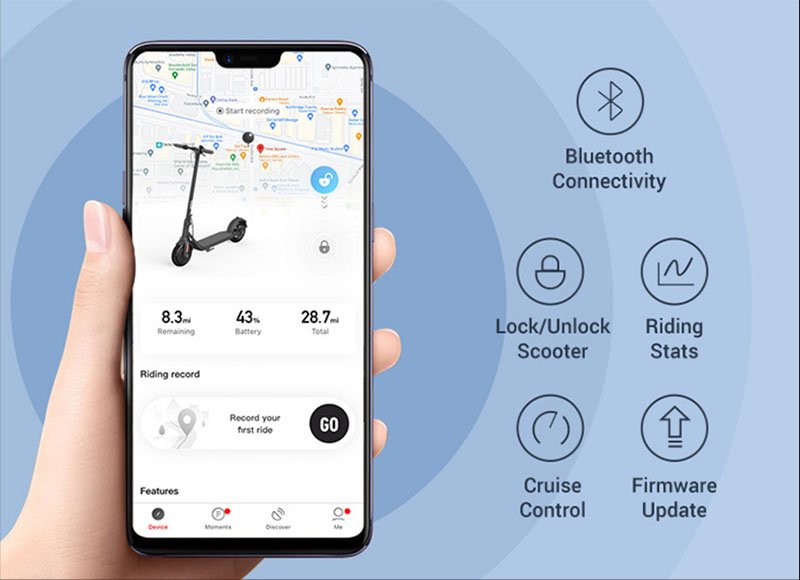 Overall, I really like the ride quality of the Ninebot F40.
The riding is really smooth. You can hear only the sound of wind in your ears (and a quiet buzz of an electric motor).
I feel very comfortable on the deck and the handlebar height is exactly right for a man of 6'3″.
However, if the terrain is bumpy, the ride quality decreases significantly. So you need smooth asphalt for this electric scooter.
Segway Ninebot F40 vs MAX
The biggest difference between Ninebot Max and Ninebot F40 is the range. The battery of Ninebot Max can contain 551 Wh of energy capacity, while the battery of Ninebot F40 has only 367 Wh.
Therefore, Ninebot Max G30P can ride up to 40 miles, while the maximum range of the F40 is just 25 miles.
Also, Ninebot Max is somewhat heavier than the F40.
The price difference is about $200. So when deciding between those two, you must evaluate how much range you need.
Related: Ninebot MAX Full Review
Segway Ninebot F40 vs Xiaomi Pro 2
Similarities:
Both are lightweight
Same range
Both have disc brake + electronic brake
Same dimensions
Differences:
F40 has a more powerful motor (350W vs 300W)
Pro 2 has a longer charging time (9 hours vs 7 hours)
F40 has bigger wheels and tires (10″ vs 8.5″)
F40 has a higher payload capacity (265 lbs vs 220 lbs)
If both scooters are similarly priced, I would prefer Ninebot F40 over the Xiaomi Pro 2.
Segway Ninebot F40 Review Conclusions
Riding with Ninebot F40 is definitely a pure joy.
It has smooth acceleration, sufficient top speed, and good stopping power. Also, the design of the scooter is neat and modern.
If you have good roads in your neighborhood and your daily commutes are within 15 miles, Ninebot F40 would be a strong choice.