Ampler operates without physical stores, selling their electric bikes direct-to-consumer. However, they have several showrooms in different cities in Europe.
So I visited one in Tallinn, Estonia to test out Ampler's newest eBike.
In this review, I share with you my experience and thoughts about Ampler Axel.
Table of Contents
Ampler Bikes Overview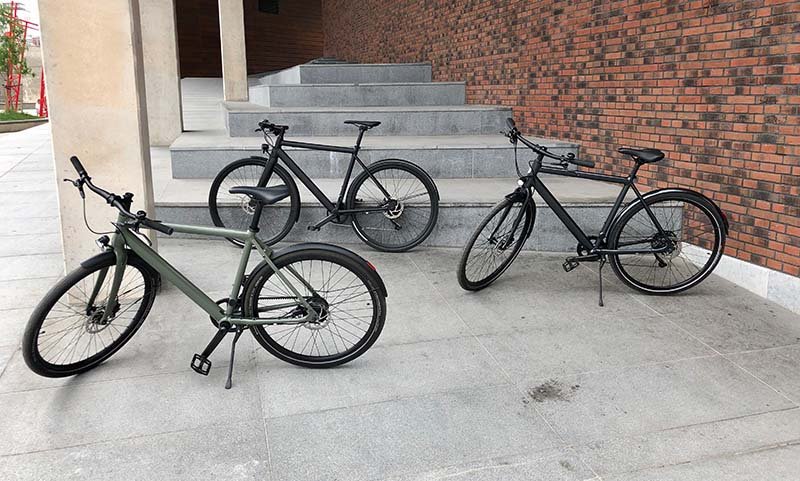 Ampler makes lightweight electric bikes that don't even look like e-bikes. It's an interesting niche in the e-bike industry because there are a lot of people who don't want their bike to stand out like high-dollar e-bike.
The company was started in 2014 in the home garage by 3 friends. After two years of experimenting, the first generation of Ampler bikes was launched.
Now, the small Estonian e-bike brand has grown into a reputable player in the highly competitive playground.
In the spring of 2022, the second generation of Ampler bikes was launched. They renewed their previous models (Curt, Stellar, and Stout) and brought out two completely new models – Ampler Juna and Ampler Axel.
In this article, we will take a closer look at Ampler Axel. I had a chance to test this bike and here are my honest thoughts about it.
Ampler Axel E-Bike Review
To Whom?
Ampler Axel is a commuter e-bike meant for everyday use. Also, the bike is silent and making the ride effortless.
The bike comes in 2 different frame sizes, so it can fit riders between 172-200cm in height.
Since the bike weighs just 16 kg, it's one of the lightest fully-equipped electric bikes on the market.
So it's for people who want a lightweight electric bike for daily urban commutes.
Custom Ampler Motor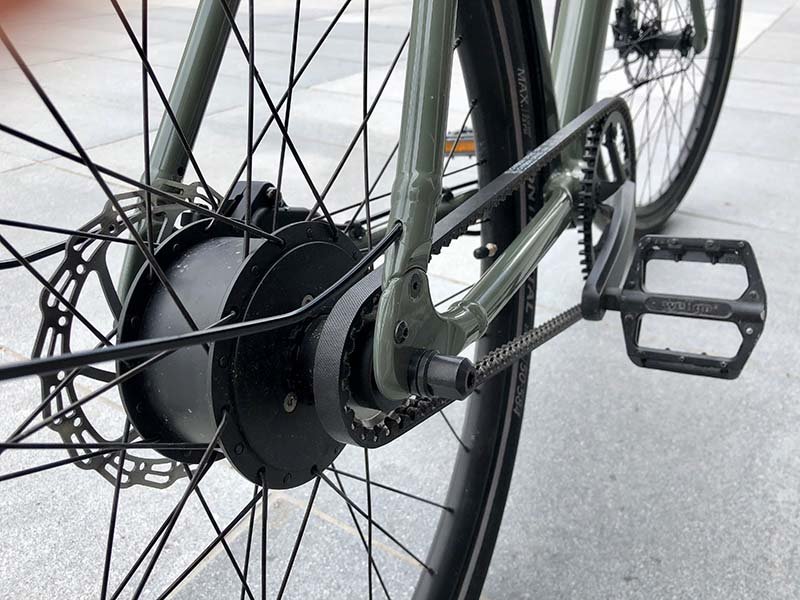 All 2nd generation Ampler bikes have a custom-made rear hub motor. The 250 W motor can provide 45 Nm of torque.
Although the bike doesn't have any gears, the first pedal strokes were quite easy. It's thanks to the torque sensor, which measures the strength of the pedaling and provides motor assistance accordingly. The acceleration is smooth and feels natural.
Since it's a European e-bike, Ampler Axel doesn't have a throttle. The motor works only when you are pedaling. The top assisted speed is 25 km/h. However, it doesn't mean you can't ride faster than that. If the speed goes over 25 km/h, the motor just stops assisting you.
Hidden Battery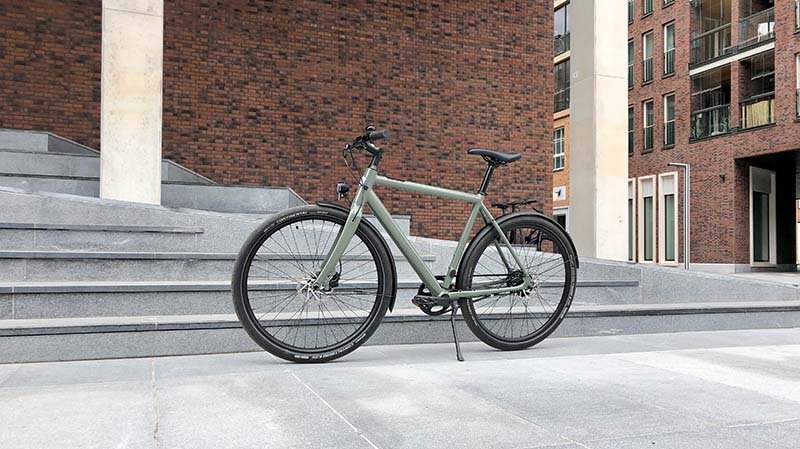 One of the cool features of Ampler bikes is they don't look like electric. The same goes for Ampler Axel.
The battery is hidden in the frame. It has a total of 336Wh of energy capacity and the estimated range is between 50-100 km. As always, the exact range of an e-bike depends on the weight of the rider, type of terrain, and assistance mode.
Braking and Gearing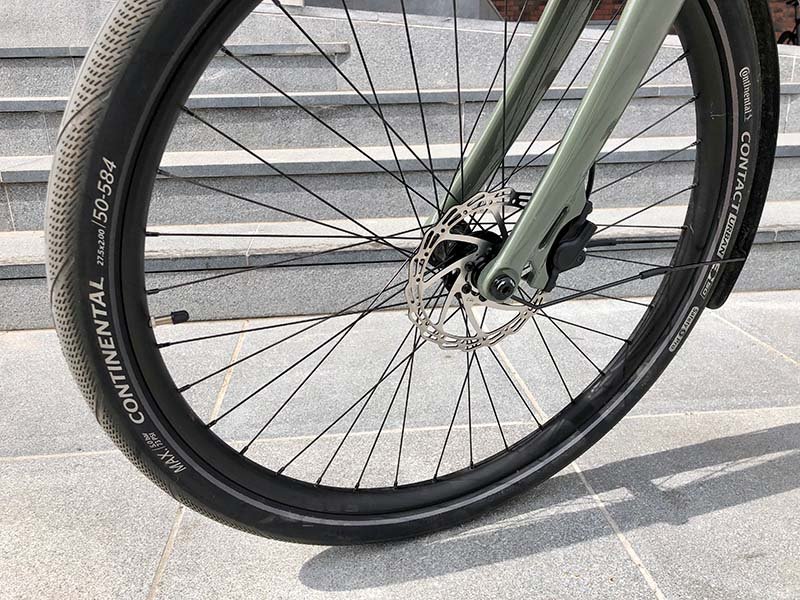 Ampler Axel comes with hydraulic disc brakes with 2-piston calipers.
Brakes are definitely a strong part of this e-bike. I was amazed at how good is the stopping power. At the same time, stopping is really smooth.
As mentioned earlier, the Axel bike doesn't have any gearing. Also, the bike doesn't have a chain. Instead, it has a Gates carbon belt.
Although the belt makes the bike a bit more expensive, it has several advantages:
Belt-drive doesn't need maintenance
It's more lightweight than a chain
Much quieter
Lasts 4 times longer than chain drives
Frame and Geometry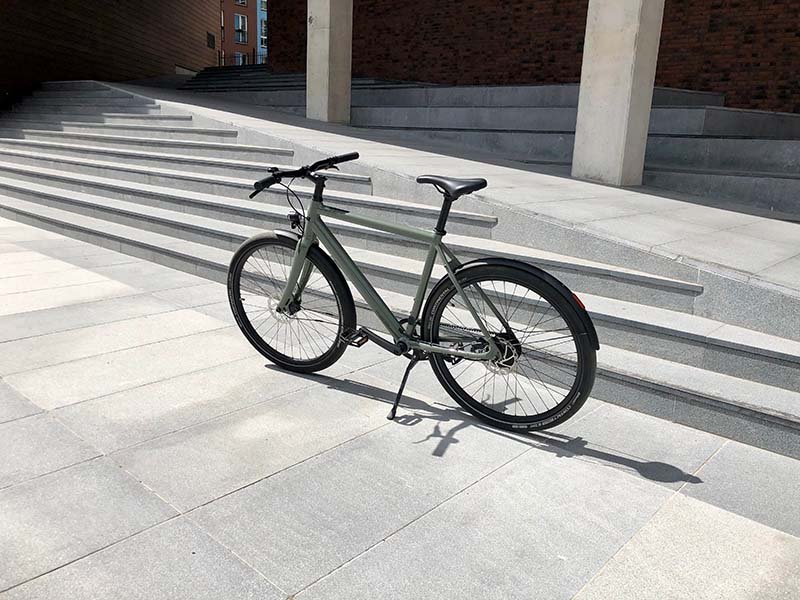 The frame of the bike is made from aluminum alloy. I like that most of the cabling is internally routed. It makes the overall look of the bike very clean and stylish.
The geometry of the bike is active and road-like. The riding position is a great balance between sporty and relaxed. However, it's not as sporty as another Ampler model – the Curt.
The bike comes in 2 different frame sizes. So it can fit a wide variety of riders.
Frame Size Recommendations:
M – 172-185 cm
L – 186-200 cm
Wheels and Tires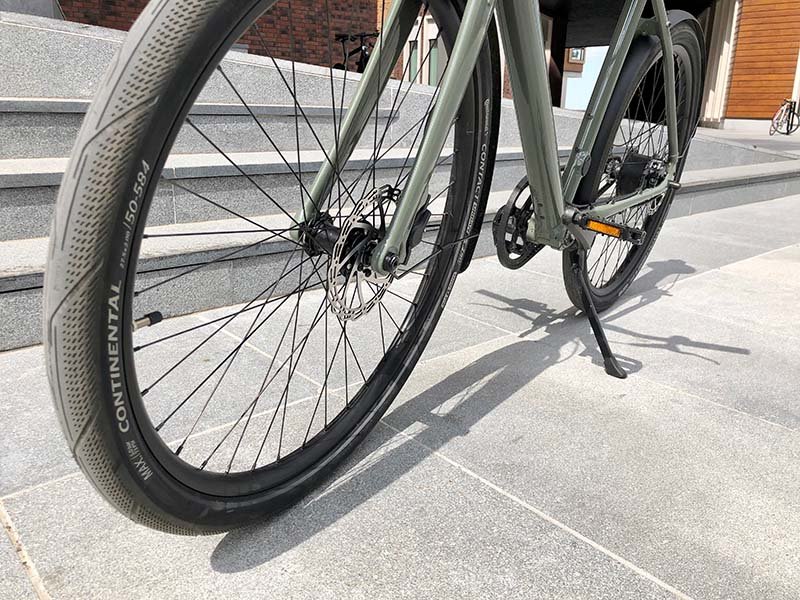 The Axel is equipped with 27.5-inch wheels. On top of that, there are quality tires made by Continental.
These tires are designed for the urban environment. However, they have some thread to provide grip on corners or in wet conditions. Additionally, these tires have a puncture-resistant feature, which makes your rides more carefree.
Other Features
LED Lights
Ampler Axel has all the essentials to be able to ride in the dark as well.
It has a top-quality Busch&Müller headlight in the front and an integrated rear light at the rear.
The rear light has a brake light feature, which increases your visibility even more.
Fenders
A proper city commuter e-bike must have fenders. The fenders of Ampler Axel are very sleek.
You can easily ride the bike on the wet surface without worrying you ruin your clothes.
Integrated Display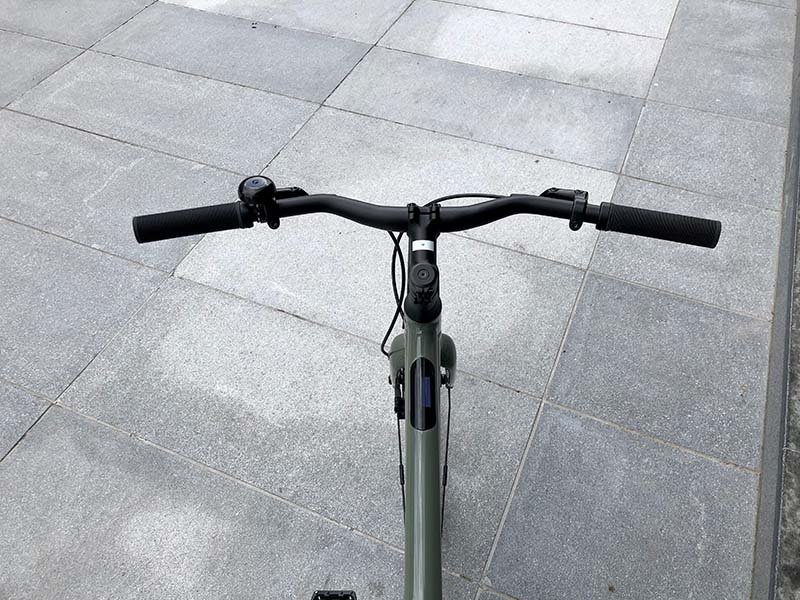 A nice addition to the first-gen bikes is the display. It's integrated into the frame and provides info about current assist mode, battery level, range, and ride statistics.
The display shuts down when you are riding, so you can keep your focus on the road.
Ampler App
You can control your bike via the app as well.
Through the app, you can:
set the strength of the electric assistance
see the ride statistics
see the bike location on a map
update the bike's software
share access to your bike with your friends
Ampler Axel Review Conclusions
To sum it up, I can easily say that I enjoyed a lot riding with Ampler Axel.
Every bit of the bike is top quality and riding with it feels luxurious and comfortable.
Of course, it all comes with a price. Ampler Axel is not a cheap e-bike. It costs about €2,800. But considering the fact, that this bike is manufactured in Europe, has high-quality components, and comes with a 2-year warranty, it seems like a good deal.
So if you are looking for a trustworthy city commuter e-bike with great build quality, Ampler Axel might be a good option.
Ampler Axel Specs
General
| | |
| --- | --- |
| Bike Name | Ampler Axel |
| E-Bike Class | Class 1 |
| Availability | Europe |
| Warranty | 2 Years |
Electronics
| | |
| --- | --- |
| Motor Type | Rear-Hub Drive |
| Motor Power | 250W |
| Top Speed | 25 km/h |
| Battery | 48V 7Ah (336Wh) |
| Charge Time | 2.5 hours |
| Range | 50-100 km |
| Display | Integrated into the Top Tube |
| Display Read-Outs | Range, Battery Level, Trip Stats |
Bike Components
| | |
| --- | --- |
| Frame Material | Aluminum Alloy |
| Frame Size | M, L |
| Frame Type | Step-Over |
| Frame Colors | Rock Green |
| Fork | Rigid |
| Gearing | Single-Speed |
| Brakes | Hydraulic Disc Brakes with Mineral Oil |
| Wheel Size | 27.5″ |
| Tires | Continental Contact Urban 50-584, Safety Pro Breaker |
| Additional Features | Front & Light, Fenders, Optional Rear Carrier |
| Weight | 16.3 Kg |