Aventon has diversified and expanded its e-bike lineup since its first release in 2019 to include models for almost everyone. Additionally, Aventon has rounded its selection by creating a dedicated cargo hauler.
Aventon's Abound model is a competitively priced and highly capable e-bike with unique features and enough power to haul most types of cargo. The bike has strong brakes, a zippy feel, and optional accessories you could use to customize it to your needs.
Let's dive in and see whether it's the right bike for you.
Electric Wheelers is reader-supported. Although we independently research and test products, we may receive a commission on purchases made from our chosen links. Read more…
Aventon Abound Review
Motor: 750W | Top Speed: 20 mph | Max Payload: 440 lbs | Battery: 720Wh | Max Range: 50 miles
Aventon Abound Pros
High load capacity
Lots of cargo features on a base model
Responsive torque sensor
Dropper seat
Quite affordable
Aventon Abound Cons
Only 20 mph top speed
Not the best cable management
Aventon Abound Performance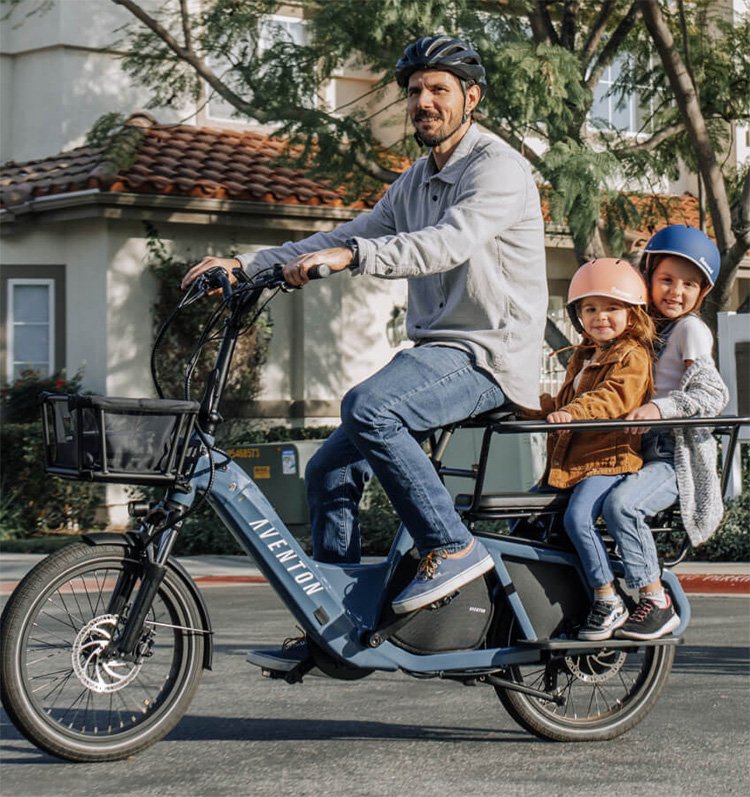 Motor and Speed
The Abound is less expensive than most cargo electric bikes. However, it has a powerful 750W rear hub motor that can produce a 20 mph (32 km/h) top speed. It means Aventon Abound is a class 2 e-bike.
Aventon Abound has excellent performance thanks to its torque sensor.
The e-bike's torque sensor supplies power to the rider more efficiently as soon as they begin pedaling. It provides four levels of assistance with varying power levels, including Turbo, Sport, Tour, and Eco.
Also, the bike has a thumb throttle to help you start your ride if you carry cargo or any other additional weight. Thus, you can keep the e-bike moving without pedaling.
Battery and Range
The Abound has a fully integrated but removable 48V/15Ah 720Wh battery that provides an advertised 50-mile range. However, we did our tests to determine the actual range.
We did two separate trials that involved pedaling the e-bike until the battery ran out. The first test involved the lowest pedal assist mode, while the second involved the highest pedal assist mode. Next, we measured the distance we could travel and compared it to the advertised range.
Aventon did similar tests and determined that the bike provided a 60-mile range for the eco mode and 30 miles for the Turbo mode. Our tests proved that the Abound did better on Turbo mode (40 miles) and optimal on Eco mode (50.7 miles).
Hydraulic Disc Brakes
The Aventon Abound is relatively heavy. Therefore, it requires effective brakes that provide sufficient stopping power. Aventon equipped their Abound with Tekro hydraulic disc brakes with 180mm rotors.
We evaluated the bike's braking system by pedaling it to 20 mph and hitting the brakes to stop it as quickly as possible while maintaining control. We repeated the procedure twice and get an average.
The brakes stopped the bike within a distance of 19 ft. and 5 inches. You should note that we did the test with no cargo. Adding more weight to your bike will add the stopping distance. Thus, you should be careful when stopping depending on the amount of cargo you have on your bike.
Aventon Abound Design and Features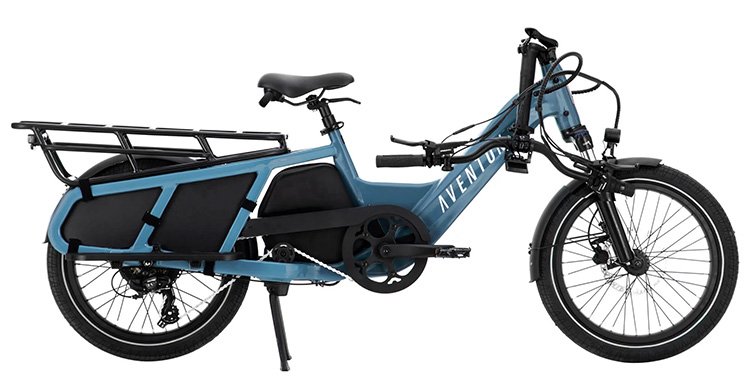 Frame
The Abound has a solid frame with butter-smooth welds that show Aventon's dedication to high-quality workmanship.
The e-bike has a removable, fully-integrated battery, making it look cleaner and sleeker. Observing the frame, we noticed Aventon designed the Abound's frame for functionality and aesthetics.
The Abound's frame is made from 6061 single-butted aluminum alloy, which can withstand 440 pounds of payload. The Abound has simple handlebars where you can find:
front and rear brakes
a throttle lever
a control pad to set up the PAS and activate the turn signals
a full-color display
Revo twist shifter
The handlebars have a telescoping feature. So riders can bring it down, making it more manageable for more accessible transport.
Cargo Capacity
The Abound has a storage bag and an extended rear rack perfect for various accessories you can choose from. The bike's storage bag is included as part of the design allowing riders to have zippered storage for storing small items when not using a basket or a backpack.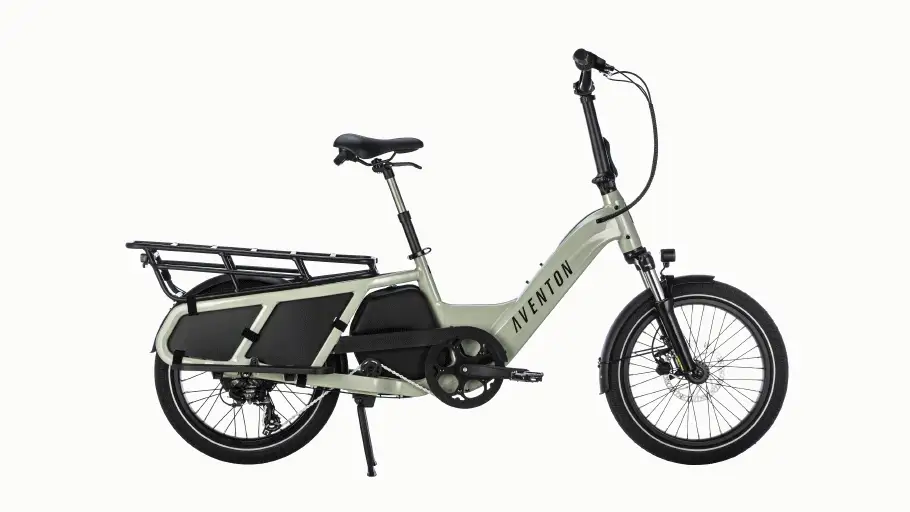 The e-bike has a carrying capacity of 440 lbs (including the rider's weight), making it a capable and reliable cargo hauler for most riders.
The e-bike has running boards on the side that come with the bike, and you can add various optional accessories, including a seat pad, handrail, and the front rack and bag for added cargo room.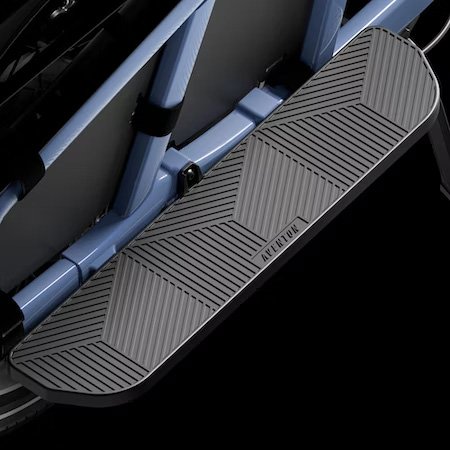 Also, the bike has a long rear rack that is enough to fit two small children or extra cargo.
We added Aventon Abound to the list of Best Cargo E-Bikes.
Dropper Seat
The Aventon Abound has a dropper seat post different from regular bikes. Instead, the Abound has a lever under the saddle that riders can use to adjust the seat's height easily to get more comfortable.
Depending on their needs, riders can pull the lever and instantly raise or lower the saddle to get the correct seat height. For instance, you may keep your seat higher to get proper leg extension when peddling but push the seat down if you need to stop in front of the red light.
Or, if you ride with your kids or some kind of cargo, you can pull the lever and adjust your seat so you have your feet down to get more stability. You can also pull the lever, raise the seat, and get more extension once you are done.
Great Ride Quality
The Abound has a front suspension fork with 50mm of travel that you can lock for a stiffer ride when carrying cargo or unlock for a softer and more enjoyable ride.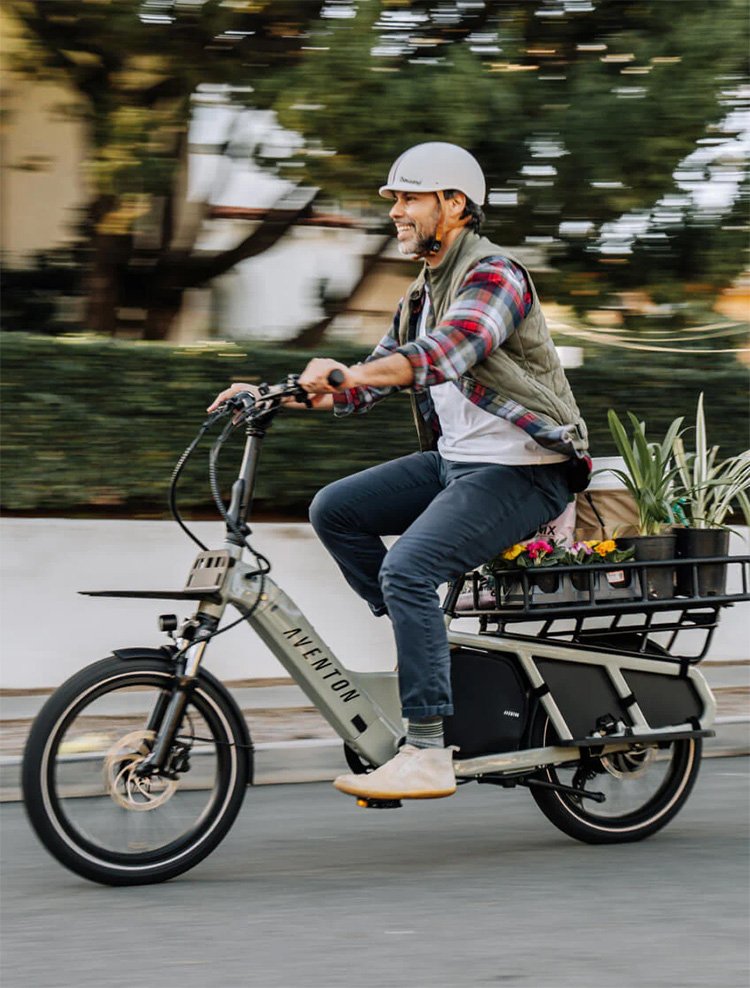 Additionally, the e-bike has a headlight, tail light, and turn signals to keep the rider safe in traffic.
The Abound has 20 by 2.4-inch tires that have reflective sidewalls and treads meant for paved surfaces. It has a small wheel surface allowing for a low center of gravity, making the bike more maneuverable considering its length.
Aventon Abound Review Conclusions
The Abound provides solid performance for most e-bikes and has plenty of room on the rear rack to carry additional cargo. Also, it has a few accessories that provide more capacity for cargo and extra passengers.
The Abound has a strong frame that can handle plenty of weight and enough power to move it effectively. The e-bike is easy to handle, comfortable, and competitively priced.
Aventon Abound Specs
General
| | |
| --- | --- |
| Bike Name | Aventon Abound |
| E-Bike Class | Class 2 |
| Availability | United States |
| Warranty | 2 Years |
Electronics
| | |
| --- | --- |
| Motor Type | Rear-Hub Drive |
| Motor Power | 750W |
| Top Speed | 20 mph |
| Battery | 48V 15Ah (720Wh) LG |
| Range | Up to 50 miles |
| Display | LCD |
Bike Details
| | |
| --- | --- |
| Dimensions | 75.2″ x 44.3″ |
| Frame Material | Aluminum Alloy |
| Frame Size | One Size |
| Frame Type | Step-Through, Cargo |
| Recommended Rider Height | 4'11″ – 6'3″ |
| Frame Colors | Polaris, Sage |
| Fork | Front Suspension |
| Rear Suspension | – |
| Gearing | 1×7-Speed Shimano |
| Brakes | Tektro Hydraulic Disc |
| Wheel Size | 20″ |
| Tires | 20″ x 2.4″ Fat Tires |
| Weight | 81 lbs |
| Weight Capacity | 440 lbs |