Aventon is a leading brand in the electric bike industry. The company produces high-quality e-bikes that combine style, performance, and affordability. With a wide range of models, Aventon has something for every rider.
In this overview, we'll take a closer look at Aventon electric bikes and explore why they are such a popular choice among e-bike enthusiasts.
Electric Wheelers is reader-supported. Although we independently research and test products, we may receive a commission on purchases made from our chosen links. Read more…
Aventon Bikes Overview

Website | Facebook | Instagram | Youtube
USA e-bike brand Aventon was founded in 2013 as a company that manufactured fixed-gear bikes. Their fixies were called Mataró, Cordoba, and Ultro. Although they were a well-known fixed-gear brand, Aventon made a pivot in 2018 and focused only on electric bikes.
Let's now take a closer look at each Aventon electric bike.
Aventon Electric Bikes Reviews
Aventon has almost a whole set of different types of e-bikes:
City e-bike
Commuter e-bike
Cruiser e-bikes
Folding e-bike
All-terrain fat tire e-bike
and cargo e-bike.
Let's now take a closer look at each Aventon bike separately.
Aventon Pace 500 – Advanced Cruiser e-Bike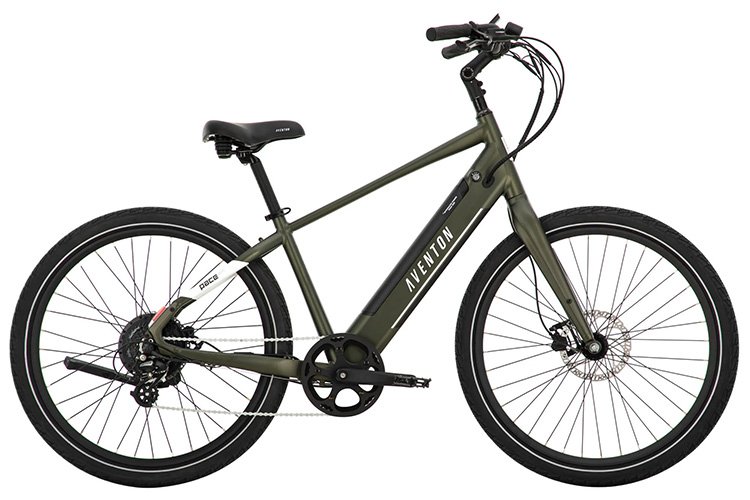 The original Pace 500 was Aventon's first-ever electric bike. This bike model was the reason why Aventon made the huge pivot. After the success of the Pace 500, the company decided to abandon its fixed-gear bikes and focus solely on electric bikes.
Today, you can already buy the third generation of this e-bike model – the Aventon Pace 500.3. It comes in 2 different frame styles – step-over and step-through. With the upright ride position and curved handlebar, the Pace 500 is ideal for cruising around the city.
The Pace 500 is a class 3 e-bike with a 500W motor and a 28 mph top speed. The 614 Wh LG battery provides up to 60 miles of range. However, if you use only the throttle, the mileage will be up to 30 miles.
Aventon Pace 350 – Cruiser e-Bike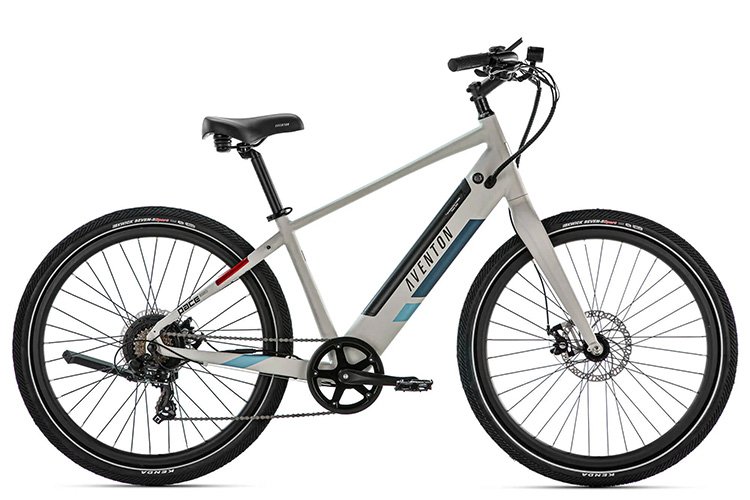 Thanks to the relatively cheap price tag, Aventon Pace 350 is one of the most popular ebikes in Aventon's range. Just like the Level, the Pace also has an upgraded 2nd generation – Pace 350.2.
Aventon Pace 350.2 is a cruiser e-bike with an upright ride position. Although the bike a very affordable, it has all the essentials that you could desire. Built-in battery (417 Wh), integrated lights, color display, and a comfortable saddle to just name a few.
The Pace 350.2 has a 350W rear hub motor, which can speed up to 20 mph. The battery provides up to 40 miles of range. Overall, the Pace 350.2 is definitely worth considering when on budget.
Aventon Level – Commuter e-Bike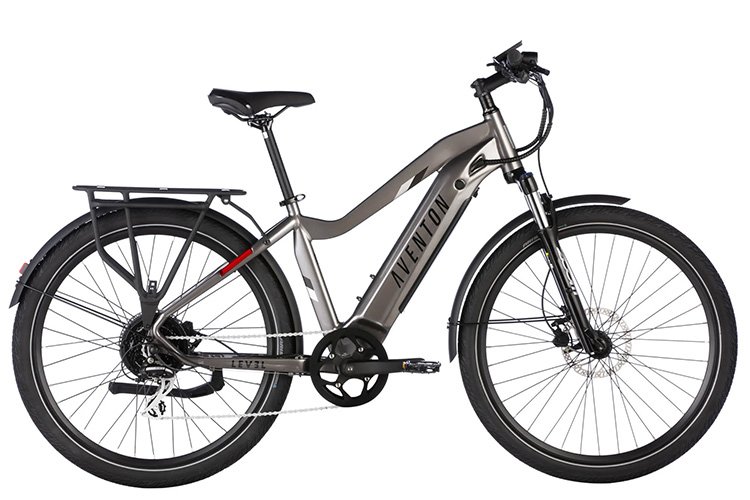 Aventon Level is one of the company's flagship models. In 2022, an upgraded version of the bike was launched – Aventon Level.2. It was unique because it was the first Aventon bike that had a torque sensor instead of a cadence sensor.
The motor of the bike is located in the rear hub and has 500W of sustained power (peak power 750W). It has a 28 mph top speed when pedaling, and a 20 mph top speed when using only a throttle. By the way, the throttle works from a complete stop.
It's nice that you can remove the throttle if you want to ride in places where the throttle is not allowed. Basically, you can turn the bike into a class 1 e-bike.
The Level.2 has a top-quality battery with LG cells, which has 672 Wh of energy capacity. On average, its enough for a 60-mile range.
Aventon Aventure – All-Terrain e-Bike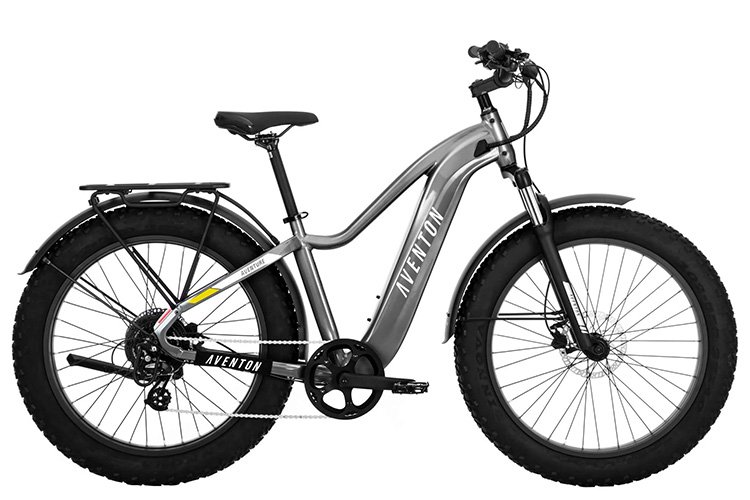 Aventon Aventure is built for your adventurous fun rides on off-road trails and dirt roads. It's possible thanks to the 4-inch fat tires and front suspensions. Also, the Aventure has a powerful motor and torque sensor for a more natural ride experience and better hill climbing.
The rear-hub motor has 750 Watts of power and the top speed is 28 mph. Thanks to the 15 Ah LG battery, the Aventure can go up to 60 miles on a single charge.
Related: Aventon Aventure vs RadRover 6 Plus
Additionally, Aventon Aventure.2 has an extremely high payload capacity (400 lbs), which makes the bike well-suitable for bigger adults.
Aventon Sinch – Folding e-Bike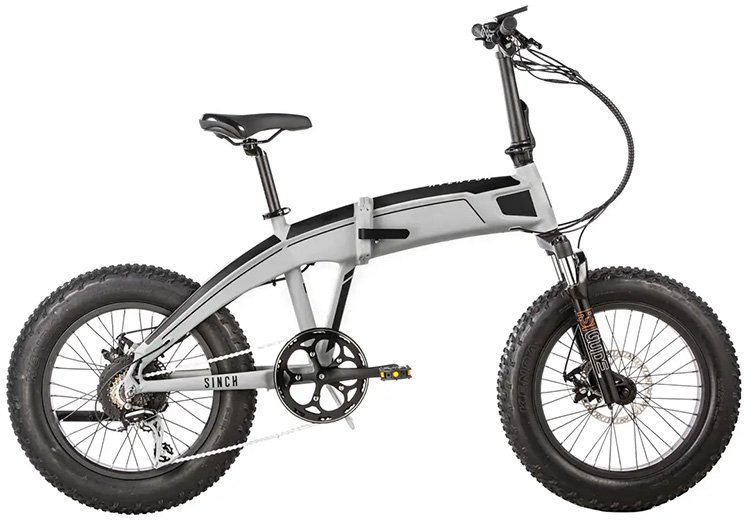 Aventon Sinch is totally different from other Aventon bikes. It has smaller wheels, a collapsible handlebar stem, and a foldable frame. All this for ultra-good portability.
If you have limited storage room or need to often transport the bike in the trunk of your car, Aventon Sinch is the right e-bike for you. You can shrink the bike into a really compact size.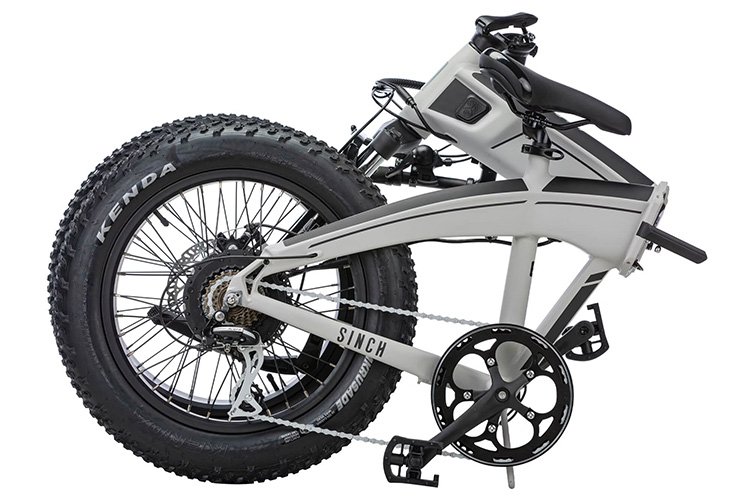 Aventon Sinch is included in the list of Best Electric Folding Bikes.
Besides practicality, the performance of the Sinch is not bad at all. The e-bike has a 500W motor (750W peak power), which enables the bike to go up to 20 mph. The removable battery provides a range of up to 40 miles.
Aventon Soltera – Lightweight City e-Bike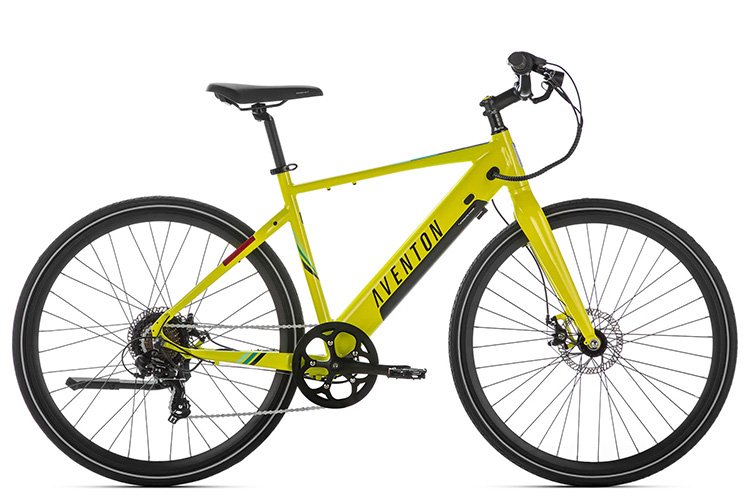 Aventon Soltera is the most lightweight electric bike in Aventon's selection. The Soltera weighs only 43 lbs. Since the battery of the bike is integrated and most wires are internally routed, the Soltera doesn't look like an e-bike.
On the performance side, the Soltera comes with a 350W rear hub motor. In addition to the pedal assistance, the bike also has a throttle (like all other Aventon bikes). But unlike most other Aventon e-bikes, the Soltera isn't a class 3 e-bike.
Aventon Soltera is a class 2 electric bike, which means the motor assists you up to 20 mph. If you ride faster than that, the motor turns off.
Related: E-Bike Classes Explained
On average, the Soltera can ride about 40 miles on a single charge. The LG battery has 345 Wh of energy capacity.
The bike doesn't have a suspension and its tires are narrow. So it's only meant for riding in urban environments.
Aventon Abound – Cargo e-Bike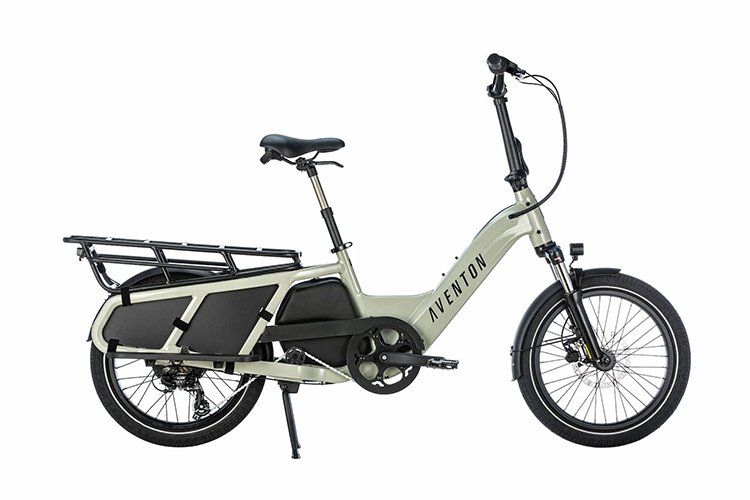 Aventon Abound is the latest addition to Aventon's bike family. It was the model that was missing so far – a cargo electric bike.
If the Sinch was practical in terms of portability, the Abound is practical in terms of cargo capacity. It has a long rear rack that can be used to haul kids or bring home groceries. Behind the seat post, you can find a small bag, where you can put all your personal belongings.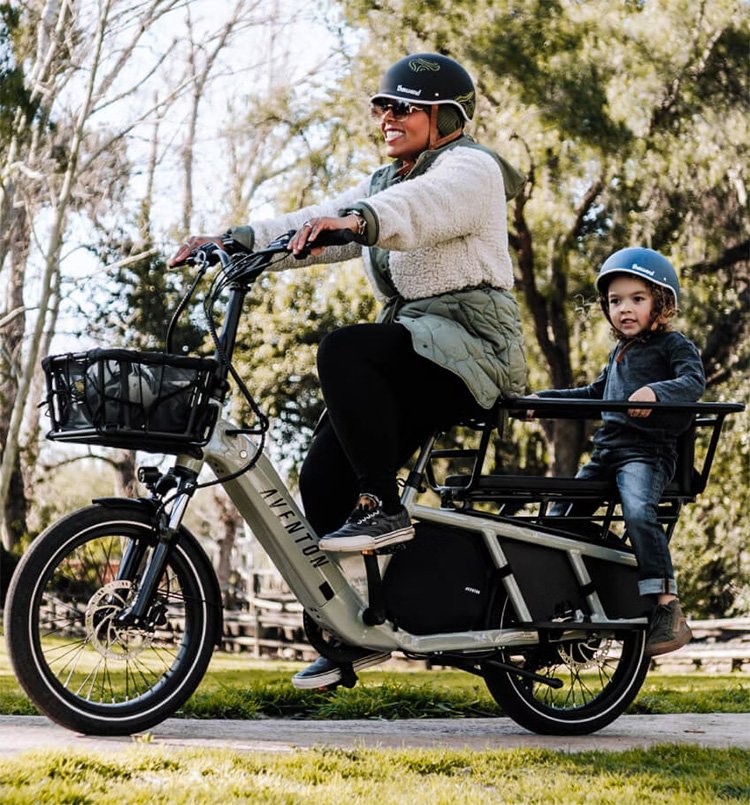 Additionally, there are lots of cargo accessories that you can buy extra, like baskets, utility racks, handrails, and pannier bags.
Related: Aventon Abound Full Review
The motor of Aventon Abound is 750W and the top speed is 20 mph. The maximum range is about 50 miles.
Aventon FAQs
Who is Aventon Owned by?
The founder and main owner of Aventon Bikes is Jianwei Zhang. He is also the president of the company.
Where are Aventon Bikes Made?
Aventon is a US-based electric bike brand and its headquarters is located in Brea, California, United States. However, most of the manufacturing of the bike details are made in China. Aventon has a bike factory near Shanghai.
Who Makes Aventon Bikes Motors?
All Aventon electric bikes have a brushless rear hub motor. These motors are manufactured by Bafang or Shengyi. Depending on the model, Aventon e-bike motors range between 350W-750W.
What Class are Aventon Bikes?
Aventon e-bikes are class 2 or class 3. All Aventon electric bikes are equipped with a throttle, which provides a top speed of 20 mph. But some models allow the assistance of up to 28 mph (only with pedaling). These Aventon class 3 e-bikes are:
Aventure
Level
and Pace 500.
How Long Does Aventon Charging Take?
Although Aventon e-bike batteries have different energy capacities, it takes about 4-5 hours to charge the Aventon battery.
How Heavy are Aventon e-Bikes?
The weight of Aventon e-bikes ranges between 43-81 lbs (20-37 kg). Here are the weights of all Aventon e-bikes:
Soltera: 43 lbs
Pace 350: 49 lbs
Pace 500: 52 lbs
Level: 54 lbs
Sinch: 68 lbs
Aventure: 77 lbs
Abound: 81 lbs
Who are the Main Competitors for Aventon?
Although Aventon is one of the most popular electric bike brands in the United States, there are several competitors out there with similar e-bikes:
Rad Power Bikes
Ride1Up
Juiced Bikes
Conclusion: Is Aventon a Good Brand eBike?
Overall, Aventon offers a wide range of e-bikes that cater to different riding needs and preferences. Their bikes are not only stylish and affordable but also offer great performance, reliability, and ease of use.
Whether you need a reliable commuter, strong cargo hauler, fun cruiser, or powerful all-terrain e-bike, Aventon has it.
Aventon has established itself as a top brand in the e-bike industry and is certainly worth considering if you're in the market for a new electric bike.