Nakto Santa Monica is one of the newest e-bikes in Nakto's selection. It has an interesting look thanks to the old-school cruiser-style frame.
In this review, we take a closer look at this electric bike so you can figure out if it's a good fit for you or not. Keep reading!
Electric Wheelers is reader-supported. Although we independently research and test products, we may receive a commission on purchases made from our chosen links. Read more…
Table of Contents
Nakto Santa Monica Review
Motor: 500W | Top Speed: 24 mph | Weight: 72 lbs | Battery: 480Wh | Max Range: 60 miles
Nakto Santa Monica Pros and Cons
Pros:
Cool frame design and comfortable ride position
Removable battery for versatility
Affordable price
Cons:
GET $60 OFF with promo code ELECTRIC60
Nakto Santa Monica Performance
500W Motor
Nakto equipped their Santa Monica with a 500W brushless geared hub motor that peaks to 750 watts. The motor produces a 65Nm maximum torque with controlled acceleration.
The motor delivers up to 24 mph speeds depending on the terrain, rider's weight, incline, and other factors. Riders can achieve those speeds using Santa Monica's full-sized twist throttle.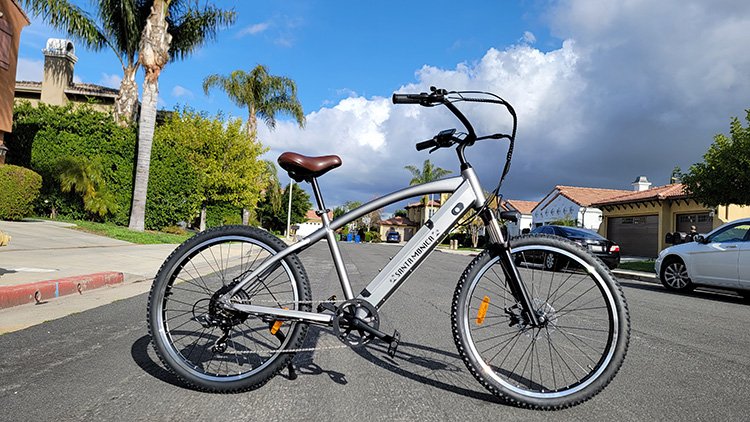 Additionally, the motor has a pedal-assist feature with a cadence sensor. Nakto Santa Monica has a low latency regarding motor activation or deactivation. However, you can still manually control the motor with the bike's throttle that's live from 0 mph and use the brakes with an inbuilt motor inhibitor.
Also, Nakto conducts several comparative experiments to ensure the motor performs optimally. For instance, Nakto has done vibration, noise, and temperature rise tests to ensure the motor provides higher speeds and range with better thermal performance.
Although the bike is mostly meant for urban environments, the motor can handle riding on the beach or dirt roads too.
12Ah Battery with 60-Mile Range
The Santa Monica has a 48V 12Ah battery with a 60-mile maximum estimated range. Nakto designed the Santa Monica with a removable battery that can be slid outward and upward from the bike's main frame and secured with a lock.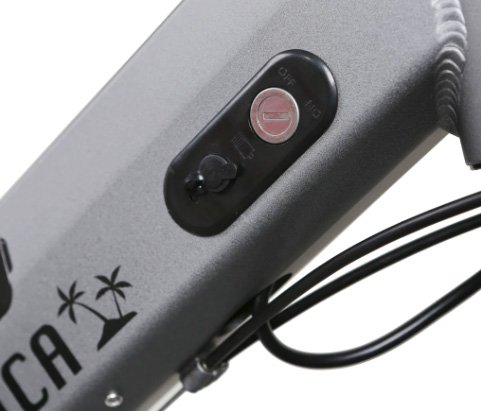 The battery takes four hours to charge fully, and using any electrical equipment requires users to leave the key in, and the bike turned on.
The range you will likely cover with the e-bike depends on various factors, including the terrain, cargo, rider's weight, etc. Regardless, the e-bike is most suited for individuals who plan to use it for short urban commutes.
However, individuals who wish to cover longer distances can purchase an extra battery to use as a replacement when the first one runs out.
Mechanical Disc Brakes
The Santa Monica has mechanical disc brakes that guarantee safe riding. The brakes have strict performance requirements, including stability, delicate & stringent controllability, and the capacity to handle various terrain and weather.
Nakto's Santa Monica brakes provide adequate performance even on snow or muddy terrain and can be relied on when riding in traffic.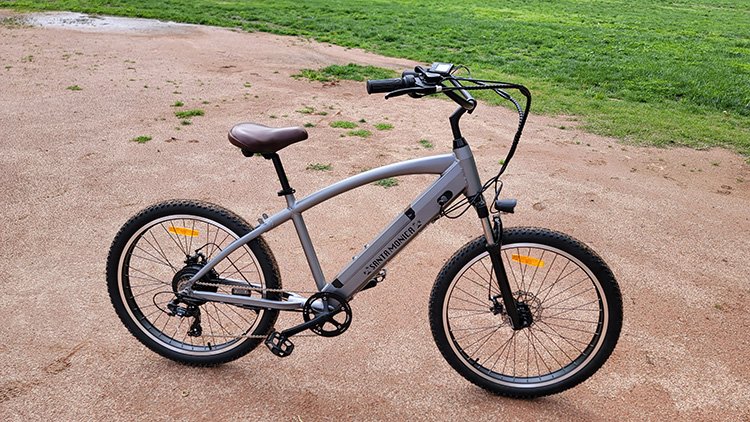 The disc brakes work by transferring all the force the rider applies to the brake levers onto the brake caliper. Although mechanical disc brakes aren't as good as hydraulic disc brakes, the double disc brake design is safer than the single disc brake. Thus, it provides sufficient stopping power.
Shimano Gearing System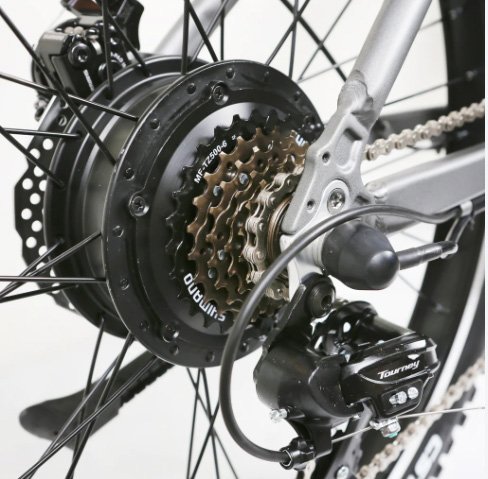 Nakto equipped their e-bike with a Shimano Tourney derailleur fitted with a six-speed cassette. The gearing system is paired with an SIS index thumb shifter.
The shifter is well positioned so it leaves plenty of room for the full-sized twist throttle.
The Tourney derailleur is the Shimano's cheapest option but it gets the work done.
Nakto Santa Monica Features
Frame Geometry
Nakto designed their Santa Monica from 6061 aluminum alloy, weighing 72 pounds. The bike's timeless cruiser-style frame is made of rust-proof alloy designed for durability in all weather.
The e-bike has a simplistic design with a cafe bar-style handlebar. The handlebar's position provides a natural riding position enabling riders to ride longer without straining their arms and wrists.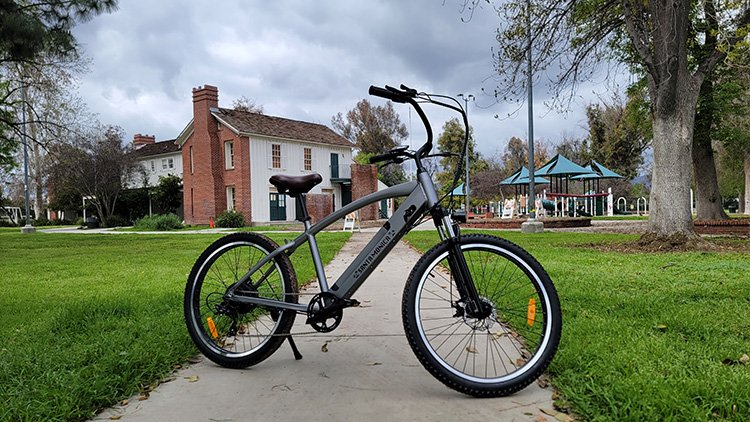 The e-bike comes in one frame size (19"), which is perfect for riders between 5' 8" to 6' 6", i.e., most adults. Riders who are shorter than  5' 8" may find it challenging to have a good experience when riding Nakto Santa Monica. Also, the bike comes in 3 different color options – silver, black and white.
The Santa Monica has an LED headlight with an aluminum casing. The headlight produces intense light with good penetration power, illuminating the rider's way when riding at night. The light gives riders 15 meters of visibility, allowing them to travel safely at night and alert other road users regarding their position.
Cockpit
The bike's handlebars are raised and swept backward, giving it an old-school look and a laid-back riding experience. The bike is quite comfortable, especially with its wide seat designed with suspension bumpers for increased shock absorption.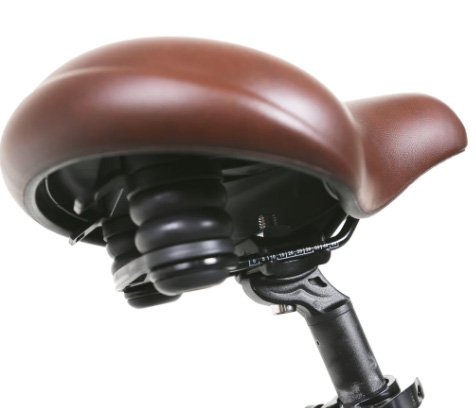 From the handlebars, you can find brake levers, a full-sized twist throttle, and an LCD screen. It also has various buttons, including one to turn on your headlight, a switch for your horn, and an SIS index thumb shifter on the right side of the handlebar.
The bike's LCD screen has an integrated button pad and displays various information that riders may find helpful, including your speed, battery level, mileage, etc. You can also adjust various settings from the display.
Wheels and Tires
The Santa Monica is marketed as a fat tire e-bike. However, its CST Hawk tires are 26 by 2.25 inches. This is a good tire size for cruisers and riders who plan to use the bike on relatively smooth terrain. Individuals planning to ride the bike on other types of rough terrain may need bigger tires.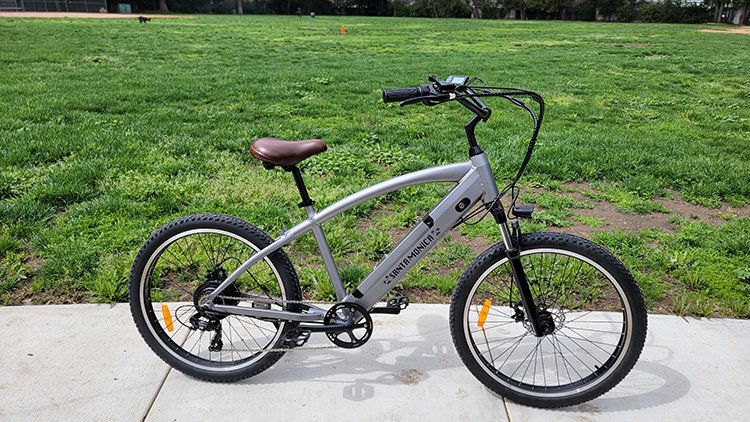 Regardless, the tires have an all-terrain design and can provide reliable performance when not pushed to the limits. The bike's tires have a puncture-resistant lining to prevent and reduce flats and carbon steel spokes, providing more stiffness and stability. Regardless, the bike's tires will provide better performance in urban terrain.
Suspension Fork
The e-bike has a Tremella spring suspension that smooths out rides even more. The front suspension fork has nearly 60mm of travel and works optimally on smooth surfaces.
You could take the e-bike for some light off-road activity. However, anything more than that could provide a lousy riding experience since you are riding a cruiser and not an off-road mountain bike.
GET $60 OFF with promo code ELECTRIC60
Nakto Santa Monica Review Conclusions
Nakto's Santa Monica is an excellent entry-level e-bike for individuals who want a more relaxed upright riding posture.
The e-bike is ideal for individuals living in urban areas and planning to commute over short 20-mile, round-trip distances, i.e., school, work, etc. Also, the bike is great to cruise around the beach. The e-bike is inexpensive and includes free shipping and a 1-year warranty.
Nakto Santa Monica Specs
General
| | |
| --- | --- |
| Bike Name | Nakto Santa Monica |
| E-Bike Class | Class 3 |
| Availability | United States |
| Warranty | 2 Year |
Electronics
| | |
| --- | --- |
| Motor Type | Rear-Hub Drive |
| Motor Power | 500W |
| Top Speed | 24 mph |
| Battery | 48V 12Ah (576Wh) |
| Range | Up to 60 miles |
| Display | LCD |
Bike Details
| | |
| --- | --- |
| Dimensions | 66.9″ x 41″ |
| Frame Material | Aluminum Alloy |
| Frame Size | One Size |
| Frame Type | Step-Over, Cruiser |
| Recommended Rider Height | 5'8″ – 6'6″ |
| Frame Colors | Silver, Black, White |
| Fork | Front Suspension |
| Rear Suspension | – |
| Gearing | 6-Speed Shimano Tourney |
| Brakes | Mechanical Disc |
| Wheel Size | 26″ |
| Tires | 26″ x 3″ Fat Tires |
| Weight | 72 lbs |
| Weight Capacity | N/A |