The Varla Wasp is an affordable electric scooter perfect for short-distance urban commuting and weekends of fun. It is compact and lightweight, features a 350W hub motor and a 7.5 Ah battery, and weighs 33 pounds. The Wasp has an intelligent battery management system, dual braking system, and other features that make it a reliable urban commute.
Additionally, the Varla Wasp e-scooter is light and nimble, allowing you to dart around effortlessly, making it perfect for urban commutes on relatively flat surfaces. However, you shouldn't ride the scooter on hilly terrain, especially if you are tall and heavy.
In this Varla Wasp review, you can learn more about all features of the scooter.
Electric Wheelers is reader-supported. Although we independently research and test products, we may receive a commission on purchases made from our chosen links. Read more…
Varla Wasp Review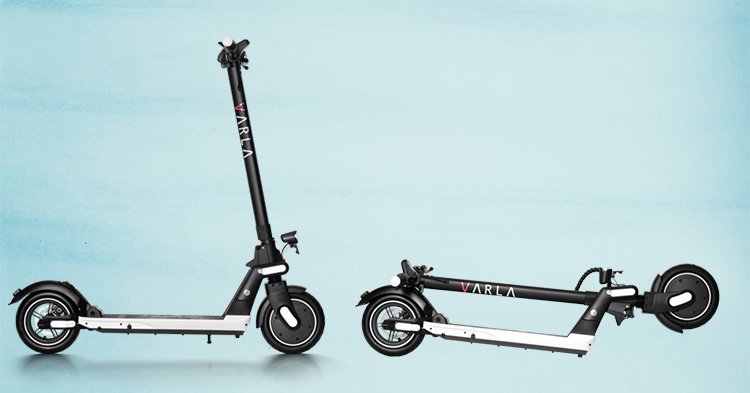 Motor: 350W |Top Speed: 16 mph |Battery: 7.5 Ah (270 Wh) |Max Range: 19 miles
Pros and Cons of Varla Wasp
Varla Wasp Performance
Motor and Speed
The Wasp has a 350W hub motor producing 500W peak power and a 16 mph top speed. Varla's Wasp is a relatively inexpensive entry-level scooter, so you shouldn't expect it to be as fast as most average or high-performing scooters. However, it does pretty well in its price range.
The scooter is relatively fast despite its motor's power and is maintained by a 16A speed controller that provides optimal performance at all times. The motor produces 15 Nm of torque and can tackle various terrain relatively quickly. The scooter can manage up to 12% of hill climbs.
Battery and Range
The Wasp has a 36V 7.5Ah battery designed to meet urban riders' requirements. It has overcharge protection meant to keep the battery safe when charging overnight. Additionally, the battery has voltage and short circuit protection to help it last longer.
Also, the lithium-ion battery has power equalization output, current output, and work temperature protection, ensuring its safety. Additionally, it has an intelligent battery management system that displays the battery's health, protecting it while in operation.
The battery provides a 19-mile maximum range. However, the exact mileage depends on various conditions like the rider's weight, terrain, speed, etc.
Brakes
The scooter has a dual braking system with a rear disc brake and a front electronic brake for additional braking power and stability. The brakes have better heat dissipation, providing adequate braking performance and durability.
Additionally, Varla's design incorporating a dual braking system provides better braking performance, perfect for riders who aim to use the scooter in busy urban environments.
Varla Wasp Features
Deck and Frame
The Varla Wasp has an expansive deck (5.91"), providing enough room for riders to stand with their feet side by side. Varla designed their scooter with lightweight materials that reduce its overall weight. Regardless, the scooter can withstand riders who weigh a maximum of 265 pounds.
However, the scooter has a 41.34" overall height and a  31.89" standing height, which may seem small for taller riders. For instance, riders who are 6'1" may feel like their legs are cramped too closely together for comfort. Regardless, you'll still have fun riding the scooter, especially on short sessions, but shorter riders will have a better riding experience.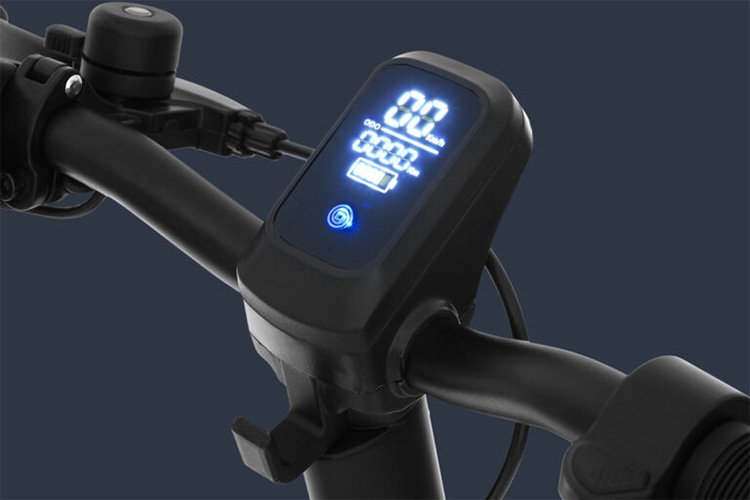 The Wasp has a simple display and a switch for riders to turn the scooter on. The scooter's digital LED screen indicates various information that helps riders have a better riding experience. These include your speed, mileage, and battery power.
Portability and Folding Mechanism
The Wasp's lightweight design makes it highly portable and perfect for individuals who want to transport it by car. Its foldable design makes storing the scooter in homes or your car's trunk easy. The scooter has a 1-second folding system and compact design that's reasonably practical and time-saving.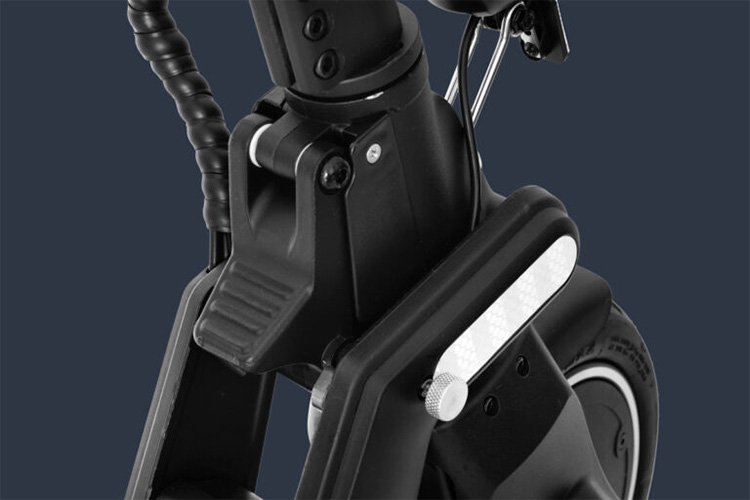 You can easily fold the scooter by pulling on its pin, placing your foot on the part of the deck connected to the stem, and pushing downward. This allows the scooter's stem to bend backward and lie parallel to the scooter's deck.
The scooter's stem clicks into place, allowing you to carry it by it. You can undo the folding mechanism by pressing down on the fender and popping it up. Next, you should pull on the pin and pop the stem back into place.
Suspension
Varla's Wasp has an independent suspension that significantly absorbs any discomfort experienced when riding on gravel roads.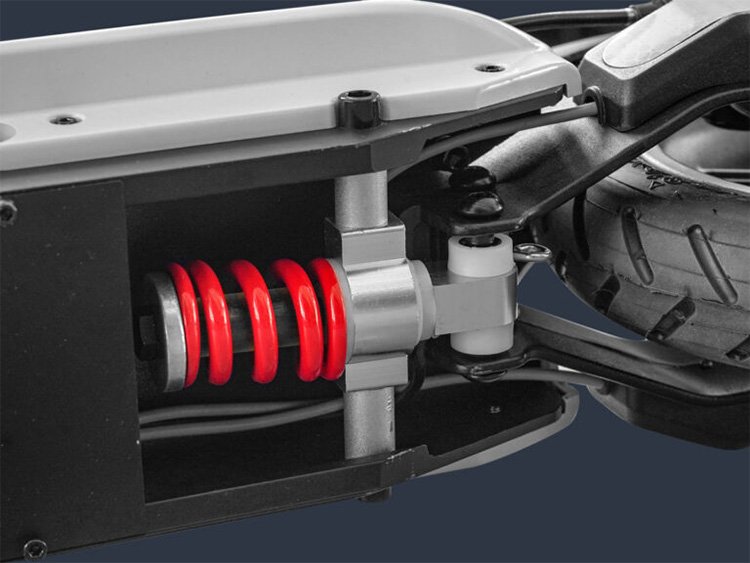 But keep in mind that the suspension doesn't work well on rough terrain. The Wasp is still meant for smooth terrain. However, if there are some occasional bumps in the road, the suspension helps a little.
Wheels and Tires
The scooter has 8.5" pneumatic tires that help make riding on slightly rough terrain a little more comfortable. However, there is no noticeable difference between solid and pneumatic tires, especially when riding in rocky terrain. The pneumatic tires are a great addition since you don't always see them in entry-level scooters.
Read also: Electric Scooter Tires Explained
Lights
Varla designed their Wasp with dual LED lights, including a taillight and headlight.
The headlight help illuminate your way in the dark, allowing you to see where you are headed. The taillight help reminds other road users about your presence, keeping you safe. 
Varla Wasp Review Conclusions
The Varla Wasp is a lightweight scooter that's quite portable. However, it is perfect for urban commutes over short distances.
The Wasp is a relatively inexpensive entry-level scooter that delivers everything it promises. The scooter doesn't outperform itself but is pretty dependable for individuals looking to get from one point to another. There are lots of features to appreciate from the Wasp.
For instance, the scooter has a relatively reliable motor, decent speeds, and a good riding experience. Additionally, the scooter's battery provides a reliable range making it perfect for individuals looking for a reliable scooter for short commutes over smooth terrain.
Check Out Other Varla Electric Scooters
The Wasp is a great first-time scooter for individuals who want a first-time experience and aren't too sure if they wish to invest in scooters for transportation.
Varla Wasp Specs
| | |
| --- | --- |
| Motor | 350W Front Hub Motor |
| Top Speed | 16 mph |
| Battery | 36V 7.5Ah (270 Wh) |
| Max Range | 19 miles |
| Recharge Time | 4-5 Hours |
| Brakes | Mechanical Disc + Electronic |
| Suspension | Spring Shock Absorption |
| Weight | 33 lbs (15 kg) |
| Weight Capacity | 265 lbs |
| Tires | 8.5″ Pneumatic |
| Lights | Front and Rear LED |
| Hill Grade | 12% |
| Dimensions | 41.7″ x 20.5″ x 41.3″ |
| Folded Dimensions | 41.7″ x 20.5″ x 15.8″ |
| IP Rating | IP54 |
| Display | LED |