Over the years, I've had the privilege of testing countless electric bikes, each with its own unique features and quirks. Recently, I had the opportunity to spend some quality time with the Rattan Quercus, a bike that's been generating quite the buzz in the e-bike community.
After putting it through its paces on city streets, rugged trails, and everything in between, I'm eager to share my firsthand experience with you.
Dive in as I unravel the nuances of the Rattan Quercus, based not on hearsay, but on genuine, tire-to-road testing.
Electric Wheelers is reader-supported. Although we independently research and test products, we may receive a commission on purchases made from our chosen links. Read more…
Rattan Quercus Electric Bike Review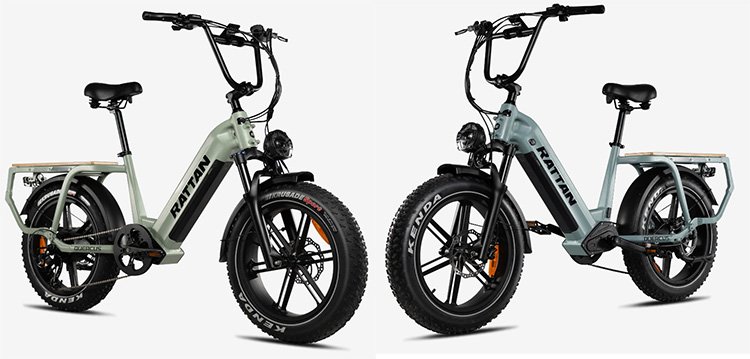 Motor: 750W | Top Speed: 30 mph | Max Payload: 450 lbs | Battery: 960Wh | Max Range: 100 miles
To Whom This E-Bike is Built?
The Rattan Quercus isn't a one-size-fits-all solution, but it does cater to a broad audience. If you're someone who values a blend of performance and practicality, this e-bike might be right up your alley. It's particularly suited for:
Urban Commuters: With its robust motor and extended range, daily commutes become a breeze. The added cargo capacity means you can easily carry your essentials, making it ideal for city dwellers on the move.
Adventure Seekers: The fat tires and front suspension make it apt for those who occasionally like to venture off the beaten path. If weekend trail rides or countryside explorations sound appealing, the Quercus won't disappoint.
Eco-conscious Individuals: If you're looking to reduce your carbon footprint and opt for a more sustainable mode of transportation, the Quercus offers a green alternative without compromising on speed or convenience.
Utility-focused Riders: The impressive cargo capacity, especially when paired with the rear basket, makes it suitable for those who often find themselves hauling groceries, goods, or even other personal items.
Rattan Quercus Pros
Stylish Design: The Avocado Green colorway and wooden cargo rack with etched "RATTAN" branding make it a head-turner.
Powerful Performance: With a 750W motor, reaching speeds of over 30mph is a breeze.
Impressive Battery Life: Dual 20AH Samsung batteries offer a potential range of up to 100 miles.
Comfortable Ride: Ergonomic leather grips, a plush seat with springs, and an 80mm suspension fork make for a comfortable journey.
Safety Features: Hydraulic disc brakes provide reliable stopping power, and integrated turn signals enhance visibility.
Cargo Capacity: A robust weight capacity of 450 lbs makes it ideal for heavy loads or additional cargo.
Rattan Quercus Cons
Weight: The dual battery system, while offering extended range, adds to the bike's overall weight.
Maintenance: Hydraulic components might require more frequent maintenance checks.
Price Point: Over $2,500 for a dual-battery option, it's a premium investment.
Rattan Quercus Performance
Motor and Speed
The motor is often considered the heart of any e-bike, and with the Rattan Quercus, it's easy to see why.
The Rattan Quercus is equipped with a robust 750W brushless gear hub motor. The motor's responsiveness is immediate, giving riders the confidence to navigate any path. You can engage the motor by pedaling or pushing the throttle with your thumb.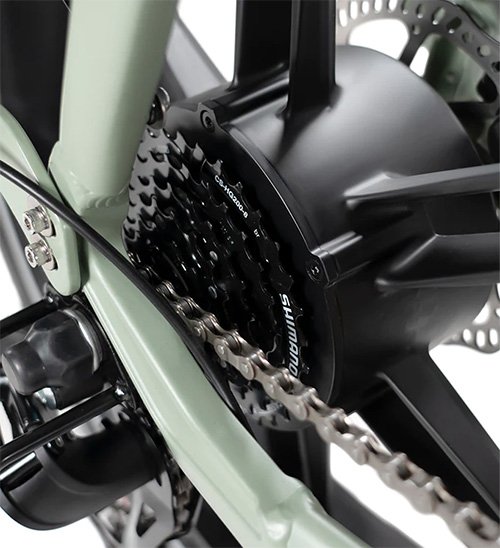 The Quercus boasts multiple speed modes, allowing riders to tailor their experience based on their environment and comfort level. Acceleration is smooth and linear, ensuring that even as you switch between modes, the transition is seamless.
The bike can reach an impressive top speed of 30 MPH. This kind of speed is not just for thrill-seekers but also for those who value efficiency in their commutes. It's worth noting that while the bike can reach these speeds, it always feels stable and under control, thanks to its well-engineered design.
Torque Sensor
One of the standout features of the Rattan Quercus is its integrated torque sensor. This advanced piece of tech measures the force or torque applied to the pedals, adjusting the motor's output accordingly. The result? A riding experience that feels incredibly natural.
Instead of the motor simply providing a constant output, it varies based on your pedaling, mimicking the feel of a traditional bike but with the added boost of electric power. This ensures that riders can maintain a more natural rhythm, making the transition from traditional bikes to e-bikes smoother.
Battery and Range
The Rattan Quercus is powered by a formidable 48V 20Ah Samsung battery, which means the battery has a total capacity of 960Wh. With that amount, the Quercus is clearly designed to be a long-distance runner.
Although this kind of energy capacity is more than the industry average, Rattan has made it possible to install an extra battery on the bike.
Rattan has made some bold claims with the Quercus, highlighting a potential range of up to 100 miles on a single charge provided that 2 batteries are in use. This is an impressive figure by any standard, promising extended adventures and fewer charging interruptions.
During my time with the Rattan Quercus, I was keen to see if it lived up to its lofty range claims. On a full charge, with a mix of terrains and using various speed modes, I managed to clock in just over 90 miles.
While this is slightly shy of the promised 100 miles, it's worth noting that factors like rider weight, terrain, and even weather conditions can impact the actual range.
Nonetheless, achieving 90+ miles in real-world conditions is commendable and places Quercus among the top performers in its category.
Hydraulic Disc Brakes
Since the Rattan bike is quite heavy and fast, it must have a good braking system. The Rattan Quercus doesn't skimp in this department.
It is equipped with hydraulic disc brakes, known for their precision and stopping power. These brakes offer consistent performance, whether you're slowing down for a gentle stop or making a sudden halt in emergencies.
Hydraulic brakes are known for their rapid response time, typically under 0.1 seconds. This ensures that riders can react swiftly to unexpected obstacles, reducing the risk of accidents.
8-Speed Shimano Gearing
The Quercus features an 8-speed Shimano freewheel, offering riders a broad spectrum of gears to choose from.
Shimano is renowned for its seamless gear transitions, and it's evident in the Quercus. Shifting between gears is smooth and effortless, ensuring a consistent and enjoyable ride.
Rattan Quercus Design and Features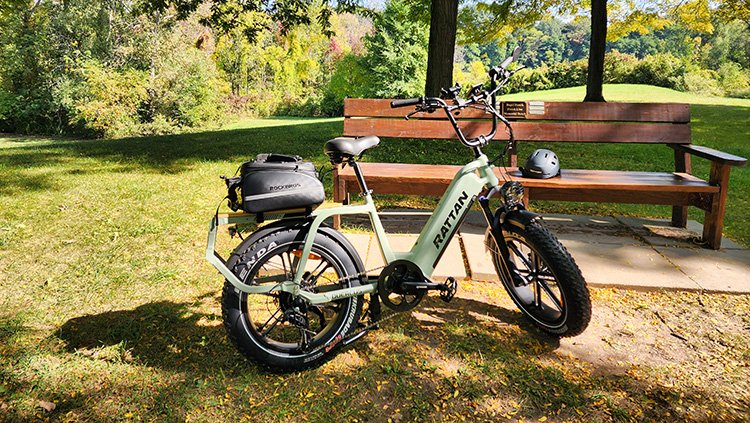 Frame and Geometry
The Quercus boasts a frame constructed from lightweight yet durable aluminum alloy. This ensures the bike is both agile and sturdy, ready to handle the demands of various terrains.
The geometry of the bike is thoughtfully designed, promoting an upright riding position that's comfortable for both short commutes and longer rides. With its adjustable saddle and ergonomic design, it's recommended for individuals between 5'3″ and 6'5″.
During my time with the Quercus, I found the riding position to be particularly ergonomic. The handlebars are positioned at a height that reduces strain on the back and shoulders, while the saddle's placement ensures optimal leg extension.
One aspect of the Rattan Quercus that's immediately noticeable is its weight. While the robust build and dual battery system contribute to its durability and extended range, they also add to the bike's overall heft. This might make it a bit challenging for some riders to maneuver, especially when lifting or transporting the bike. However, once on the move, the weight distribution feels balanced, ensuring stability during rides.
Cargo Capacity
When it comes to utility, the Rattan Quercus shines brightly. Designed not just for commuting but also for carrying, it's built to handle more than just the rider.
One of the standout features of the Quercus is its impressive load-bearing capability. The bike can comfortably withstand a payload of up to 450 pounds (204 kilograms). This weight includes the rider and any additional cargo, making it a formidable choice for those who need to haul goods or even a passenger.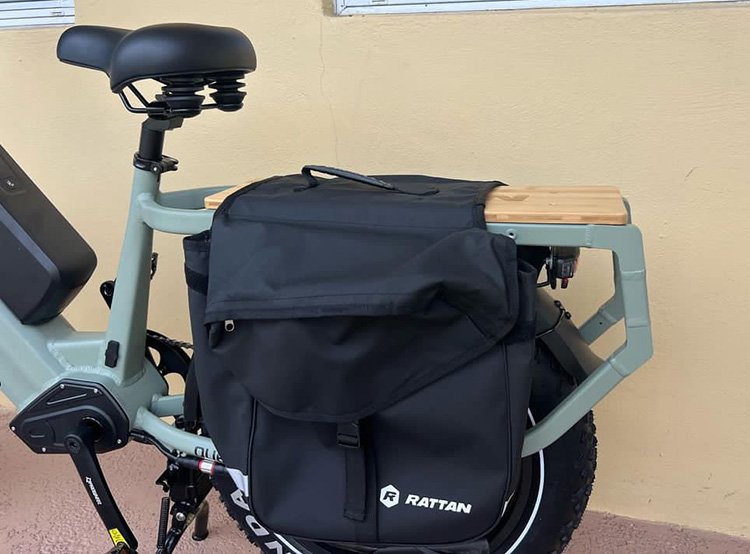 Adding to its utility, the Quercus comes equipped with a beautifully designed wooden cargo rack at the back.
While the bike doesn't come with a front basket as a standard feature, the rear rack is spacious enough to attach panniers, baskets, or other cargo solutions, enhancing its carrying capacity.
LCD Screen
The Quercus is equipped with an LCD display located conveniently on the handlebars. This screen serves as the bike's digital dashboard, providing riders with a wealth of information at a glance.
The display is designed for clarity and ease of reading. Riders can quickly glean essential information such as current speed, battery level, and total mileage. Additionally, it provides insights into the current power mode, allowing riders to adjust their energy consumption based on their needs.
Ride Quality
When it comes to ride quality, hydraulic front suspension makes your journeys much smoother and more comfortable. It has a generous 80mm of travel, which ensures that most bumps and jolts are effectively absorbed.
Complementing the front suspension are the Quercus's fat tires, measuring in at a robust 20" x 4.0". These aren't just for show; they play a pivotal role in cushioning the ride. Fat tires have a larger surface area, allowing for better traction and stability. Moreover, they act as an additional layer of suspension, absorbing minor road imperfections and providing a plush ride feel.
Whether you're on asphalt, gravel, or dirt, these tires ensure consistent ride quality, making every journey feel like a breeze.
Additional Features
Although I have covered almost every detail of the bike, there are some additional features we can't overlook.
Full Fenders: These fenders are designed to effectively shield riders from water, mud, and other debris, ensuring a cleaner and more comfortable ride, especially during wet conditions.
Integrated Lights: The Quercus comes equipped with a high-intensity automatic headlight that boasts a significant brightness output. Additionally, the bike features brake lights and tail lights, further enhancing visibility and ensuring that other road users are aware of your presence and movements.
Bluetooth Connectivity: The bike offers Bluetooth app functionality, allowing riders to connect their smartphones to the bike. This feature opens up a plethora of possibilities, from fine-tuning ride settings to tracking journeys and even mapping out new routes
Optional Free Gift
Purchasing the Rattan Quercus comes with an added bonus—a complimentary gift to enhance your e-biking experience. Here's a brief overview of the three gift options available:
Helmet: Opting for the helmet ensures that you're not only riding in style but also with the utmost safety.
Rear Basket: For those who often find themselves carrying groceries, personal items, or even a picnic basket, the rear basket is an ideal choice. Easily attachable to the Quercus's rear rack, this basket provides ample space for your belongings.
Frame Bag: Designed to fit snugly on Quercus's frame, this bag offers convenient storage for items like wallets, phones, or even a small toolkit.
Whichever gift you choose, it's clear that Rattan goes the extra mile to ensure their riders have the best possible e-biking experience.
Rattan Quercus Review Conclusions
After spending considerable time with the Rattan Quercus, it's evident that this e-bike is more than just a mode of transportation. From its powerful motor and impressive range to its thoughtful design and additional features, the Quercus stands out in a crowded e-bike market.
In essence, while the Rattan Quercus might not cater to extreme sports enthusiasts or those looking for a super lightweight option, it does strike a balance that will appeal to everyday riders seeking reliability, functionality, and a touch of style in their e-biking experience.
Rattan Quercus Specs
General
| | |
| --- | --- |
| Bike Name | Rattan Quercus |
| E-Bike Class | Class 3 |
| Availability | United States |
| Warranty | 1 Year |
Electronics
| | |
| --- | --- |
| Motor Type | Rear-Hub Drive |
| Motor Power | 750W |
| Top Speed | 30 mph |
| Battery | 48V 20Ah (960Wh) Samsung |
| Range | Up to 100 miles (with dual batteries) |
| Display | LCD Color |
Bike Details
| | |
| --- | --- |
| Dimensions | 67.3″ x 48″ |
| Frame Material | Aluminum Alloy |
| Frame Size | One Size |
| Frame Type | Step-Through, Cargo |
| Recommended Rider Height | 5'3″ – 6'5″ |
| Frame Colors | Green, Gray |
| Fork | Hydraulic Front Suspension |
| Rear Suspension | – |
| Gearing | 1×8-Speed Shimano |
| Brakes | Hydraulic Disc |
| Wheel Size | 20″ |
| Tires | 20″ x 4″ KendaFat Tires |
| Weight | 82 lbs |
| Weight Capacity | 450 lbs |