Navigating the vast world of eBikes can be a daunting task, with countless e-bike brands and models rivaling for attention.
But every so often, a brand stands out, capturing the essence of what eBiking should truly be about. Velowave is one such brand that has managed to capture this spirit, offering riders an unparalleled experience.
After immersing myself in extensive research, watching in-depth reviews, and analyzing user feedback, I've compiled a comprehensive guide to introduce you to the world of Velowave.
By the end of this article, you'll have a clear understanding of what makes Velowave eBikes a top contender in the market. So, whether you're a seasoned cyclist or a curious newcomer, let's dive in and uncover the magic of Velowave together.
Electric Wheelers is reader-supported. Although we independently research and test products, we may receive a commission on purchases made from our chosen links. Read more…
Velowave Overview
Velowave is a committed company that has been in the cycling industry for several years and is committed to producing reliable, high-quality e-bikes for families across the globe.
The company is driven by a sense of family and care for the environment, so it created a dependable and fun solution for commuters.
Velowave works together with One Tree Planted.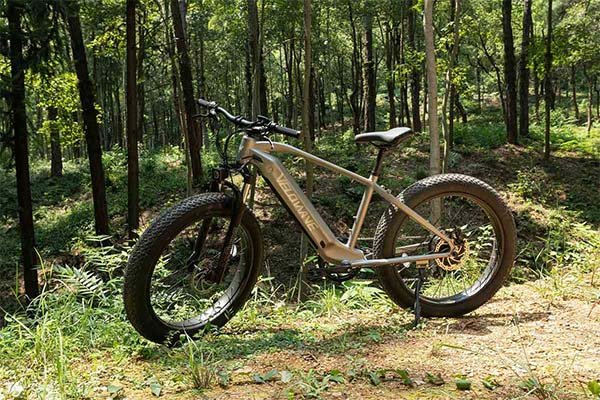 Where are Velowave Electric Bikes Made?
Velowave designs and manufactures its ebikes in Hong Kong, China. The bikes are smart, trendy, and designed for families and bike enthusiasts eager to enjoy the outdoors and appreciate nature while riding electric bikes. The company has dedicated research and design teams invested in creating amazing products.
The company has experienced engineers who have worked with the biggest brands in the industry. The engineers have the experience and skills required to create modern, stylish, and technologically advanced products that customers can rely on.
To Whom are Velowave E-Bikes Made?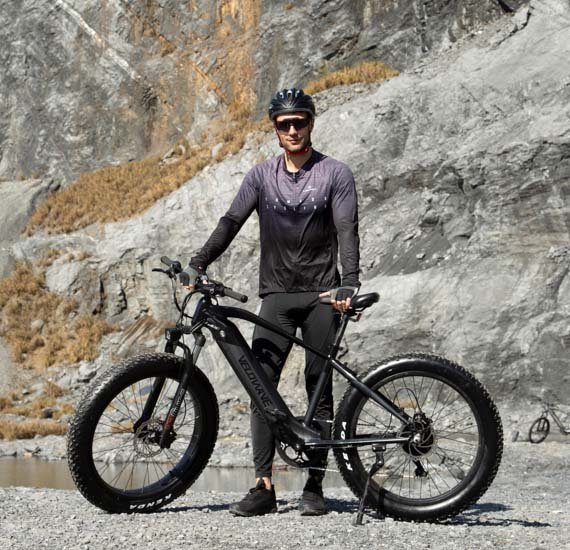 From my observations and research, it's clear that Velowave caters to those who value quality, performance, and style.
Whether you're a seasoned cyclist looking for an electric boost or someone just venturing into the eBike realm, Velowave seems to have crafted their bikes with you in mind.
Their range is diverse, ensuring there's a perfect fit for every kind of rider out there. And trust me, once you experience the Velowave difference, your rides will never be the same again.
Check Velowave E-Bikes in Their Shop
Velowave E-Bike Selection
Choosing a Velowave e-bike depends on various factors. For instance, you can choose Spirit Road if you plan on using the bike for your daily commute or the Ghost Mountain if you plan on going on fun weekends in the mountains.
Let's take a closer look at each Velowave electric bike!
Velowave Ranger Fat Tire Electric Bike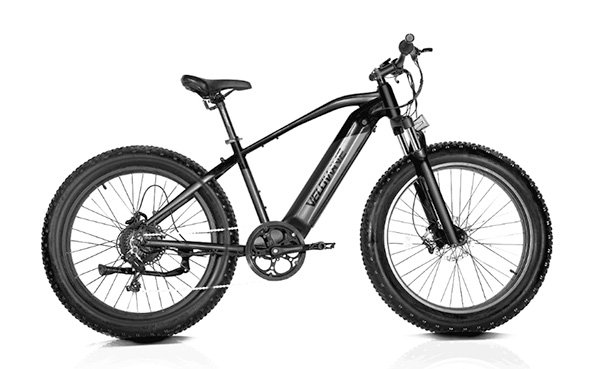 The Ranger is a flagship model of Velowave. It is designed for adults and young adult cycling enthusiasts. While it's a hefty bike, weighing in at 74.6lb, its design caters to riders between 5'6" and 6'2".
With its robust 16Ah battery, I was genuinely impressed by its extended range and longevity. Whether I was cruising on pavement or venturing onto gravel and dirt, the Ranger's versatility shone through.
Its independent throttle offers smooth acceleration, and reaching a top speed of 28mph on flat terrains felt exhilarating.
Velowave Ranger fat tire e-bike has a 40-mile range and the charging time is about 8 to 9 hours. That's quite an average charging time compared to other e-bikes.
Additionally, the bike has a front suspension, which makes the ride quality much better. Thanks to the disc-hydraulic brakes, the Ranger has very effective stopping power.
Related: Velowave Ranger Full Review
Pros
Extended range and battery life.
You can use it on terrain like firm sand, mud, snow, dirt, etc.
Provides modulated acceleration
Good value for its price
Effective stopping power
Cons
Not efficient for tackling steep hills
Heavy
Tires are easily punctured
Velowave Prado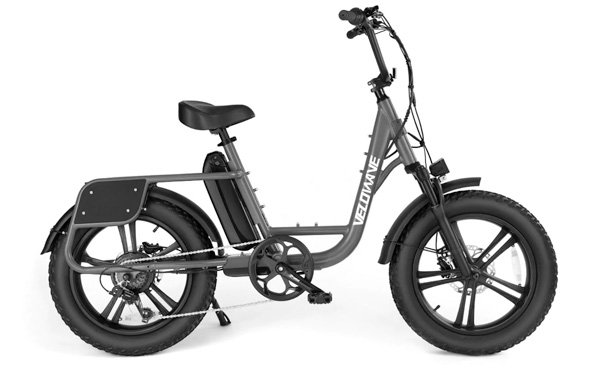 The Velowave Prado E-Bike is a commuter's dream. Designed specifically for city riders, its sweeping handlebars ensure a comfortable wrist position, promoting an upright posture that's perfect for urban commuting.
I was particularly impressed with the 750W BAFANG Geared Hub Motor, which effortlessly tackled inclines and ensured smooth cruising. The fender design is a thoughtful touch, ensuring you remain clean regardless of the terrain.
Riding on rough patches? The front hydraulic suspension fork absorbs those jolts, ensuring a stable and comfortable ride. The widened cushion seat is a testament to Velowave's attention to comfort.
Safety is paramount with the hydraulic disc brake system, offering reliable stopping power. The 48V 15AH LG Battery promises a range of 25-40+ miles, and with the Shimano 7-speed drivetrain, gear shifts are seamless.
Pros
Comfortable thumb throttle
Multi-functional color display
Light aluminum frame
High-luminance headlamp
Smooth 7-speed drivetrain
Front hydraulic suspension
Cons
Weight: At 35kg, it's on the heavier side for e-bikes.
Limited Display: While clear, the display is basic in terms of features.
Velowave Ghost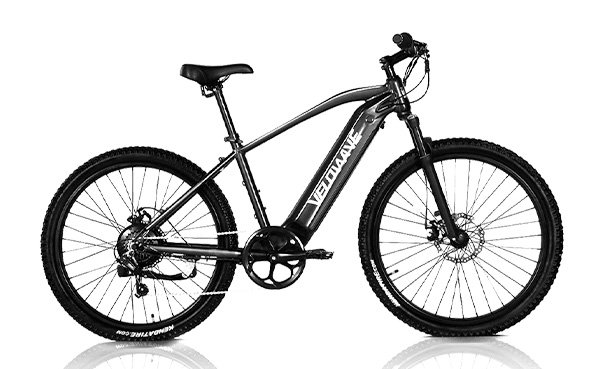 The Velowave Ghost is an e-bike that has garnered attention for its rapid acceleration and impressive value for its price point. Suitable for riders ranging from 5'4" to 6'2" and accommodating up to 280lb, the Ghost is versatile in its user base.
One of the first things I noticed was its sleek design, with internal cabling and a concealed battery giving it a refined look. The unbranded suspension fork received commendations for its performance and adjustability, ensuring a smooth ride on various terrains.
Comfort is a standout feature, with many riders praising the saddle. The 500W motor provides a top speed of 25 mph and the 720 Wh battery can take you as far as 40 miles.
While the mechanical brakes might require some adjustments, the overall feedback suggests that the Ghost is a reliable choice for moderate trails and dirt roads.
Pros
The e-bike has rapid acceleration.
Provides good value for money
Has a good battery life
Reliable suspension
Good range
Simple and quick assembly
Cons
No lights
Some owners felt the bike had low handlebars
Brakes could provide better stopping power
Poor handling when riding downhill
Velowave Rover Step Thru E-Bike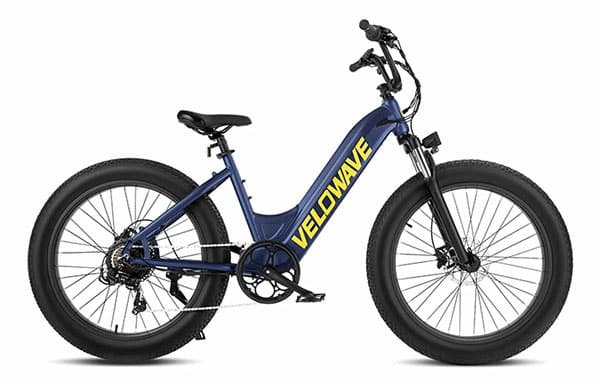 At some point in 2022, Velowave started to launch many new electric bikes with step-through frames. Velowave Rover was the first one.
The Velowave Rover is a harmonious blend of style and power, designed for those who seek both aesthetics and performance in their e-bike.
It comes with a 750W Bafang motor that is capable to speed up the bike to 28 mph. Like most other Velowave bikes, the Rover also has 4-inch fat tires and a hydraulic front suspension for comfortable rides.
It has a decent 720 Wh LG battery, which can provide a solid range (50 miles by pedaling and 30 miles with throttle).
Pros
Powerful motor
Removable battery
Hydraulic suspension
26″ Fat tires
Color display
Optional fenders and rack available
Cons
No fenders for the base price
Velowave Grace Step Thru E-Bike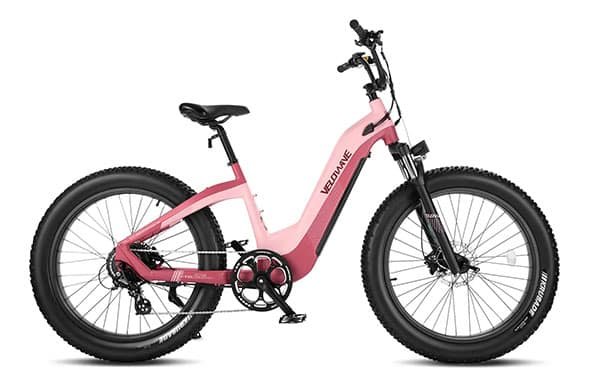 The Grace is another step-through e-bike in Velowave's selection. It's the newest bike Velowave has launched.
The bike is also capable of reaching a top speed of 28 mph. It has the same 750W Bafang motor as other Velowave bikes.
However, Velowave Grace has a bit better battery (48V 20Ah). The 960 Wh battery with LG cells can power the bike for 60 miles in pedal-assistance mode. While using only the throttle, the mileage is about 40 miles.
Unlike other Velowave bikes, the Grace has a torque sensor instead of a cadence sensor. It provides a more natural feel because thanks to the sensor, the motor assists you according to how hard you crank.
Pros
Lots of colors available
Removable battery
Torque sensor
26″ tires
Cons
Velowave Pony Step Thru E-Bike
Next to Velowave Grace, Velowave Pony is also one of the newest e-bikes in their selection.
The Pony has many similarities with one of the previous models, the Prado. They both have a step-through frame design and both bikes have small 20-inch wheels.
While most other Velowave bikes have fenders as an optional accessory, the Pony has fenders included in the base price.
Additionally, Velowave Pony has everything a solid e-bike must have – a powerful motor (750W), sufficient range (40 miles), great hydraulic brakes, and a comfortable suspension system.
Pros
Fenders included
Hydraulic disc brakes
Easy to hop on and off
Good maneuverability
Cons
Comes with a higher price point than other Velowave bikes.
Velowave Spirit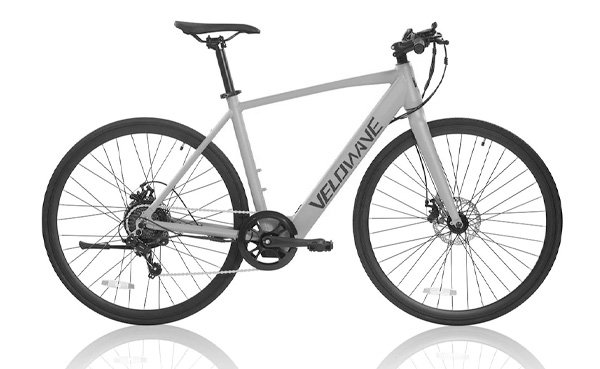 The Velowave Spirit is a modern e-bike that beautifully marries aesthetics with functionality. Its sleek frame, concealed battery, and internal cabling give it a streamlined look that's sure to turn heads.
Powered by a 230 Wh Samsung battery, the Spirit promises a commendable range of up to 30 miles, making it ideal for daily commutes or short leisure rides. The charging time is just 3 hours.
The e-bike has a 250W rear hub motor, which produces 45 Nm of torque. The motor provides assistance of up to 15 mph.
The frame of the bike is made from aluminum and it weighs 37.5 pounds. Mechanical disc brakes provide enough stopping power.
The e-bike is designed for daily commuters in the city because of the light frame and smaller tires. It's light enough to be carried to an apartment for storage.
Pros
Internal cabling and a sleek design
Hidden battery
Short assembly time
Highly portable
Operates quietly
Cons
No throttle
Available in one size only
Its motor creates considerable drag when cycling without the assistance
Conclusion – Are Velowave Bikes Worth It?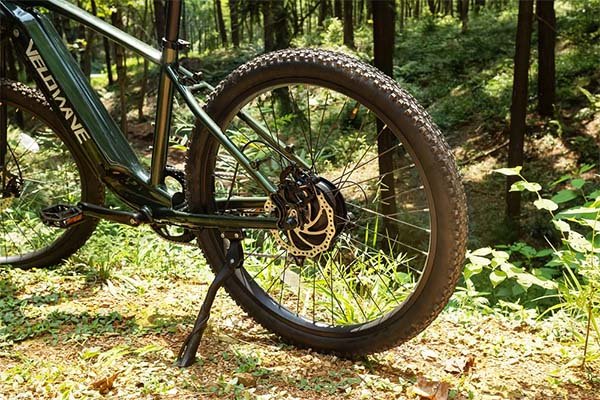 As we've delved deep into the intricacies of each Velowave model, it's evident that the brand prioritizes both form and function, ensuring riders not only travel in style but also with efficiency and comfort.
While no e-bike is without its quirks, the overall value and performance that Velowave brings to the table are undeniable.
From the rugged Ranger to the sleek Spirit, Velowave offers a diverse range of e-bikes tailored to various needs and preferences. Each model boasts its unique strengths, ensuring there's a perfect match for every rider out there.
I hope this comprehensive overview has shed light on the wonders of Velowave's offerings.