The "Ride1Up Prodigy V2 review" is what you've stumbled upon today, and it's no ordinary piece. This article dives deep into the features, pros, and cons of the Prodigy V2, an e-bike that's been making waves in the cycling community.
However, instead of just listing specifications, we'll explore real-life experiences and insights. But why trust our word?
Because by the end of this read, you'll have a comprehensive understanding, allowing you to make an informed decision. So, if you're contemplating whether this bike is worth the investment, stay with us. You won't be disappointed.
Electric Wheelers is reader-supported. Although we independently research and test products, we may receive a commission on purchases made from our chosen links. Read more…
Ride1UP Prodigy V2 Overview
Motor: 250W | Top Speed: 28 mph | Max Payload: 300 lbs | Battery: 504Wh | Max Range: 50 miles
The Ride1Up Prodigy V2 is not just a sequel, but a refined evolution of its predecessor. As the second version of this renowned model, it boasts versatility that caters to a wider range of cycling enthusiasts.
While it retains the high-end mid-drive motor that made the first version a hit, the Prodigy V2 steps up the game with its transmission offerings. Unlike the first version, which solely featured derailleur gearing, the Prodigy V2 introduces an option for internal Enviolo gearing coupled with a belt drive.
Although we'll delve deeper into these configurations in the subsequent sections, it's clear from the outset: the Prodigy V2 is designed for both performance and choice.
Model names for Prodigy V2:
ST: Step-through frame with derailleur gearing
XR: Step-over frame with derailleur gearing
LS: Step-through frame with CVT gearing
LX: Step-over frame with CVT gearing
Ride1UP Prodigy V2 Pros and Cons
Pros:
Versatile Gearing Options: Riders can choose between the traditional 9-speed Shimano Alivio derailleur system or the modern Enviolo CVT, catering to both conventional and contemporary preferences.
High-End Mid-Drive Motor: Ensures powerful acceleration, multiple speed modes, and a top-notch riding experience.
Two Frame Types: Both step-through and step-over frames are available, accommodating a range of rider preferences and needs.
Front Air Suspension: An upgrade from the V1's rigid frame, offering enhanced comfort on varied terrains.
Comprehensive Features: Hydraulic disc brakes, removable built-in battery with a commendable range, and additional features like full-length fenders and an intuitive display.
Cons:
Price Point for Enviolo CVT: The sophisticated Enviolo internal gearing comes with a $300 premium, which might be a consideration for budget-conscious riders.
Weight: With all its features and the built-in battery, the bike might be on the heavier side for some users.
Ride1UP Prodigy V2 Performance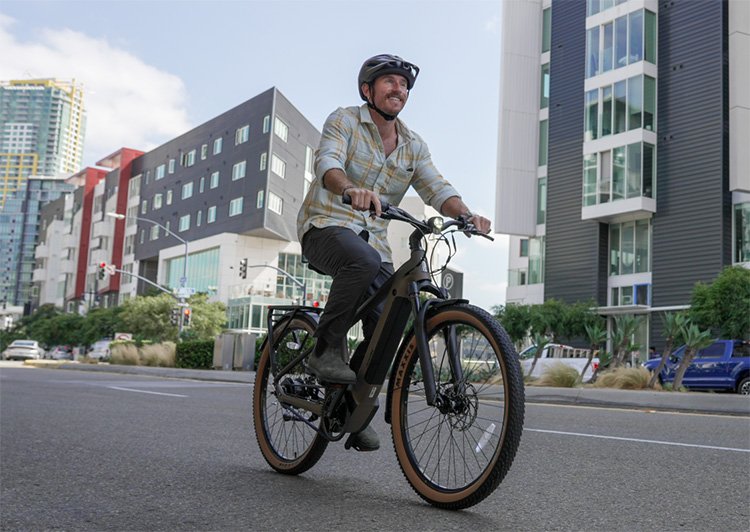 Brose Mid-Drive Motor
At the core of the Ride1Up Prodigy V2 lies its 250W high-end Brose mid-drive motor, a powerhouse designed for both efficiency and performance.
This motor doesn't just offer raw power; it's meticulously calibrated to provide smooth acceleration, ensuring riders experience a seamless transition from a standstill to their desired speed.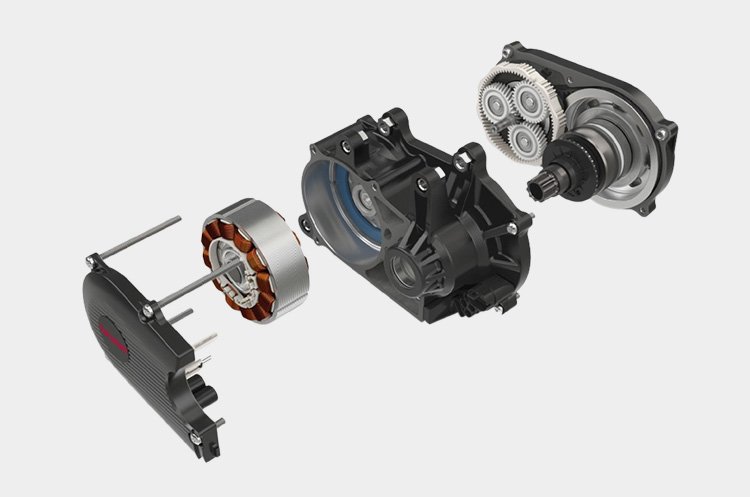 Speaking of speed, the Prodigy V2 boasts multiple speed modes, allowing cyclists to tailor their ride according to the terrain or their mood. Whether it's a leisurely cruise or a spirited sprint, this bike has got you covered.
Here is the breakdown of what speed we managed to get with different speed modes of Prodigy V2:
No PAS: 12 mph
Eco: 14 mph
Tour: 18 mph
Sport: 22 mph
Boost: 25 mph
In terms of motor classification, the Prodigy V2 is a class 3 e-bike.
But what truly sets this motor apart is its responsiveness. It intuitively adjusts to the rider's pedaling, offering just the right amount of assistance when needed.
Prodigy V2 Hill Climbing Ability
The Ride1Up Prodigy V2 boasts an exceptional hill-climbing ability, setting it apart from many e-bikes in its class.
Engineered with a robust mid-drive motor, the Prodigy V2 effortlessly conquers inclines. The torque it delivers ensures that riders can confidently tackle steep ascents without feeling the strain. This feature is a boon for those residing in hilly regions or for enthusiasts seeking challenging terrains.
Beyond just the motor, the bike's design and weight distribution play a pivotal role in its uphill performance, offering riders stability and control even on sharp inclines. Many have remarked that the Prodigy V2's hill-climbing capability has transformed uphill rides from strenuous endeavors to exhilarating experiences.
Removable Built-In Battery
The Ride1Up Prodigy V2 is equipped with a robust removable battery, designed to cater to the needs of avid e-bikers.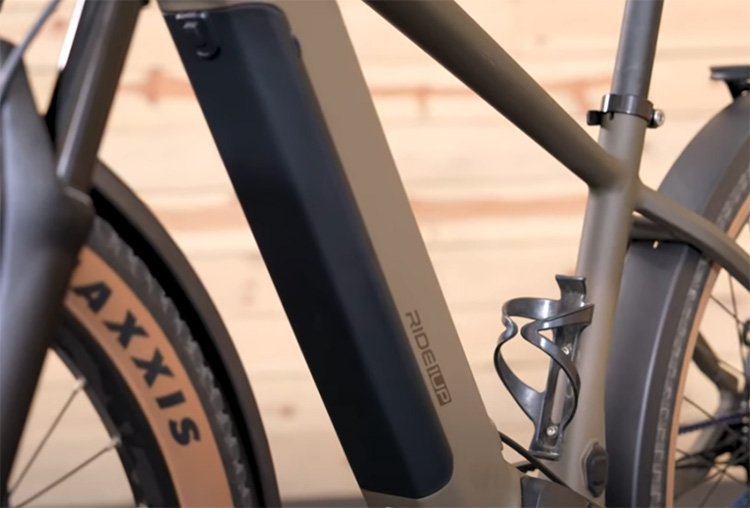 With a capacity of 504 watt-hours, this battery is built to last. On a full charge, riders can expect to achieve a mileage of up to 50 miles, depending on riding conditions and pedal-assist mode.
This impressive range is a testament to the battery's efficiency and the bike's overall energy management.
The convenience of being able to remove and charge the battery separately means riders can easily prepare for their next adventure.
Tektro Hydraulic Disc Brakes
Ride1UP Prodigy V2 features quality Tektro Orion hydraulic disc brakes. These are 4-piston brakes with 180mm rotors. It's worth mentioning that this brake configuration is one of the most high-end options from Tektro.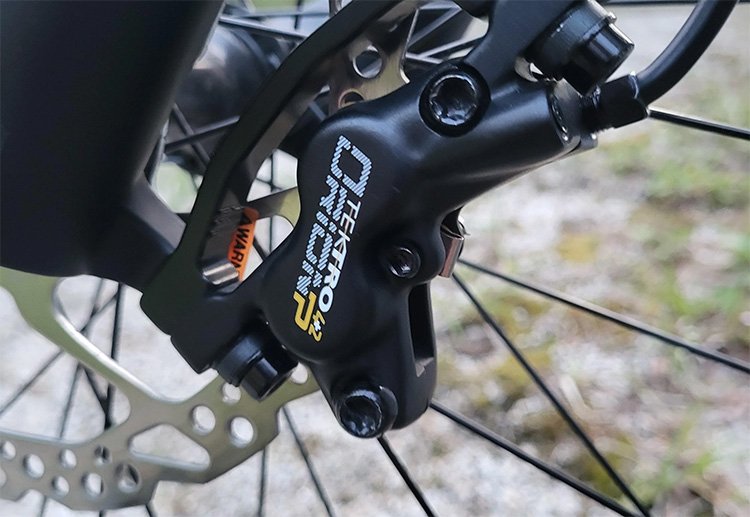 These brakes are renowned for their superior stopping power, especially in wet and challenging conditions. Unlike traditional mechanical brakes, hydraulic disc brakes use fluid to transfer force from the lever to the brake pads, resulting in a more consistent and responsive braking experience. This means that riders can have confidence in their ability to stop quickly and safely, even when descending steep hills or navigating through busy urban environments.
When we tested the stopping distance of the bike, we accelerated up to a 20 mph speed and tried to stop as quickly as possible. The stopping distance was 22 feet, which is better than most other e-bikes.
Choose Between Internal or Derailleur Gearing
The Ride1Up Prodigy V2 offers riders a choice when it comes to its gearing system, catering to both traditionalists and those seeking the latest in cycling technology.
On one hand, there's the 9-speed Shimano Alivio derailleur system, a tried-and-true option that many cyclists are familiar with. It provides a reliable and straightforward shifting experience, making it an excellent choice for those who prefer a more conventional approach to cycling.
However, for those willing to invest an additional $300, the Prodigy V2 offers the Enviolo Continuous Variable Transmission (CVT). This internal gearing system is a marvel of modern engineering, providing a seamless and smooth shifting experience.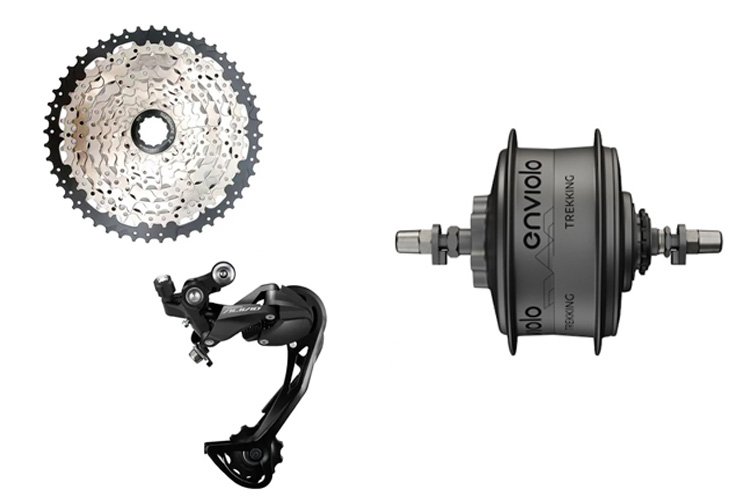 Unlike traditional gear systems with set ratios, the Enviolo CVT allows riders to adjust their gear ratio continuously, finding the perfect setting for any terrain or riding condition. This results in a more intuitive and efficient ride, especially when navigating unpredictable terrains or cityscapes.
Additionally, if you opt for the Enviolo CVT internal gearing, the bike comes with a belt instead of a chain. The belt is almost maintenance-free.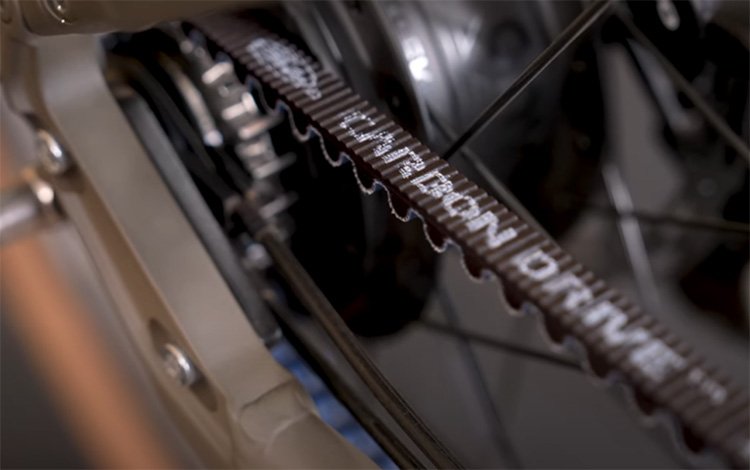 In essence, both options have their merits. The 9-speed Shimano Alivio is dependable and familiar, while the Enviolo CVT brings a touch of modern sophistication to the table. The choice ultimately boils down to personal preference and budget, but either way, riders are in for a top-notch cycling experience.
Ride1UP Prodigy V2 Design and Features

Step-Through vs. Step-Over Frame Type
The Ride1Up Prodigy V2 offers riders a choice between two distinct frame types: the step-through and the step-over. Each frame type caters to different rider preferences and needs, ensuring a tailored biking experience.
The step-through frame is characterized by its low-slung top tube, allowing riders to easily mount and dismount the bike without having to swing their leg over a high bar. This design is especially beneficial for those who prioritize ease of access, such as older riders or those wearing skirts or dresses.
On the other hand, the step-over frame features a more traditional design with a higher top tube. This style is often preferred by riders who seek a sportier look and feel.
The frame of Prodigy V2 is crafted from the robust 6061 aluminum alloy, guaranteeing longevity and resilience.
Both frame types prioritize an upright and relaxed ride position, ensuring minimal strain on the back and shoulders. The choice between step-through and step-over ultimately boils down to personal preference and intended use.
Front Air Suspension Fork
The Ride1Up Prodigy V2 marks a significant upgrade in terms of suspension when compared to its predecessor. While the V1 predominantly featured a rigid frame (with the exception of the XC version), the V2 introduces front air suspensions, a welcome enhancement for many riders.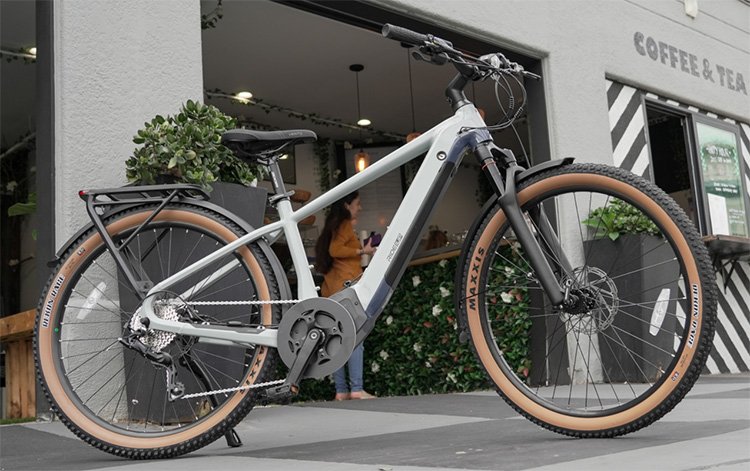 This new addition ensures that the bike can effortlessly tackle a myriad of terrains, absorbing shocks from uneven paths, whether they're rugged trails or urban potholes.
The front air suspension not only offers a smoother ride but also comes with a preload adjustment feature. This allows riders to customize the fork's responsiveness to their weight and preferred riding style.
27.5-Inch Maxxis Tires
The Ride1Up Prodigy V2 is equipped with wheels that measure a versatile 27.5 inches in size, striking a balance between agility and stability. These wheels are wrapped in high-traction tires that are 2.25 inches in width, offering a plush ride and excellent grip on a variety of terrains.
The tires are from a reputable brand (Maxxis Rekon Race), ensuring durability and performance. Whether you're cruising through city streets or tackling rough trails, the combination of these wheel dimensions and tire specifications ensures a responsive and comfortable journey.
Front and Rear Lights
The Ride1Up Prodigy V2 ensures riders are not left in the dark, thanks to its integrated lighting system. The e-bike comes with a powerful front LED light that illuminates the path ahead, making nighttime rides safer and more enjoyable.
Additionally, the rear light enhances visibility, alerting motorists and other road users of the rider's presence. These lights are not just for visibility; they are designed to withstand the rigors of daily use.
Additional Features
Beyond its core components, the Ride1Up Prodigy V2 boasts a range of additional features that enhance the overall riding experience.
First, the bike comes equipped with full-length fenders, ensuring riders remain clean and dry even when navigating wet or muddy terrains.
The onboard display is another noteworthy addition, providing riders with real-time data such as speed, battery level, and distance traveled. This intuitive interface allows for easy toggling between different assist modes and monitoring of the e-bike's performance.
Coupled with other subtle refinements like a sturdy kickstand and ergonomic grips, the Prodigy V2 ensures every ride is as comfortable as it is exhilarating.
Ride1UP Prodigy V2 Review Conclusions
The Ride1Up Prodigy V2 stands out as a remarkable e-bike, offering a blend of advanced features and top-tier performance.
Its high-end mid-drive motor ensures swift acceleration and impressive speeds, while the choice between traditional Shimano Alivio gearing and the modern Enviolo CVT caters to both traditionalists and those seeking the latest in cycling innovation.
The bike's dual frame options, step-through and step-over, accommodate a variety of riders, and its front air suspension guarantees a smooth ride on diverse terrains.
With the added benefits of hydraulic disc brakes, a removable built-in battery boasting an impressive range, and thoughtful additions like full-length fenders and a comprehensive display, the Prodigy V2 truly sets a new standard in the e-bike market.
Ride1UP Prodigy V2 Specs
General
| | |
| --- | --- |
| Bike Name | Ride1UP Prodigy |
| E-Bike Class | Class 3 |
| Availability | United States |
| Warranty | 12 Months |
Electronics
| | |
| --- | --- |
| Motor Type | Mid-Drive |
| Motor Power | 250W |
| Top Speed | 28 mph |
| Battery | 36V 14Ah (504Wh) |
| Range | Up to 50 miles |
| Display | LCD |
Bike Details
| | |
| --- | --- |
| Dimensions | 72.4″ x 41.7″ |
| Frame Material | Aluminum Alloy |
| Frame Size | One Size |
| Frame Type | City, Commuter |
| Recommended Rider Height | 5'1″ – 6'4″ |
| Frame Colors | Black, Gray, Bronze |
| Fork | Front Air Suspension |
| Rear Suspension | – |
| Gearing | 1×7 Shimano Alivio / Enviolo CVT Internal |
| Brakes | Front and Rear Hydraulic Disc |
| Wheel Size | 27.5″ |
| Tires | 27.5″ x 2.25″ Maxxis Rekon Race |
| Weight | 58 lbs (ST/XR); 61 lbs (LS/LX) |
| Weight Capacity | 300 lbs |