Electric Wheelers is reader-supported. Although we independently research and test products, we may receive a commission on purchases made from our chosen links. Read more…
Whether it's about looking for an eco-conscious mode of travel even for long distances or getting an affordable deal – more and more teenagers and adults are turning to electric scooters today.
And if the design is equipped with a comfortable seat that appeals to kids and adults alike, there's surely nothing better!
With the growing demand for electric scooters with seats, manufacturers are coming up with amazingly versatile and stylish designs, while keeping the scooters equally efficient in terms of power and performance.
If you are looking for a great ride with comfy seating, here's a list of the best electric scooters with seats that are going to delight you.
Top Electric Scooters with a Seat for Adults
Razor EcoSmart Metro
Toxozers Citycoco
Hiboy S2 + Seat
Mercane WideWheel PRO + Seat
Fiido Q1
Inokim Quick 3 + Seat
Emove Cruiser + Seat
TopMate ES31
Nanrobot D6 + Seat
---
1. Razor EcoSmart Metro
One of the best electric scooter with a seat and a trunk
Topping the list, the Razor EcoSmart Metro remains the best choice for an electric scooter with a seat as well as a trunk.
With countless positive reviews, the scooter has gained immense popularity with its trademark seat and basket that makes it stand out. The fact that the basket and seat are super easy to assemble doesn't make the scooter require any special custom accessories.
Comfortable and safe, the scooter doesn't cost a lot of money and is in fact, the most feature-rich scooter in its price range. It comes with a top speed of 18 mph, and a ride range of 12 miles.
It can withstand a weight limit of 220 lbs, while the in-built basket can carry up to 26 lbs. Undoubtedly, it's a wonderful purchase.
---
2. Toxozers Citycoco
Very fancy electric sit-down scooter for adults
The mere first look of the TOXOZERS electric scooter is enough to describe its strength and the fact that it suits every rider irrespective of their weight, height, and desired ride speed makes it even more amazing.
The scooter comes with premium 60V batteries taking around 6 hours to fully charge while delivering an uninterrupted ride of up to 23 miles.
Considering that you charge the e-bike by a 1,000W rear hub motor, the TOXOZERS is capable of reaching a top speed of 25 mph. Plus, the versatility of the scooter makes it apt and appropriate for every terrain you can think of driving on.
A beautiful design equipped with a comfortable seat and the fat tires make it a perfect buy.
---
3. Hiboy S2 + Seat
2-wheel electric scooter with seat
Check Price from Hiboy | Check Price from Amazon
Offering some high-end features in a budget-friendly deal, the Hiboy S2 pairs via Bluetooth with a dedicated app to let the rider customize the speed, brake response, and cruise control as well as to lock the e-bike using a smartphone.
The ergonomic seat is the highlight of the scooter that makes it a truly pleasurable ride, no matter the distance.
Charging the lithium battery fully will let you take rides of about 15 miles, while the dual rear shock absorbers, lateral LED lights, and a front headlight add to its safety even better. Although the height of the handlebar is not adjustable, the great features make it a perfect purchase for one and all.
---
4. Mercane WideWheel PRO + Seat
Fast electric scooter with seat
As the name suggests, the WideWheel Pro comes with noticeably wide wheels which provide a smooth and steady ride. The comfortable custom-made seat and the ultra-wide airless tires make you feel no less than flying and allow driving on all terrains. Not to forget, the seat can also be removed if desired.
The scooter is foldable and thereby, amazingly easy to carry along. It delivers a max speed of 26 mph and is very lightweight in terms of its construction. With a great riding range, a weight capacity of 220 lbs, and extraordinary comfort, the WideWheel Pro has got everything you need in an electric scooter.
Where to get a WideWheel Pro seat?
---
5. Fiido Q1
Great electric scooter for adults with seat
Marked by a very comfortable seat accompanied by another seat for a child, the FIIDO Q1 is one of those few e-bikes out there perfect for more than one person. While the child seat is optional, most parents find it a wonderful feature, especially when it comes with a basket above the rear wheel.
Whether it's the features or the wonderful performance – this electric sit-down scooter delivers some incredible results every single time. It reaches a top speed of 16 mph while offering a ride range of 22 miles and a very efficient climb angle of 10 degrees.
The FIIDO Q1 is a foldable scooter characterized by 12-inch pneumatic tires as well as front and rear brakes.
---
6. Inokim Quick 3 + Seat
Best foldable electric scooter with seat
The INOKIM Quick 3 features custom-designed seats crafted by FluidFreeRide to ensure a perfect fit, while the scooter is available in various attractive colors. It goes up to 25 miles while making sure that you are visible in the dark with its bright front and rear LED lights.
It's an award-winning electric scooter for its premium design and innovative features, known to serve the rider for years. It offers a max speed of 19 mph and a weight capacity of 265 lbs. The Front V-Break and rear disc brake make it amazingly stable and safe.
---
7. Emove Cruiser + Seat
Best long-range electric scooter with a seat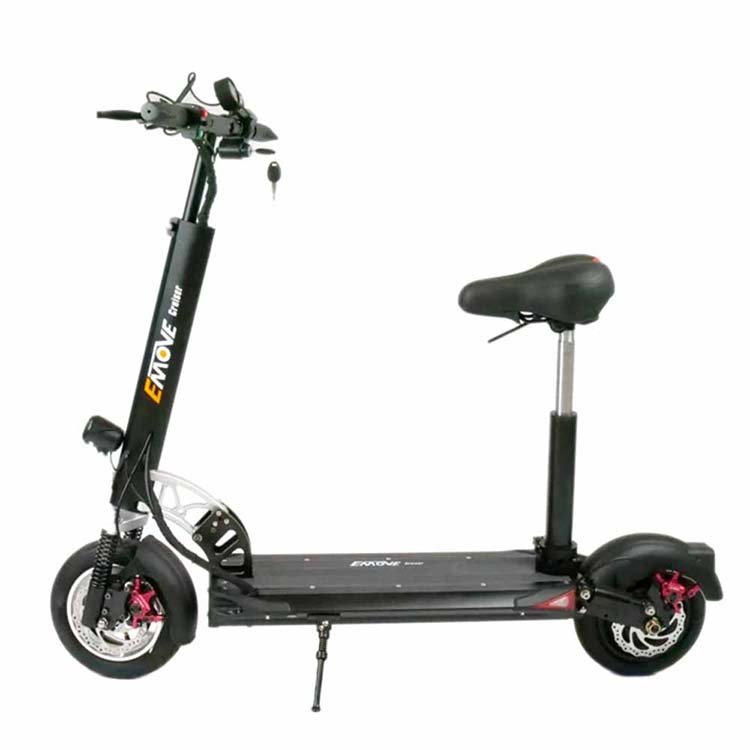 Crafted for long trips, the EMOVE Cruiser runs for 9-12 hours on a single charge, while providing 62 miles of range with an incredible 52V 30Ah LG battery.
It comes with an anti-theft key while being amazingly durable with a 10-inch deck, front dual suspension, and rear air shock suspension. It's also water-resistant and reaches a top speed of 25 MPH with its 600W brush-less DC motor.
Related: EMOVE Cruiser Full Review
It features a super comfortable padded seat with a base plate, a locking mechanism, and an extended hydraulic tube. Other must-mentions include a front headlight, front, and rear hybrid hydraulic brakes, front deck sidelights, and rear brake lights.
---
8. TopMate ES31
Best 3-wheel electric scooter with seat for adults
TopMate ES31, a 3 wheeled electric scooter, is very portable. You can easily carry this in the trunk of your car and take it out whenever you want to drive on a sidewalk or in the park.
Although TopMate is very lightweight, it has notably good carrying capacity. It can hold an impressive 220 lbs. This scooter is so strong because it is made from the same aluminum as airplanes.
TopMate ES 31 is meant for short commutes. The range from a single charge is about 18 miles. It has 3 pneumatic tires that can absorb well the vibrations and therefore are suitable for different types of terrains.
---
9. Nanrobot D6 + Seat
Best off-road electric scooter with a seat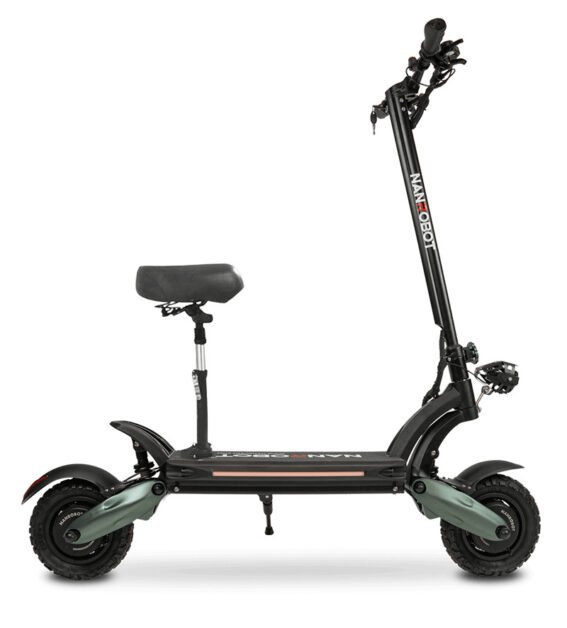 The amazingly powerful Nanrobot D6+ has got a huge set of 2 x 1,000W motors, thereby suitable only for trained riders. Apart from that, it has got a larger 1,352-watt-hour battery pack and a very efficient, fully-hydraulic brake system.
The comfortable seat is a notable feature of the scooter, while the top speed of 40 mph and a range of 45 miles make the rides a great experience. The large pneumatic tubeless tires take the credit for making the Nanrobot D6 perfect for different terrains.
Where to get Nanrobot D6 Seat?
---
Top Electric Scooters with a Seat for Kids
Razor E300S
Razor E200S
Razor Pocket Mod
---
1. Razor E300S
One of the best kids' Razor electric scooter with a seat
Coming with a weight capacity of up to 220 pounds, the Razor E300S is a high torque scooter powered by a sealed battery system of 24V.
It comes with a 250W chain-driver motor that makes it a good choice for e-bike lovers. Thanks to a cushion-shaped seat, large pneumatic tires, and a wide deck – the scooter is super easy and comfortable to ride.
However, it takes 12 hours to recharge, while getting a full recharge in 24 hours. Once charged, you get a continuous run time of 40 minutes and a top speed of 15 mph. Of course, less aggressive and more conservative driving will also increase the ride time.
---
2. Razor E200S
Perfect kids' e-scooter with seat
Featuring an all-steel frame and fork, this Razor electric scooter with a comfy seat comes with the sturdiness that all riders trust. The seat is perfect for teens and can also be conveniently removed for a stand-up ride.
Some other notable features are the scooter's pneumatic tires, the hand-operated rear brakes, and an amazing twist-grip throttle that allows for good variable control as most other Razor e-bike models. The Razor E200S is perfect for those who are on a budget and looking for a wonderful seated ride.
---
3. Razor Pocket Mod
Very popular sit-down scooter
The Razor Pocket is a truly beautiful Euro-style electric scooter with a seat equipped with a whole range of features that make every ride fun-filled.
Whether it's a stylish construction, a super comfortable seat, or great top speeds – the Razor Pocket has got it all. The solid range of the scooter allows you to travel longer distances at high speeds. It is perfect for riders 13 years of age and above, easily carrying up to 170 pounds.
What makes it stand out is a padded seat, an easy-to-work hand-operated brake system, and a twist-grip throttle control that lets you change speeds with great convenience.
The chain-driven high-torque motor of the Razor Pocket allows you to get to a top speed of 15 mph, while the e-bike's battery easily lasts for up to 40 minutes of uninterrupted use. The other must-mention feature loved by the riders is the storage space hidden right under the seat.
---
Conclusion
Each of the aforesaid electric scooters has got numerous features while keeping in mind the extra element of comfort for the rider.
Another amazing thing about each of them is that these electric scooters with seats don't call for lots of parking space, just a simple sidewalk is enough to get it all done – even better if you get yourself a folding one. Happy riding!