Ah, the joy of zipping through the streets on an electric scooter! But what if you could do it with the added comfort of a seat?
Over the years, I've tried and tested numerous electric scooters, and I've found that having a seat can make a world of difference.
In this blog post, I'll share my personal experiences and insights on the best electric scooters with seats. Whether you're commuting, running errands, or just out for a leisurely ride, there's a perfect seated scooter waiting for you. Let's dive in!
Electric Wheelers is reader-supported. Although we independently research and test products, we may receive a commission on purchases made from our chosen links. Read more…
Should I Get a Scooter with a Seat?
You might wonder, "Is a seated scooter right for me?" Well, let me break it down based on my own experiences.
Comfort: If you're someone who values comfort, a seated scooter is a game-changer. Long rides can strain your legs and back. With a seat, you can relax and enjoy the journey.
Commuting: For daily commuters, standing for extended periods can be tiring. A seat offers a reprieve, especially during traffic or long routes.
Health Reasons: Some folks have health concerns that make standing for long durations challenging. A seated scooter provides an alternative, ensuring mobility without discomfort.
Versatility: Seated scooters often come with a detachable seat. So, you get the best of both worlds. Stand when you feel like it, and sit when you don't.
Leisurely Rides: Picture this – cruising through a park or along the beach, with the wind in your hair, seated comfortably. Sounds dreamy, right?
In essence, a seated electric scooter caters to a wide range of needs. Whether it's for practical reasons or pure enjoyment, there's a lot to love about them.
How to Choose an Electric Scooter With a Seat? Most Important Factors to Consider
Are E-Scooters with a Seat Allowed in Your Area?
Before diving into the world of seated e-scooters, it's crucial to check local regulations. Some cities or countries have specific rules about e-scooters, especially those with seats. Always ensure you're compliant to avoid fines or confiscations.
Seat Design
The design of the seat can make or break your riding experience. Look for a seat that's cushioned and ergonomically designed. Adjustable heights and detachable options are bonuses, catering to different riding preferences.
Safety and Comfort
Your safety is paramount. Opt for scooters with robust build quality, reliable brakes, and non-slip seats. For added comfort, consider scooters with shock absorbers and padded seats. Remember, a comfortable ride is often a safer one.
Weight Balance
A seated scooter's weight distribution is different from its standing counterpart. Ensure the scooter maintains a balanced weight distribution, preventing tipping or wobbling, especially during turns or when braking.
Motor Power
The scooter's motor determines its speed and hill-climbing capabilities. Based on your needs, choose a motor that offers sufficient power. If you live in hilly areas or need faster speeds, a more potent motor is essential.
Battery Life
Nothing's worse than a scooter battery dying mid-journey. Always check the battery life. Consider scooters that offer a range suitable for your daily commute or adventures. Also, look for fast-charging features to minimize downtime.
Read my in-depth guide on how to choose an electric scooter for more tips and insights.
How Did We Choose?
Selecting the best electric scooters with seats wasn't a task taken lightly. While we couldn't personally ride every single model out there, we leaned heavily on our comprehensive research and the reputation of e-scooter brands in the industry.
Our selections are a blend of hands-on experiences, detailed analysis, user feedback, and expert opinions. We evaluated each scooter for its durability, efficiency, and overall user experience.
Collaborations with industry experts and enthusiasts further enriched our understanding. By emphasizing features like battery life, motor power, and comfort, we've curated a list that stands out.
Our recommendations are rooted in thorough research and a genuine love for electric scooters.
Top 8 Our Favorite Seated Electric Scooters
Hiboy S2 + Seat
Check Price from Hiboy | Check Price from Amazon
Offering some high-end features in a budget-friendly deal, the Hiboy S2 pairs via Bluetooth with a dedicated app to let the rider customize the speed, brake response, and cruise control as well as to lock the e-bike using a smartphone.
The ergonomic seat is the highlight of the scooter making it a truly pleasurable ride, no matter the distance.
Charging the lithium battery fully will let you take rides of about 15 miles, while the dual rear shock absorbers, lateral LED lights, and a front headlight add to its safety even better.
Although the height of the handlebar is not adjustable, the great features make it a perfect purchase for one and all.
Razor EcoSmart Metro
The Razor EcoSmart Metro remains one of the best choices for an electric scooter with a seat as well as a trunk.
With countless positive reviews, the scooter has gained immense popularity with its trademark seat and basket that makes it stand out. The fact that the basket and seat are super easy to assemble doesn't make the scooter require any special custom accessories.
Comfortable and safe, the scooter doesn't cost a lot of money and is in fact, the most feature-rich scooter in its price range. It comes with a top speed of 18 mph and a ride range of 12 miles.
It can withstand a weight limit of 220 lbs, while the in-built basket can carry up to 26 lbs. Undoubtedly, it's a wonderful purchase.
OKAI EA10 Electric Scooter with Seat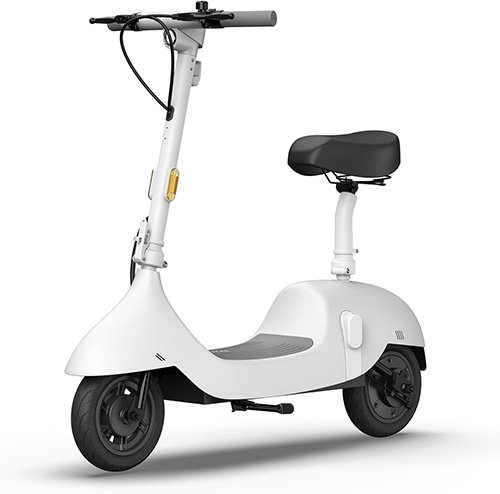 For those seeking a budget-friendly seated scooter, the OKAI EA10 is a noteworthy contender. Its design, reminiscent of retro car silhouettes, stands out, but it's the seat that truly shines. Designed for comfort, the saddle is soft and spacious, ensuring riders can enjoy longer journeys without discomfort.
The scooter's detachable, automotive-grade battery promises up to 35 miles on a single charge, making it ideal for daily commutes.
Its 10-inch vacuum tires further enhance the ride's comfort. Crafted from durable aluminum with rubber wheels, the EA10 is built for reliability.
As an eco-friendly transport alternative, it offers both style and substance at an affordable price point. And with OKAI's dedicated customer support, riders can feel confident in their purchase.
EMOVE Cruiser + Seat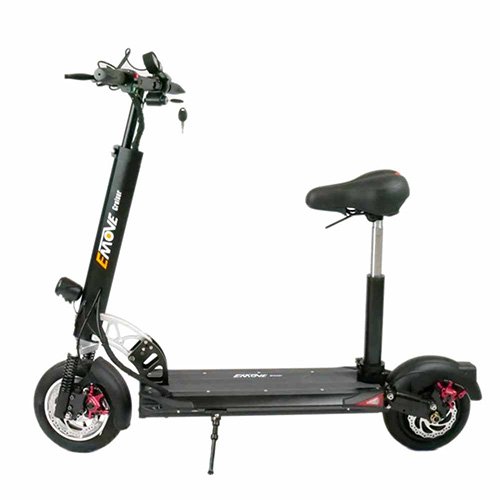 Crafted for long trips, the EMOVE Cruiser runs for 9-12 hours on a single charge, while providing 62 miles of range with an incredible 52V 30Ah LG battery.
It comes with an anti-theft key while being amazingly durable with a 10-inch deck, front dual suspension, and rear air shock suspension. It's also water-resistant and reaches a top speed of 25 MPH with its 600W brushless DC motor.
It features a super comfortable padded seat with a base plate, a locking mechanism, and an extended hydraulic tube.
Other must-mentions include a front headlight, front, and rear hybrid hydraulic brakes, front deck sidelights, and rear brake lights.
EVERCROSS Electric Scooter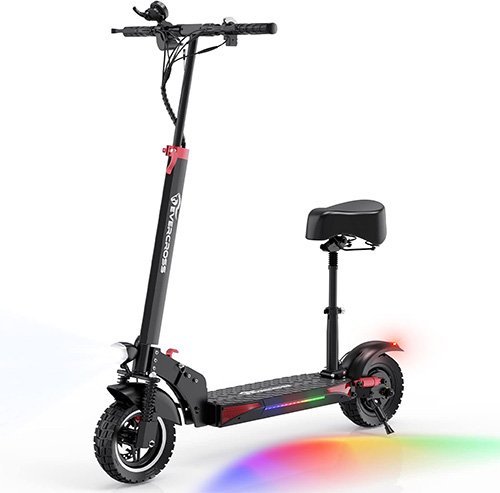 The EVERCROSS Electric Scooter is a practical choice for adults, whether you're well-acquainted with e-scooters or just starting out. Its minimalist design is paired with user-friendly features, making it easy to operate.
One of its standout features is the detachable seat, allowing riders to switch between seated and standing modes effortlessly.
Powered by an 800-watt motor, it can approach speeds of 28MPH and offers a range of approximately 25 miles, though actual performance can vary based on conditions.
Safety and comfort are prioritized with responsive brakes, front and rear shock absorbers, and a wider anti-slip pedal. The scooter's one-step fold design is convenient for commuters, and its three cruise speed controls offer versatility in riding.
With added touches like a high-lumen headlamp and clear LED display, the EVERCROSS ensures a comfortable and informed ride.
MotoTec Vulcan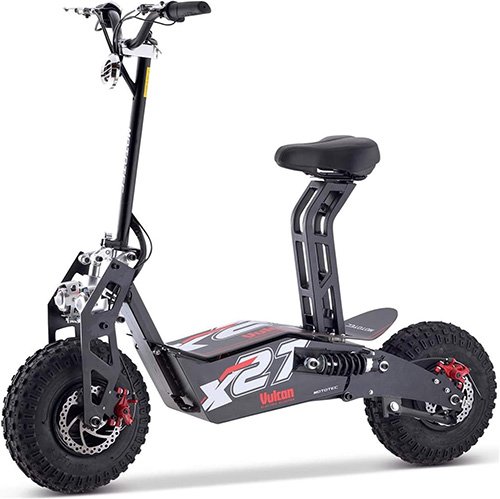 The MotoTec Vulcan is a beast in the world of seated electric scooters. Immediately noticeable is its robust and rugged appearance, with larger tires than most competitors, ensuring a sturdy ride on various terrains.
The scooter's alloy steel frame and thick seatpost hint at its durability and strength. Powered by a 1600W 48V brushless motor, it's designed to deliver power consistently.
Unique to the Vulcan is its chain drive, setting it apart from the typical hub drives seen in other scooters. Dual suspensions in the rear promise a smoother ride, while the dual headlights ensure visibility during nighttime adventures.
With its adjustable handlebar and a weight capacity of 310 pounds, the MotoTec Vulcan is built for those who prioritize strength and reliability in their rides.
Mototec UberScoot
The UberScoot by MotoTec is a formidable player in the seated electric scooter arena. With its robust design, it's evident that this scooter is built for durability and performance.
Its large, off-road tires, though not as massive as the MotoTec Vulcan's, ensure stability and adaptability on various terrains.
Powered by a 1600W brushless motor, the UberScoot can reach top speeds of 30mph, though this requires disconnecting the speed limit wire. The scooter's chain drive, similar to the Vulcan, offers a reliable and efficient power transfer.
Its dual rear suspensions, coupled with a prominent front spring, guarantee a smoother ride, absorbing bumps and shocks effectively.
With a weight capacity of 265 pounds and a sturdy kickstand, the UberScoot is a reliable choice for those seeking a blend of power and durability in their daily commutes or adventures.
eHoodax Fat Tire Citycoco Electric Scooter
The eHoodax Fat Tire Citycoco Electric Scooter is reminiscent of a modern-day cruiser, echoing the vibes of a Harley Davidson with its high handlebars and laid-back seating position.
Unlike traditional kick scooters, this model leans more towards the moped category, making it a standout in the electric scooter world.
Powered by a robust 3000w 60v Hub Motor, it can achieve speeds of up to 32MPH and offers a range of 20-30 miles after a 5-6 hour charge. Its fat, 18-inch tubeless tires, although slick, are designed for smooth terrains, making it ideal for city commuting.
The scooter comes equipped with a hydraulic disc brake, front shock suspension, bright headlight, LED taillight, rearview mirrors, and an anti-theft alarm, ensuring safety and security.
The package also includes an extra removable rear seat, making it versatile for solo or duo rides. So it is one of a few seated electric scooters that can fit a passenger.
However, given its powerful motor, potential buyers should be aware of local regulations before purchasing.
Top Electric Scooters with a Seat for Kids
Razor E300S
One of the best kids' Razor electric scooter with a seat
Coming with a weight capacity of up to 220 pounds, the Razor E300S is a high-torque scooter powered by a sealed battery system of 24V.
It comes with a 250W chain-driver motor that makes it a good choice for e-bike lovers. Thanks to a cushion-shaped seat, large pneumatic tires, and a wide deck – the scooter is super easy and comfortable to ride.
However, it takes 12 hours to recharge, while getting a full recharge in 24 hours. Once charged, you get a continuous run time of 40 minutes and a top speed of 15 mph. Of course, less aggressive and more conservative driving will also increase the ride time.
Razor E200S
Perfect kids' e-scooter with seat
Featuring an all-steel frame and fork, this Razor electric scooter with a comfy seat comes with the sturdiness that all riders trust. The seat is perfect for teens and can also be conveniently removed for a stand-up ride.
Some other notable features are the scooter's pneumatic tires, the hand-operated rear brakes, and an amazing twist-grip throttle that allows for good variable control as most other Razor e-bike models. The Razor E200S is perfect for those who are on a budget and looking for a wonderful seated ride.
Razor Pocket Mod
Very popular sit-down scooter
The Razor Pocket is a truly beautiful Euro-style electric scooter with a seat equipped with a whole range of features that make every ride fun-filled.
Whether it's a stylish construction, a super comfortable seat, or great top speeds – the Razor Pocket has got it all. The solid range of the scooter allows you to travel longer distances at high speeds. It is perfect for riders 13 years of age and above, easily carrying up to 170 pounds.
What makes it stand out is a padded seat, an easy-to-work hand-operated brake system, and a twist-grip throttle control that lets you change speeds with great convenience.
The chain-driven high-torque motor of the Razor Pocket allows you to get to a top speed of 15 mph, while the e-bike's battery easily lasts for up to 40 minutes of uninterrupted use. The other must-mention feature loved by the riders is the storage space hidden right under the seat.
Seated Electric Kick Scooters FAQs
What is the Best Scooter with a Seat?
Defining the "best" scooter is subjective, as everyone's needs vary. While we can't pinpoint a single best option, our curated list offers a range of top-tier choices. Whatever your requirements, there's likely a perfect fit among the scooters we've highlighted.
Are Electric Scooters with a Seat Safer?
Safety largely depends on the rider and the scooter's build quality. Seated scooters can offer added stability and comfort, potentially reducing fatigue-related errors. However, always prioritize features like reliable brakes and robust construction for maximum safety.
Are Seated Electric Scooters Slower Than Stand-Up Scooters?
Mostly, no. The presence of a seat doesn't inherently affect a scooter's speed. It's the motor power and design that dictate speed. Many seated scooters match or even surpass the speeds of stand-up variants. Always check the specs to be sure.
Conclusion
Navigating the world of electric scooters can feel like a thrilling ride in itself. With seats adding a layer of comfort and versatility, the journey becomes even more enjoyable.
While the "perfect" scooter varies for each rider, our guide aims to illuminate the path, making your choice a tad easier. Remember, it's not just about speed or battery life; it's about finding that seamless blend of comfort, functionality, and joy.
As you embark on this electrifying adventure, may you find the seated scooter that feels less like a machine and more like an extension of yourself. Happy riding!