Urtopia electric bike is one of the most sophisticated bicycles we have ever seen. The bike is full of high-end tech features.
It is so lightweight that even a non-electric bike would be proud to see such numbers when stepping on the scale.
In this Urtopia e-bike review, we are taking a closer look at this invention and trying to figure out if it's the future of biking. Stay tuned!
Electric Wheelers is reader-supported. Although we independently research and test products, we may receive a commission on purchases made from our chosen links. Read more…
Urtopia E-Bike Overview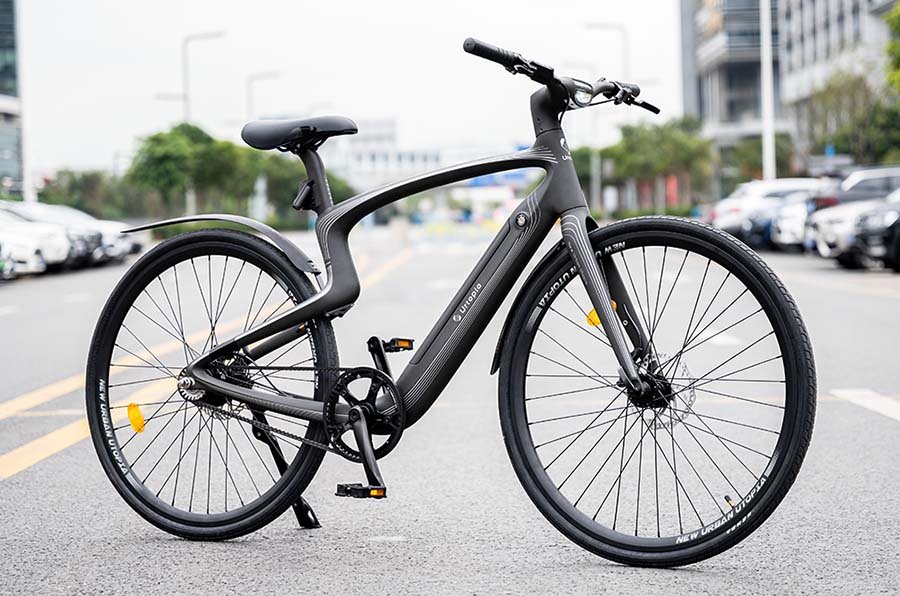 Facebook | Youtube | Instagram
What is Urtopia?
Urtopia is a fairly new electric bike manufacturer based in Hong Kong. Their first e-bike was launched on Indiegogo in November of 2021. It's an all-carbon electric bike full of high-end electronics.
Urtopia = New Urban Utopia
Although their factory is in China and headquarters in Hong Kong, they have local warehouses all over the world.
The goal of Urtopia is to contribute to a cleaner and greener world. They believe that the new Urtopia electric bike provides a new means of efficient traveling without sacrificing comfort.
Here are some of the most significant features of Urtopia e-bike:
Ergonomic design
Lightweight materials
Innovative safety features
Voice control
To Whom?
Urtopia electric bike is built for passionate urbanites. It's perfect for commuters in urban areas. The bike suits all age groups but recommended height is between 5'5″ – 6'5″ (165-195 cm).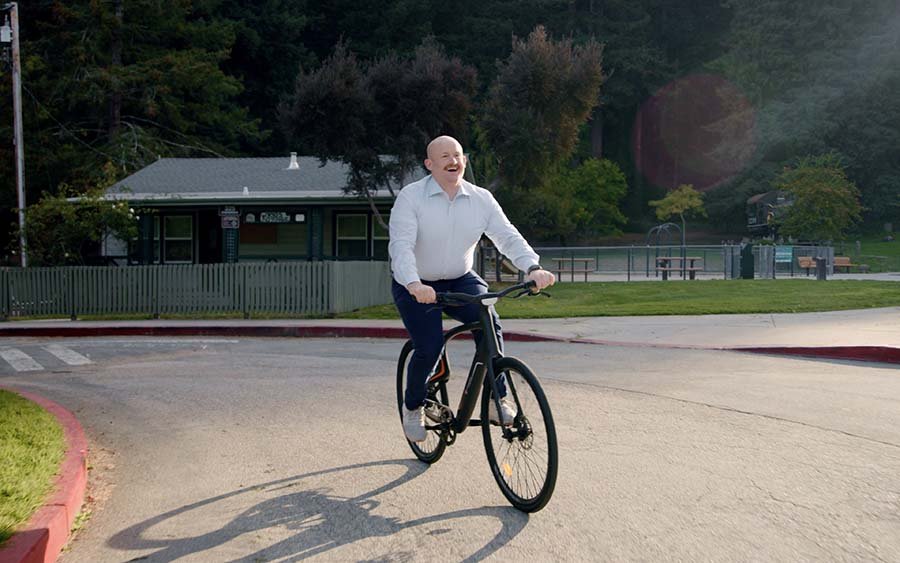 Urtopia is a road city bike. Since this electric bike doesn't have a suspension system, it is meant to ride on a smooth surface. Carbon bikes are not meant for off-roading.
Additionally, if you are a fan of different smart devices, you would definitely like Urtopia.
Urtopia E-Bike Specs
General
| | |
| --- | --- |
| Bike Name | Urtopia |
| Price | $2,599 |
| E-Bike Class | Class 1 |
| Warranty | 2 years for components, 10 years for frame |
| Availability | United States, Canada, UK, EU |
| Model Year | 2022 |
Electronics
| | |
| --- | --- |
| Motor Type | Rear-Hub Drive |
| Motor Power | 250W |
| Top Speed | 20 mph |
| Torque | 35 Nm |
| Battery | 36V 10Ah, 360Wh Removable LG |
| Charge Time | 2.5 Hours |
| Estimated Range | 30-80 miles |
| Display | Dot-Matrix LED Screen |
| Display Read-Outs | Speed, Battery Level, Speed Mode |
| IP Rating | IP65 |
Bike Components
| | |
| --- | --- |
| Weight | 30 lbs (14 kg) |
| Weight Capacity | 240 lbs (110 kg) |
| Frame Material | Carbon |
| Frame Size | M, L |
| Frame Types | Step-Over |
| Fork | Rigid, Carbon |
| Gearing | Single Gear |
| Brakes | Hydraulic Discs |
| Wheel Size | 700C |
| Tires | 700x35c Kenda Kwest Road Tires |
| Additional Features | Voice control, GPS, Advanced Rear Early Indication System (AREIS), mobile app, gyroscope, fingerprint sensor |
How Much Does Urtopia E-Bike Cost?
Usually, the price of carbon e-bikes starts from $4,000. Urtopia is currently available for just $2,799. If the campaign in IndieGoGo is successful, the price in the future is probably higher.
Also, there are even more discounts when buying more than one bike. Definitely check it out!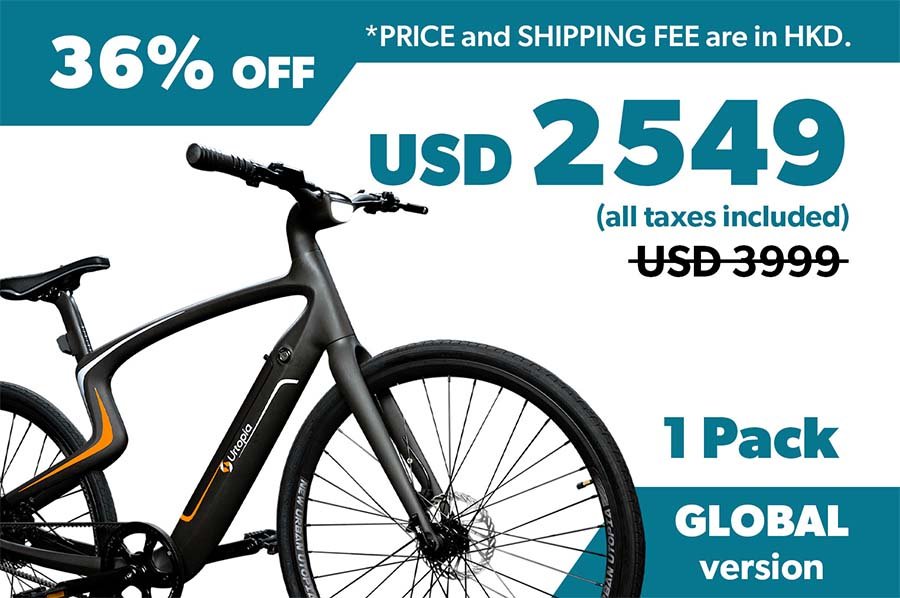 Urtopia Performance
Motor and Speed
The Urtopia eBike comes with a 250W brushless rear hub motor. Additionally, the motor has a torque sensor.
Torque sensor converts mechanical torque to an electrical signal. It's more sensitive and accurate than pressure gauges. Also, it's more durable. Thanks to this magnetic sensor, the motor consumes less battery energy and provides a longer mileage.
Also, the motor has a built-in clutch. It enables you to use Urtopia like a regular bike.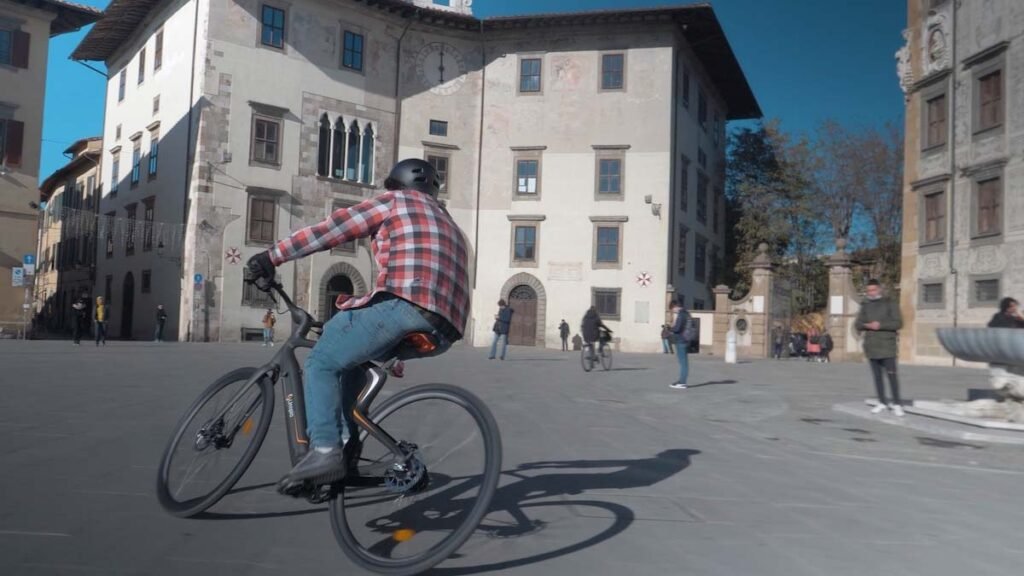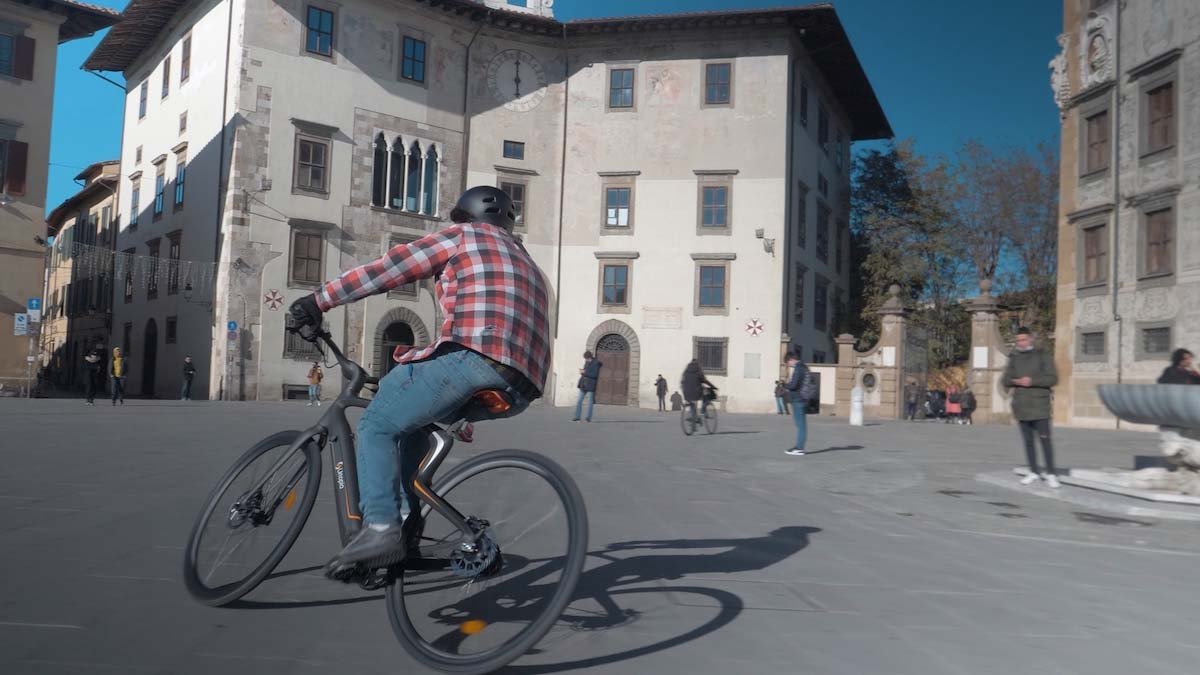 5 Speed Modes
Pure pedal mode
Eco
Comfort
Sport
Turbo
While there are different regulations, the maximum assisted speed depends on your location.
In United States, the maximum assisted speed is 20 mph. In Europe, the speed is limited to 25 kph (15.5 mph). Of course, you can ride faster than that but the motor stops assisting if the speed is above mentioned speeds.
Hill Climbing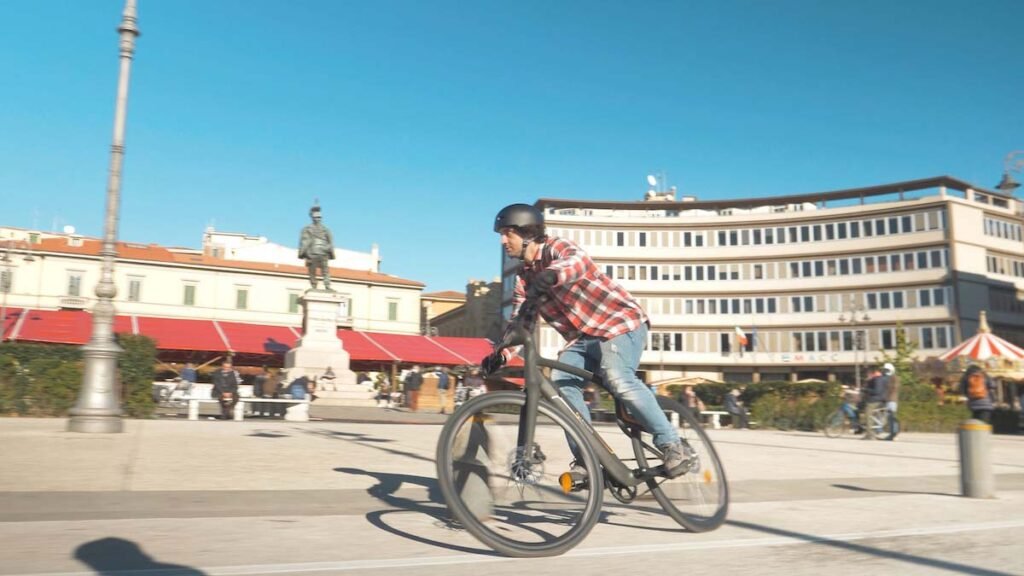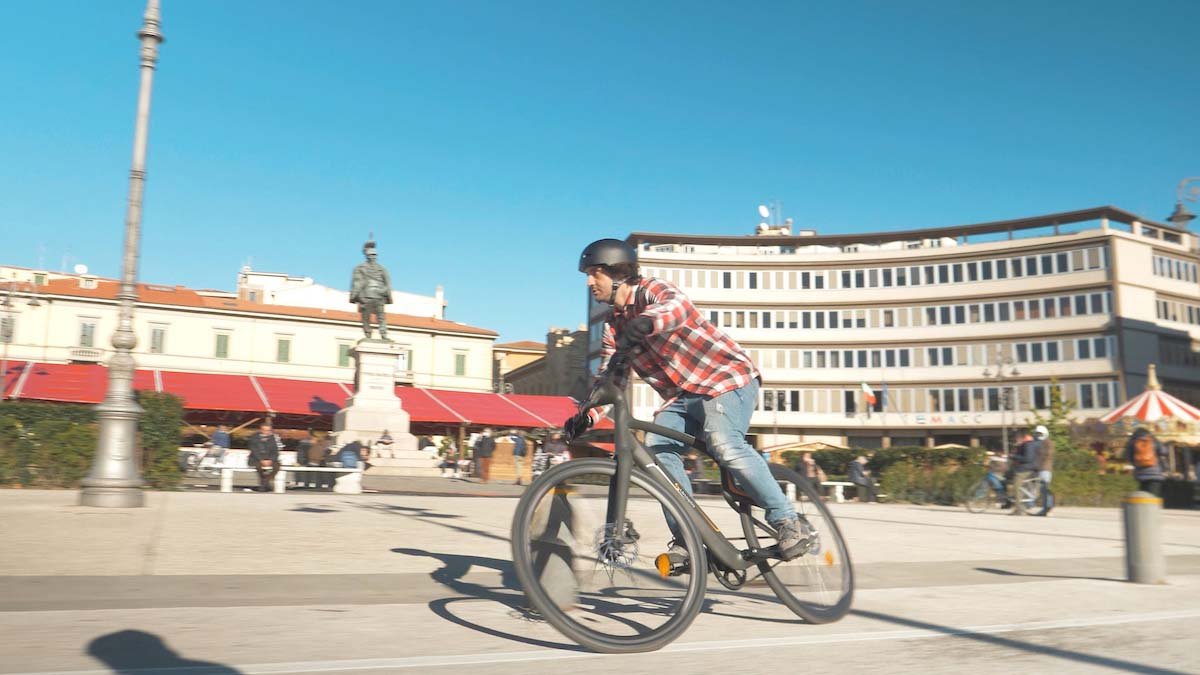 The Urtopia e-bike can handle quite easily some smaller inclines. There's no problem if the hill is about 10%.
However, if the incline is 25-30%, there is going to be a struggle. Even on turbo mode, which is the highest assistant level, you have to work really hard to keep the bike moving.
250-watt motor doesn't have enough power to comfortably climb very steep hills.
But let's be honest, it's still a bicycle, not a motorbike.
Battery and Range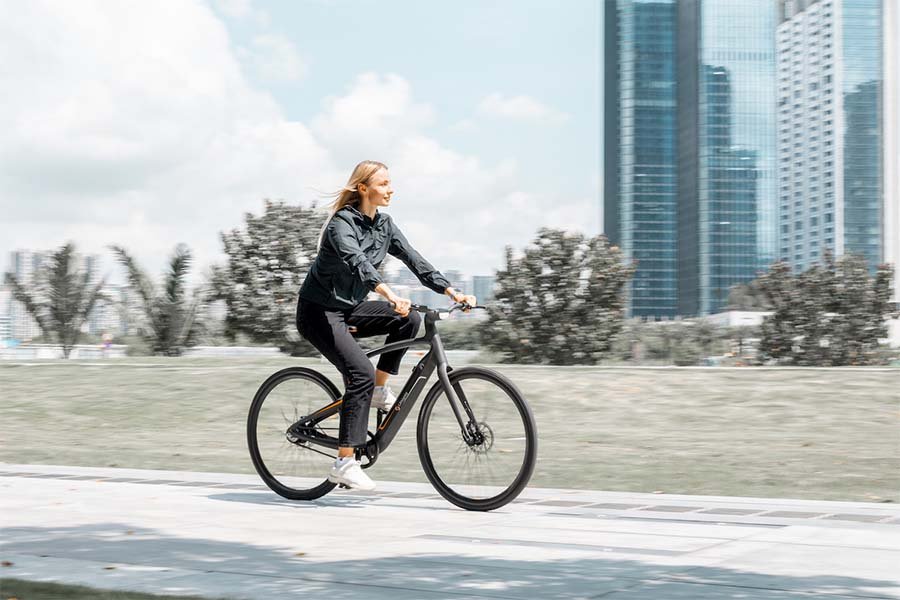 The bike is powered by a 36V 10Ah LG battery. So it contains up to 360 Wh of energy capacity. It's enough to give you about 30-80 miles of range (50-130 km).
You can expect 80 miles of range only in 'Eco mode'. When using higher speed modes, don't expect much more than 30-40 miles. The exact mileage depends on speed mode, rider weight, and the type of terrain.
The charging time is about 2.5 hours, which is much faster than most e-bikes. It's thanks to the 36V 4A fast charger. Also, the battery is removable. So you can charge the battery wherever you want.
Gates Carbon Belt Drive
For the drivetrain, there is a Gates carbon belt. Yes, even the drivetrain is made from carbon fiber.
One of the main advantages of the belt is, that it doesn't require any maintenance. The belt is always clean because it doesn't need any lubricants.
Additionally, the belt drive is much quieter than the chain. With chain, it is quite normal to hear some squeaky noise every once in a while. It's not the case with belt drive.
Also, belt drives last 4 times longer than chain drives. Urtopia promises that the belt lasts for 30,000 kilometers (~18,640 miles).
Braking and Gearing
Without a doubt, safety is one of the most important concerns when riding an e-bike. So the brakes must be as good as possible.
Urtopia has hydraulic disc brakes. The rotors at the front and rear are 160mm. Hydraulic brakes are much more stable and quieter than mechanical brakes.
Although the brakes don't have any branding on them, they seem to be of good quality and provide efficient stopping power.
However, be careful on your first rides. There has been some feedback, that brakes are not so good right out of the box. But after 10-15 miles they start to work quite well.
No gears
Since the bike has a belt drivetrain, it's not possible to have a regular derailleur type of gearing.
Urtopia e-bike doesn't have any gearing.
So you have to rely only on motor and different speed modes. The faster you want to go, the higher must be the speed mode.
Ride Quality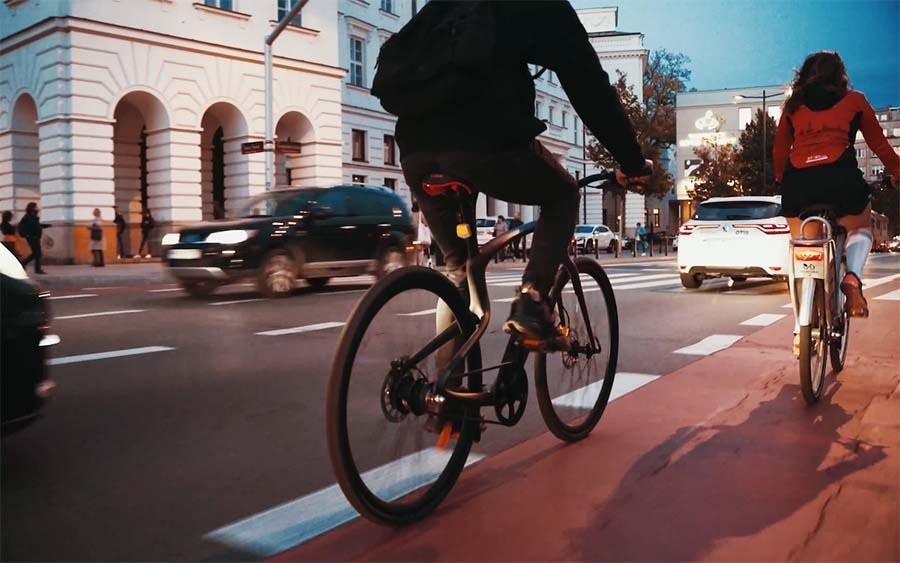 Riding with Urtopia is really enjoyable. Thanks to the torque sensor, the power delivery is very smooth. However, since it's a single-gear bike it is a bit of a struggle to get up a very steep hill.
The geometry of the bike is well-thought. It accommodates a wide variety of riders and you can take some longer journeys with it too.
Urtopia Design and Features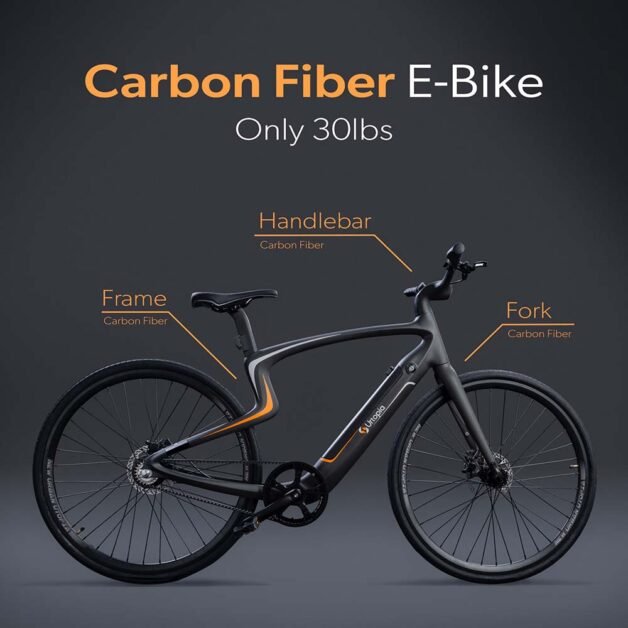 Build Quality
The design of the Urtopia bike is simply beautiful. The frame is 3d-printed and it looks modern and futuristic.
Most other carbon bikes are only partially made from carbon fiber. Urtopia has almost all big components made of carbon fiber.
Thanks to the carbon fiber, Urtopia bike is extremely lightweight. It weighs only 30 lbs (14 kg). It's light even for non-electric bikes. E-bikes have many additional components like a motor and battery, which add quite a lot of weight. So in this case, the weight of 30 pounds is impressive.
The Urtopia electric bike doesn't have any visible cables. All cables are internally routed. This makes the look of the bike very clean and neat.
Dimensions and Sizing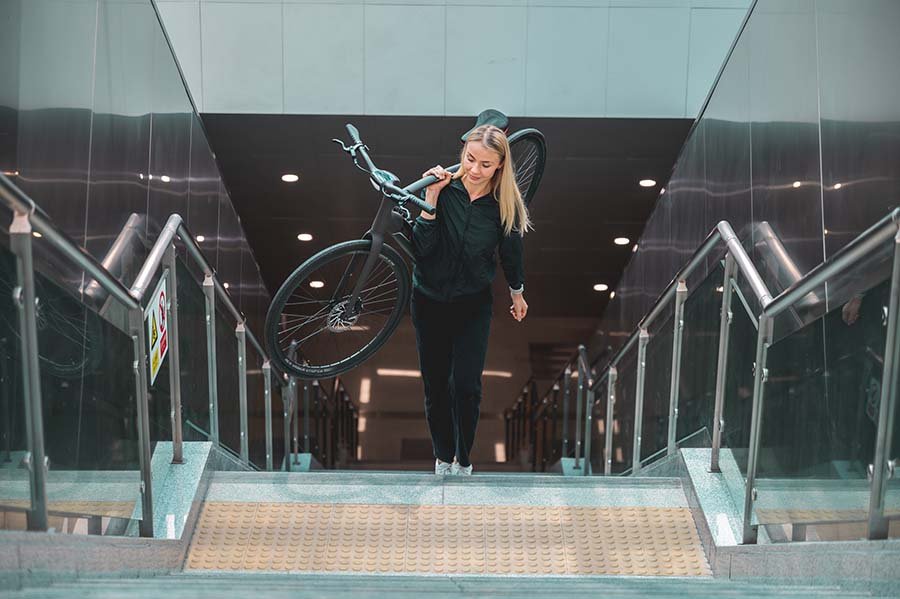 Urtopia electric bike is available in 2 different frame sizes. You have to be at least 5'5″ to comfortably ride with it. So, the bike might be a bit too big for smaller people.
On the other hand, the bike fits easily riders up to 6'5″. The maximum weight for Urtopia bike is 240 pounds.
Although the seat height is adjustable, you need an allen key for it. So if there are many riders using the same bike, changing the seat height is quite uncomfortable.
Size Recommendation
M – 5'5″ – 5'11"
L – 5'9″ – 6'5″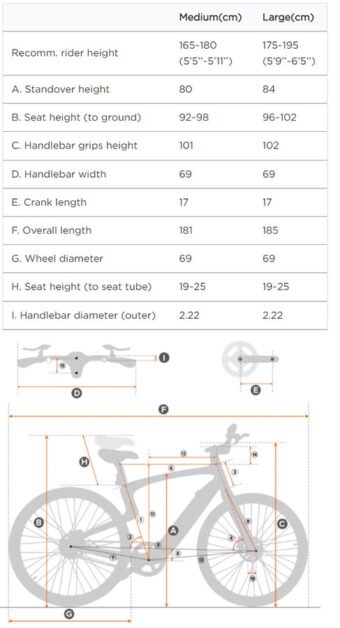 Rims and Tires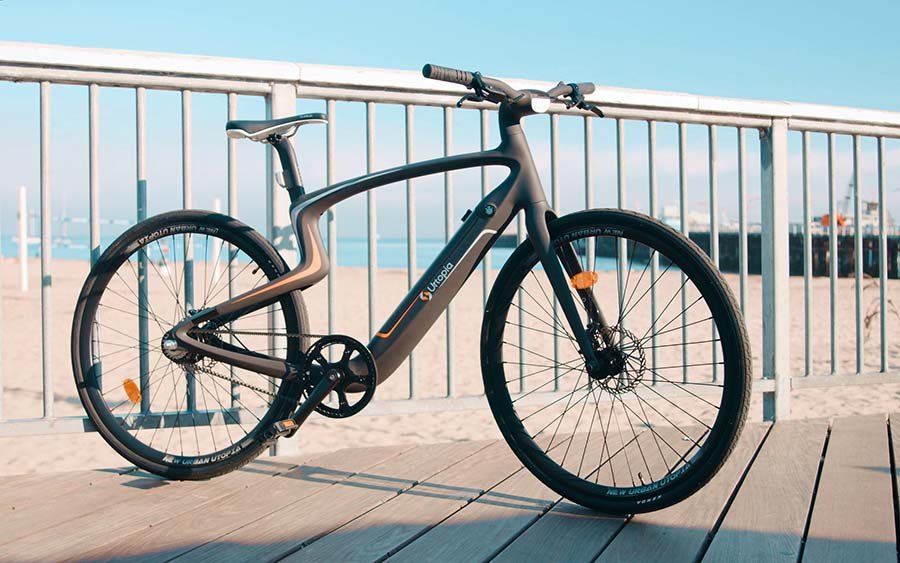 It has 700x35C wheels with road tires. It means the wheel diameter is about 27.5 inches.
On the wheels, there are Kenda Kwest road tires, which perform quite well on smooth urban roads.
The front hub supports the quick release. So it is easy to remove the wheel if you want to replace the tire. However, in the rear, the bike doesn't have that option. In case of a puncture, changing the rear tire is a bit more complex.
Lights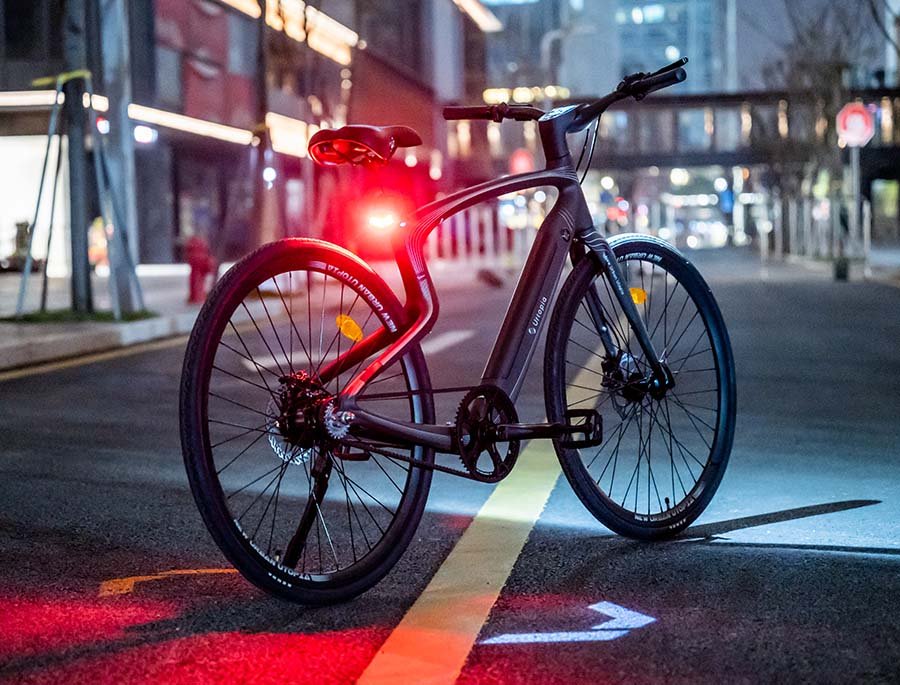 Urtopia comes with a built-in LED headlight, which is actually quite bright. When riding in the dark, it helps a lot.
Also, there is a built-in rear light. In addition to that, there are turning lights, which you can activate from the control panel on the handlebar.
Safety Features
There is an anti-theft mode built into the bike. It has fingerprint technology. You can register your finger and then only you can ride with this bike.
Before you start the ride, you must scan your finger. If Urtopia doesn't recognize it, the bike starts beeping. It's a nice feature but in reality, I don't believe it would stop the thief. You still need to use a strong bike lock to prevent theft.
Smartbar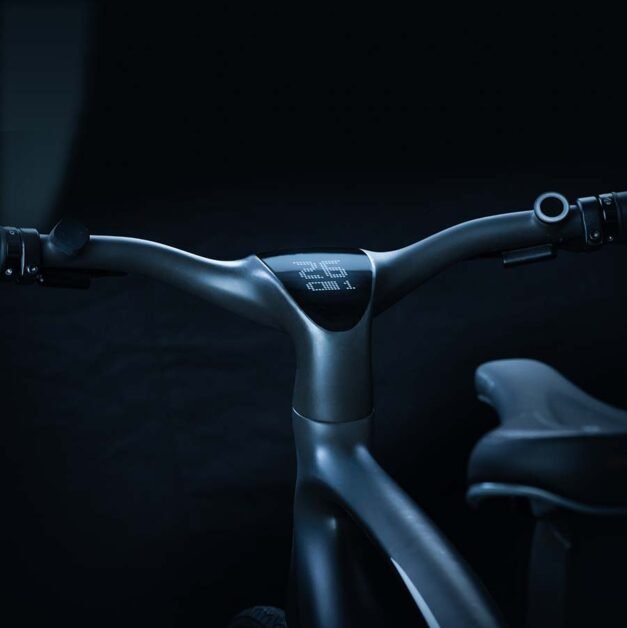 Urtopia e-bike is one of the most sophisticated e-bikes we've seen so far. It has a built-in screen that literally talks to you.
Dot-Matrix LED Screen
The screen is very big and bright. You can read there your speed, battery level, and speed mode level.
Every time you change the speed mode, the bike tells you at what level you are. So you don't necessarily need to look down to check.
Voice Control
If you press and hold the fingerprint sensor, you can activate the voice control. By that, you can activate the lights. You just have to tell "Light on". I think it's a cool feature but not sure how practical it is.
Instead of a regular bell, it has an electronic bell coming out of the speakers.
Update Over the Air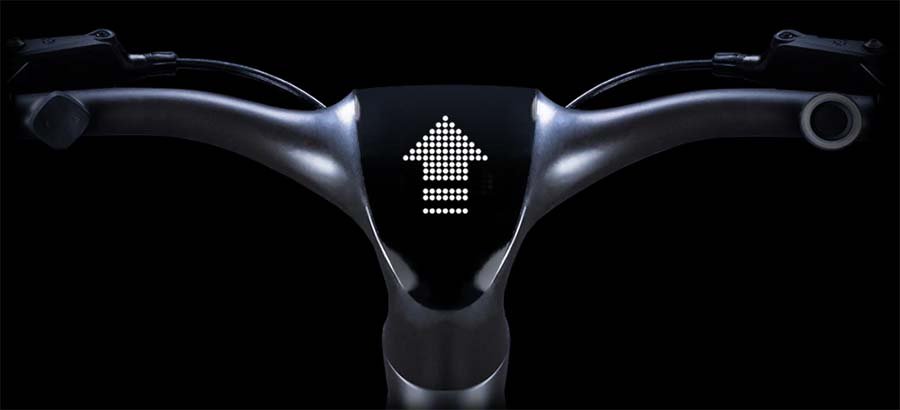 The bike that is full of electronics will be never ready. It's like computer software that needs occasional updates.
Fortunately, with Urtopia you don't need to connect your computer to it. It can get the latest updates and safety measures easily over the air.
GPS
There is a GPS installed on the bike. You can connect your bike to your smartphone and via the app, you can always locate where your bike is.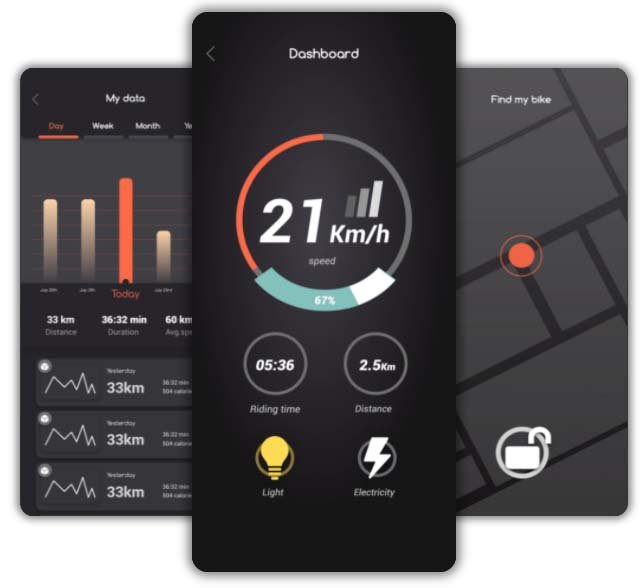 The Urtopia app has some other useful functionalities as well. It records your biking data, so you can later read interesting statistics about your rides.
Additionally, the app notifies you, if someone is moving your bike. If the beeping sound didn't frighten the thief, you can go and do it by yourself.
Urtopia Electric Bike Review Conclusions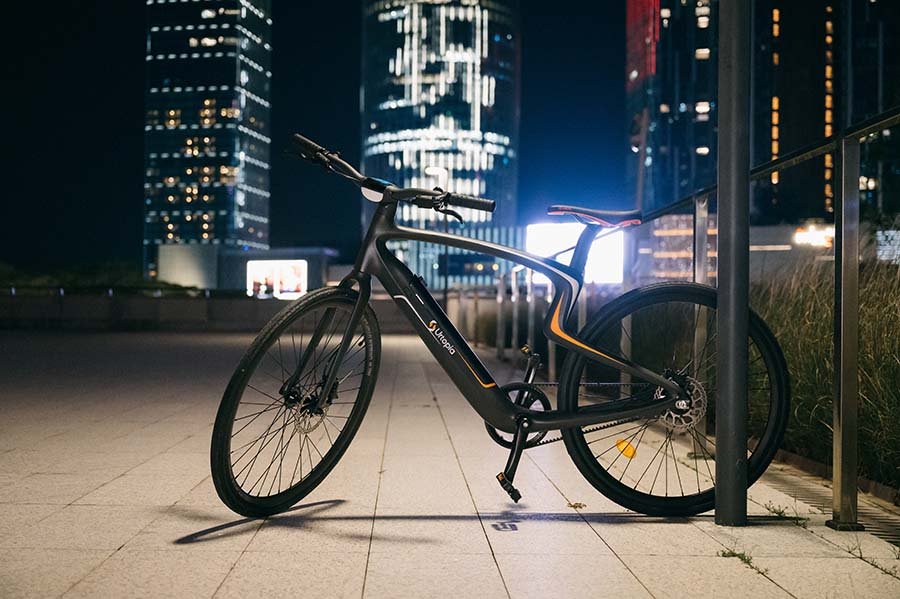 Overall, the Urtopia electric bike is very interesting. One of the most impressive aspects of it is its ultra-modern design.
It has so much advanced technology built in it. Even more, than you probably need.
The Urtopia e-bike is a perfect choice for the regular urban commuter who doesn't live in a very hilly area. It's a lightweight bike with a solid build quality. When cruising around with Urtopia, you will definitely make some heads turn.
Urtopia E-Bike FAQs
What is the top speed of Urtopia?
The motor of Urtopia provides the assistance of up to 20 mph (16 mph in EU).
Does the Urtopia e-bike have a throttle mode?
Urtopia doesn't have the throttle mode. However, in 'Turbo mode' you barely need to pedal but the motor still keeps you moving.
Where are Urtopia bikes manufactured?
Urtopia electric bikes are manufactured in China.
What is the warranty policy for Urtopia electric bike?
Urtopia comes with a 10-year warranty for the frame. Other components have a 2-year warranty. Read more about Urtopia warranty policy.
Is the Urtopia bike shipped worldwide?
Urtopia electric bikes will be delivered almost across the world. They have warehouses in Northern America, Europe, and the factory in Asia.