Aventon's Pace 500 and Level are great bikes in their respective ways.
For instance, the Aventon Level provides the best combination of efficiency, comfort, and ease of use. The bike has a durable rear rack, preinstalled fenders, and a front suspension fork.
The Pace 500 provides a refreshing riding experience and increased confidence as you ride through the neighborhood.
Keep reading to discover which of these two bikes suits best your needs!
Electric Wheelers is reader-supported. Although we independently research and test products, we may receive a commission on purchases made from our chosen links. Read more…
Level versus Pace 500: Head-to-Head Comparison

| | | |
| --- | --- | --- |
| Pace 500 | | Level |
| | General | |
| Class 3 | E-Bike Class | Class 3 |
| USA | Availability | USA |
| 2 Years | Warranty | 2 Years |
| | | |
| | Electronics | |
| Rear-hub | Motor Type | Rear-hub |
| 500W | Motor Power | 500W |
| 28 mph | Top Speed | 28 mph |
| 48V 12.8Ah (614Wh) | Battery | 48V 14Ah (672Wh) |
| Up to 60 miles | Range | Regular/Large |
| | | |
| | Bike Details | |
| 6061 aluminum alloy | Frame Material | 6061 aluminum alloy |
| Regular/Large | Frame Size | Regular/large |
| Step-over, step-thru | Frame Type | Step-over, step-thru |
| 5'3″ – 6'4″ | Recommended Height | 4'11" – 6'1″ |
| Green, Black | Frame Colors | White, Pink |
| Rigid | Fork | Coil spring, 65mm travel |
| 8-speed Shimano Altus | Gearing | 8-speed Shimano Acera |
| Hydraulic disc | Brakes | Hydraulic disc |
| 27.5-inches | Wheel Size | 27.5-inches |
| 27.5″ x 2.1″ | Tires | 27.5″ x 2.1″ |
| 52 lbs | Weight | 62 lbs |
| 300 lbs | Weight Capacity | 300 lbs |
| IPX4 | IP Rating | IPX4 |
Aventon Pace 500 vs Level: Performance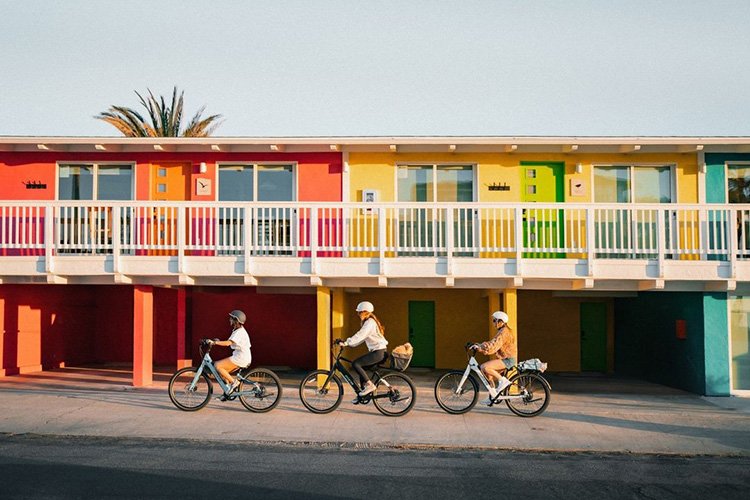 Motor Power and Speed
The Aventon Level's motor produces 500W (sustained) and 750W (peak) power, while the Pace 500 has also 500W sustained power. Both bikes have brushless rear hub motors, providing riders with 28mph top speeds.
The Pace 500 and Level have torque sensors that recognize the riders' peddling efforts and matches them to amplify their natural momentum. The torque sensors conserve battery life and extend the riding range allowing riders to cruise the streets effortlessly.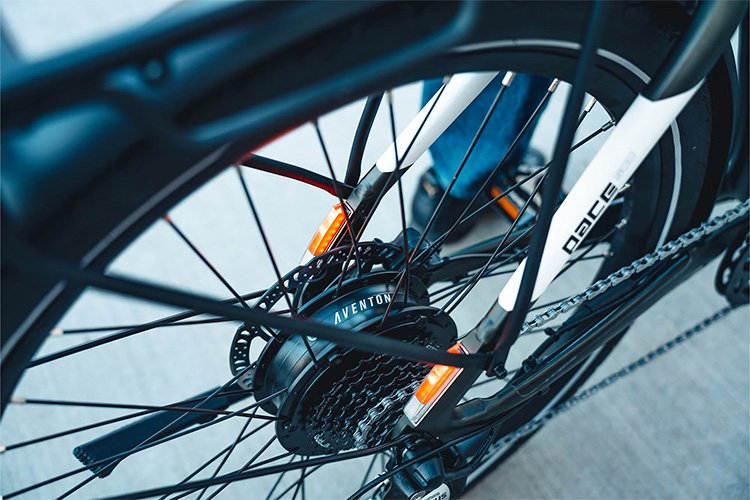 The Pace 500 has four pedal-assist levels: turbo, sport, tour, and eco. These pedal-assist levels allow riders to enjoy more leisurely rides, while the turbo mode boosts the bike's speed to 28mph.
The Level has five pedal-assist levels for days when riders need extra help riding up hills or keeping up with their friends.
Additionally, both bike models come with a throttle-on-demand feature. It means you can keep the bike moving without pedaling. It's a really convenient way to get home after tiring work or school days.
Battery and Range
The Pace 500 has a 48V 12.8Ah (614Wh) battery, while the Level has a 48V 14Ah (672Wh) battery. Both batteries are of high quality with LG cells in them.
Although the battery of the Level has slightly more energy capacity, the range is pretty much the same for both. The range of both bikes is about 60 miles when riding with pedal assistance and 30 miles when relying only on the throttle.
However, you should note that the bikes' range is affected by various factors, including the rider's weight, incline, terrain, etc. Since the Level weighs 10 pounds more than Pace 500, it has the same estimated mileage (despite a larger battery).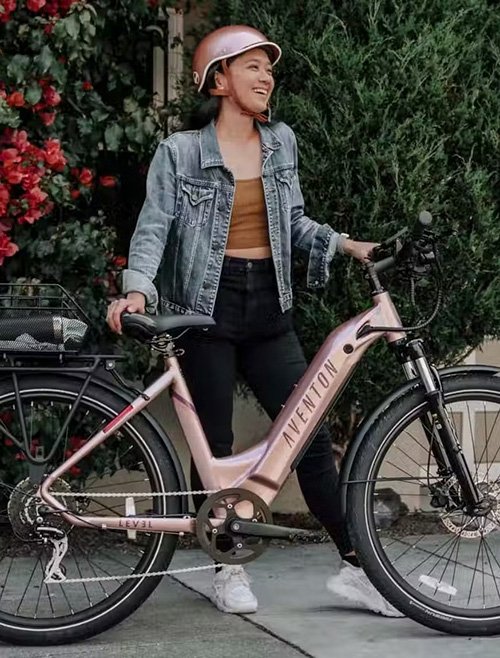 Additionally, both bikes come with fast chargers, which take 4-5 hours to charge the battery fully. The charging time is relatively good compared to the bike's range making both bikes suitable for individuals looking for commuter bikes.
Furthermore, both bikes have removable batteries, making them perfect for individuals who love long rides. For instance, you could buy an extra battery and switch it with the depleted battery whenever you want to commute further or continue your adventure.
Braking
Both e-bikes have hydraulic brakes with 180mm rotors. You just have to gently press the brake lever and it will stop the bike in no time.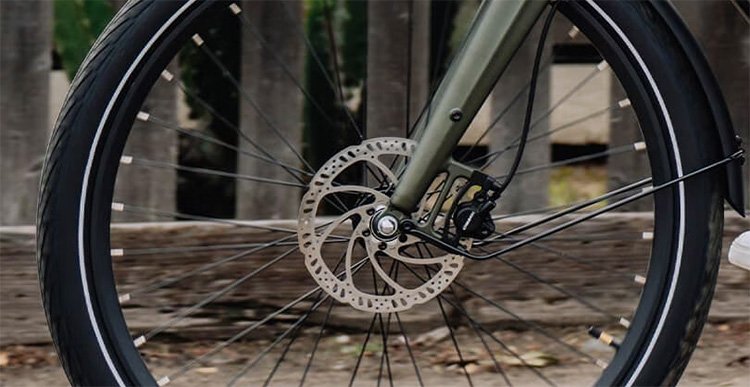 Hydraulic disc brakes are one of the best types of brakes you can find on electric bikes. The brakes provide great stopping power making them perfect for individuals riding their bikes in high-traffic areas.
Also, hydraulic brakes provide more control over the braking force and provide consistent performance in muddy or wet conditions. The brakes are also easier to maintain and require minimal adjustments than traditional variants. 
Gearing System
Aventon Level and Pace 500 have the same gearing system. Both come with an 8-speed Shimano Acera/Altus derailleur and a 12-32T cassette.
The gears are perfect for relatively flat terrain and moderate hills. However, you could use the bike for steeper inclines since it has a reasonably powerful motor that provides additional assistance.
Aventon Level vs Aventon Pace 500: Features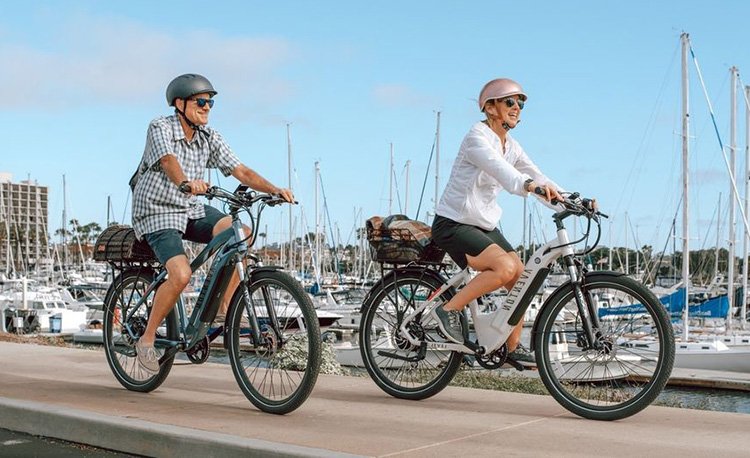 Frame and Geometry
The Pace 500 and Level have a 6061 double-butted aluminum alloy frame with an internal battery.
The Level weighs 62 pounds, while the Pace 500 weighs 52 pounds. Both bikes have a 300-pound maximum payload capacity, allowing riders to carry various types of cargo when going to work or on adventures.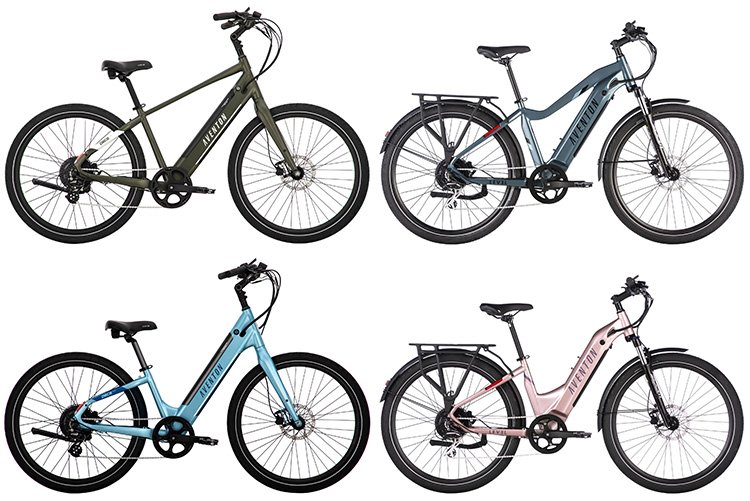 In addition to the traditional step-over frame, both bikes have a step-through frame option too. The bike's step-through frame suits individuals with limitations affecting their ability to enjoy traditional bikes. It makes it easy for such individuals to hop onto the bike and begin their adventure or commute to work without making it feel like too much work.
Aventon Pace 500 has a more upright ride position
One of the biggest differences between these e-bikes is the ride geometry. The Pace 500 has a curved cruiser-type handlebar. Also, the riding position is more upright for relaxed cruising.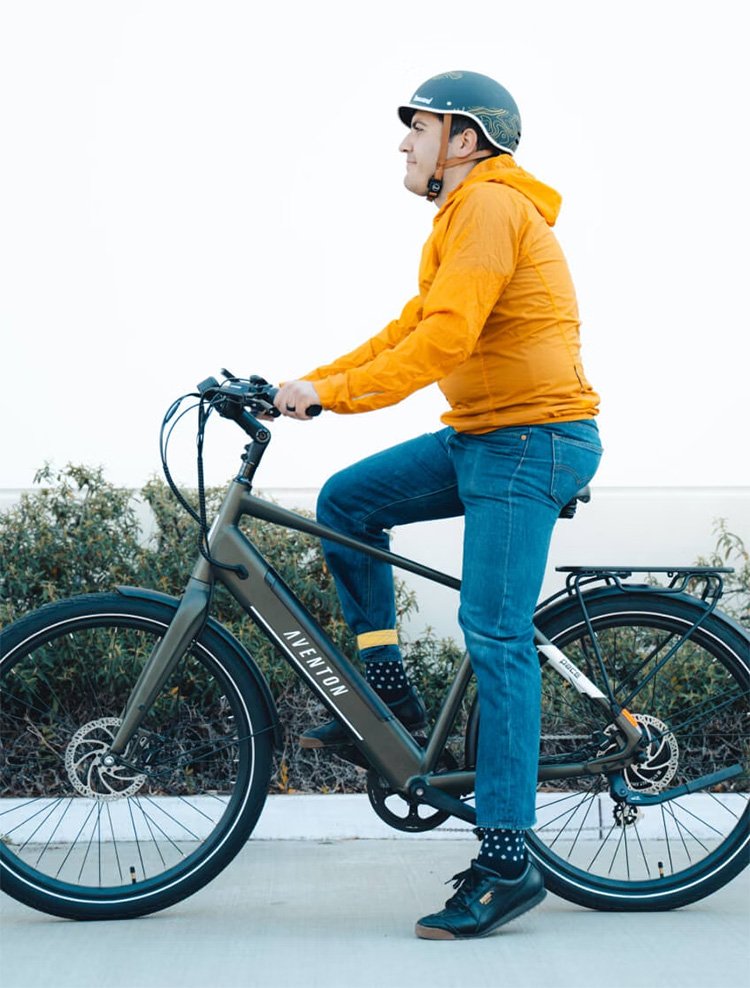 Aventon Level, on the other hand, has a traditional handlebar, and the ride position is more aggressive. The handlebar and the saddle are about on the same level, which provides better handling at higher speeds.
Wheels and Tires
Both bike models come with the same tire and wheel combination. They have 27.5-inch wheels accompanied by 2.1-inch wide tires.
Tires are puncture-resistant which is a nice safety feature to have. However, we do not recommend you ride these bikes on extremely rough terrain. The wheels also have reflective side walls providing increased visibility in low-light conditions.
Suspension System
The presence of the suspension system is another key difference between these ebikes.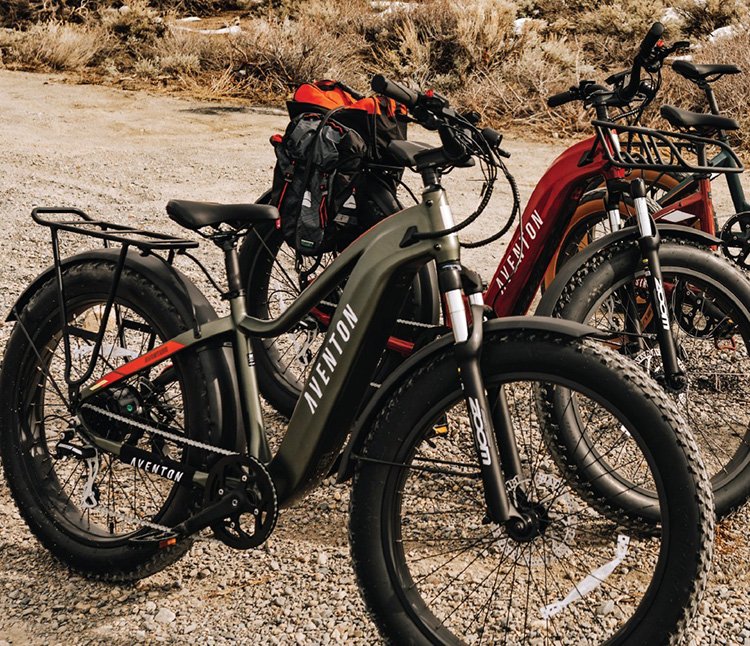 The Level beats the Pace 500 because of its front suspension. The bike's front suspension fork has up to 65mm of travel and absorbs bumps on pavements and rugged trail paths. It means the Level handles more rough terrain better than the Pace 500.
On the other hand, if you plan to ride only on bike lanes with smooth asphalt, an e-bike with a rigid frame is more efficient.
Other Features
Aventon Level is equipped with full fenders and also a rear rack. The Pace 500 doesn't come with such features.
Additionally, both bikes have a backlit LCD full-color display showing various information, including the distance traveled, battery life, pedal assist level, etc. You can also charge your smartphone through the concealed USB and sync to Aventon's mobile app to access more riding data. You could also use the app to share your riding experience with family and friends!
Price
Both bikes are reasonably priced and cost well under $2,000. Both bike models come with quality components but Aventon Level is slightly pricier.
The difference is not huge but the Level costs more because of some of its advanced features, like the suspension, fenders, and a rack.
Either way, both bikes provide good performance for bikes within their price range.
Which One to Choose: Aventon Level or Aventon Pace 500?
There is no significant difference between these two bikes, and buyers could choose between either. Both bikes are suitable for riders searching for commuter bikes. However, they aren't meant for off-road adventurers.
Read also: Aventon e-Bikes Overview
The Aventon Level has a suspension system, fenders, and a rear rack, which provide a bit more versatility. Aventon Pace 500 provides a more relaxed riding experience and is mostly meant for city streets.
Both e-bike models would be a great choice and the final decision comes down to personal preference.