The Himiway Zebra is an updated version of the Cruiser and features various advancements, including an upgraded inner ring and a powerful 750W motor.
The Aventon Aventure is an elegant and versatile bike and can be described as Aventon's most powerful e-bike in production.
These two bikes are good in their own right, and you'll have to read more to find out which of the two you'd prefer.
Electric Wheelers is reader-supported. Although we independently research and test products, we may receive a commission on purchases made from our chosen links. Read more…
Aventon Aventure versus Himiway Zebra: Head-to-Head
| | | |
| --- | --- | --- |
| Himiway Zebra | | Aventon Aventure |
| | General | |
| Class 3 | E-Bike Class | Class 2/3 |
| USA | Availability | USA |
| 2 Years | Warranty | 2 Years |
| | | |
| | Electronics | |
| Rear-hub | Motor Type | Rear-hub |
| 750W | Motor Power | 750W |
| 25 mph | Top Speed | 28 mph |
| 48V 20Ah (960Wh) | Battery | 48V 15Ah (720Wh) |
| Up to 80 miles | Range | Up to 60 miles |
| | | |
| | Bike Details | |
| Aluminum alloy | Frame Material | Aluminum alloy |
| One size | Frame Size | Regular/large |
| Step-over, step-thru | Frame Type | Step-over/Step-thru |
| 5'1″ – 6'5″ | Recommended Height | 4'11" – 6'4″ |
| Gray, White | Frame Colors | Gray, Green |
| Suspension | Fork | Suspension, 80mm travel |
| 7-speed Shimano Altus | Gearing | 8-speed Shimano Altus |
| Hydraulic disc | Brakes | Hydraulic disc |
| 26-inches | Wheel Size | 26-inches |
| 26″ x 4″ | Tires | 26″ x 4″ |
| 79 lbs | Weight | 77 lbs |
| 400 lbs | Weight Capacity | 400 lbs |
| N/A | IP Rating | IPX4 |
Himiway Zebra vs Aventon Aventure: Performance

Motor Power and Speed
The Zebra and Aventure have 750W motors. However, the Himiway's motor produces a 25mph top speed while the Aventure's top speed is 28mph.
The Himiway has a brushless geared motor with an updated inner ring, specialized for increased resistance to high temperatures.
The Himiway motor's inner rings provide better heat dissipation, reducing its magnets' attenuation speed. This guarantees better life expectancy, and its 86Nm max motor torque allows riders to conquer rugged terrains easily.
The Aventure also has a 48V brushless rear hub motor, sufficient for riding on various terrain.
Both ebikes are equipped with torque sensors, which provide a more natural ride experience compared to e-bikes with cadence sensors.
The Aventure and Zebra have pedal-assist functions. Additionally, they are equipped with a throttle (half-twist throttle for the Zebra and a thumb throttle for Aventure).
Both e-bikes have five pedal-assist levels that riders can adjust to make managing their energy expenditure easier. 
Battery and Range
The Aventure has an internal  Lithium-ion 48V, 15Ah (720Wh) removable battery with LG cells. The battery can power riders for up to 60 miles.
The Zebra's battery is also removable (48V 20Ah) and has LG/Samsung cells in it. It provides outstanding performance and a long life expectancy. Himiway claims the battery provides an 80+ mile range on a single charge with pedal assist and 60 miles on pure electric power mode.
However, various factors can affect the batteries' range, including the type of terrain, rider weight, pedal-assist levels, etc.
The batteries' removable feature makes it easy to double the range by buying an additional battery and replacing it if the first one runs out.
Braking
Both e-bikes have very similar braking systems.
The Himiway Zebra has Tektro 180MM hydraulic brakes, a comfortable grip, aluminum alloy levers, and a motor cut-off switch.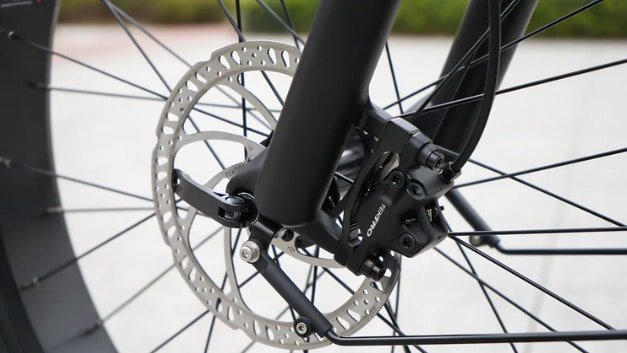 Also, the Aventure has hydraulic disc brakes with 180mm rotors. These hydraulic brakes provide sufficient braking power and are perfect for people riding in high-traffic regions.
Gearing
Just like with the braking, they also have very similar gearing systems. The Zebra comes with Shimano Altus and Aventure with Acera derailleurs.
Shimano is a Japanese company known for its reliable and high-quality products. The Shimano Altus provides a moderate gear range and is well-suitable for electric bikes.

The only difference is the number of gears. While the Zebra has a 7-speed system, the Aventure comes with 8-speeds.
In general, the difference is minimal but Aventon Aventure has a bit more variety, which may be useful on steeper inclines or riding with the top speed.
Aventon Aventure vs Himiway Zebra: Features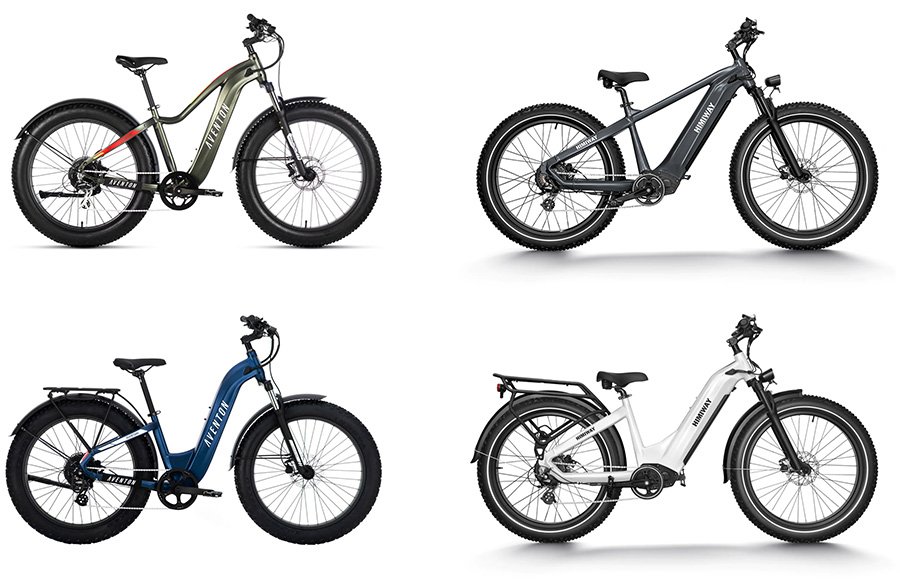 Frame and Geometry
The Zebra has an upgraded 6061 Aluminum frame that's two times thicker than other Himiway bike frames.
The Zebra weighs about 79 lbs and the robust frame can support up to 400 pounds.
The Aventure also has a 6061 single-butted aluminum alloy frame. The bike weighs 77 lbs and can support a 400 maximum load.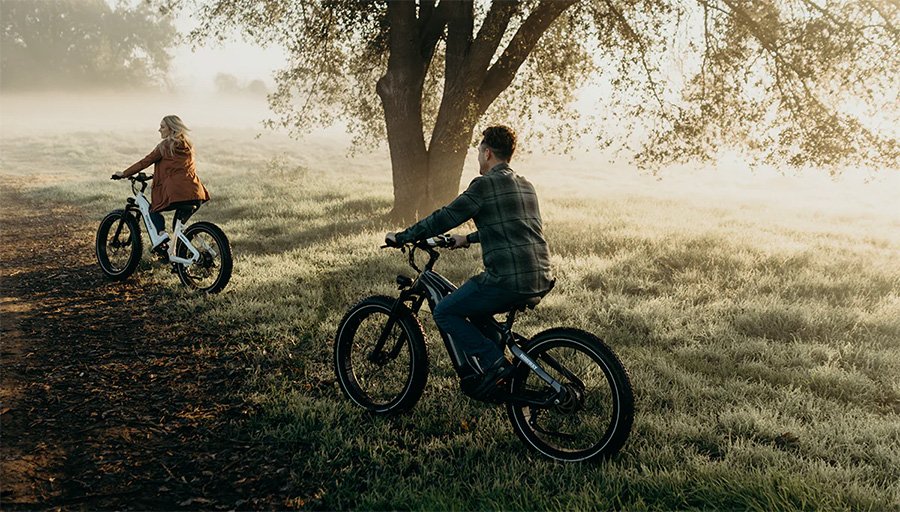 Both models provide 2 different frame types. You can choose between a step-over and a step-thru frame.
While the Himiway Zebra comes with a one-size frame, the Aventure provides a bit more variety.
With Aventon Aventure, you can choose between two size tiers. So, depending on your choice, the Aventure fits people from 4'11" to 6'4″. The recommended height for Himiway Zebra is 5'1″ – 6'5″.
Wheels and Tires
Both electric bike models come with 26-inch wheels and 4″ fat tires. Fat tires provide great comfort, confidence, and stability.
The Aventure has double-wall aluminum 36h front and rear rims, allowing you to take your adventure wherever you want.
The Zebra tires come from a Kenda brand and provide sufficient traction on all kinds of terrain.
Additional Features
Whichever bike you choose, you get free fenders with the bike. Fenders will protect you from the elements, especially any water that splashes from underneath the wheels when riding.
Also, both e-bikes have a front suspension fork to make your rides more comfortable in rough conditions.
Additionally, both manufacturers provide a free rear rack to place your cargo during long adventurous rides.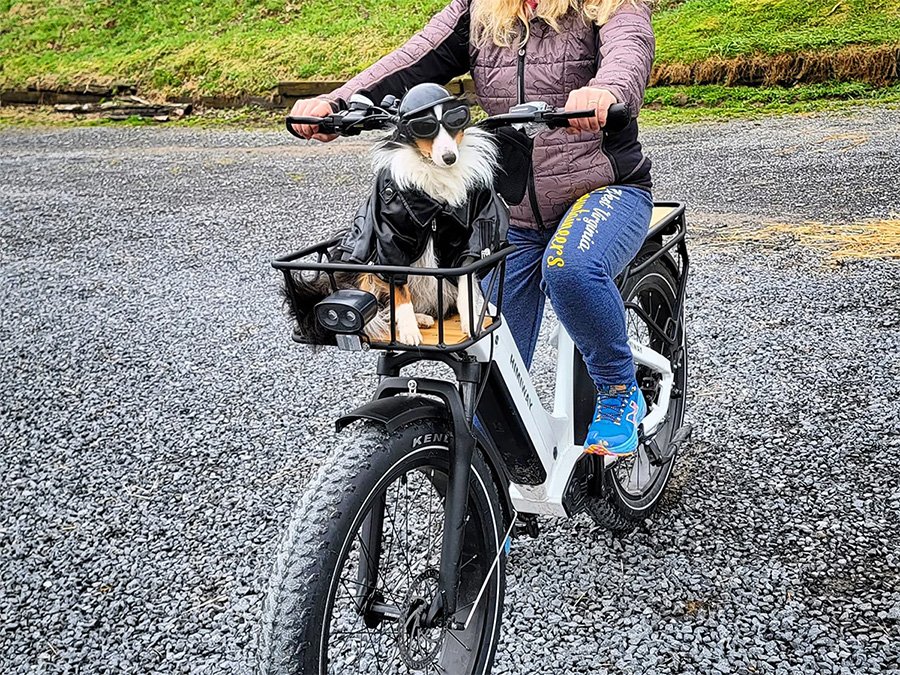 Both brands care for your safety and have equipped their bikes with integrated lights allowing other road users to see you, especially at night. These integrated lights are pretty effective and consume way less power reducing the risk of running out of power.
Additionally, the Himiway Zebra has a multi-functional LCD display with a backlight, providing information about the bike's power, speed, mileage, etc. The display also includes your pedal assist level, real-time motor power output, and range. 
The Aventure's backlit LCD display works similarly to the Zebra's but is colored. The Aventure's display system allows riders to control the bike's integrated lights, class rating, etc. You can also sync with the Aventon app and share your trips with friends.
Price
To be honest, so far these two bikes have been quite equal in terms of features. Therefore, the price tag is also almost the same. Both e-bikes can be purchased for slightly under $2,000.
However, both e-bike brands offer pretty big discounts once in a while. So definitely check out their latest prices.
Which One to Get: Himiway Zebra or Aventon Aventure?
Honestly, it's really difficult to make the final decision between those e-bikes. Overall, both electric bike models provide great features and are relatively affordable.
However, there are some differences you should consider.
With Aventon Aventure, you can switch between class 2 and class 3, which is useful if the e-bike law in your state doesn't allow you to ride with class 3 e-bikes. Also, the Aventure has a higher top speed.
Plus, you should choose Aventure if you are smaller than 5 feet. Aventon provides 2 frame sizes.
However, Himiway Zebra has a larger battery and provides a longer range.
Ultimately, you can't go wrong with either e-bike, since they both come from a respected USA brand and both models provide great value.