Looking for a great electric bike with fat tires? The Ecotric fat tire folding electric bike may just be it.
The Ecotric commuting bike has a decent range, speed, and a powerful motor that you can rely on. The bike is also foldable making it convenient for storage or on public transit rides.
Read on to find out everything about the Ecotric fat tire e-bike!
Electric Wheelers is reader-supported. Although we independently research and test products, we may receive a commission on purchases made from our chosen links. Read more…
Ecotric Folding E-Bike Overview
The bike has a striking design and there are a few things that you're sure to notice.
For starters, it looks great. Plus, it's got all the features that most riders want.
The bike's design aims to be as innovative as possible and it seems that the designers may be onto something.
It shows potential for functionality and is priced competitively.
To Whom?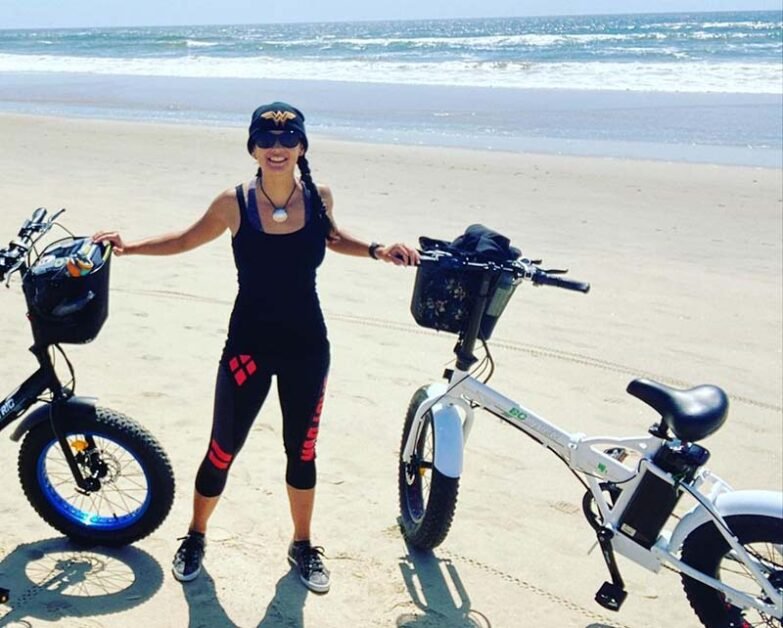 While Ecotric hasn't made any formal statement regarding whom the bike is designed for, they have stated that the bike is designed to be ridden by individuals between 5'1″ and 5'9″.
This includes people aged 13 or older. The bike could be used for commuting or going off-road. However, this depends on the individual's interests and needs.
Ecotric 500W Fat Tire E-Bike Specs
General
| | |
| --- | --- |
| Bike Name | Ecotric Fat Tire Folding Electric Bike |
| Price | $890 |
| E-Bike Class | Class 2 |
| Availability | United States |
| Warranty | 18 Months |
Electronics
| | |
| --- | --- |
| Motor Type | Rear-Hub Drive |
| Motor Power | 500W |
| Top Speed | 20 mph |
| Battery | 36V 12.5 Ah (450Wh) |
| Charge Time | 6-8 hours |
| Range | 20 miles (throttle only) |
| Display | Ecotric Smart LED |
Bike Components
| | |
| --- | --- |
| Weight | 52 lbs |
| Weight Capacity | 260 lbs |
| Dimensions | 70″ x 24″ x 44″ |
| Folded DImensions | 39″ x 28″ |
| Frame Material | Aluminum |
| Frame Size | One Size |
| Frame Type | Mid-Step, Folding |
| Frame Colors | White, Black |
| Fork | Rigid |
| Gearing | 1×7-Speed Shimano Tourney |
| Brakes | Mechanical Disc |
| Wheel Size | 20″ |
| Tires | 20″ x 4″ Fat Tires |
| Additional Features | Kickstand, Fenders, Reflectors |
Where to Buy Ecotric Electric Bike?
There are probably more retailers but the most convenient places to purchase Ecotric e-bikes are an official Ecotric online shop or Amazon.
---
Ecotric 20″ Fat Tire Bike Performance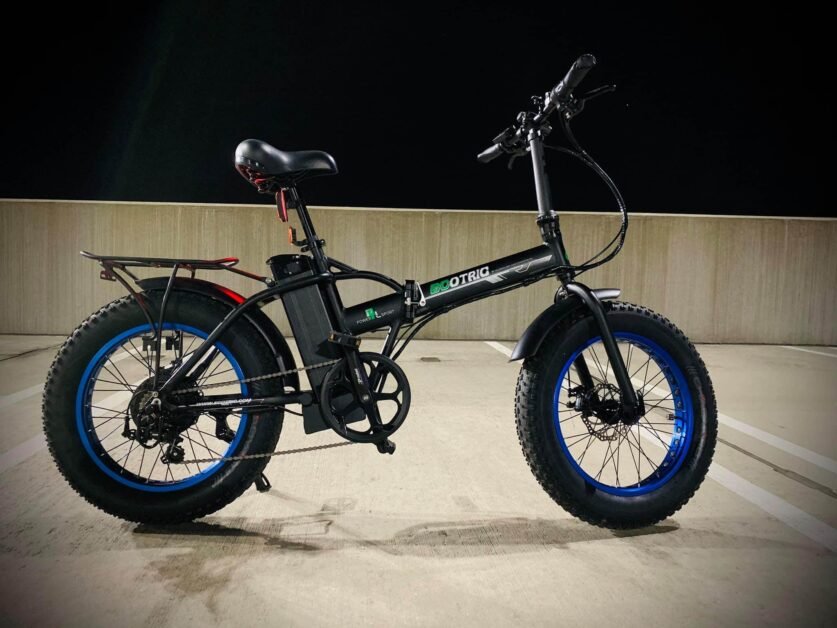 Motor and Speed
The bike is powered by a 500W rear hub motor and can reach a 20mph speed. The motor works great and can power the bike through some rough terrain like sand, muddy grass, rocky areas quite easily.
20 mph is a good speed for most individuals. However, if it isn't as fast as you would like (or if you want to work out simultaneously) you'd be happy to know that you can still peddle the bike while engaging the electric motor and making the bike go even faster. You could even give it that extra oomph it may need to tackle steep terrains. 
Riders have various modes to choose from including:
pedal-only
pedaled assist
and throttle only.
Battery and Range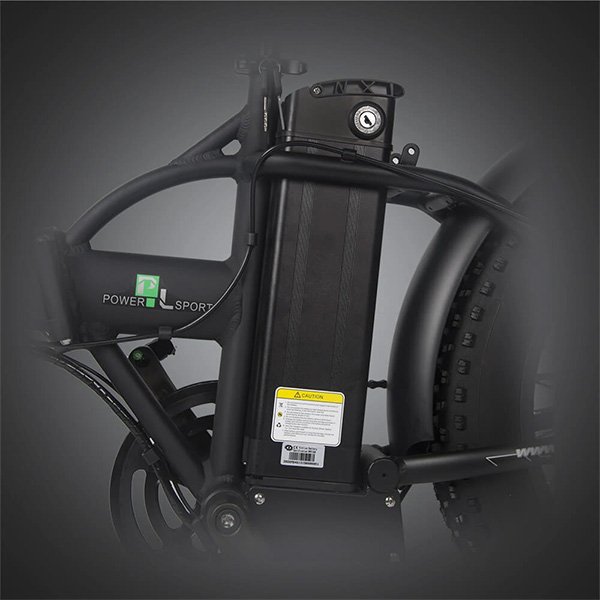 Ecotric electric bike battery contains 450 Watthours of energy.
The Ecotric foldable e-bike has an about 20-miles range when using the throttle only. Using pedal assist can help you move even further.
One tricky thing about the bike is that it has a six to eight-hour charging period for the 3V Lithium cell battery. However, the great news is that the e-bike delivers, making the entire period spent charging with it.
The bike has a lot of power and performs so well that you can't help but cut it some slack when it comes to charging.
As stated before, switching the modes and using pedal assist (or peddling some of the way) can help you increase the range that the bike can travel on a single charge.
It compares well with other bikes in its league and could be worth checking out. Plus, it's got a removable battery that you could replace any time it's used up.
Related: Best Folding E-Bikes
Braking and Gearing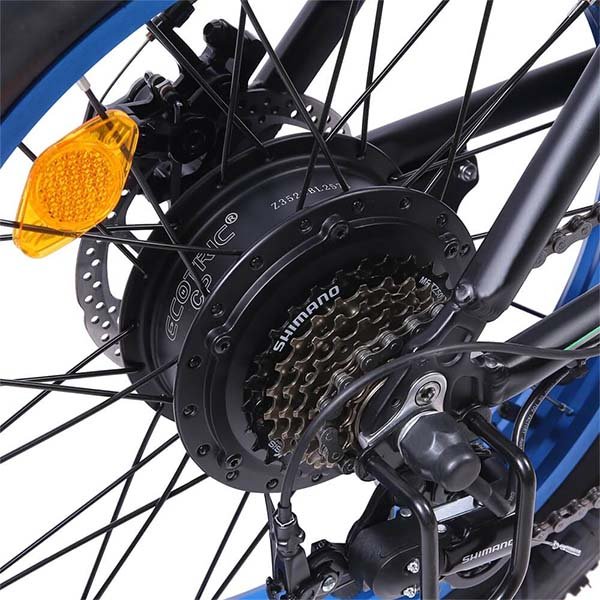 The Ecotric uses mechanical disc brakes. Mechanical brakes are not as good as hydraulic brakes but no bikes in this price range have hydraulic brakes.
However, mechanical brakes are more efficient than V-brakes, so you don't need to worry about stopping power.
To help you with climbing hills, it has a seven-speed transmission system, which ensures riders have always got the correct gear engaged.
It has a 7-speed Shimano Tourny gearing, which is one of the most popular choices for cheap bikes.
Ride Quality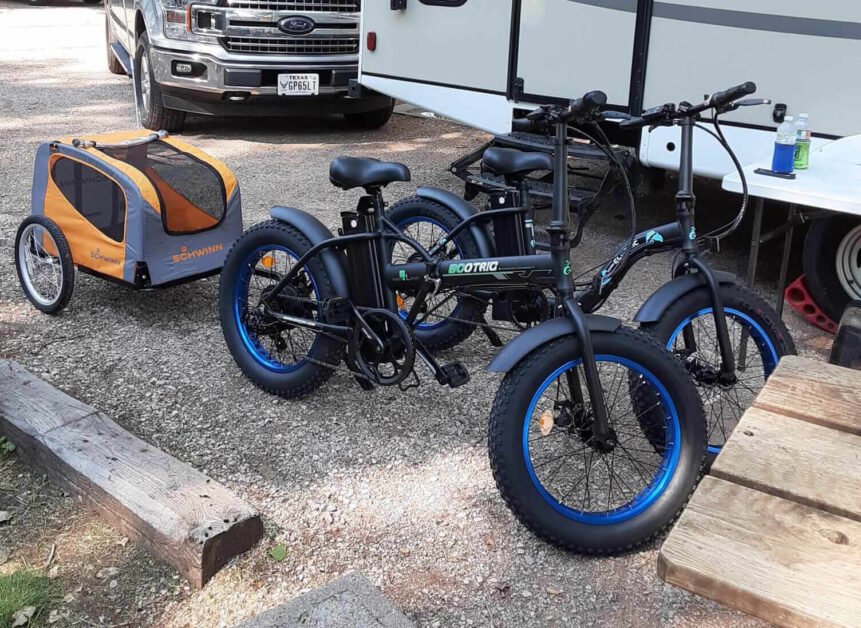 The bike is amazing for off-road trails and unconventional places. Take it to the woods, rough roads, local parks, muddy grass, and you'll notice its tires gripping the terrain while the motor pushes it forward.
The bike has got a pretty smooth ride because its high-quality frame and huge tires absorb any impact and all bumps gracefully.
It's got great disc brakes that react effectively and provide the rider with a great braking experience. It makes you feel as if you're riding any mountain bike.
The only difference is that the Ecotric is more powerful, offers a fantastic riding experience, and has an amazing design. Plus, it's foldable making it easily portable and extremely convenient.
Design and Features
Build Quality
The bike is 70″ x 24″ x 44″ when not folded and 39″ x 28″ when folded. It's got an excellent build quality considering the price, is light, and easy to dismount (especially for individuals with mobility issues or the elderly. It's highly durable, robust (it's bigger and meaner than the rest).
Regardless of its size, the bike is still easily foldable making it easier for users to store and transport it. Add its off-road capabilities, a decent charge time, range, and you'll notice how effective and versatile the e-bike is.
Portability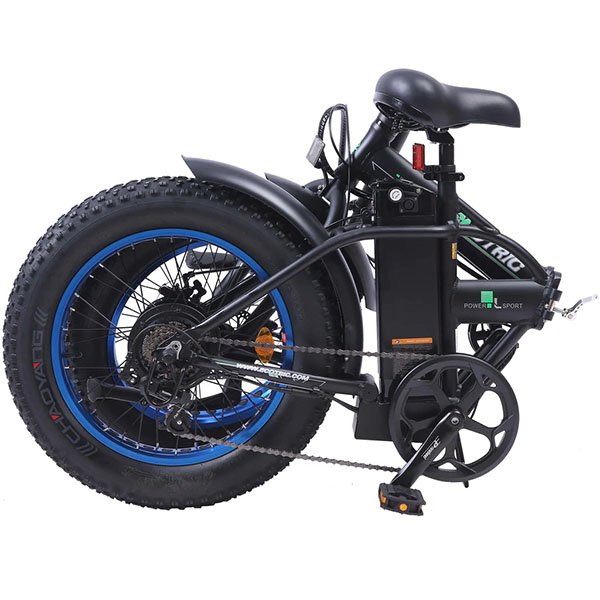 While the Ecotric's 20-inch fat tire e-bike is durable and fast, it's also designed for portability and storage. For instance, it's made with light aluminum materials, which makes it easier to move the bike, navigate public transport, or store it compared to most bikes in its category.
In addition, the electric bike is foldable, which helps reduce the amount of space it occupies when it's not in use. The bike folds in half and gets small enough that you can store it in your car or hang it in your garage if you want to save some space.
For example, the electric bike has adjustable pedals, handlebars, and an upper tube. 
Wheels and Tires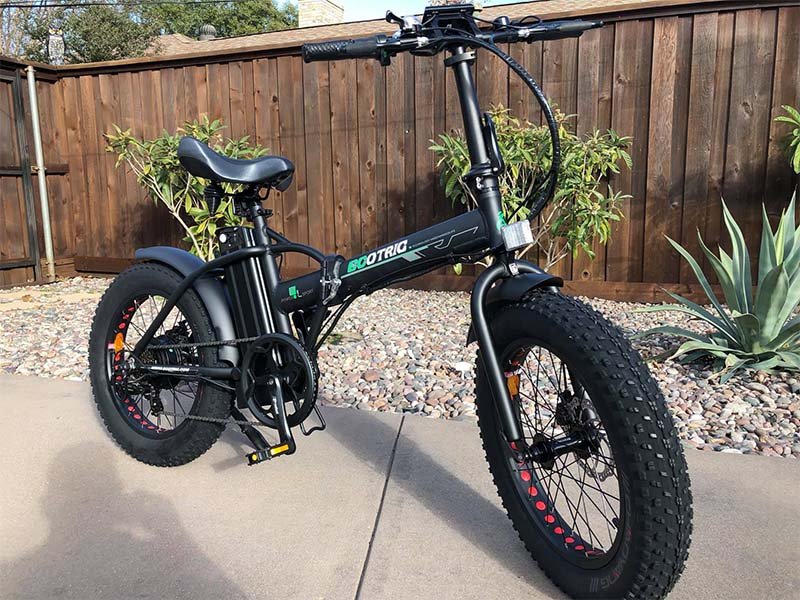 The bike has 20″ by 4″ tires and anti-skidding technology that adapts to sand, snow, and other complex terrains.
This design helps make the Ecotric 20″ fat tire electric bike the perfect companion for off-road trips. The wheels are made from aluminum, which keeps them light enough to minimize any fatigue.
The tires are also designed to absorb any impact that could be transferred to the rider. This ensures that the rider has an amazing riding experience and prevents them from experiencing rider fatigue. Their big size also helps the bike get enough grip to hold on to terrain when going off-road.
The Ecotric's responsive front and rear tires give it more control and better precision during sharp turns and sudden stops. In addition, its big tires provide the rider with better control and grip in various terrains.
UL-Certification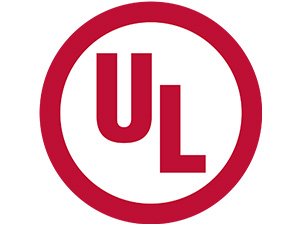 UL-Certification is done by third parties and ensures that devices are designed to meet the highest safety standards.
The third-party certification company ensures that the device uses the correct components, which can handle the amount of current with no risk to the user. As such, the Ecotric has a UL-Certification, which means that it's safe for riders to use.
Warranty
Each bike purchased through Ectoric's website has an 18-month warranty. However, you'll need to have information on the date of purchase, the model of the bike, the original order number from the website, and the original order number.
The warranty covers:
manufacturing defects
workmanship on the frame
defects on the materials
controller
motor
battery
and display.
Comparisons
Ecotric Fat Tire Electric Bike vs Engwe EP-2 Pro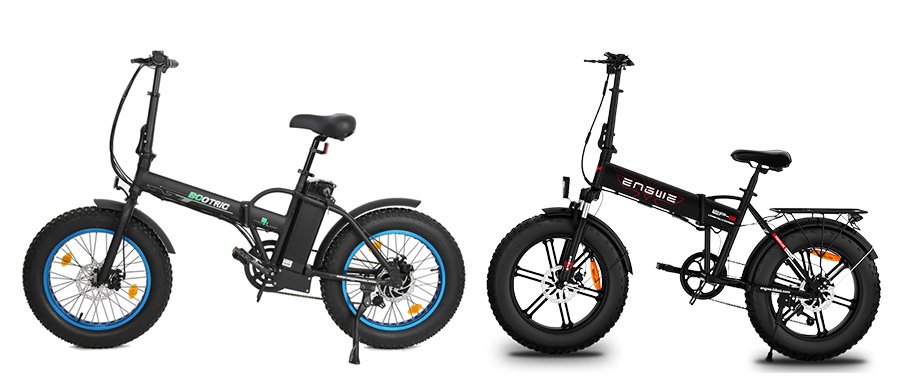 As you can see from the image above, the look of the two is very similar. However, if we take a closer look at the components, these two are quite different.
Commonalities
Ecotric and Engwe both have the same Shimano Tourney gearing system. Also, the braking system is the same.
Differences
Firstly, one of the main advantages of Ecotric is its lighter weight. So, if you need to carry the bike often upstairs, Ecotric would be a smarter choice.
However, Engwe seems to beat Ecotric in all other categories. It has a more powerful motor and a bigger battery. So the top speed and range are also better.
Ecotric bike has a rigid fork, while Engwe has a suspension. Both have wide tires but when riding on bumpy roads, a suspension is a needed feature.
Related: Engwe EP-2 Full Review
| | | |
| --- | --- | --- |
| Ecotric | | Engwe |
| 500W Rear Hub Drive | Motor | 750W Rear Hub Drive |
| 20 mph | Top Speed | 28 mph |
| 450 Wh | Battery | 615 Wh |
| 20 miles | Range | 30 miles |
| 52 lbs | Weight | 70 lbs |
| 260 lbs | Weight Capacity | 330 lbs |
| Rigid | Fork | Oil Suspension fork with adjusting features |
| 1×7-Speed Shimano Tourney | Gearing | 1×7-Speed Shimano Tourney |
| Mechanical Disc | Brakes | Mechanical Disc |
| $890 | Price | $950 |
Ecotric Folding Bike vs Lectric XP 2.0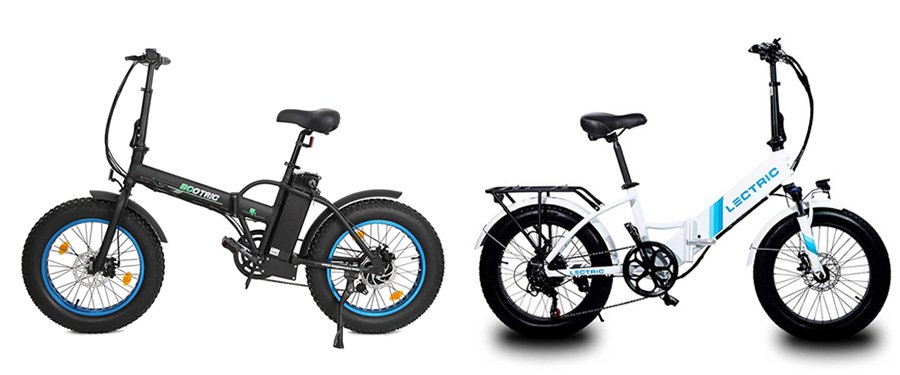 Both bikes have equally powerful motors of 500 watts. Also, the battery size is almost the same.
We noticed that Lectric promises up to 45 miles of range. At the same time, Ecotric has only 20 miles of range. The difference is definitely not so big. Range may vary based on different conditions. Factories usually make their range tests in ideal conditions and in real life, it's almost impossible to get the same result.
Lectric has a suspension fork, which is surely an advantage. However, Ecotric is about 12 pounds lighter.
| | | |
| --- | --- | --- |
| Ecotric | | Lectric |
| 500W Rear Hub Drive | Motor | 500W Rear Hub Drive |
| 20 mph | Top Speed | 25 mph |
| 450 Wh | Battery | 460 Wh |
| 20 miles | Range | Up to 45 miles |
| 52 lbs | Weight | 64 lbs |
| 260 lbs | Weight Capacity | 330 lbs |
| Rigid | Fork | Suspension fork, 50mm travel |
| 1×7-Speed Shimano Tourney | Gearing | 1×7-Speed Shimano Tourney |
| Mechanical Disc | Brakes | Mechanical Disc |
| $890 | Price | $999 |
Ecotric Folding Electric Bike Review Conclusions
The Ecotric electric bike is a hybrid that can be powered using the pedals, motor, or both. It's quite powerful, provides a great riding experience, and can climb steep inclines quite easily.
It also has a good range and speed. While the tires aren't perfect for everybody they are great at acting as shock absorbers since they don't have front shocks.