KBO is a relatively new player in the field of electric bikes. However, the company is fast-growing and they already have a solid range of ebikes in their selection.
The company manufactures quality e-bikes with quite affordable price tags. They can keep the prices low because they sell directly to consumers without middlemen.
In this KBO electric bikes overview, we introduce you to all KBO bikes, so you could make an informed choice when looking for your next e-bike.
Electric Wheelers is reader-supported. Although we independently research and test products, we may receive a commission on purchases made from our chosen links. Read more…
Table of Contents
KBO E-Bikes Overview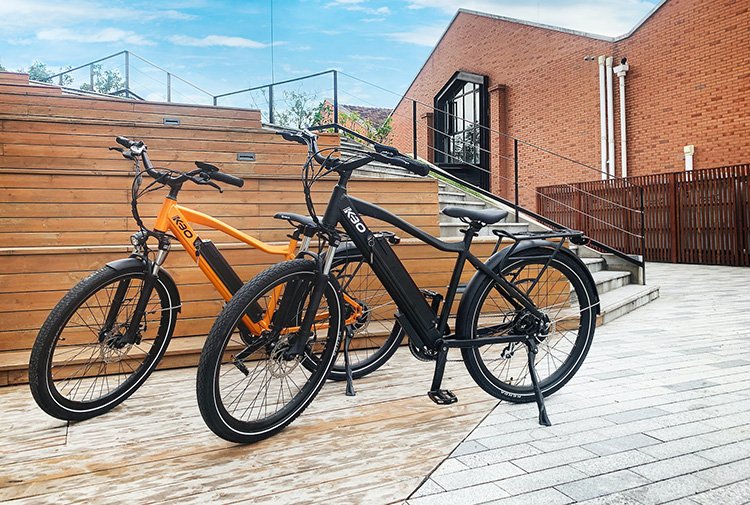 Website | Facebook | Instagram | Youtube
KBO e-bikes were founded in 2018. Their main market is the United States. They serve all their customers from their California warehouse.
Although KBO is a young e-bike brand, they already have an e-bike for almost all needs. Their selection of ebikes includes:
All-terrain ebikes
Cruiser electric bikes
Commuters
City bike
Folding e-bikes
and a cargo e-bike.
KBO Electric Bikes Reviews
KBO has a wide range of different types of electric bikes in its selection. Everyone should find something.
Let's take a brief look at each KBO electric bike.
Get a $50 discount on all KBO e-bikes with our unique coupon code: WHEELERS
KBO Tornado – All-Terrain Electric Bike

KBO Tornado is an all-terrain electric bike that is suitable for all kinds of activities. You can just commute with it to work or school or ride it in the forest trails as training.
The Tornado comes with a 750W rear hub motor, which provides a top speed of up to 25 mph. If you are tired and don't want to pedal at all, you can use a half-twist throttle. Then the top speed is 20 mph.
The e-bike has a quality battery with Samsung or LG cells. It contains 672 Wh of energy capacity, which will provide up to 45 miles of range.
Related: KBO Tornado Full Review
Additionally, the bike has all the necessary accessories like full fenders, a rear rack, and a front light. Also, the bike has both step-over and step-thru frames in selection.
KBO Oasis – Cruiser Electric Bike

KBO is always looking for ways to bring new and interesting models to the market. One of the recent launches is KBO Oasis cruiser electric bike.
One of the most spectacular features of this bike is its look. The frame of the Oasis is inspired by an old-school beach cruiser bicycle. However, while cruiser bikes were usually with single-speed drivetrains, the Oasis is equipped with Shimano 7-speed derailleur.
And of course, the bike also has a 500W motor, which lies in the rear hub. The battery is hidden in the frame but it's still removable. So you can take the battery with you and charge it in your room.
Related: KBO Oasis Full Review
The bike is meant to ride in urban environments and therefore, it doesn't have a suspension system. However, the tires are quite wide, so some occasional bumps on the road won't be an issue.
KBO Breeze – Commuter e-Bike
KBO Breeze is one of the first e-bikes the company built. But it's still a really popular model and has gathered lots of good feedback from its owners.
It's a commuter bike and comes with 2 different frame styles. People can choose between step-over and step-thru frames depending on their personal preferences.
Get a $50 discount on all KBO e-bikes with our unique coupon code: WHEELERS
The Breeze comes with a 500W rear-hub motor. However, the peak power of the motor is 750W. The motor is capable to climb up steep inclines even if the rider weighs over 200 pounds.
Related: KBO Breeze Full Review
The battery of the bike can contain 768Wh of energy, which allows you to ride up to 55 miles. There is also a quick charger included, which makes the battery full within 5 hours.
KBO Hurricane 2.0 – City e-Bike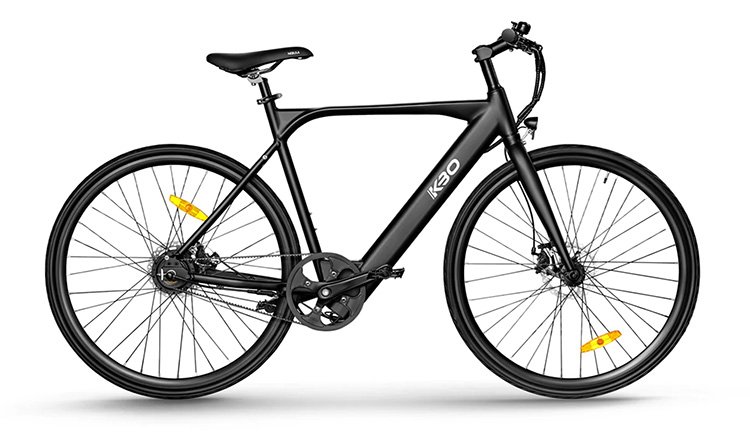 The Hurricane is a lightweight city commuter. It's one of those electric bikes that doesn't even look like one. The battery is hidden in the frame and the motor is quiet.
As the "2.0" in the name suggests, it's already a second generation of this e-bike. While the first-gen model was a belt-drive e-bike, the 2.0 is a chain drive. Also, the 2.0 has a bigger battery and a more powerful motor.
Talking about the motor, it's located in the rear hub and has 350W of power. However, the peak power is 500W. Unlike other KBO ebikes, the Hurricane doesn't have a throttle.
The battery of the Hurricane is built by Panasonic and it can provide up to 45 miles of range. Light weight, 700C road tires, and sleek design definitely contribute to good mileage.
One of the best features of this bike is its price. You rarely find such quality at a price this low.
KBO Flip – Affordable Folding e-Bike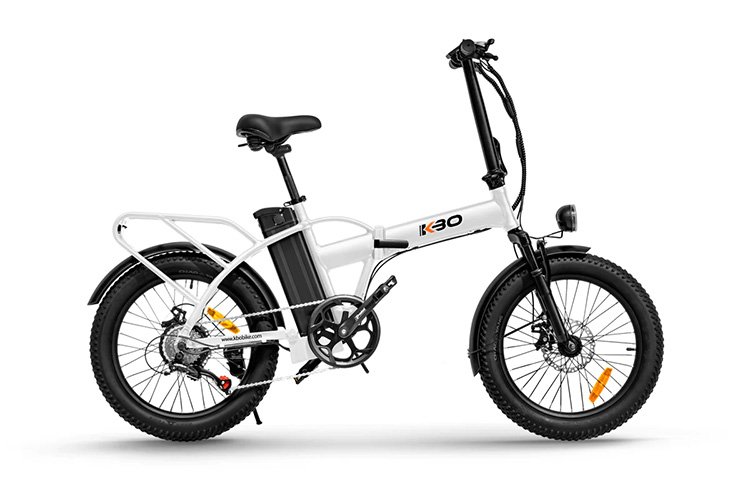 KBO Flip was the company's first folding electric bike. It is built with practicality in mind.
One of the best features of the bike is you can fold the frame in half, collapse the handlebar stem and easily fit it in places where no other bike will fit. For example, you can put the bike in the trunk of the car and take it on your next trip. Or if you live in a small apartment, you can store the e-bike in the closet when not riding.
Related: KBO Flip Full Review
Besides practicality, the bike has solid performance too. It comes with a 500W motor and a comfortable throttle, so you could ride the e-bike without pedaling. The 15.6Ah battery provides up to 30 miles of range in pure electric mode. On pedal-assistance mode, you can ride as far as up to 55 miles on a single charge.
KBO Compact – Foldable Electric Bike
Although the company already had a folding e-bike, they decided to manufacture another one – KBO Compact. Actually, it's an improved version of the KBO Flip.
First of all, the Compact has a 48V battery instead of the 36V on the Flip. Also, the Compact has a 750W motor instead of a 500W motor on the KBO Flip. It means, the KBO Compact has better acceleration and is capable to climb steeper hills. Also, more power comes in handy, when you need to carry more cargo.
Related: KBO Compact Full Review
Another difference you probably noticed is the frame design. The KBO Compact has a low-step-through frame, which is much easier for the riders to get on and off the bike.
KBO Ranger – Electric Cargo Bike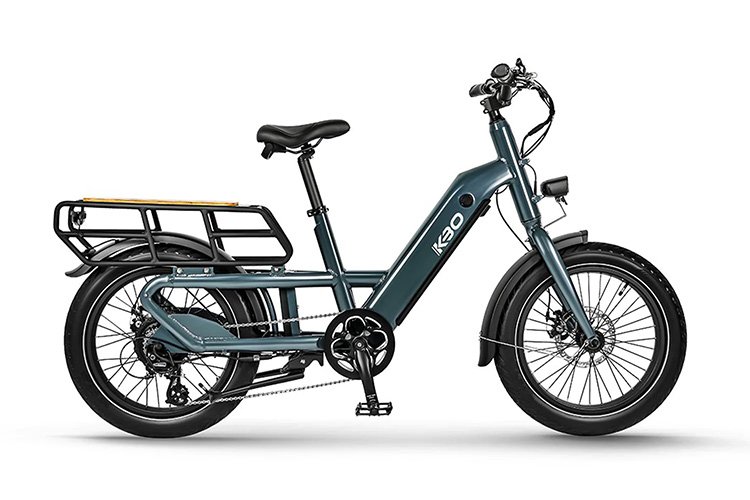 Although recently mentioned folding bikes provide some cargo capacity, they are not quite cargo e-bikes. But no worries, KBO has a true cargo e-bike in its lineup too. It's called KBO Ranger.
It's a perfect ebike to haul kids or pick up groceries. The bike has a payload capacity of 400 pounds. The base model has a long rear rack. However, if you need more cargo space, there are lots of baskets and bags you can attach to this bike.
Related: KBO Ranger Full Review
Since the bike is meant for carrying heavy loads, it must have a strong motor and battery. It has a 750W rear hub motor, which is capable to handle all the weight. Also, the LG battery has 840Wh of energy capacity, which is enough for a 60-mile range.
KBO E-Bikes FAQs
What does KBO stand for?
KBO means Killer Bike Option.
Where is KBO Bikes based?
The headquarters of the KBO Bikes is in London, England. However, they don't sell bikes anywhere but in the United States. KBO serves all its customers from the warehouse located in El Monte, California.
Where are KBO Bikes made?
KBO electric bikes are made in Asia. They use top-quality batteries from Samsung and LG, which are both South Korean companies. Most other components of KBO ebikes are also manufactured in Asia.
How much is a KBO Electric Bike?
KBO electric bikes are relatively affordable. Their goal is to provide the best value ebikes for all lifestyles. KBO's most affordable models start from $900 and the most expensive models are less than $2,000.
How long is the warranty of KBO ebikes?
All KBO electric bikes are covered with a 2-year all-inclusive warranty.
Conclusion: Is KBO a Good Bike?
To sum it up, it's great to see that a young brand has already managed to launch so many different e-bike models. KBO offers a wide selection of e-bikes with different frame styles so everyone should find the best option.
KBO electric bikes come with good quality and at the same time, it doesn't break a budget to buy one.