KBO Oasis is a beach cruiser electric bike that is perfect for people looking for a stylish and comfortable ride.
It has a powerful motor, a solid range, and plenty of cargo capacity. But most importantly, KBO focused on comfort when they built the bike. The Oasis has a wide saddle and a relaxed, upright ride position.
In this comprehensive review, we will introduce you to the bike more closely, and by the end, you can make an informed decision about whether this e-bike is a good fit for you. Stay tuned!
Electric Wheelers is reader-supported. Although we independently research and test products, we may receive a commission on purchases made from our chosen links. Read more…
Table of Contents
KBO Oasis Review

Motor: 500W | Top Speed: 25 mph | Max Payload: 300 lbs | Battery: 720Wh | Max Range: 55 miles
Get a $50 discount with our unique coupon code: WHEELERS
KBO Oasis Performance
500W Hub Motor
KBO's Oasis has a powerful 500-Watt geared hub motor (brushless) that produces 68Nm of torque. The motor produces immense power each time you turn the throttle, allowing you to cruise at comfortable speeds in a few seconds.
The bike's motor provides enough power to easily tackle obstacles, including various inclines.
The Oasis has a 22mph top speed on throttle alone and can manage 25+ speeds on the pedal assist mode. In the USA, the bike's speed fits within the legal speed limit for e-bikes.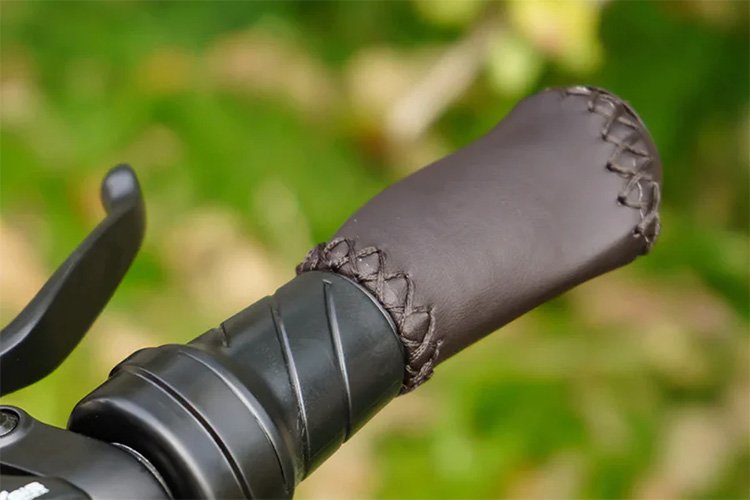 The Oasis has a half-twist throttle that operates similarly to the full-twist throttle on motorcycles. The only difference is that it doesn't encompass the entire handle. KBO prefer a half-twist throttle on their Oasis because it provides additional safety in case of an accidental engagement.
Additionally, the design allows riders to customize their handles with handlebar end mirrors, etc.
In-Frame Yet Removable Battery
The KBO Oasis has a removable, in-frame lithium-ion battery (48V, 15Ah), which is considered one of its most significant advantages. KBO claims that the battery of Oasis has a great battery life that equals 900 full-charge cycles.
According to KBO, the Oasis' powerful 720Wh capacity battery keeps riders on the road for a 55-mile range on a single charge. However, understand that the bike's range can be affected by various factors, including the terrain, cargo weight, pedal-assist levels, and incline.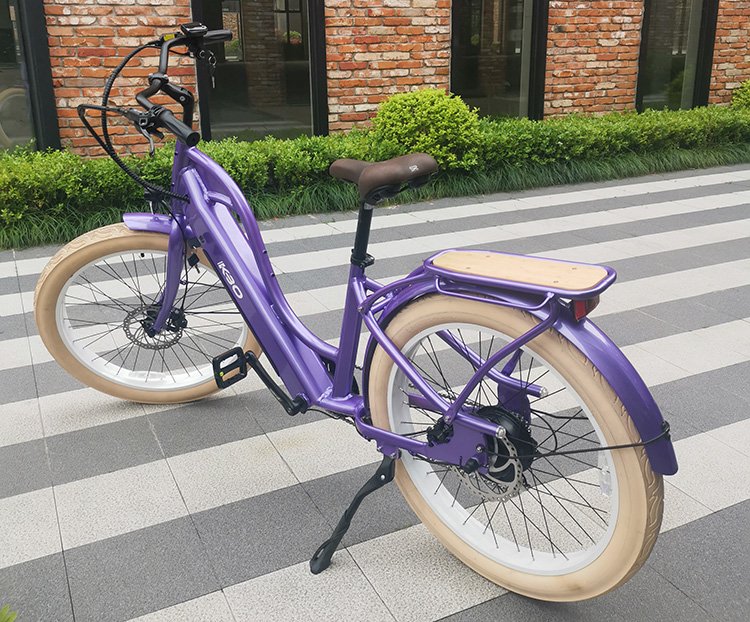 The e-bike is excellent for individuals looking for reliable transportation over long distances. The bike limits the hassle of frequent charging and provides an opportunity for endless weekend adventures. The battery also makes the Oasis a reliable commute to and from work.
Shimano Altus Gearing
KBO's Oasis has a 7-speed Shimano Atlus gearing system. The Atlus gearing provides a smoother operation and is lighter than the Shimano Tourney. The Shimano Atlus gearing system is designed to provide riders with a better riding experience and allows them to adapt to various terrains on demand.
However, one challenge with the Shimano Atlus gearing is that it doesn't operate nicely under heavy loads. You may experience some issues when shifting gears, and limiting how much load you carry on your bike would be better.
Mechanical Disc Brakes
The Oasis has 180mm (front) and 203mm (rear) disc brakes, providing reliable stopping power in dry and wet conditions.
The mechanical brakes aren't as good as the hydraulic variants, and you should be cautious if you are used to hydraulic disc brakes. But still, there is no problem with the stopping power. The braking is just not as smooth and silent as with hydraulic brakes.
KBO Oasis Features
Cruiser-Style Frame
The Oasis' design is inspired by the classic beach cruiser bicycle's timeless design. It features low-sling styling, swept-back handlebars, and designs that combine functionality and American culture.
The KBO Oasis cruiser e-bike comes in both step-through and step-over variants and provides upright and relaxed ride positions.

The e-bike has an adjustable stem that users can customize for more riding comfort. This helps correct riding positions that may lead to arm, shoulder, and back pain arising from the original setup. The Oasis weighs 62 pounds and has a 300-pound maximum payload capacity.
The step-through variant is recommended for riders between 5'1" and 6'3", while the step-over design is recommended for riders between 5'4" and 6'4".
The step-through design is easier to get on or off and is recommended for older and younger individuals who find climbing onto step-over bikes challenging.
Wheels and Tires
The Oasis is marketed as an all-terrain e-bike. It has 27.5-inch by 3.0-inch tires with anti-puncture features. The bike has 13G stainless steel spokes that work well in strenuous conditions. The tires are reliable and high-performing. However, you should avoid off-roading or riding the e-bike in rough terrain.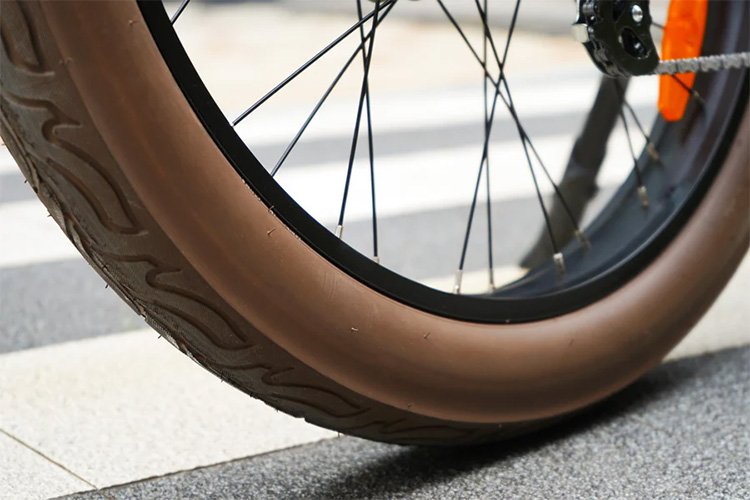 While the tires are tough, they aren't explicitly designed for off-roading adventures and could prove problematic. Additionally, the bike doesn't have suspensions and will provide a bad riding experience if used on extremely rough terrain.
Cockpit
KBO's Oasis has a comfortable saddle with an extra-wide design, making riding over uneven terrain more comfortable. The e-bike's handlebar features two brake levers (front and rear), a half-twist throttle, an LCD display, and a gear shifter. 
The Oasis has a multi-functional backlit LCD display showing various types of information, including the odometer, speed, battery capacity, PAS, etc. 
Front and Rear Lights
The Oasis has an integrated, updated, and stylish headlight powerful enough to provide excellent illumination for riders during nighttime. Additionally, riders can use the powerful headlight to get sufficient visibility when riding through foggy conditions.

The bike has integrated rear brake light indicators on both sides of the rear wheel. The brake lights make quick flashes whenever riders apply brakes, indicating their presence to other road users and pedestrians. These lights help keep the rider safe by indicating their position when riding at night, especially in urban environments with lots of traffic.
Additional Features
KBO Oasis has smart mounting points on the rear and front, allowing you to add various accessories and customize the bike according to your preferences, situation, or needs. The bike has various free accessories, including:
an Oasis rear rack
a 16-in-1 repair toolkit
full fenders
and warning reflectors.
These accessories are included in the base price, whereas other companies often require their customers to pay extra. The e-bike's rear rack has an upgraded design that makes it solid, improves its stability, and boosts its load-bearing capacity.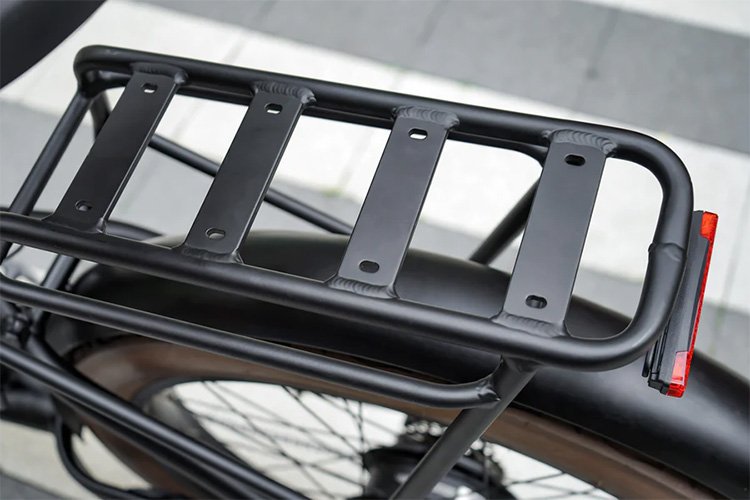 Additionally, the e-bike has a  heavy-duty aluminum alloy kickstand that's strong, durable, and rust-resistant, plus alloy pedals with reflectors. 
For the extra money, you can add baskets in front and rear.
Get a $50 discount with our unique coupon code: WHEELERS
KBO Oasis Review Conclusions
Although the price of the bike is rather in the entry-level category, the KBO Oasis itself is much more than that. The bike has great build quality, different frame types according to rider needs, a solid feature package, and a reasonable range. On top of that, the bike looks really cool.
The e-bike arrives 90% pre-assembled, and you'll get a comprehensive video and all the tools you need to assemble the e-bike (even for novices) in under 20 minutes.
So if you are looking for a stylish e-bike to cruise around the city, KBO Oasis is definitely worth considering.
Read also: Overview of All KBO eBikes
KBO Oasis Specs
General
| | |
| --- | --- |
| Bike Name | KBO Oasis |
| E-Bike Class | Class 3 |
| Availability | United States |
| Warranty | 2 Year |
Electronics
| | |
| --- | --- |
| Motor Type | Rear-Hub Drive |
| Motor Power | 500W |
| Top Speed | 25 mph |
| Battery | 48V 15Ah (720Wh) |
| Range | 55 miles |
| Display | LCD |
Bike Details
| | |
| --- | --- |
| Dimensions | 78.7″ x 45.2″ |
| Frame Material | Aluminum Alloy |
| Frame Size | One Size |
| Frame Type | Step-Over, Step-Through, Cruiser |
| Recommended Rider Height | 5'1″ – 6'4″ |
| Frame Colors | Black, Green, Purple |
| Fork | Rigid |
| Rear Suspension | – |
| Gearing | 7-Speed Shimano Altus |
| Brakes | Mechanical Disc |
| Wheel Size | 27.5″ |
| Tires | 27.5″ x 3″ |
| Weight | 62 lbs |
| Weight Capacity | 300 lbs |