Performing miraculously well on the roughest terrains, Engwe EP-2 Pro is a great electric commuter bike that combines a great design with an efficient performance.
The amazing folding mechanism and a fun-to-ride experience make this model gain immense popularity among adventure lovers.
Here's a video review of the Engwe eBike EP-2 Pro and down below you can find full specs and a detailed written review.
Electric Wheelers is reader-supported. Although we independently research and test products, we may receive a commission on purchases made from our chosen links. Read more…
Engwe Electric Bike Overview
Fat-tire folding e-bikes are becoming more popular every day. It's like getting 3 different bikes in one:
Fat bike
Folding bike
Electric bike
Main reasons why people buy this kind of bike:
1 bike suits the whole family
Versatility – You can use an Engwe bike for off-roading, commuting between work or school, or going to groceries store
Affordable
Fun to ride with
Related: How to Assemble an Engwe Electric Bike
Engwe EP-2 Pro Specs
Intro
| | |
| --- | --- |
| Make: | Engwe Bikes |
| Model: | EP-2 Pro |
| Price: | $1,200 $950 |
| E-Bike Class: | Class 3 |
| Warranty: | 1-Year Warranty |
| Availability: | United States, Europe |
| Model Year: | 2021 |
Electronics
| | |
| --- | --- |
| Motor Type: | Rear-Hub Drive |
| Motor Power: | 750W |
| Top Speed: | 28mph |
| Battery: | 48V 12.8Ah, 615Wh |
| Battery Chemistry: | Lithium-Ion |
| Charge Time: | 6 Hours |
| Min Range: | 30 miles |
| Max Range: | 50+ miles |
| Display: | LCD Display with Battery Level Indicator, Speedometer, Pedal Assist Level, Odometer, Tripmeter |
Bike Details
| | |
| --- | --- |
| Weight: | 70 lbs |
| Weight Capacity: | 330 lbs |
| Dimensions: | 66″ x 45.6″ |
| Folded Dimensions: | 30″ x 32″ |
| Frame Material: | Aluminum |
| Frame Size: | One-Size |
| Frame Types: | Mid-Step, Folding |
| Frame Colors: | Black, Orange, Gray, White, Aqua |
| Fork: | Oil Suspension, with Adjusting and Locking Features |
| Gearing: | 1×7-Speed Shimano Tourney Drivetrain with Shimano SIS Shifter |
| Brakes: | Mechanical Disc |
| Wheel Size: | 20″ |
| Tires: | 20″ x 4″ Fat Tires |
| Accessories: | Kickstand, Front and Rear Lights (Brake Light), Rear Rack, Bell |
To Whom?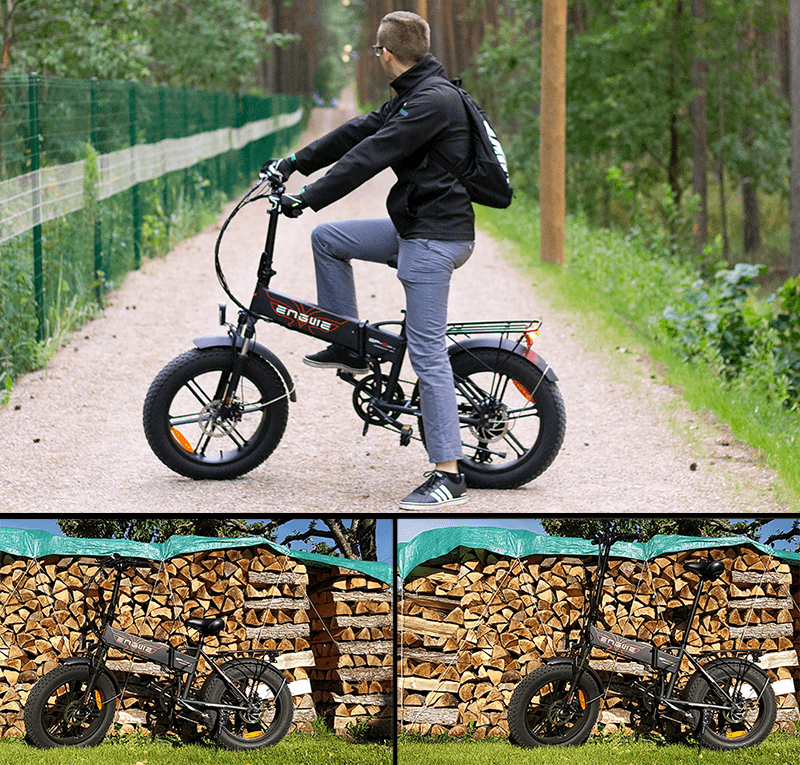 Engwe EP-2 Pro is suitable for a wide variety of users. It fits almost all riders, including men, women, and kids. One-size frames fit the whole family. With a maximum weight capacity of 330lbs, you can even carry some cargo.
Very Versatile eBike for Off-Road and Urban Commuting.
The electric bike is not only fun off-road but also equally perfect for city riding.
All you need to do is to adjust the front fork to handle almost all types of terrains, ranging from lawns, beaches, gravel surfaces, stone roads, mountains, and other terrains.
Related: A Complete Overview About the Engwe Brand
Engwe EP-2 Pro Performance
Battery & Range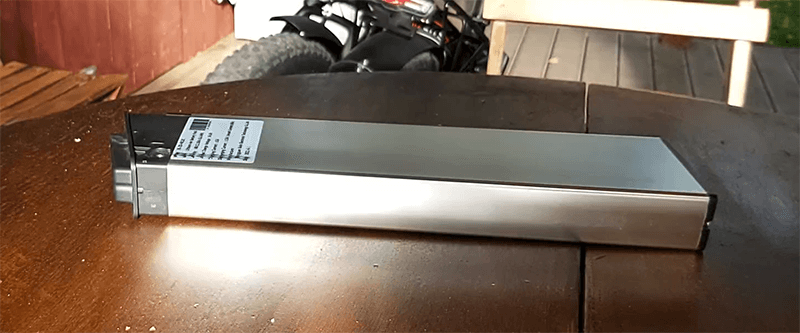 Engwe Bikes states on their website that the range is 45+ miles but I am a bit skeptical about that. This result is probably achieved under ideal conditions and a more realistic range is about 30-35 miles. It really depends on many conditions like rider weight, type of terrain, weather, and more.
It takes about 6 hours to fully charge the battery, which is actually quite okay. The battery is integrated into the frame and it is removable. You can take the battery off and recharge it wherever you want.
You can only remove the battery if you have the key. I think it's a nice safety feature and you don't have to worry that someone steals your battery when the bike is locked on the street.
Motor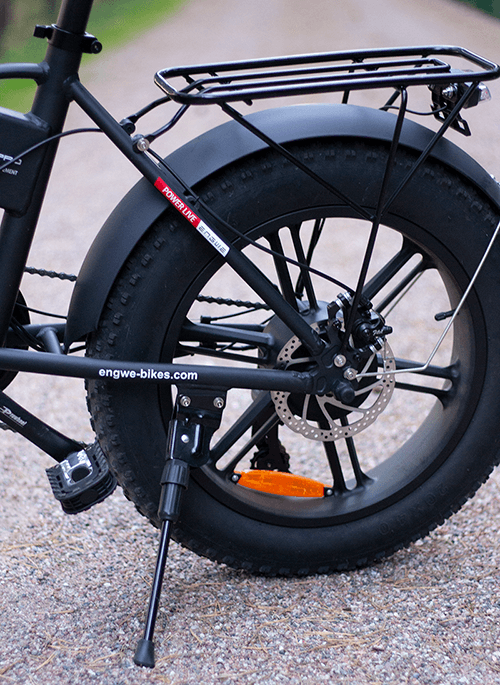 The aggressive torque on the motor lets you clearly feel it when the motor kicks in. The 750W at 80Nm on the rear wheel of the bike offers a smooth power transition and the speed builds up very quickly, while also letting you ride at a fixed speed effortlessly.
Different Riding Modes
Pedal Mode – It lets you pedal the vehicle like a regular bicycle.
Throttle Mode – You don't need to pedal in throttle mode. Simply enjoy the speed and power of your bike.
Pedal-Assist Mode – The motor kicks in when you start pedaling. You can control the degree of assistance the bike gives you. You get the natural riding feel but the motor does most of the work.
5 Levels of Pedal Assistance
This Engwe eBike comes with 5 different levels of pedal assistance.
When getting yourself an EP-2 Pro, try lower levels first. As mentioned before, the torque is quite aggressive and it can be unsafe if you are not familiar with it.
Higher levels mean the motor gives more aggressive kicks. When in level 4 or 5, the motor does most of the work. You still need to create pedaling motion unless the motor stops working.

I have tried out different levels:
Level 1 – Very low assistance. The motor assists you up to ~6mph (10km/h)
Level 2 – Motor assistance up to ~10mph (16km/h)
Level 3 – Motor assistance up to ~13mph (21km/h)
Level 4 – Motor assistance up to ~16mph (25km/h)
Level 5 – Motor assistance up to ~24mph (38km/h)
Engwe EP-2 Pro Design and Features
Build Quality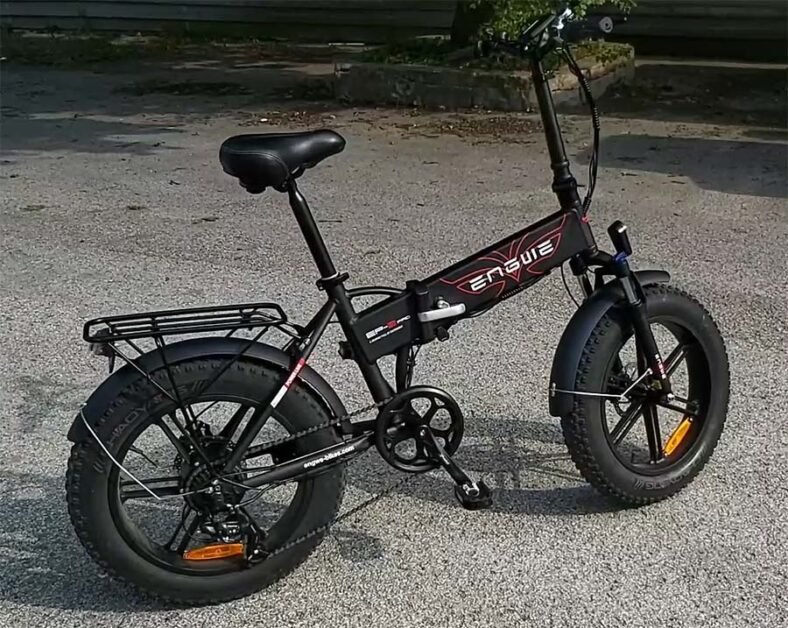 Engwe EP-2 Pro seems well built. It has a solid aluminum frame with strong construction.
Although the bike is heavy and it is not good to carry it for a long time, it's still nice that there is a carry handle. It's good to use it if you want to lift the bike to the trunk. Also, it's convenient to use this spot for locking the bike.
The bike also has a chainring and derailleur protector. The chainring protector is extra-useful when the bike is folded.
Engwe EP-2 Pro is suitable for heavy adults. Max payload capacity is 330 lbs.
High payload capacity also means that you can carry some stuff on it. For example, use the rear rack and bring home some groceries.
Sometimes the joints of a folding bike tend to be loose and unsafe. It's not the case here.
All the folding joints of Engwe EP-2 Pro are very sturdy and tight. You don't have to worry about something getting loose when riding.
Related: Best Folding Electric Bikes
Tires & Suspension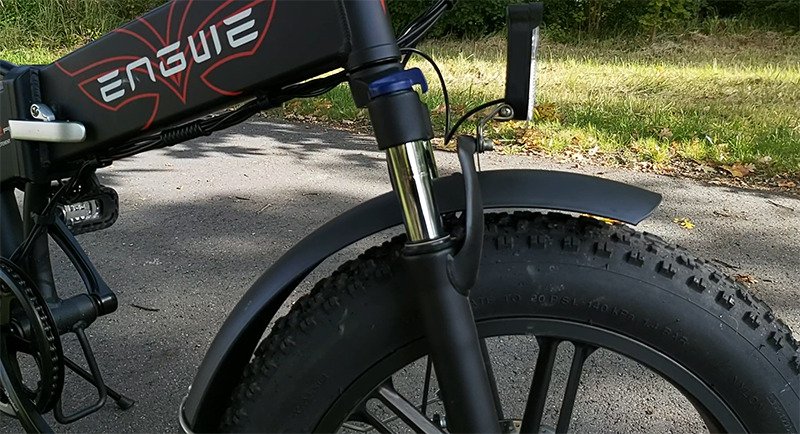 The 4″ fat tires combined with an oil suspension fork prove to be a boon and absorb every bump, whether you travel on a cobblestone street or gravel road.
The off-road tires are the flagship of this electric mountain bike and are mounted on 20-inch wheels.
The fat tires on a small wheel deliver great traction and comfort. However, make sure to be extra cautious when you ride at high speeds. Small wheels are less stable than large ones and may create trouble on bumpy roads if the speed is high.
Efficient Lights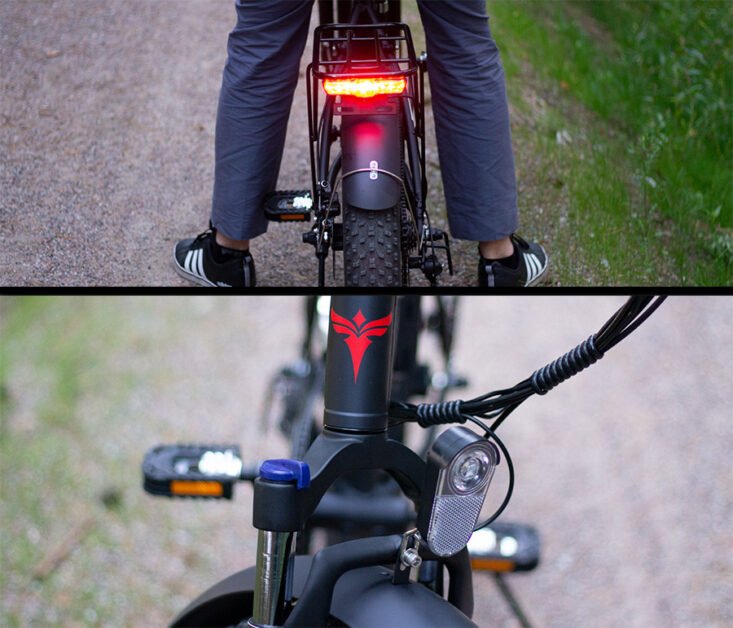 Super bright 48V LED lights keep you safe by penetrating the gloom or thick fog without trouble. Plus, the tail light comes with a stopping feature. It also works even when the lights are turned off.
Portability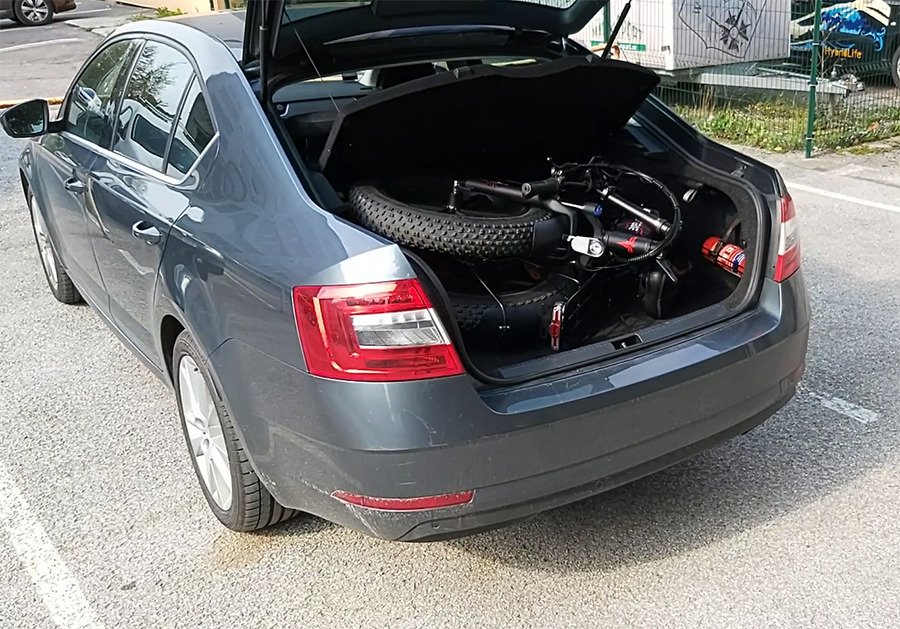 The foldable alloy frame and the handlebar make it super portable. By portable, I mean it takes up very little space when folded.
It's convenient and practical to travel with and can be easily stored in the trunk of your car. It is ideal for those who are going to the mountains or simply anywhere they want. You definitely don't want to haul this bike in your hand for a long time because it's quite heavy.
LCD Display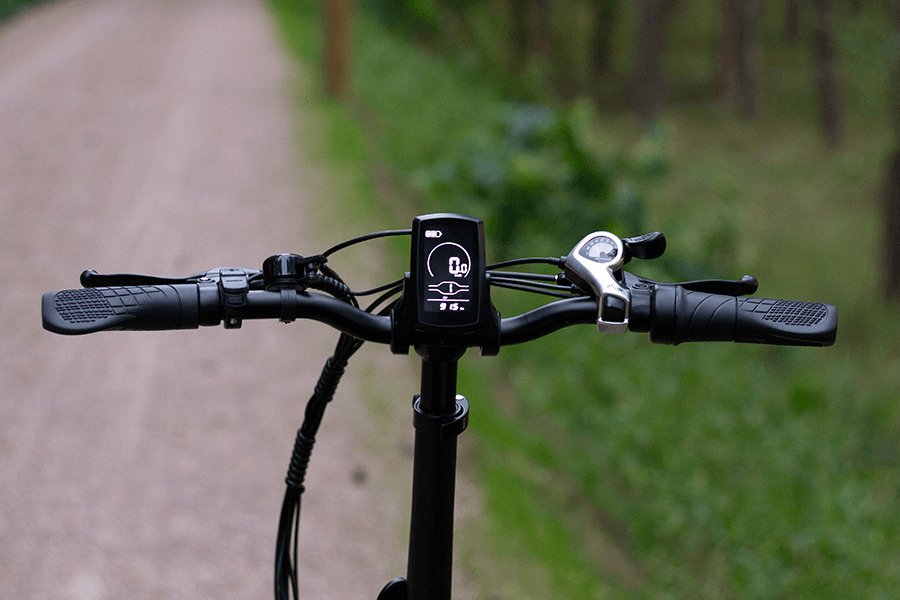 The display is quite big and bright enough to read from even under direct sunlight.
Navigation of the menu is easy. Display controls are on the left side of the handlebar and there are 5 buttons:
plus (+) – increase riding mode to upper level
minus (-) – decrease riding mode to the lower level
on/off – turn the motor on and off
lights – turn on/off the lights
info (i) – toggle between menu items
Ride Quality
I think this e-bike is perfect for small commutes. It has a very comfortable saddle and front suspensions plus fat tires are making it easy to ride in all kinds of terrain.
Also, this bike comes with great maneuverability due to its cleverly designed length and width. Its wheelbase is just about right and it's easy riding through even the tightest entrances.
However, the geometry of this bike is not meant for ultra-long commutes. At least for me – when riding with it for several hours, my back gets tired.
Reasonable Price
The bike is affordable and totally worth the money. While folding electric bikes start as low as 600 dollars, the best-selling bikes usually go up to $2,000. The EP-2 Pro is rather on the lower side of this price range and still delivers incredible features for its cost.
Engwe often offers huge discount campaigns and the price can even be under $1,000.
Engwe EP-2 Pro Cons
Although it is a great bike overall, there are some drawbacks.
Heavy
The pictures give an impression of a small bike with a lightweight appearance due to its folding mechanism. In reality, it's actually quite heavy and large, weighing around 70lbs.
However, it's an electric fat bike, so this is quite the weight one should be expecting.
No Remaining Mileage Indicator
The display doesn't show the remaining mileage. It just shows how many bars the battery has left. And it is not 100% accurate.
I had the following situation:
When I started the ride, the bike was in pedal-assist level 5 and the battery had 5 bars left.
After riding a couple of minutes, I suddenly noticed that only 3 bars were left. After turning it into level 3, the display showed me 4 bars of battery. At the same time, I had no idea how many miles I can get.
But this is no issue if you test more and get more familiar with the bike.
Messy Cables
The cables can mess up a bit when folding and unfolding. After folding it again, the cables may be at a position that affects the front brake lever. Some riders occasionally find the brake levers too tight. But it can be fixed by moving the cords from side to side.
Comparisons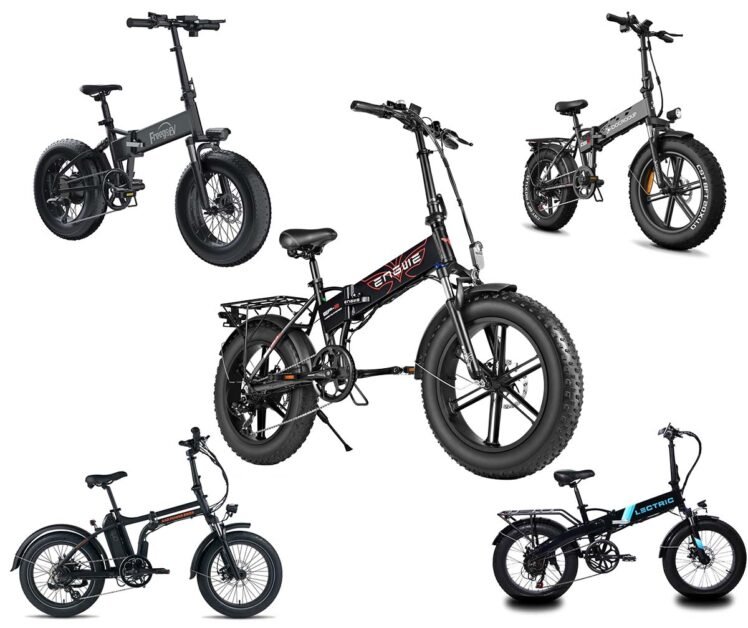 As mentioned before, these 20-inch folding electric bikes are super popular these days. There are many comments below our Youtube review, where people say that they have a very similar bike with a different name on it.
Some examples of very similar bikes:
Related: New Release from Engwe Bikes – C20 Pro
Engwe EP-2 Pro vs Lectric XP 2.0 vs RadMini 4

Although these bikes look very similar, it turns out there are quite a lot of differences between them.
But first, let's see what commonalities they have:
| | | | |
| --- | --- | --- | --- |
| | RadMini 4 | Engwe EP-2 Pro | Lectric XP 2.0 |
| Motor Type | Rear Hub | Rear Hub | Rear Hub |
| Torque | 80 Nm | 80 Nm | 80 Nm |
| Gears | 7 | 7 | 7 |
| Charge time | 5-6h | 6h | 4-6h |
| Range | 45+ | 45+ | 45+ |
| Brakes | Mechanical | Mechanical | Mechanical |
| Wheel Size | 20″ | 20″ | 20″ |
All 3 are equipped with a rear hub motor, which provides 80 Nm of torque. Also, you can ride about the same distance with each of them. The same story is with charging. It takes about 6 hours to get the battery recharged.
Also, you can expect very similar stopping power because they all have mechanical disc brakes.
Engwe EP-2 Pro, Lectric XP 2.0, and RadMini 4 Differences
| | | | |
| --- | --- | --- | --- |
| | RadMini 4 | Engwe EP-2 Pro | Lectric XP 2.0 |
| Price | $1,499 | $950 | $999 |
| Motor | 750W | 750W | 500W |
| Max Speed | 20 mph | 28 mph | 28 mph |
| E-Bike Class | 2 | 3 | 2/3 |
| Battery Capacity | 672Wh | 615Wh | 460Wh |
| Tires | 20×3″ | 20×4″ | 20×3″ |
| Derailleur | Shimano Altus | Shimano Tourney | Shimano Tourney |
| Weight | 67lbs | 70lbs | 63lbs |
| Max Weight | 275lbs | 330lbs | 330lbs |
| Fork Travel | 80mm | 70mm | 50mm |
| Fits Riders | 4'10" – 6'2″ | 5'2″ – 6'5″ | 4'10" – 6'3″ |
| Folded Dimension | 41″ x 22″ x 28″ | 30″ x 32″ | 37″ x 18″ x 27″ |
As we can see, one of the main advantages of Engwe is the price. It is slightly cheaper than Lectric and quite a bit cheaper than RadMini. At the same time, the overall build quality is not worse.
On the positive side, it is worth mentioning that Engwe has a good top speed, solid payload capacity, and wider tires.
On the other hand, Engwe EP-2 Pro is heavier than its competitors. Compared to RadMini, Engwe has a cheaper derailleur system and less travel in the fork. Also, RadmMini has more energy capacity in its battery.
Where to Buy Engwe EP-2 Pro
Engwe sells its bikes direct to consumers on its own website. That's why they can have such affordable prices.
Here are the links to get yourself an EP-2 Pro electric mountain bike at the best price:
Engwe EP-2 Pro Review Conclusion
Overall, I really like the bike. There are no reasons to regret that I bought it.
If you want a convenient commuter bike for getting to work or school or going shopping, Engwe EP-2 Pro would be a perfect match for you. Bike components are not of the highest level of quality but they will do the needed work and it can help to keep the price of the bike down.
This stylish bike definitely will draw some attention.