In the last few years, there has been a significant rise in the use of electric bikes. Brands now opt-in for e-bikes for their daily activity.
Twentieth-century e-bikes have evolved not only in terms of functionality but also in terms of looks. E-bikes are now offering more features than meets the eye.
You wouldn't want to miss out on the KBO Flip electric bike with its flip fold system to keep it portable and moveable. Folding e-bikes are less expensive and are great for outdoor use, including public commuting.
If you are in the market for one, there are a few things to consider. Read on.
Electric Wheelers is reader-supported. Although we independently research and test products, we may receive a commission on purchases made from our chosen links. Read more…
KBO Folding Electric Bike Review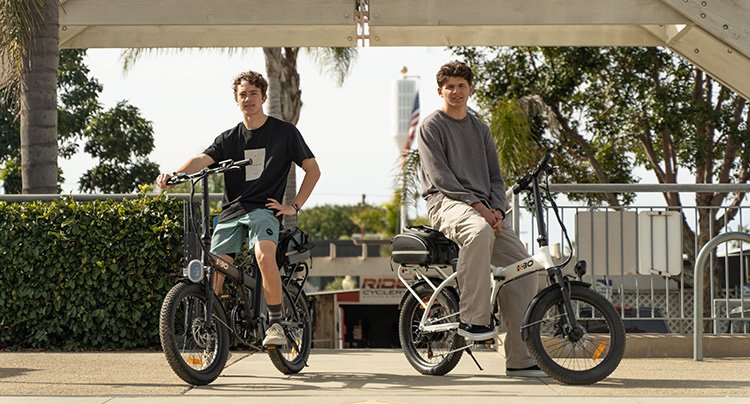 To Whom?
The KBO Flip electric bike is ideal for riders who value portability and convenience. The 20-inch wheels and foldable design make it easy to store and transport. These features make the bike perfect for commuters and urban riders who need a bike that can be easily stored in small apartments or carried onto public transportation.
Additionally, the detachable battery provides the flexibility to charge the bike either on or off the bike, making it an excellent choice for riders who need to charge the bike while at work or on the go.
Pros and Cons
Get a $50 discount with our unique coupon code: WHEELERS
KBO Flip Performance
Motor and Speed
KBO Flip electric bike is a stylish and reliable electric bike with a powerful motor and impressive speed. The KBO Flip electric bike has a 500W brushless geared hub motor that provides high power, torque, and efficiency.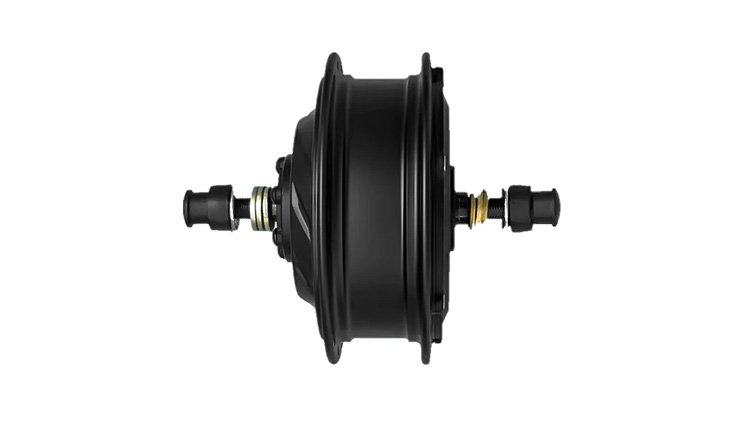 With a top speed of 20 MPH and a range of up to 35 miles (pure electric) on a single charge, it's ideal for commuters and leisure riders who want to get around fast and effectively. It is a terrific option for anybody seeking for a high-performance e-bike with exceptional functionality.
Even on tough terrain, the motor is intended to deliver a smooth and pleasant ride. It's worth noting that the electric bike's maximum torque of 80 Nm provides enough power for climbing hills.
Battery and Range
The KBO Flip offers a powerful 36V 15.6Ah lithium-ion battery that provides ample power to get you around efficiently. The KBO Flip electric bike has a range of up to 35 miles of pure electric ride with a single full charge and 60 miles with the pedal-assist feature on a full charge. 
This makes it a great commuting option as you can quickly get to and from work without worrying about running out of battery. The battery recharges quickly and can be fully charged in 4-5 hours.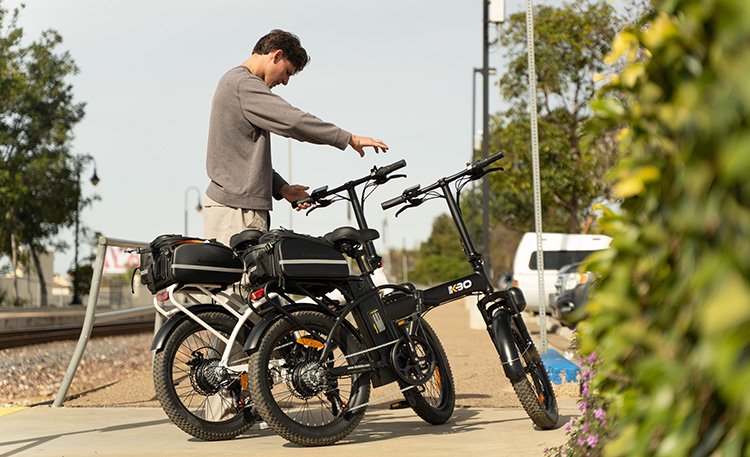 In addition, the battery also has a life expectancy of up to 1000 charge cycles which means you can get more from the KBO Flip electric bike before replacing the battery. 
The battery is also detachable and can be recharged at home or on the go. This will allow riders to enjoy longer rides without the need to constantly stop and recharge.
Shimano 7-Speed Gearing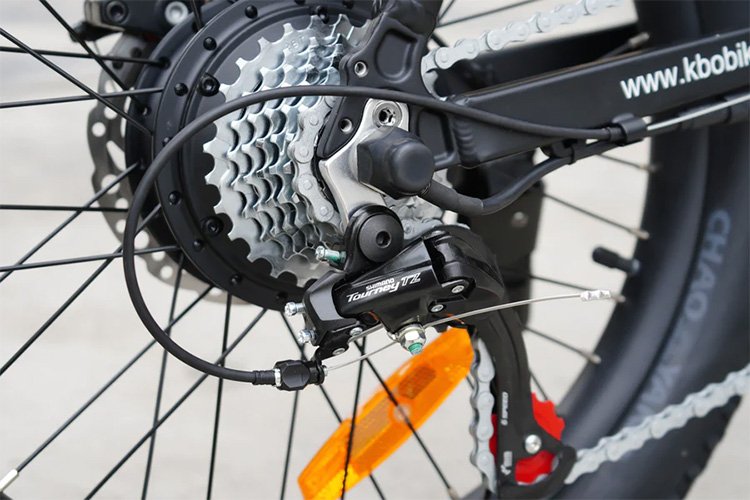 The KBO Flip electric bike has Shimano 7-speed gearing, offering a wide range of gears suitable for any terrain. The 7-speed gearing system provides a smooth ride, allowing you to easily take on hills, trails, and city streets. 
The gearing system provides efficient power delivery, allowing you to customize your ride for city commuting or off-road exploration.
Brakes
KBO Flip brakes use a mechanical disc brake system. They are designed to provide control and stopping power to keep you safe and secure while you explore the open road. 
For durability and performance, the brake pads are made of high-quality materials, including stainless steel and alloy. The brakes feature a two-finger lever system with adjustable reach to customize your brakes' feel. 
The 160mm brakes also come with a safety lever, preventing the brakes' unexpected release while riding. The brakes are water-resistant, so you don't have to worry about getting damaged in wet conditions. 
Hence, the KBO Flip e-bikes brakes are a great choice for any rider looking for optimum braking performance.
KBO Flip Design and Features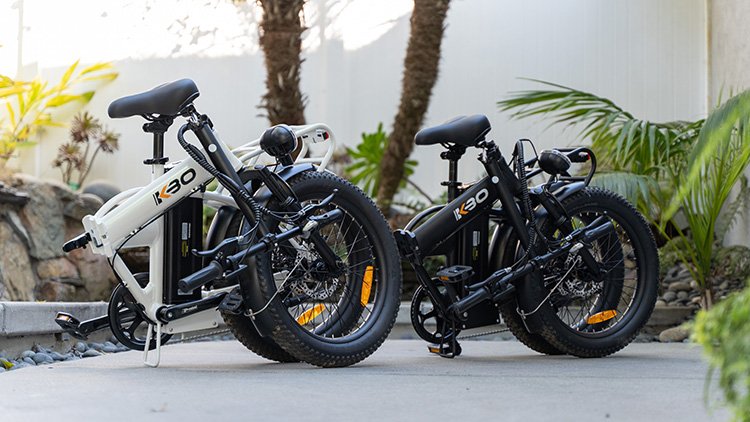 Frame and Geometry
KBO Flip electric bike frame and geometry provide maneuverability and an enjoyable riding experience. With its lightweight aluminum frame, KBO Flip offers a stable and comfortable ride perfect for urban commuters and recreational riders alike. 
Read also: KBO Compact Review: Folding Bike with Low-Step Frame
The frame features a low step-over design, making it easy to mount and dismount, and an adjustable stem for a more comfortable riding position. 
The frame's geometry has been designed to provide improved stability, cornering, and a comfortable upright riding position. With a long wheelbase and low center of gravity, KBO Flip offers excellent balance and maneuverability in tight spaces. 
So, if you are looking for a reliable, easy-to-ride electric bike, KBO Flip is an excellent choice.
Folding Mechanism
KBO Flip is one of the most advanced folding bikes designed for convenience. This e-bike has a sturdy aluminum frame that can be bent in a few seconds. 
The frame can be folded in half by pulling a few levers placed in key areas. It bends at the handlebars and the frame making your bike significantly smaller. This e-bike weighs 57 lbs, making the storage of the e-bike quite easy.
Suspension System
The KBO Flip suspension system is an innovative suspension system designed to provide a smooth, comfortable ride. The system comprises an adjustable shock absorber, a lightweight aluminum frame, and a rear suspension fork. 
The adjustable shock absorber is designed to provide a smooth ride and reduce vibration. The suspension fork is designed to absorb impact and increase grip.
This suspension system is perfect for riders who want a smooth ride and the ability to tackle any terrain. The KBO Flip's suspension system enables riders to enjoy a more comfortable ride and improved performance.
Lighting
KBO Flip lighting provides enhanced visibility and improved safety for your biking experience.
It features bright integrated rear brake lights and a front light that are highly visible in dark conditions. It is designed to provide a bright and wide range of lighting for visibility at night.
Wheels and Tires
KBO Flip wheels and tires are designed to provide a smooth and comfortable ride. The 20-inch wheels are made from high-grade aluminum alloy, making them strong and lightweight. The 20 x 3-inch tires are made from soft rubber for comfort and grip.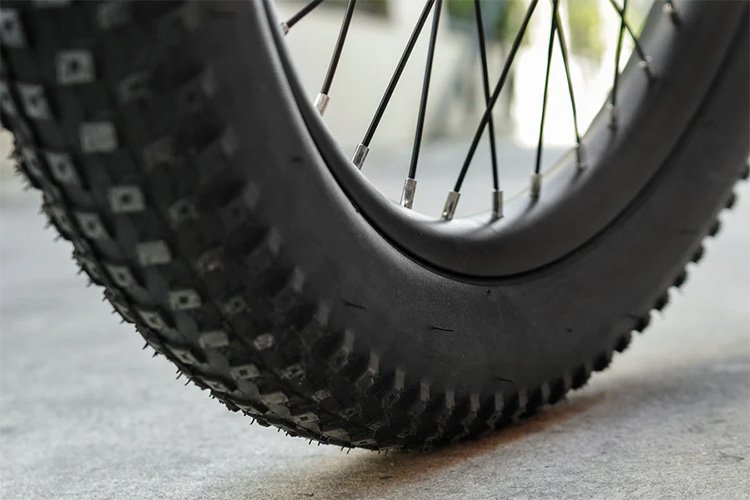 The wheels and tires are built to provide a comfortable and safe ride, even on rough terrain. However, the KBO Flip is perfect for the urban cyclist, providing the ideal balance between performance and convenience.
With the KBO Flip, you can commute to work, run errands, or just explore the city in style and with confidence.
Multifunctional LCD Display
KBO Flip e-bike multifunctional LCD features an easy-to-read LCD of speed, distance, time, and power level indication. The LCD display is user-friendly and provides easy monitoring of your riding progress.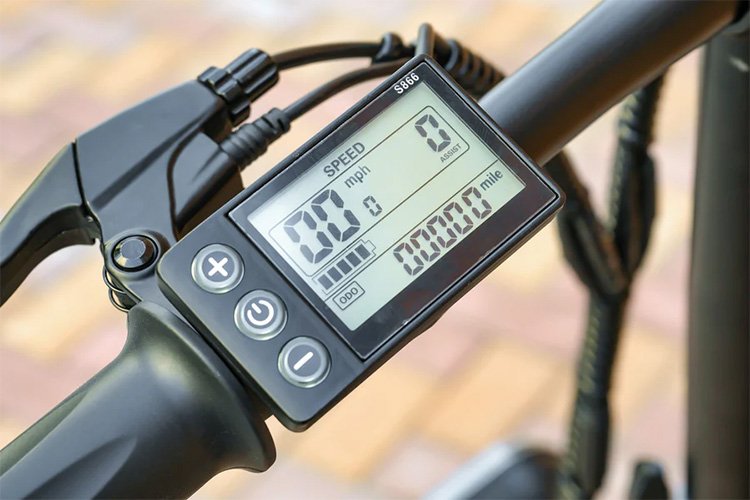 Also, the display has a built-in safety feature that flashes when the speed exceeds the limit the user sets. The display also offers a power-saving mode to keep your battery in good condition.
Free Accessories
KBO Flip has amazing free accessories like fenders, rear racks, repair toolkits, etc.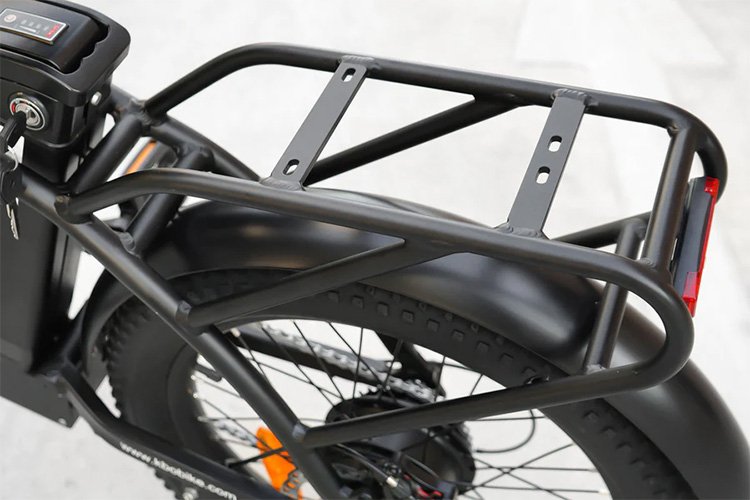 The rear rack is perfect for attaching a bike bag or other items. It also has a rear suspension system and optional color choice, making your riding experience more enjoyable and stylish. 
KBO Flip Review Conclusions
KBO bikes are an excellent choice for people seeking an easy, efficient, and pleasant ride. Its collapsible shape makes it portable and easy to transport.
Another advantage is the extended battery range and strong motor, making it a good choice for commuting or leisure.
Because of its useful features and low price, it is a strong option when seeking an electric bike.
Read also: Overview of All KBO eBikes
KBP Flip Specs
General
| | |
| --- | --- |
| Bike Name | KBO Flip Folding Electric Bike |
| E-Bike Class | Class 2 |
| Availability | United States |
| Warranty | 24 Months |
Electronics
| | |
| --- | --- |
| Motor Type | Rear-Hub Drive |
| Motor Power | 500W |
| Top Speed | 20 mph |
| Battery | 36V 15.6 Ah (561.6Wh) |
| Charge Time | 4-5 hours |
| Range | 30 miles (pure electric), 55 miles (pedal assistance) |
| Display | LCD |
Bike Components
| | |
| --- | --- |
| Dimensions | 65″ x 23.2″ x 47.2″ |
| Folded Dimensions | 36.6″ x 14.6″ x 27.6″ |
| Frame Material | 6061 Aluminum |
| Frame Size | One Size |
| Frame Type | Mid-Step, Folding |
| Frame Colors | Black, White |
| Fork | Shock-absorbing fork, |
| Gearing | 1×7-Speed Shimano Tourney |
| Brakes | Mechanical Disc |
| Wheel Size | 20″ |
| Tires | 20″ x 3″ Chaoyang Fat Tires |
| Additional Features | Front Light, Brake Light, Kickstand, Rear Rack |
| Weight | 57 lbs |
| Weight Capacity | 275 lbs |