Meet the Electra Ponto Go, a game-changer in the e-bike world. Boasting a powerful motor, an innovative passenger seat design, and a range that promises long, uninterrupted rides, this e-bike is redefining urban commuting.
But does it truly live up to the hype? Dive into our comprehensive review to discover every facet of the Ponto Go and decide if it's the ride you've been waiting for.
Electric Wheelers is reader-supported. Although we independently research and test products, we may receive a commission on purchases made from our chosen links. Read more…
Electra Ponto Go Review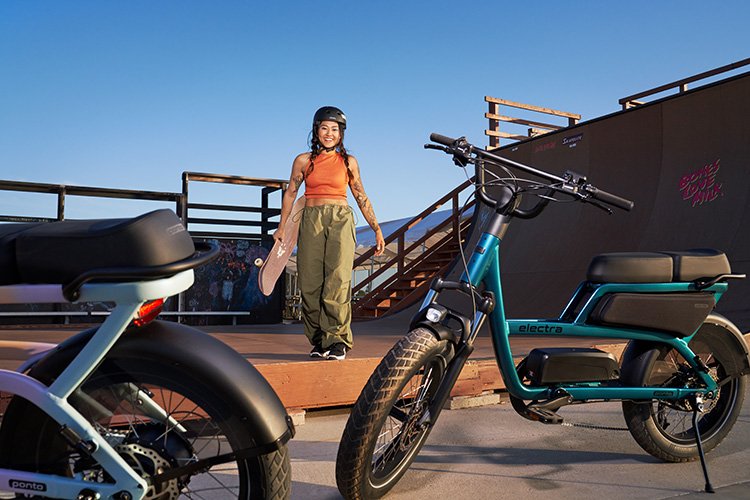 Motor: 750W | Top Speed: 26 mph | Max Payload: 360 lbs | Battery: 650Wh | Max Range: 60 miles
Electra Ponto Go Pros and Cons
Pros:
Powerful Motor: With a 750-watt rear hub motor, the Ponto Go offers robust power, ensuring a smooth and energetic ride.
Versatile Speed Options: Riders can cruise at speeds up to 20 mph using the throttle and can reach up to 26 mph with pedal assist.
Impressive Battery Life: A 650-watt hour battery provides a commendable range of up to 60 miles on a single charge.
Hydraulic Disc Brakes: These offer superior stopping power, ensuring safety even at higher speeds.
MicroShift Mezzo 8-Speed Gearing: This provides a range of speed options, making it adaptable to various terrains and rider preferences.
Unique Design: The one-size-fits-all frame accommodates riders of different heights, ensuring a comfortable ride.
Passenger Seat: A rare feature in e-bikes, the Ponto Go offers a two-piece bench-style saddle, foot pegs, and protective plexiglass, making it passenger-friendly.
Integrated Lights: Front and rear lights, including turn signals and brake lights, enhance safety during nighttime rides.
Cons:
Weight: At 80 pounds, some might find the bike a bit on the heavier side, especially when compared to other e-bikes.
Electra Ponto Go Performance
Motor and Speed
The Electra Ponto Go is not just another e-bike on the block; it's a game-changer in the realm of electric bicycles. At the heart of this e-bike lies a robust 750-watt rear hub motor, packing enough power to propel riders with zest and zeal. Whether you're cruising through city streets or tackling gentle slopes, this motor ensures you have the thrust you need.
One of the standout features of the Ponto Go is its dual-mode speed assistance. Riders can effortlessly switch between throttle mode and pedal assistance. In throttle mode, a simple press with your thumb can accelerate the bike up to a breezy 20 miles per hour. But if you're in the mood for a bit of a workout or want to push the boundaries, the pedal assistance mode can boost your speed up to an 26 miles per hour.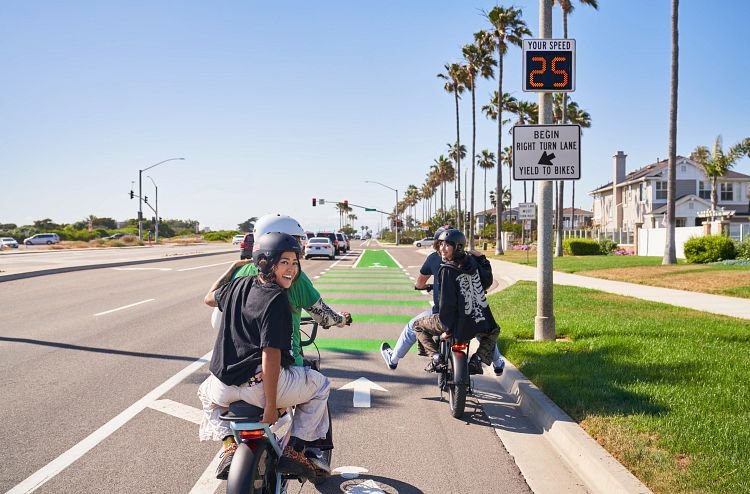 Moreover, the Ponto Go offers three distinct levels of pedal assistance, allowing riders to customize their ride based on their comfort and the terrain. Whether you prefer a mellow start with level 1 or an aggressive push with level 3, the choice is yours.
In essence, the Electra Ponto Go seamlessly marries power with flexibility, ensuring riders have an unmatched e-biking experience every time they hit the road.
Battery and Range
The Electra Ponto Go is not just about speed and power; it's also about endurance.
Central to its impressive performance is a high-capacity 650 watt-hour battery, designed to keep you on the move for longer. This robust battery ensures that riders can cover vast distances without the constant worry of running out of juice.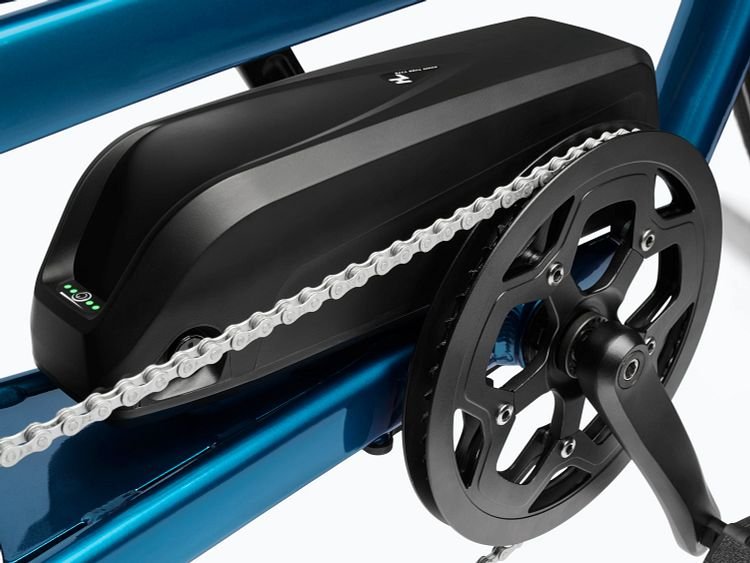 In optimal conditions, the Ponto Go promises an impressive range of up to 60 miles on a single charge. That's more than enough for daily commutes, leisurely rides, or even some extended adventures!
Aesthetically, the battery placement has been thoughtfully integrated into the bike's design. It can be easily removed for portable charging, ensuring flexibility for riders who may not have a charging point close to their parking spot.
Moreover, for those concerned about security, the battery comes with a lock feature, adding an extra layer of protection against potential theft.
Charging the Ponto Go is a breeze. In just about four hours, you can fully recharge the battery, ensuring minimal downtime and more time on the road. This quick turnaround is perfect for those on-the-go or for riders who might decide on a spontaneous ride.
Hydraulic Disc Brakes
Safety and control are paramount when it comes to e-biking, and the Electra Ponto Go doesn't skimp on either.
Equipped with hydraulic disc brakes, the Ponto Go ensures riders have the utmost stopping power at their fingertips. These brakes are renowned for their responsiveness and efficiency, especially in wet or slippery conditions.
Hydraulic disc brakes are often hailed as the gold standard for e-bikes, and for good reason. They offer smoother modulation and require less hand force, ensuring quick and controlled stops even at high speeds. Additionally, they are less prone to wear and tear, making them a durable choice for the long haul.
With the Ponto Go, riders can confidently navigate through traffic, descend steep hills, or make sudden stops, knowing that their brakes won't let them down. It's this commitment to safety and performance that sets the Electra Ponto Go a notch above the rest.
MicroShift Mezzo 8-Speed Gearing
The Electra Ponto Go's MicroShift Mezzo 8-Speed Gearing system is a testament to its commitment to versatility and adaptability. This advanced gearing system ensures riders can effortlessly tackle a variety of terrains, from steep inclines to flat city streets.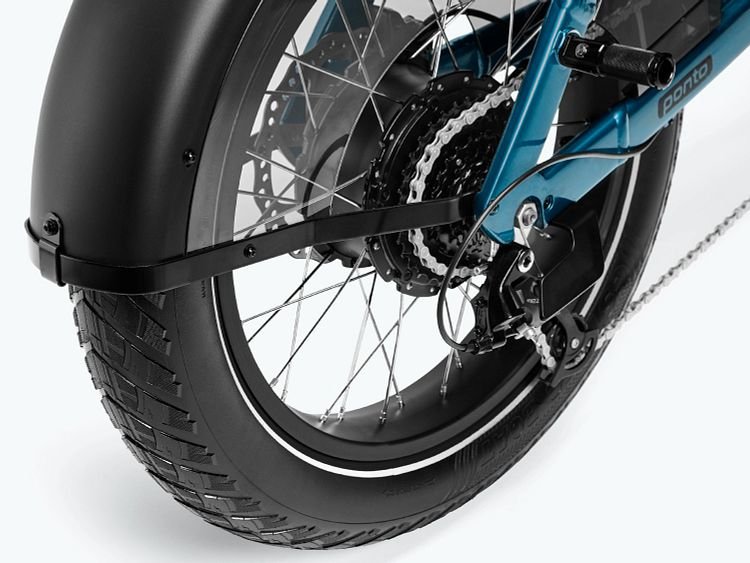 The eight distinct gears provide a broad range of speed options, allowing riders to fine-tune their pace and exertion levels. MicroShift's reputation for precision and reliability shines through, ensuring smooth transitions between gears without any hitches.
In essence, the Mezzo 8-Speed Gearing not only enhances the bike's performance but also elevates the overall riding experience, making every journey a pleasure.
Electra Ponto Go Design and Features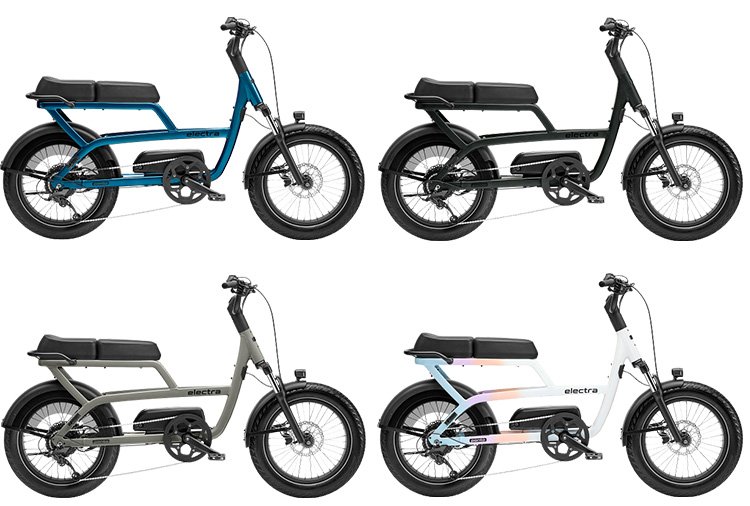 Frame and Geometry
The Electra Ponto Go is a masterclass in design, blending aesthetics with functionality. Central to its appeal is its well-crafted frame.
Designed with a "one size fits all" approach, the frame is built to accommodate a diverse range of riders, both short and tall. This inclusivity ensures that almost anyone can hop on and enjoy a comfortable ride.
The bike's geometry promotes a relaxed riding position. The two-piece bench-style saddle is not just about aesthetics; it's about comfort. It ensures riders maintain an upright posture, reducing strain on the back and shoulders, making longer rides a breeze.
Plus, the elongated saddle design means there's room for a passenger or additional cargo, with a commendable maximum carrying capacity of 360 pounds.
Weighing in at 80 pounds, the Ponto Go is sturdy without being cumbersome. Its weight is a testament to the quality materials used in its construction, ensuring durability and longevity. The frame's material is robust, designed to withstand the rigors of daily use while still providing a smooth ride.
In essence, the Electra Ponto Go's frame and geometry are a harmonious blend of form and function, ensuring every ride is as comfortable as it is stylish.
Passenger Seat
One of the standout features of the Electra Ponto Go is its innovative passenger seat. Designed with both comfort and safety in mind, it offers a unique riding experience for two.
The elongated bench-style saddle ensures ample space for a passenger, while the dedicated foot pegs provide a secure spot for feet placement.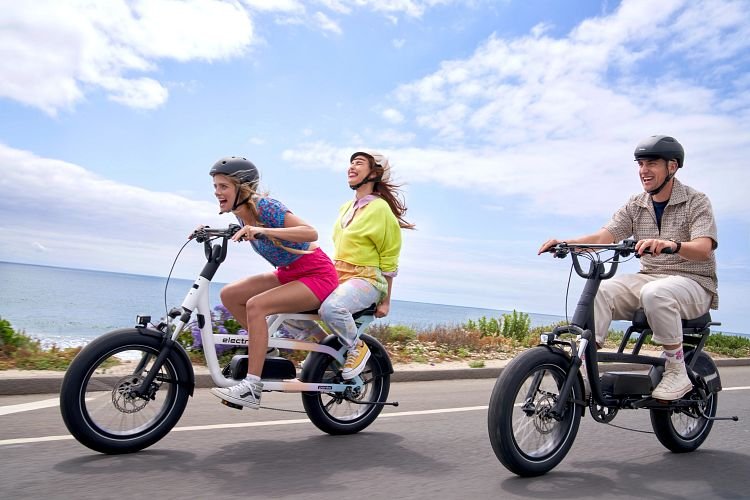 Adding an extra layer of safety, the bike boasts a plexiglass guard around the rear wheel, ensuring the passenger's feet are protected from any potential entanglements.
It's worth noting that such passenger-friendly designs are a rarity in the e-bike market, making the Ponto Go a trailblazer in offering shared riding experiences.
Suspension System
The Electra Ponto Go is equipped with a front suspension system designed to enhance ride comfort and stability. This feature ensures that the bike can smoothly navigate uneven terrains, absorbing shocks and bumps with ease.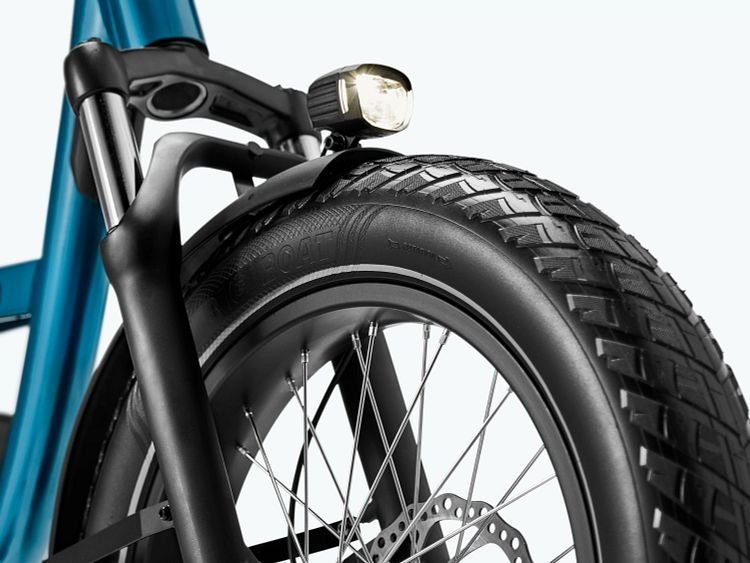 Whether you're cruising through city streets with unexpected potholes or exploring slightly rugged paths, the Ponto Go's suspension system guarantees a smoother, jolt-free ride.
Wheels and Tires
The Electra Ponto Go rides on robust 20-inch heavy-duty, high-load tires, ensuring durability and grip on various surfaces.
These tires are designed to provide stability, especially when carrying heavy loads or an additional passenger. The width of 4 inches offers a supple ride, ensuring optimal traction and comfort on both smooth and rough terrains.
Paired with full fenders on both the front and rear, the Ponto Go ensures riders remain splash-free, making every ride, regardless of the weather, a delightful experience.
Integrated Lights
The Electra Ponto Go boasts integrated front and rear lights, enhancing visibility for both the rider and those around them.
These lights are not just for illumination; the rear light includes turn signals and a brake light, ensuring clear communication of the rider's intentions. This integration prioritizes safety, making nighttime rides more secure and confident.
Electra Ponto Go Competitor Comparison

| | | | |
| --- | --- | --- | --- |
| | Electra Ponto Go! | RadRunner 3 Plus | Super73 Z-Series |
| Motor | 750W / 60Nm Torque | 750W / 64Nm Torque | 600W |
| Top Speed | Throttle 20mph; Pedal-assist 26mph | 20mph | Throttle 20mph, Pedal-assist 28mph |
| Range | 37-61 miles | 25-45 miles | 30-50 miles |
| Gearing | 8-Speed | 7-Speed | 8-Speed |
| Brakes | Hydraulic disc | Hydraulic disc | Hydraulic disc |
| Weight | 80 lbs | 77 lbs | 74 lbs |
| Weight Capacity | 360 lbs | 300 lbs | 300 lbs |
| Recommended Rider Height | 4′11″ – 6′10″ | 4′11″ – 6′2″ | 5′1″ – 6′8″ |
When comparing the Electra Ponto Go! with notable competitors like the RadRunner 3 Plus and the Super73 Z Adventure Series, several distinctions emerge.
In terms of top speed, the Electra offers a competitive edge with its throttle reaching 20mph and pedal-assist soaring up to 26mph, slightly outpacing the RadRunner's consistent 20mph. The Super73, however, matches the Electra's pedal-assist speed and offers a similar throttle speed.
The Electra also boasts an impressive range of up to 60 miles, surpassing the RadRunner's 45 miles and closely rivaling the Super73's 50 miles.
With a powerful 750W rear hub motor and an 8-speed derailleur, the Electra Ponto Go! presents a compelling option for those weighing it against its peers in the e-bike market.
Electra Ponto Go Review Conclusions
The Electra Ponto Go e-bike is a testament to the fusion of style, functionality, and innovation. Its powerful motor, impressive battery life, and unique design elements, such as the passenger seat, set it apart in the bustling e-bike market.
While it does have a few areas that might raise eyebrows, like its weight, its pros significantly outweigh the cons. For those seeking a reliable, fun, and versatile mode of transportation, the Ponto Go promises not just a ride, but an experience.
Read also: Overview of All Electra E-Bikes
Whether you're commuting, adventuring, or simply cruising around town, this e-bike is sure to turn heads and elevate your journey.
Electra Ponto Go! Specs
General
| | |
| --- | --- |
| Bike Name | Electra Ponto Go! |
| E-Bike Class | Class 3 |
| Availability | United States, |
| Warranty | Lifetime for frame |
Electronics
| | |
| --- | --- |
| Motor Type | Rear-Hub Drive |
| Motor Power | 750W |
| Top Speed | 26 mph |
| Battery | 650Wh Removable |
| Range | Up to 60 miles |
| Display | LCD |
Bike Details
| | |
| --- | --- |
| Frame Material | Aluminum Alloy |
| Frame Size | One Size |
| Frame Type | Utility |
| Recommended Rider Height | 4′11″ – 6′10″ |
| Frame Colors | Blue, Black, Gray, White |
| Fork | Front Suspension |
| Rear Suspension | – |
| Gearing | 1×8-Speed MicroShift Mezzo |
| Brakes | Tektro Hydraulic Disc |
| Wheel Size | 20″ |
| Tires | 20″ x 4″ Fat Tires |
| Weight | 80 lbs |
| Weight Capacity | 360 lbs |