Welcome to our all-encompassing guide on Hiboy's electric mobility solutions!
In this comprehensive review, we delve into the diverse range of products Hiboy offers, from their cutting-edge e-scooters designed for urban commuting to their versatile e-bikes suitable for both adults and kids.
Read on to find the Hiboy model that's perfect for you.
Electric Wheelers is reader-supported. Although we independently research and test products, we may receive a commission on purchases made from our chosen links. Read more…
Hiboy Overview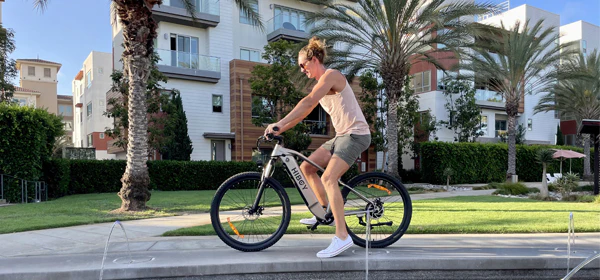 Instagram | Facebook | Website
Founded in 2018, Hiboy has rapidly ascended the echelons of the personal electric transportation industry.
With its headquarters nestled in Shenzhen, China—a city often dubbed the "Silicon Valley of Hardware"—the brand has strategically positioned itself at the epicenter of technological innovation.
Hiboy specializes in a diverse array of electric vehicles, including e-scooters and e-bikes. Their meteoric rise can be attributed to a confluence of factors:
cutting-edge engineering
consumer-centric design
and an unwavering commitment to sustainability.
In a relatively short span, Hiboy has managed to garner a global consumer base, making it a formidable contender in the burgeoning market of electric mobility solutions.
Hiboy Scooter Reviews

Navigating the labyrinthine world of e-scooters can be a daunting endeavor, especially when confronted with a plethora of options.
Hiboy, however, has distinguished itself by offering a curated selection of e-scooters designed to cater to various needs and lifestyles.
Below, we delve into comprehensive reviews of Hiboy e-scooter models, each have a unique blend of functionality, aesthetics, and innovation.
Hiboy S2 Electric Scooter
The Hiboy S2 electric scooter series is a versatile lineup designed to cater to a wide array of riders, from daily commuters to leisure enthusiasts and teenagers. Each sub-model in the series brings its own set of features and advantages, making it easier for riders to find a scooter that fits their specific needs.
Hiboy S2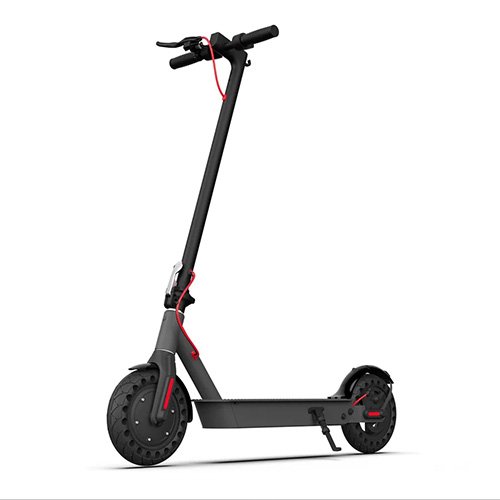 The original S2 is the cornerstone of the series, offering a balanced blend of speed and range. With a top speed of 18.6 mph and a range of up to 17 miles, it's a reliable choice for both commuters and leisure riders.
Related: Hiboy S2 Full Review
The scooter features a 350W motor and solid rubber tires, making it a durable and low-maintenance option. It's the all-rounder of the series, suitable for a wide range of riders.
Hiboy S2 Pro
The S2 Pro takes the features of the original S2 and amplifies them. With an extended range of up to 25.6 miles and a more powerful 350W motor, it's designed for those who want to go the extra mile—literally.
The Pro version also includes a more comfortable riding experience with its dual shock absorbers and 10-inch solid tires. It's ideal for those who are looking for enhanced performance and comfort in their daily commute.
Hiboy S2 MAX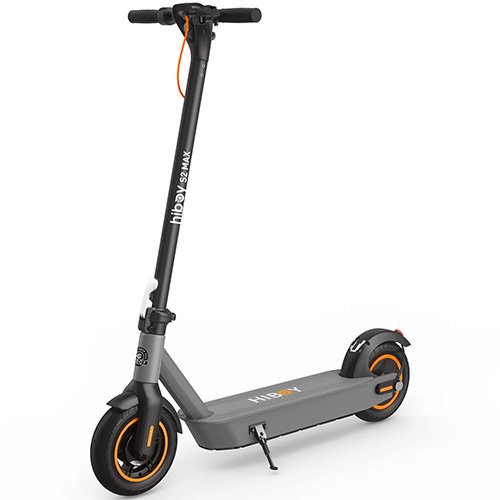 The S2 MAX is the powerhouse of the series, built for those who demand more from their daily commute. With a top speed of 19 mph and an impressive maximum range of 40 miles, this scooter is a reliable workhorse.
It comes equipped with front and rear lights for enhanced visibility, a durable aluminum deck, and rear suspension for a smoother ride.
However, these premium features come at a higher price point, making it suitable for those who are willing to invest in a a bit more expensive scooter.
Hiboy S2R Plus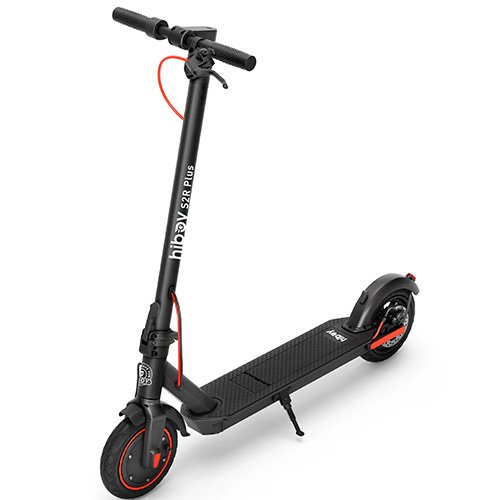 The S2R Plus is a commuter's dream, designed to make daily travel efficient and enjoyable.
It offers a range of up to 22 miles and a top speed of 19 mph. The scooter features a 350W brushless motor, 9-inch pneumatic tires, and a removable and regenerative battery.
What sets it apart is the Hiboy S2 app, which allows riders to lock/unlock the scooter, monitor riding status, and activate cruise control. It's an excellent choice for daily commuters who value convenience and control.
Hiboy S2 Lite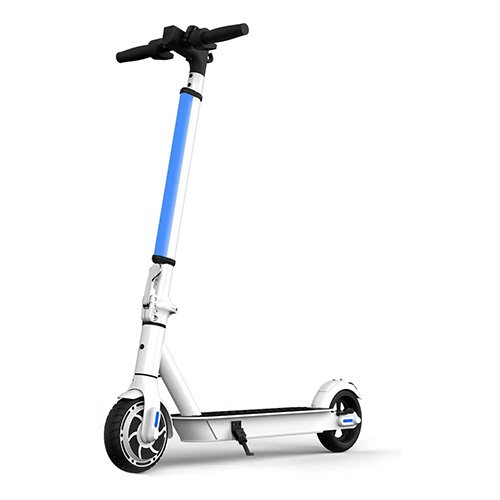 Tailored for teenagers and lighter riders, the S2 Lite offers a more budget-friendly option without compromising on essential features. With a top speed of 13 mph and a range of 10.6 miles, it's perfect for short commutes and leisurely rides.
The scooter comes in multiple color options and features like LED display and cruise control. However, it has a lower weight limit of 180 lbs and lacks suspension, making it less suitable for rough terrains.
Each sub-model in the Hiboy S2 series is designed with a specific rider in mind, ensuring that whether you're commuting, exploring, or just riding for fun, there's a Hiboy S2 scooter for you.
Hiboy MAX Electric Scooter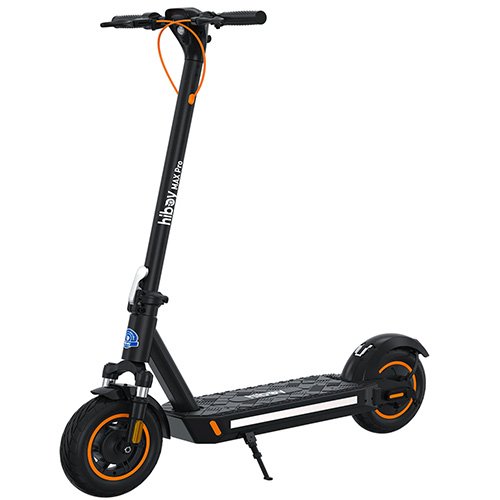 The Hiboy MAX Electric Scooter is a versatile and high-performing mobility solution that comes in two distinct versions:
the MAX Pro
and the MAX3.
Designed to cater to different rider needs, these scooters offer a blend of style, functionality, and performance. The MAX Pro is built for those who prioritize speed and power, featuring a robust motor and longer battery life.
Related: Hiboy MAX Full Review
On the other hand, the MAX3 is the latest iteration, focusing on urban commuting with its sleek design and enhanced portability. It boasts self-healing 10-inch pneumatic tires and a digital dashboard, setting it apart from its predecessor.
While both models offer impressive top speeds and ranges, the MAX3 takes it a notch higher with its three-speed modes and dual braking system. Ideal for both teenagers and adults, these scooters are perfect for city rides, work commutes, or casual neighborhood jaunts.
Hiboy KS4 Electric Scooter
The Hiboy KS4 electric scooter is the company's latest addition to their mid-range offerings, designed to be the future of Hiboy's commuter scooters. Available in both standard and Pro versions, the KS4 series caters to a variety of needs.
The standard model comes with a 350W motor, offering a range of 13.6-17 miles and a top speed of over 15 mph. On the other hand, the Pro version ups the ante with a 500W motor, extending the range to 21-24.8 miles.
Both models are foldable and weigh around 32-38.5 lbs, making them convenient for daily commuting or campus life. With a charging time of 4-6 hours for the standard model and 5-7 hours for the Pro, these scooters are ready to go when you are.
Ideal for commuters covering 3-5 miles each way and students zipping around campus.
Hiboy Titan & Hiboy Titan Pro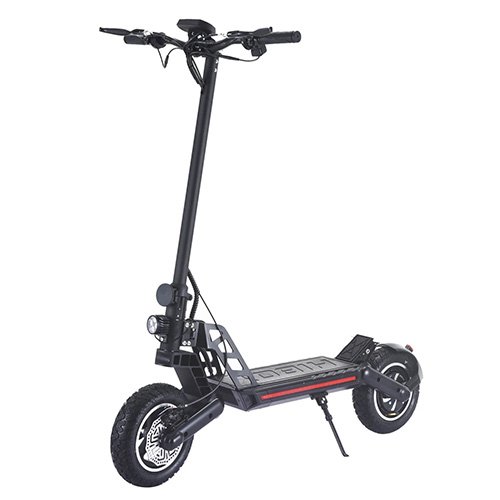 The Hiboy Titan electric scooter is a versatile and robust option for urban commuters and weekend adventurers alike.
Designed for city landscapes, the standard Titan model offers a powerful 800W motor that can reach speeds of up to 25 mph and cover a range of 28 miles on a single charge.
Weighing in at 50.7 lbs, it's lighter than its Pro counterpart but still provides stability and safety at high speeds. The scooter is also elevated slightly off the ground, allowing for some light off-road capabilities.
In contrast, the Titan Pro model is a powerhouse with a 2,400W motor, capable of speeds up to 30 mph and a remarkable 40-mile range. The Pro version is heavier at 61.7 lbs, designed for more rugged terrains and capable of handling steeper inclines.
Related: Hiboy Titan Pro Full Review
Both models offer IP55 water resistance, but the Pro version has a higher payload capacity and is better suited for hillier environments.
Hiboy ECOM Electric Scooter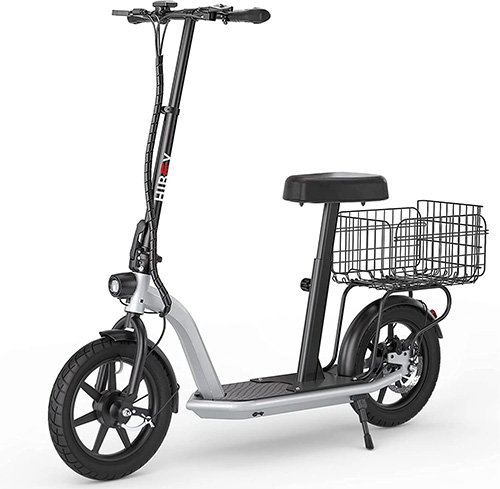 The Hiboy ECOM 14 is a versatile seated electric scooter designed for both convenience and comfort.
Equipped with an integrated, foldable basket at the back, it's perfect for quick errands or grocery shopping. The scooter features a plush, adjustable seat and offers three different height settings to accommodate riders of various sizes.
Safety is prioritized with a drum brake on the front and a disc brake on the back. The ECOM 14 also comes with a headlight and taillight for better visibility.
Its handlebars are foldable, making it easier to transport. With a user-friendly instrument cluster displaying speed settings, battery, and voltage, this scooter is both practical and easy to use.
Hiboy VE1 Pro Electric Scooter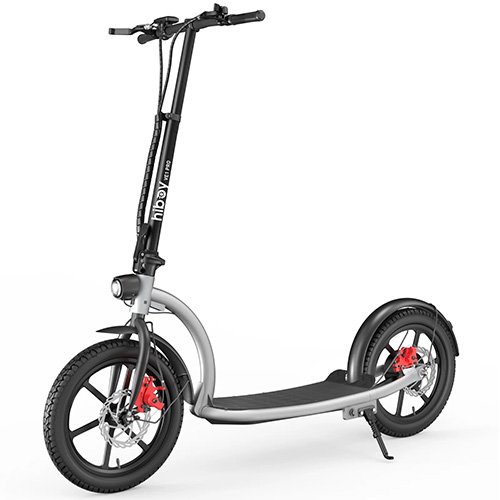 The Hiboy VE1 Pro Electric Scooter offers a unique blend of size and power, bridging the gap between small kick scooters and larger e-bikes.
With its 16-inch wheels, the VE1 Pro provides enhanced stability and gyroscopic stabilization, making it ideal for both short and long rides.
The scooter comes with a 500-watt rear hub motor and offers three power assist levels, allowing speeds up to 23 miles per hour.
While assembly is straightforward, the scooter's battery is not easily removable, making indoor storage preferable for battery longevity.
Overall, the VE1 Pro is a versatile and robust option for micromobility.
Hiboy Electric Bike Reviews
Now, let's continue with an overviews of Hiboy e-bikes. Below, we delve into the unique features, specifications, and benefits of various Hiboy ebike models, from their high-performance adult bikes to their kid-friendly options.
Read on to find the perfect Hiboy electric bike that suits your lifestyle and needs.
Hiboy P6 Electric Bike
The Hiboy P6 Electric Bike is a versatile and affordable e-bike that offers a blend of speed, durability, and off-road capability.
Equipped with 26-inch fat tires that are four inches thick, the bike excels in providing a smooth and stable ride across various terrains.
Its 750-watt rear hub motor enables it to reach speeds up to 28 miles per hour, and the bike offers a range of up to 60 miles with pedal assist.
One of its standout features is the hydraulic front fork with preload adjustment, which enhances its off-road performance. The bike also comes with a nine-speed Shimano gear shifter, mechanical disc brakes, and a 48-volt, 13-amp-hour removable battery.
While the bike impresses with its features and performance, it does have a minor drawback—the integrated throttle design, which some may find less intuitive.
Overall, the Hiboy P6 is a high-performing e-bike that offers excellent value for its price.
Hiboy P7 Electric Bike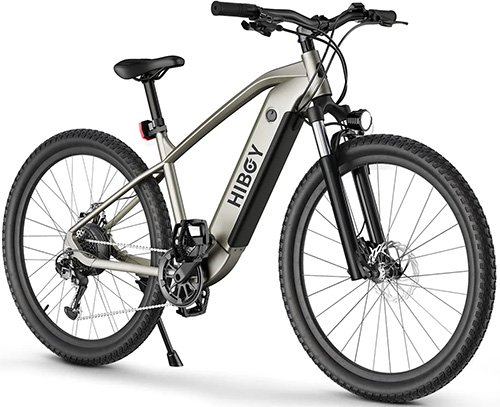 The Hiboy P7 commuter bike is an upgrade from its predecessor, the P6, offering enhanced features for a more versatile ride.
Unlike the P6, the P7 is powered by a 500-watt hub motor and boasts a 48-volt removable lithium-ion battery, providing a range of 37 to 68 miles.
It features a 9-speed Shimano Altus derailleur, 27.5-inch wheels, and a multi-function LCD display. Additional amenities include a horn, an LED light, and disc brakes on 160mm rotors. The bike also comes with an adjustable hydraulic fork, offering 80mm of travel.
Overall, the P7 offers improved performance and versatility, making it a compelling choice for commuters.
Hiboy EX6 Electric Bike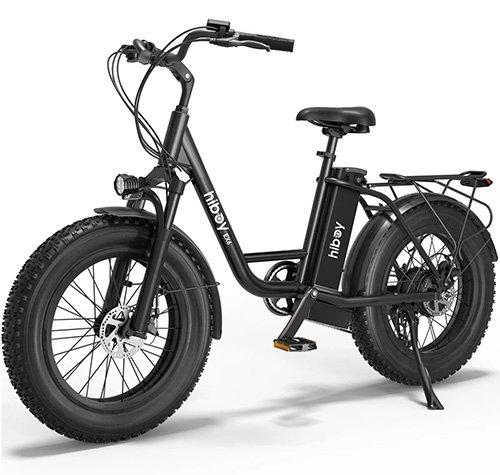 The Hiboy EX6 is an electric bike designed with beginners and those with mobility issues in mind. Its step-through frame allows for easy mounting, and it comes mostly pre-assembled, making the setup a breeze.
The bike features a 48-volt battery and a 500-watt rear hub motor, achieving a top speed of 25 mph with an estimated range of 75 miles.
The handlebars are fully customizable for comfort, and it weighs just 66 pounds, making it relatively easy to transport.
Safety features include front and rear mechanical disc brakes, a bright headlight, and tail light. The EX6 offers a blend of comfort, ease of use, and performance.
Hiboy Kids' Ebikes
The company offers two distinct electric bikes designed specifically for children, ensuring a safe yet thrilling ride for young adventurers.
Hiboy DK1 Electric Dirt Bike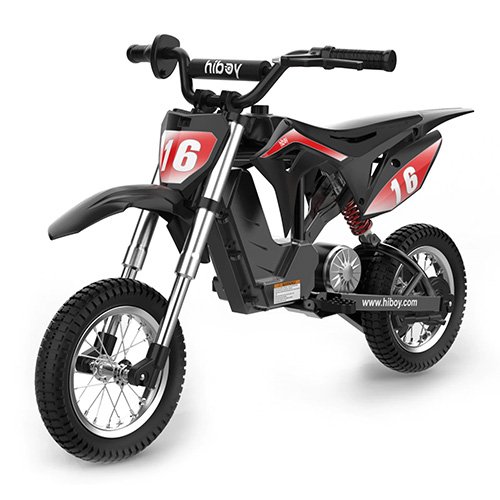 Designed for kids aged 3-10, the DK1 Electric Dirt Bike is a robust off-road companion. It features a 300W motor that can reach speeds up to 15.5 mph and cover a distance of 13.7 miles on a single charge.
The bike is equipped with high-strength shock-absorbing springs for a smooth ride and has three speed modes for added safety. With a max load of 140 lbs and a quick 4-5 hour charging time, this bike is perfect for young thrill-seekers.
Hiboy BK1 Electric Balance Bike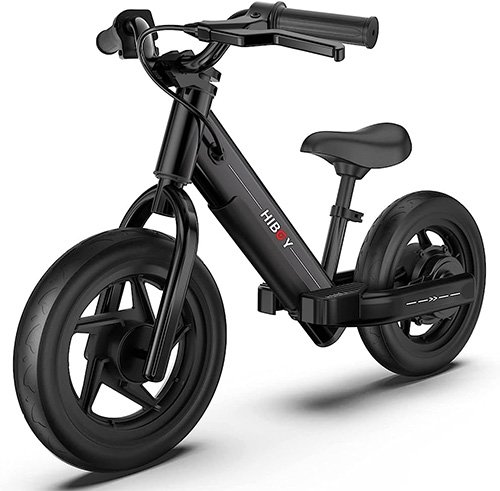 The BK1 Electric Balance Bike is tailored for the youngest riders, ages 2-5, and focuses on developing balance and coordination.
It has a 100W motor that can reach a max speed of 9 mph and offers a range of 6 miles. Weighing just 17 lbs, it's easy for kids to handle. The bike also features adjustable cushion height and multiple safety controls, including anti-slip handles and disc brakes.
Both bikes come with IPX4 ratings, ensuring they can withstand splashes of water, making them suitable for various terrains.
Hiboy Electric Scooters Review Conclusion
In summary, Hiboy offers a compelling array of electric mobility options that cater to a wide range of needs and preferences. From their efficient and user-friendly e-scooters to their versatile e-bikes designed for both adults and children, Hiboy has proven to be a one-stop-shop for electric mobility solutions.
Their products not only prioritize performance and durability but also focus on safety and user experience, making them an excellent choice for anyone looking to make the switch to electric transportation.