Scooters are becoming more popular, and if electrical scooters were a kingdom, the Titan Pro would be a high-ranking member. Titan Pro is the best scooter yet from electric scooter manufacturer Hiboy.
The Titan Pro is the perfect blend of convenience and freedom combined with exceptional off-road capabilities and a fantastic range.
The Titan is a high-performance scooter designed to provide the best user experience for most roads. It provides a smooth ride and unique ergonomic features meant to boost your riding experience. If you want to buy a dependable and robust scooter, the Titan PRO is the way to go.


MSRP: $1,799
Electric Wheelers is reader-supported. Although we independently research and test products, we may receive a commission on purchases made from our chosen links. Read more…
Overview
Hiboy Titan – Who's it for?
The Titan Pro is the perfect scooter for most riders.
However, it is suitable for riders who enjoy some off-road action or need scooters that can handle a high weight load. The scooter has a robust motor and pneumatic tires designed to absorb impacts to provide a smooth riding experience.
Hiboy Titan PRO Full Specs
| | |
| --- | --- |
| Motor | 2 x 1,200W |
| Battery | 48V 17.5Ah |
| Recharge Time | 7-9 hours |
| Max Speed | 32 mph |
| Max Range | 40 miles |
| Brakes | Rear & Front Disc |
| Suspension | Dual Front & Rear Suspension |
| Weight | 61.7 lbs |
| Weight Capacity | 286 lbs |
| Tires | 10″ pneumatic tires |
| Lights | LED headlight + rear light + sidelight |
| Dimensions | 47.2″ x 25.1″ x 46.4″ |
| Folded Dimension | 47.2″ x 25.1″ x 20.4″ |
| Display | LCD Display |
| IP Rating | IP55 |
Pros
Dual motors
Good top speed
Great mileage
Comfortable suspensions
Affordable price
Cons
Quite bulky
Tires are prone to punctures
Short handlebar height. Not the best for tall riders
Where to Buy Hiboy Scooters?
Hiboy Titan PRO Performance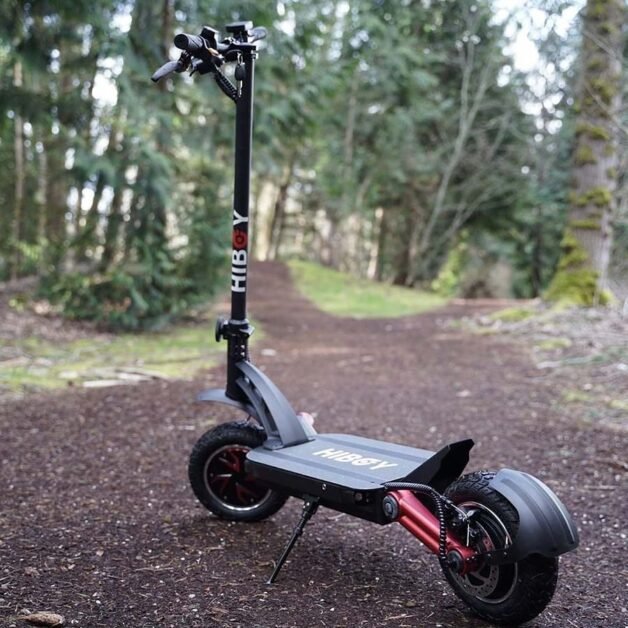 Speed & Acceleration
The Titan PRO has some of the best dual custom-built electric motors designed to provide ultimate acceleration quickly. For instance, the Titan PRO can reach its top speed in less than nine seconds. This makes it quite fast.
The Titan Pro has a 30mph top speed and the option to choose between double and single motor configurations.
It has a thumb-activated accelerator that riders can seamlessly use for deceleration or acceleration. It also has cruise control that riders can activate through long-pressing the downshift key and maintaining the speed for eight seconds.
Battery & Range
The Hiboy Titan PRO has a 48-volt, 17.5Ah Li-Ion battery that provides a 45-mile range for every single charge depending on your speed, motor usage, riding style, and terrain.
However, it's still good to note that while the battery delivers a reasonable range, it takes quite some time to charge (9 hours).
Compared to its predecessor, the Titan PRO's battery delivers better performance. For instance, the Titan had a 28-mile range compared to the Titan PRO's 45-mile range.
You are advised to use its single motor mode if you want the battery to last longer. One other positive feature is that the charging port is sealed with a waterproof material that protects it from exposure to water or moisture.
Brakes

The Titan PRO has one of the most reliable braking systems that allow riders to stop instantaneously.
The dual mechanical disc plated installed on both wheels are activated by brake levers located on either side of the handlebars. The brakes are durable, robust, and provide enough stopping power under extreme conditions, i.e., wet roads.
In addition, the scooter's handlebar design is longer and padded to provide the rider with extra grip. The Titan PRO comes equipped with EBS (electronic braking system) responsible for slowing down the scooter and making the braking more effective.
Suspensions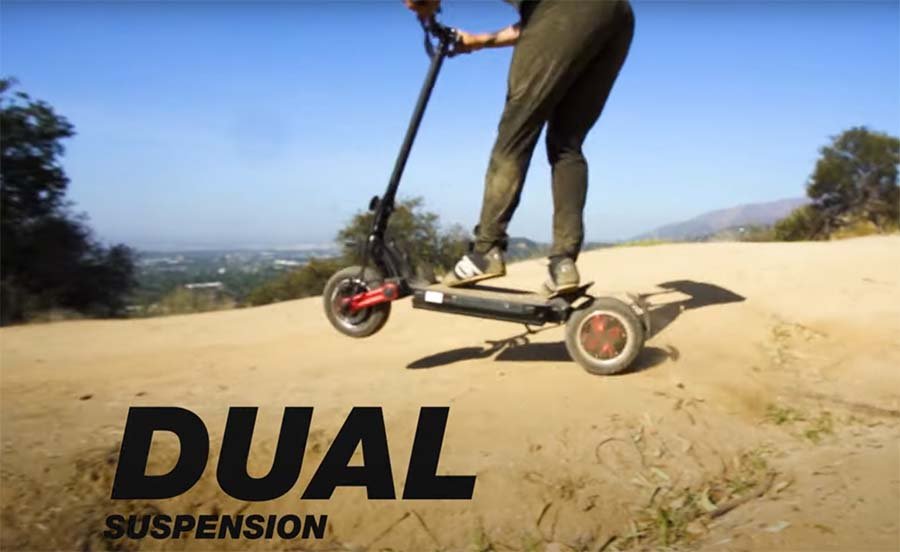 The Titan PRO has a great suspension system, which ensures ultimate comfort without compromising performance.
The scooter is safe and has a reliable rear and front suspension and large air-filled tires that work to smooth out any bumps that you may encounter along the way.
While some riders have complained that the suspension can be a little stiff at times, it's been proven effective for most other riders. You can ride the scooter comfortably on light off-road terrains. However, it would be good to avoid potholes and rough terrains to prevent the suspension's damage.
Hiboy Titan PRO Design and Features
Build Quality
The Titan PRO is as elegant as it is functional.
It is a luxurious transportation machine with an ergonomic handlebar, an LCD, and various other features that include anything you'd ever want in a modern scooter.
It also has a neat exterior with an amazingly designed handlebar, well-hidden wires, and a standard black color with accents of red.
The scooter is built to last. Its frame and stem are made from high-quality forged aluminum that's durable, light, and helps keep the scooter balanced.
The deck is constructed with aluminum and has a grip tape coating that helps add a measure of stability and safety. Its handlebars also have a rubber coating that helps add some riding comfort.
Is Hiboy Titan Waterproof?
The Titan PRO has an IP55 rating, meaning that it is protected from water and dust particles from all directions.
It also means that the scooter is splash-proof and can withstand some light rain and ridding across puddles for short periods. That said, it's better to ensure that you don't expose it to water for extended periods and that you dry it ASAP after riding it in the rain.
Portability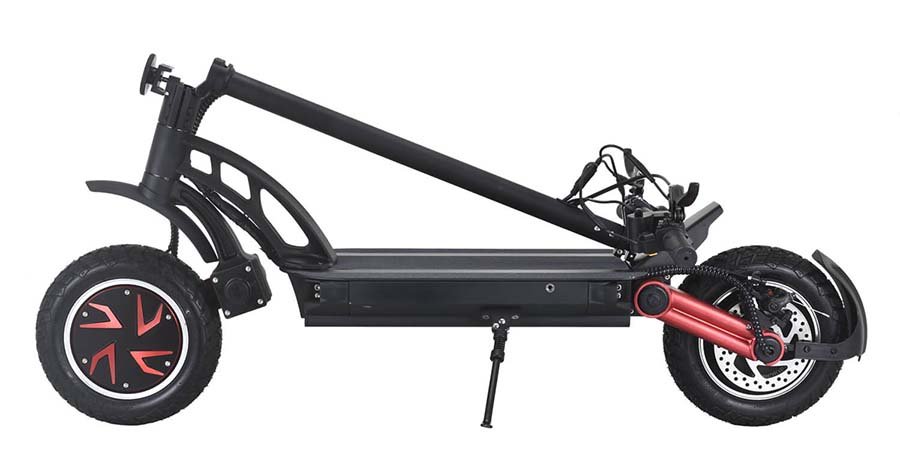 The Titan PRO isn't quite as portable as most other scooters since it weighs 62 pounds, which automatically places it on the heavier end of the spectrum.
The previous version, the Titan, weighed 50.7 pounds, a difference that's accounted for with the extra added features, i.e., the battery.
Hiboy designed their scooter for more accessible storage and packaging to make up for the extra weight. For instance, the scooter has a seamless folding design that allows users to fold or unfold it quickly.
Plus, it has narrow handlebars for more accessible storage in tight locations like in a car trunk. However, what it lacks in portability, it makes up for in helpful features.
Cockpit

The Titan PRO has well-thought features that stand out. The LCD installed on the handlebars is easy to use and gives the electric scooter a modernistic design.
The screen is designed to show crucial information like:
speed mode
battery life
speed
and range.
In addition to the LCD screen has narrow, ergonomic handlebars that give it an edgy and elegant look.
It has perfectly placed brake levers that you could use to brake, a thumb-activated throttle for accelerating, a yellow button to switch on the lights, and a red button that riders use to switch between single and double motor modes.
Does Hiboy Titan have an App?
Hiboy Titan does not have an app. Hiboy Titan is not compatible with an app made for other Hiboy scooters – Hiboy S2 and Hiboy Max.
Wheels & Tires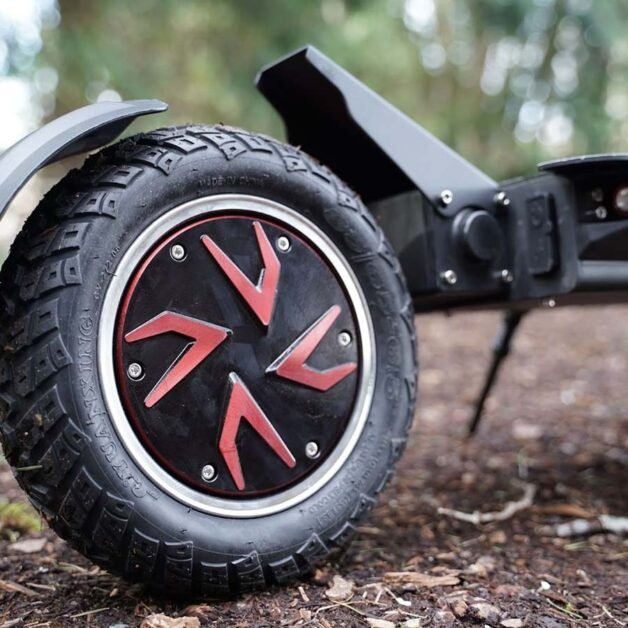 The Titan PRO has 10-inch all-terrain, antiskid tires designed to absorb and disperse pressure evenly for a smooth riding experience. They can roll over uneven roads and bumps quite easily and are designed to provide the rider with a comfortable and safe riding experience.
The Titan PRO's tires are the best shock absorbers and are designed for driving on rugged terrains compared to other scooters' smaller and less effective tires. However, riders have noted that Titan's tires have a high puncture rate. Thus, if you plan on off-roading, it would be better if you were more careful.
Deck
The Titan PRO's deck is the perfect combination of smoothness and grip, which helps provide a more comfortable and secure ride.
It also has enough ground clearance allowing you to go over bumpy streets, curbs, and uneven pavement without worrying about damaging the scooter's underside. Compared to its predecessor's long and narrow design, it has a short but expansive deck.
Lights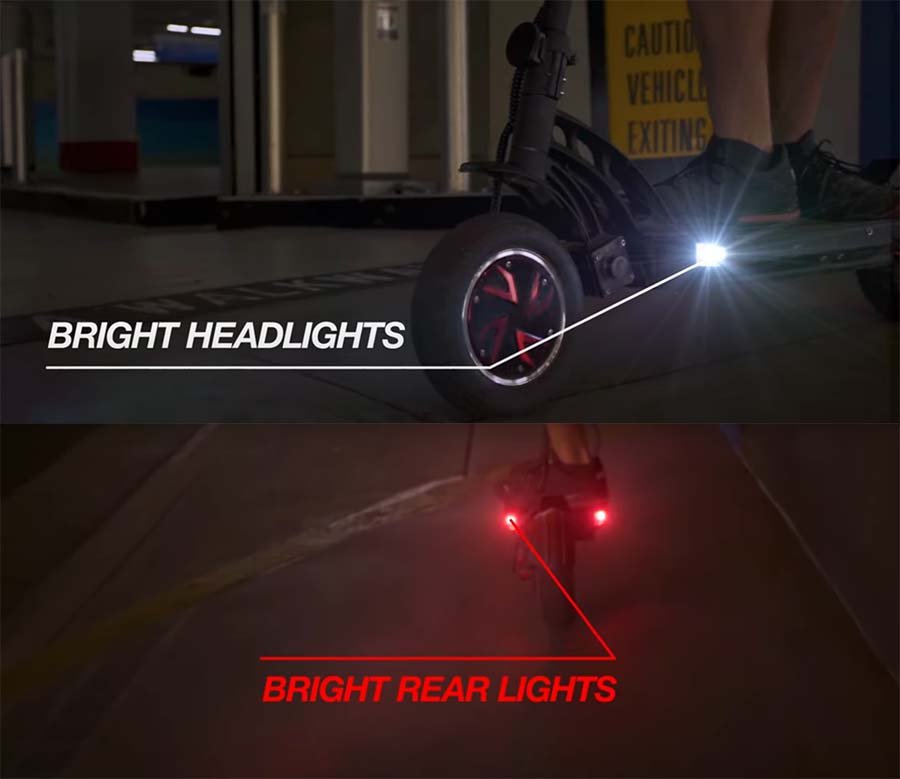 The Titan PRO has front and rear lights that help keep riders visible at night.
The Titan PRO doesn't have the brightest front lights. They are also positioned poorly, making it hard for riders to see clearly. One other thing is that the scooter doesn't have taillights, which somewhat compromises the rider's safety.
Ride Quality
The Titan PRO is well balanced, has a smooth acceleration, and has excellent handling. The scooter can go 0-15 mph in less than 4 seconds and 0-30 mph in less than 9 seconds, which is relatively fast compared to other scooters in its class.
The scooter has powerful 1,200W brushless DC motors that can make climbs of 35-degree inclines. However, riders need to note that the speed will reduce as they keep ascending the incline with speeds reaching 12mph. The scooter also has a 286-pound carrying capacity.
Comparisons
Hiboy Titan vs Titan PRO
The Titan is the Titan PRO's predecessor, and the Titan PRO is infinitely much better in comparison. The Titan Pro is an off-roading machine designed for speed and performance. It has sharp brakes, reliable tires, a practical battery life, and powerful dual motors.
The Titan PRO is more powerful, has better features, a fantastic design, and a strong frame that can withstand some rough riding. Thus, if you have to choose between the two, you are better off purchasing the Titan PRO.
Hiboy Titan PRO vs Ninebot MAX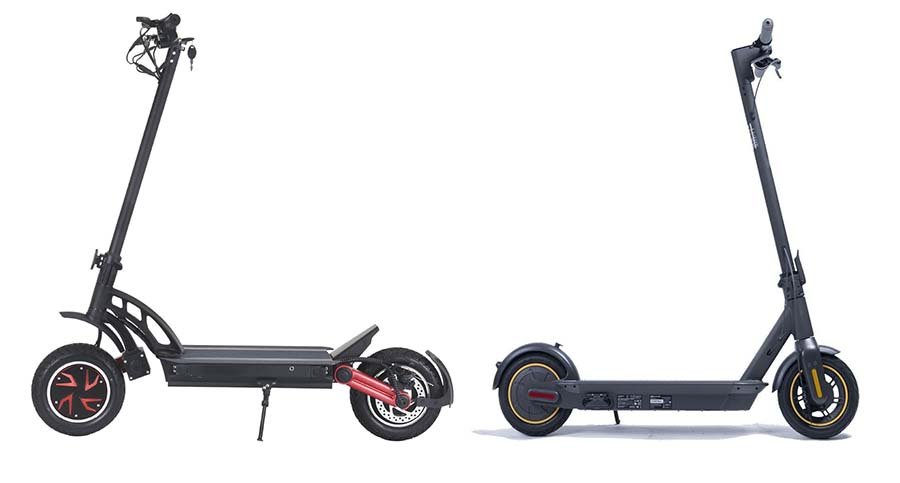 These two electric scooters are totally different.
Hiboy Titan Pro is a dual motor off-road scooter, while Ninebot MAX is a highly durable commuter scooter.
Both scooters are foldable and have a 40-mile range. However, Ninebot MAX weighs much less and has regenerative brakes.
One of the biggest differences is that Hiboy Titan Pro has a great suspension system, while the Ninebot scooter doesn't have suspension at all.
Compared to the Titan PRO, the Ninebot MAX is less efficient and slower. Thus, the Titan PRO is much more suitable for people who love fast machines and off-road riding.
Hiboy Titan PRO vs Nanrobot D6+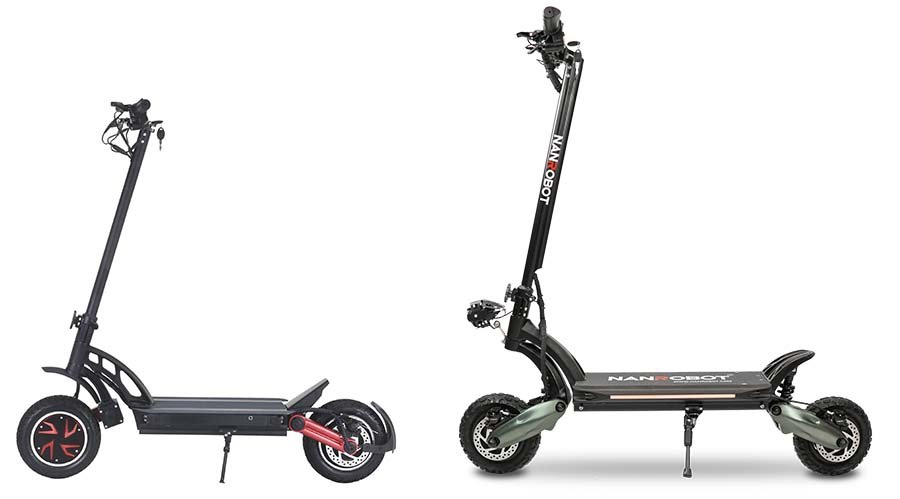 Hiboy Titan Pro and Nanrobot D6+ are quite similar.
They both have dual motors and range about 40 miles. Also, both scooters have 10-inch tires and a great suspension system.
As you can see from the image, Titan Pro is much smaller. While Nanrobot is easily suitable for tall riders, Titan Pro is not. It's because of a short handlebar height.
It's a bit safer to ride Hiboy Titan Pro in wet conditions because it has an IP 55 rating.
| | | |
| --- | --- | --- |
| Hiboy Titan PRO | | Nanrobot D6+ |
| 2 x 1,200W | Motor | 2 x 1,000W |
| 840Wh | Battery | 1,352Wh |
| 7-9 hours | Recharge Time | 10-12 hours |
| 32 mph | Max Speed | 40 mph |
| 40 miles | Max Range | 45 miles |
| 61.7 lbs | Weight | 77 lbs |
| 286 lbs | Weight Capacity | 330 lbs |
| IP 55 | IP Rating | IP 53 |
Hiboy Titan PRO Review Conclusions
The Hiboy Titan PRO is perfect for city dwellers that prefer fast scooters that provide the best performance, speed, and a high-quality build.
The Titan PRO can carry a 260-pound load, do 30mph speeds, and cover over 30-mile distances. These numbers are well above the industry average.