The Himiway Zebra is classified as a class 3 fat tire e-bike.
Himiway designed the bike for cruiser riders and off-road enthusiasts, and it is ideal for off-path adventures and city riding.
It combines the comfort of urban cruisers and MTB capabilities to create an all-around, versatile unit perfect for many riders.
Let's dive in and discover more about the Himiway Zebra e-bike. Keep reading!
Electric Wheelers is reader-supported. Although we independently research and test products, we may receive a commission on purchases made from our chosen links. Read more…
Himiway Zebra Review

Motor: 750W | Top Speed: 25 mph | Torque: 86 Nm | Battery: 960Wh | Range: 60-80 miles
Himiway Zebra Performance
Upgraded Motor
This bike has an upgraded 750W brushless geared hub motor. The motor has an inner ring providing high-temperature resistance for better heat dissipation.
Its ring reduces the attenuation speed of the motor's magnets, increasing its durability and guaranteeing a longer life expectancy.
The motor is powerful and provides a 25 mph with pedal assist. The Zebra has five pedal assist modes with 2.5MPH between each PAS level.
Additionally, the motor has a torque sensor that measures how hard you are pushing against the pedals. This allows the motor to adjust how much power it should provide, making it more efficient than the Himiway Cruiser.
The Himiway Zebra's motor provides 86 Nm of torque, strong enough to power the bike over hills at sufficient speeds with no signs of stalling or struggling.
The e-bike was tested on a 12%-gradient bike path and we noticed phenomenal performance during the hill climb. 
The bike had a top speed of 16mph on PAS 5 and 13mph on the throttle alone. The bike's speeds were pretty fast during the test, placing it among some of the toughest e-bikes on the market.
LG/Samsung Battery
Himiway equips their Zebra with a new 48V 20Ah LG Samsung lithium-ion battery that performs well and has a long life expectancy.
The rechargeable, high-capacity battery has a high-energy density making it ideal for the Zebra since it provides reliable performance for an extended range.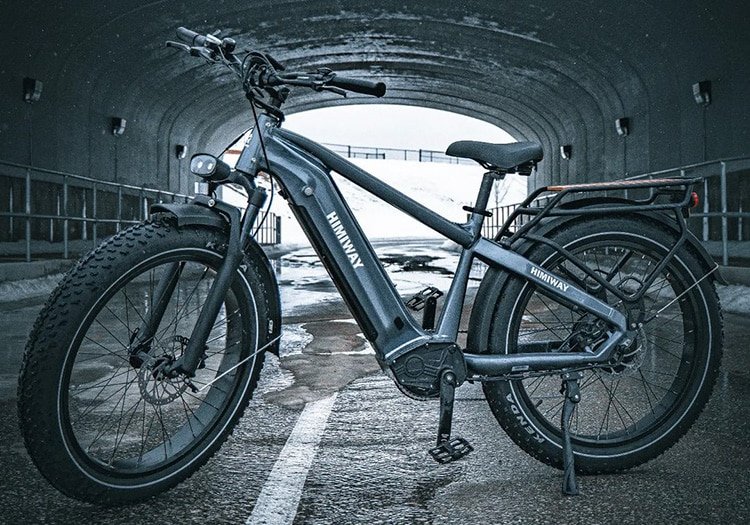 Its's characteristics meant we had to conduct tests differently than other e-bikes. For instance, the bike has notably light gearing with a 14-28t cassette on the rear and a 36t chainring. These specs make the largest gear ratio, that's also not entirely efficient.
For instance, peddling its highest gear was uncomfortable when peddling above 15mph. Going above that speed would make you spin at an awkward cadence. Thus, we had to adapt and devise another way of measuring the bike's battery and range.
The bike was tested on PAS 2 for low-power range tests and its throttle for the high-power range tests and got good results.
The Zebra lasted 49.47 miles on PAS 2 before dying and 27.21 miles on throttle only. The bike's range on throttle only is pretty impressive because the bike had relatively inefficient fat tires during the test.
Tektro Hydraulic Brakes
We did a breaking test to determine how fast the Himiway Zebra took to come to a stop. We knew the e-bike would brake relatively well because of its fat tires and Tektro 180mm hydraulic brakes.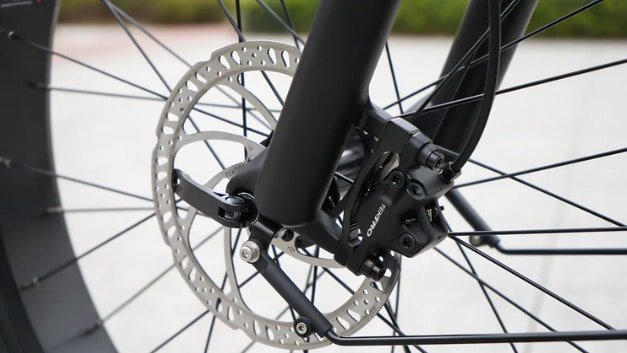 The braking test involved bringing the bike up to 20mph, slamming hard on the brake five times, and determining the average stopping distance.
The Zebra did well on the braking test stopping at 12 feet and 7 inches despite its weight. The test puts it in the top ten for all bikes that were similarly tested.
The brakes will do quite well when stopping making it great for commuters using the e-bike in traffic.
The high braking power is due to the bike and rider's weight and efficient hydraulic braking system. Its fat tires also played a vital role by providing enough traction when braking, allowing riders to stop quickly in emergencies.
Shimano Gearing
The Zebra has a fairly standard-issue mixed Shimano 7-speed drivetrain with an Altus rear derailleur and a Tourney shifter.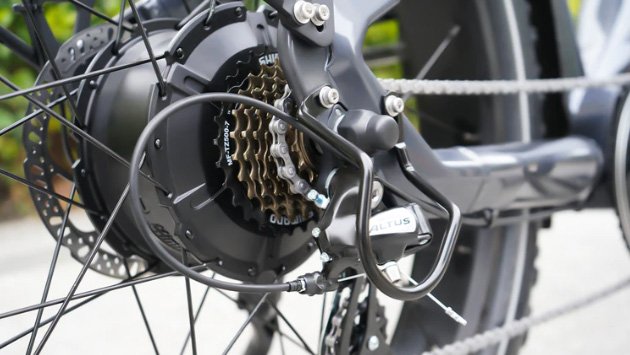 The bike has pretty good shifting performance but is under-geared for its speed. Himiway could do better by providing the Zebra with a more effective gearing system for a better experience.
Himiway Zebra Design and Features
Frame and Geometry
Himiway redesigned the Zebra's frame providing step-thru and high-step versions. It has an aggressively-looking aluminum frame recommended for riders of heights between 5'1" and 6'4".
The e-bike features a slightly changed geometry and a removable battery. The bike's backend has more angular tubing meant to stiffen it for a better riding experience.
It also has a heavy-duty aluminum kickstand to balance your bike when parked, a comfortable SR saddle joined to a 30.9*350mm alloy seat post, and alloy pedals with reflectors.
400-Pound Carrying Capacity
One of the highlights of the Himiway Zebra is its great carrying capacity. The frame of the bike is so strong, that it can withstand a payload of 400 lbs (~180 kg).
Although the bike is suitable for MTB adventures, it can be easily used for longer commutes and even for touring. The versatile frame of the bike has many mounts for pannier bags.
Suspension
The Zebra has a front suspension fork that absorbs shock on impact, reducing the vibration transmitted to riders. This is beneficial for the Zebra since it's an all-terrain bike.
Its fat tires also help by absorbing shock providing a better experience for riders. However, it doesn't do as well as bikes with double suspension.
Wheels and Tires
The Zebra has all-terrain 26" by 4" fat tires, perfect for all-terrain riding.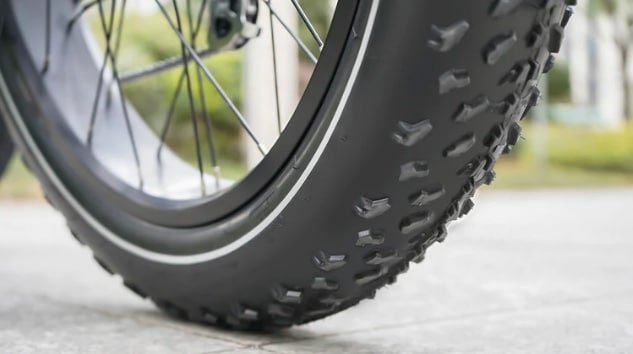 The tires have 12-gauge spokes on the back tires and 13-gauge spokes on the front tires.
The tires provide sufficient traction when riding through rough, muddy, or snowy terrain.
We wouldn't recommend riding the e-bike on rocky terrain because it has a single front suspension and tricky handling when making turns.
Display
The Zebra has a standard black and white LCD display that provides vital information like:
power
mileage
speed for riders
battery capacity
pedal assist level
and range.
You can also use the LCD display to charge your phone. Also, it has a standard cockpit with an overbar tourney 7-speed shifter and a twist throttle on its right-hand side.
Additionally, it has faux leather grips meant to make it easier to hold the handles.
Free Accessories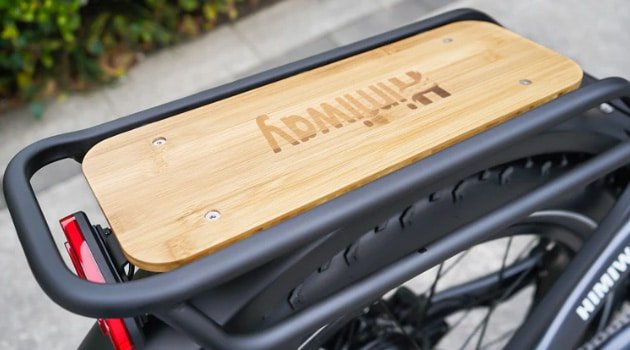 The Himiway Zebra comes with free accessories like:
full fenders
rear rack
and a repair tool.
The fenders help keep you and your bike clean from dirt splashed by tires when riding in muddy or wet terrain. You also get a repair tool for replacing parts and making repairs if you damage your bike.
Himiway Zebra Review Conclusions
The Himiway Zebra is among the better affordable e-bikes on the market.
The bike has several elements that have elevated it to its status, including the braking and climbing ability. Its test results in these areas are impressive, and you should consider them if you want to purchase an affordable e-bike.
Related: Himiway Zebra vs Aventon Aventure
Some of the bike's few issues, like the small stock gear ratio and faux leather material on the handles, are fixable. However, you'll have to adapt to other problems like the understeer. Purchasing the Zebra comes down to what the buyer wants and whether it meets all the requirements. 
Himiway Zebra Specs
General
| | |
| --- | --- |
| Bike Name | Himiway Zebra |
| E-Bike Class | Class 3 |
| Availability | United States, Europe |
| Warranty | 2 Years |
Electronics
| | |
| --- | --- |
| Motor Type | Rear-Hub Drive |
| Motor Power | 750W |
| Torque | 86 Nm |
| Top Speed | 25 mph |
| Battery | 48V 20Ah (960Wh), Samsung/LG |
| Charge Time | 7 Hours |
| Range | 60-80 miles |
| Display | LCD Display with USB Charging |
Bike Components
| | |
| --- | --- |
| Dimensions | 78.7″ x 42.9″ |
| Frame Material | Aluminum Alloy |
| Frame Size | One Size |
| Frame Type | Step-Over, Step-Thru |
| Recommended Rider Height | 5'3″ – 6'5″ |
| Frame Colors | Gray, White |
| Fork | Alloy Front Suspension with Lockout and Adjustment |
| Gearing | 1×7-Speed Shimano Altus |
| Brakes | Front and Rear Hydraulic Disc |
| Wheel Size | 26″ |
| Tires | 26″ x 4.8″ Kenda Fat Tires |
| Weight | 79 lbs |
| Weight Capacity | 400 lbs |