Although Himiway ebike brand was founded in 2017, they are already quite a respectable player in the electric bicycle market.
Himiway has a very interesting selection of different types of e-bikes:
All-terrain fat bike
Cargo bike
Full suspension mountain bike
Long-range cruiser bike
Bikes with step-through frame
And even moped-style e-bike.
In this Himiway e-bikes overview, we take a closer look into the company and will introduce you their most popular e-bike models.
Electric Wheelers is reader-supported. Although we independently research and test products, we may receive a commission on purchases made from our chosen links. Read more…
Himiway Electric Bike Overview
Himiway has become one of the most popular electric bike brands due to its affordability.
The company was founded in 2017 by Mike Magaruh and is headquartered in California, United States. However, they are not limited to the US market only.
Himiway is a global brand and serves customers in North America, the UK, and Europe.
Where are Himiway Bikes Made?
Himiway e-bikes are manufactured in China. They have a factory in Shanghai.
However, to serve customers in the most efficient way, Himiway has local warehouses in the USA and Europe.
What Brand Hub Motors does Himiway Use?
Most Himiway electric bikes use a 750W brushless hub motor made by Luanxing. Motors are recently upgraded with better heat dissipation and high-temperature resistance.
The company designed its motors for increased efficiency and longer life expectancy. The motors are perfect for riding on rugged terrain and are capable of riding through sand and on hills.
Due to local laws, Himiway e-bikes in the EU market have 250W motors.
What is Himiway Cycling Club?
Himiway Cycling Club is a program dedicated to building a relaxed, welcoming, family-friendly group of cyclists.
The club helps bike riders find new cycling buddies for a fun, friendly, and supportive cycling experience. Cyclists get to safely discover new trails and sharpen their skills with like-minded individuals.
Where You Can Buy Himiway Electric Bikes?
If you live in North America, the most convenient places for buying Himiway bikes are:
In addition to that, Himiway has separate websites for European customers:
Read also: Himiway Launched 3 New e-Bike Models
Himiway Bikes Review
Let's take a closer look at each of the most popular Himiway electric bikes. What are the pros of each bike and who are they built for?
Himiway Zebra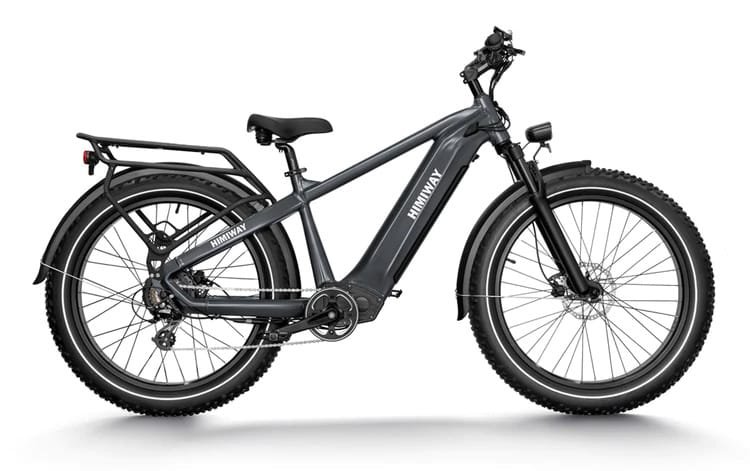 The Himiway Zebra is an all-terrain variant that provides the best off-road riding experience. It has hydraulic brakes, an 80-mile+ range, and a 750W geared hub motor.
Related: Himiway Zebra Full Review
The motor provides 86 Nm of torque and you can speed up the bike with throttle and pedal assistance. The bike is perfect for off-roading enthusiasts looking to explore challenging trails.
Himiway designed the bike with a beefy, durable aluminum frame and an aluminum suspension fork with preload and lockout adjustment.
The biggest upside to owning the bike is its massive 960 Wh battery.
The Zebra's battery is integrated inside the bike's down tube and guarantees 80+ miles of use with pedal assistance and throttle. It takes about 7 hours to recharge the battery.
The bike's battery is one of the best and provides impressive performance among other bikes within its price range.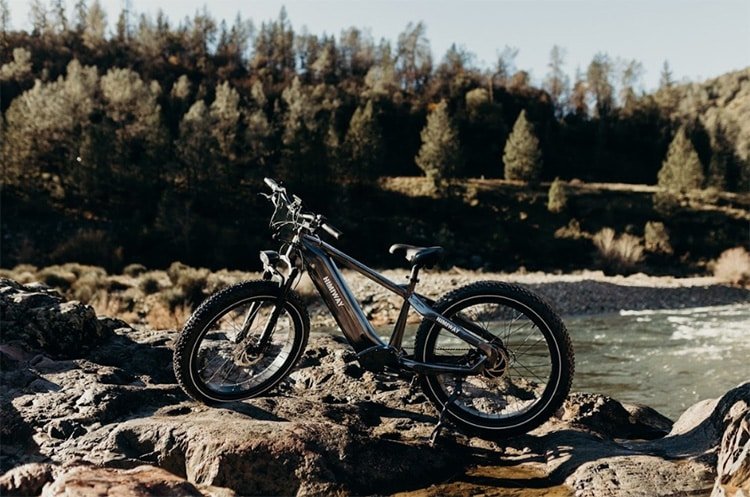 Additionally, the ebike has a Shimano Altus drivetrain allowing cyclists to switch gears as needed. By the way, the bike is easily rideable even if the battery gets empty.
The bike has 26 by 4-inch tires, which are perfect for offroading and tackling challenging terrain. And hydraulic brakes provide sufficient stopping power.
Free Accessories: Himiway Zebra comes with full fenders, a rear rack, a multi-functional repair tool, and a Himiway cap for the rider.
Himiway designed their bikes for most riding conditions by providing the necessary components to improve riders' experience. For instance, they've equipped their ebikes with a bright headlight allowing pedestrians and other road users to see you at night.
Also, you can purchase the bike depending on your preferred frame design: step-through and step-over.
750W Hub Motor
Estimated Range: 80 Miles
Bike Weight: 79 lbs
Max Payload: 400 lbs
Recommended Rider Height: 5'2″ ~ 6'4″ (Step-Over), 5'1″ ~ 6'4″ (Step-Through)
2-Year Warranty
Check Best Price From:
Himiway Big Dog
The Himiway Big Dog was launched towards the end of 2021, and Himiway designed it for carrying cargo. However, it doesn't have an extended tail design commonly associated with traditional cargo bikes.
The Big Dog has a 400-pound carrying capacity, a large rear rack, and 20 by 4-inch multifunctional tires. Additionally, you can also have the bike with a front-mounted basket. However, you'll have to purchase it separately.
The bike's electronics are pretty familiar. It has a 750W rear hub motor and a 960Wh battery. Himiway integrated the bike's battery into the down tube, but it's removable so you can replace it whenever it runs out.
The battery provides riders with a range of about 60 to 80 miles, which is sufficient for a utility bike.
As mentioned earlier, the bike has 20 by 4-inch tires that lower the center of gravity, making it easier to carry heavy cargo on the rear rack.
Other bike components include hydraulic disc brakes and a 7-speed drivetrain. These are common among Himiway models.
The bike has various accessories, including a suspension fork and a dual-leg kickstand. Also, Himiway equips their bikes with bright headlights providing riders with sufficient light when cycling at night.
The bike is perfect for urban riders looking for an efficient, comfortable, and practical bike.
750W Hub Motor
Range: 60-80 miles
Bike Weight: 79 lbs
Max Payload: 400 lbs
Recommended Rider Height: 5'0″ ~ 6'2″
2-Year Warranty
Check Best Price From:
Himiway Cobra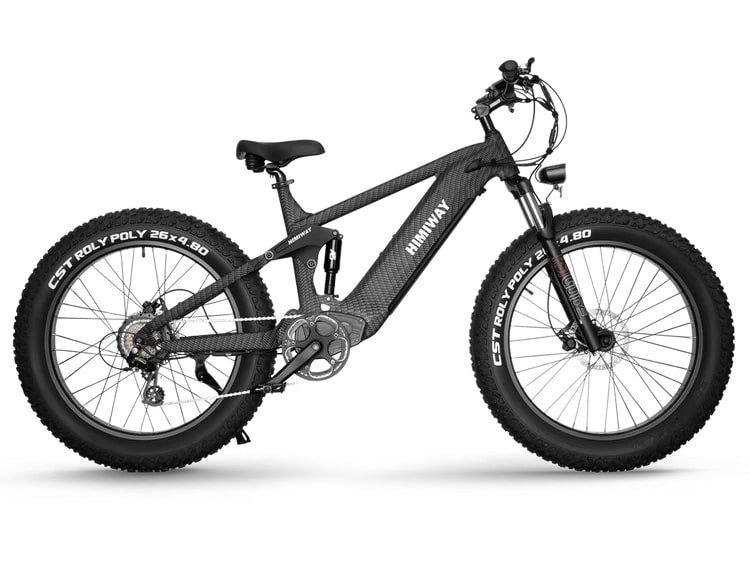 The Himiway Cobra is one of the most off-road-ready, efficient, and capable bikes in its lineup.
It has dual suspensions for a comfortable riding experience and super fat tires for additional shock absorption. Also, it's 26 by 4.8-inch tires provide sufficient grip for exploring rugged terrain.
Related: Himiway Cobra Full Review
Various features setting the bike apart from other Himiway models include its full-suspension design. Its four-bar linkage suspension absorbs shock keeping the bike's rear wheel on the ground despite the terrain's bumpiness.
Similarly, the bike's front wheel suspension improves riding comfort, increases stability, and makes it easier to steer.
This Himiway e-bike is perfect for individuals who love riding around rough forest terrain or those who love the outdoors and enjoy fishing and hunting.
You can get the bike in a dark gray color or camo colorways to blend with the environment.
The Cobra has similar electrical components to the Zebra, like a 960Wh integrated battery and a 750W geared hub motor.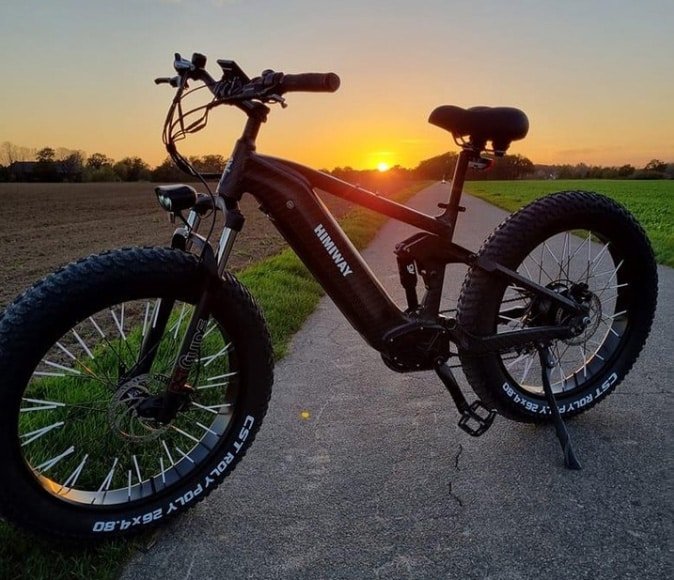 The bike's battery provides a range of 80+ miles which is more than enough to leave home and explore various terrain and trails.
The bike also has hydraulic disc brakes, providing sufficient stopping power, and a 7-speed drivetrain.
750W Hub Motor
Range: 60-80 miles
Bike Weight: 88 lbs
Max Payload: 400 lbs
Recommended Rider Height: 5'4″ ~ 6'4″
2-Year Warranty
Himiway Cobra vs Cobra Pro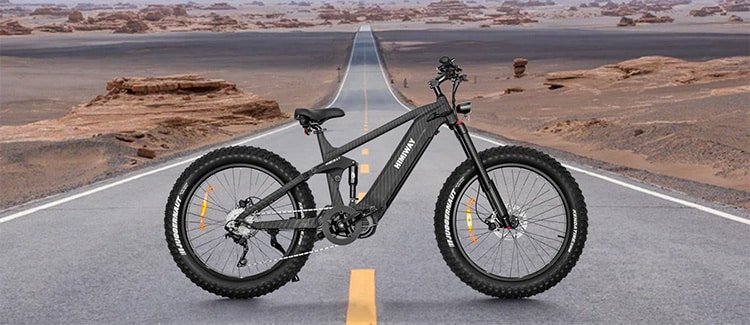 The Cobra Pro is more powerful than the Cobra. It has a 1000W mid-drive Bafang motor, making it easier to climb hills, even when fully loaded.
The bike is perfect for extreme offroading adventures like hunting, moderate mountain climbing, and trail exploration.
Himiway Cruiser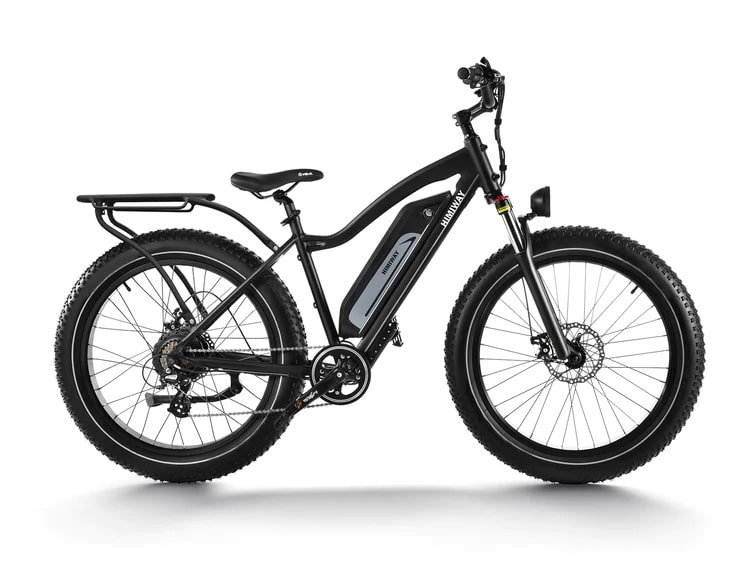 The Himiway Cruiser is Himiway's most popular ebike and has helped the company gain global recognition. The bike is similar to RadRover 5 (from Rad Power Bikes) and shares a similar price tag. However, the two bikes are different, especially regarding the components and accessories.
The Himiway Cruiser has an 840Wh battery, versatile fat tires, and practical accessories.
The Cruiser comes with an aluminum frame, which has a total payload capacity of 350 lbs. A heavy-duty suspension fork increases the overall ride quality significantly. Additionally, it has 26×4-inch fat tires to provide even more comfort on a bumpy road.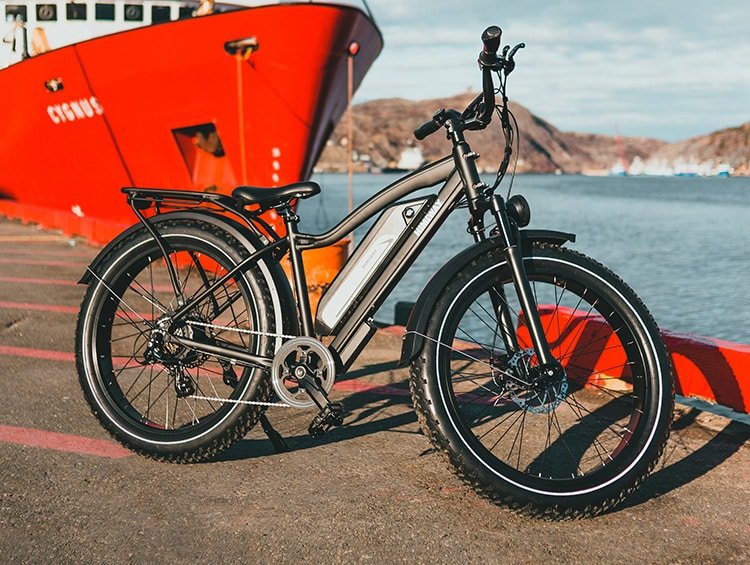 Under the hood, you can find a 750W geared rear hub motor, which is the same as other Himiway bikes have. The 48V 17.5Ah battery with an 840Wh energy capacity is capable to take you away 35-60 miles. The exact range depends on which pedal assist level you are using.
Additionally, the bike has mechanical disc brakes and a 7-speed Shimano drivetrain.
The bike is perfect for multi-purpose riders and commuters because it has various handy accessories, like a rear rack, a 350-pound payload, and a kickstand.
Also, the bike has a bright headlight that helps riders see at night and get noticed by other road users.
750W Hub Motor
Range: 35~60 miles
Bike Weight: 72 lbs
Max Payload: 350 lbs
Recommended Rider Height: 5'2″ ~ 6'4″
2-Year Warranty
Check Best Price From:
Himiway Cruiser Step-Thru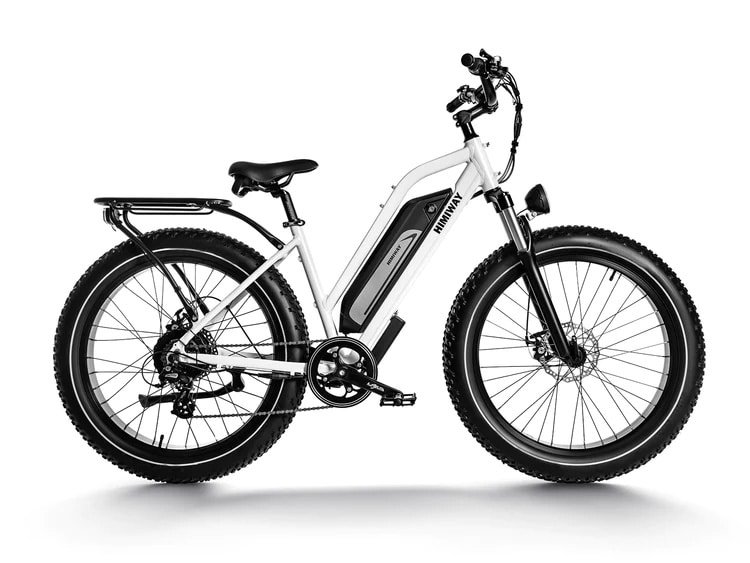 The Himiway Cruiser has also a step-thru version. It's a sophisticated and elegant ebike that provides exceptional comfort and convenience.
The bike has the same excellent performance as the step-over version and adds the comfort of climbing on and off the bike.
The Himiway Cruiser Step-Through has a sturdy rear rack, a 7-speed gear shift system, a twist throttle, and a multifunctional display. It provides a smooth ride, making it one of the best bikes in its category.
Check Best Price From:
Himiway Escape Pro
The Himiway Escape Pro is perfect for commuters. Many people consider it better than cars, especially for city commutes.
The moped-style e-bike has a 672Wh battery and a 750W rear hub motor, providing a 30 to 50-mile range with a 20mph top speed. Depending on your needs and the terrain, you can control the bike's pedal assistance with a throttle or five pedal assist levels.
The bike has a compact, stylish design and various accessories that improve the riding experience.
The ebike has a heavy-duty rear rack, a moped-style saddle, and full suspension. In our opinion, the back and front suspensions are one of the best features of the bike.
The suspension absorbs vibrations and eliminates bumps for a smoother ride. This is vital if you go off-roading. 20×4-inch fat tires make the experience even better.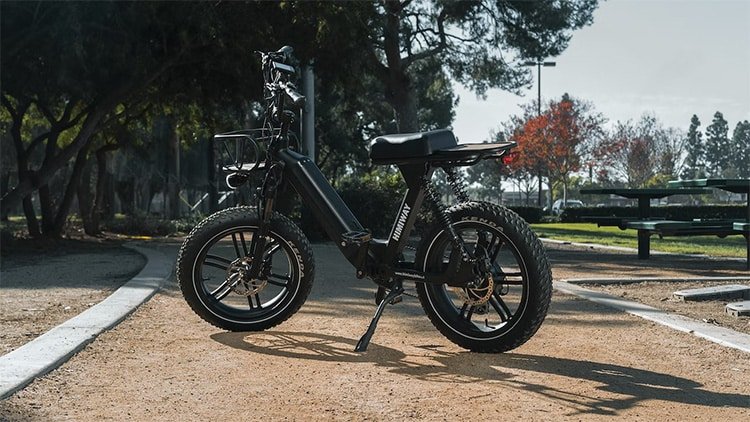 Mechanical disc brakes provide sufficient stopping power, and a 7-speed drivetrain gives you enough variety on different types of terrain. Additionally, you can ride past sundown, thanks to the bike's bright lights.
Also, the bike has a multi-functional display that riders can set to display all expected parameters. It's perfect for riders who want a strong ebike with better performance and a long range.
750W Hub Motor
Range: 35~50 miles
Bike Weight: 92 lbs
Max Payload: 330 lbs
Recommended Rider Height: 5'0″ ~ 6'2″
2-Year Warranty
Check Best Price From:
Conclusion – Are Himiway Bikes Worth It?
Himiway electric bikes are definitely worth it. They have several different styles of bikes, so everyone can find something.
Every Himiway bike comes with solid components and decent build quality. All models have a suspension system and many models have hydraulic brakes.
And most importantly, all Himiway electric bikes are very reasonably priced. The Cruiser can be bought for just $1,600 and even their most high-end models are not super expensive.