Welcome, cycling enthusiasts and eBike aficionados! In this comprehensive review, we dive deep into the KBO Breeze, a commuter electric bike that's been making waves in the market.
As you journey through this article, you'll uncover the ins and outs of its performance, design intricacies, and unique features that set it apart. Whether you're contemplating a new e-bike purchase or simply curious about the KBO Breeze, this review promises insights that will enlighten and inform.
So, gear up and ride along with us as we unravel what makes this eBike a contender in today's competitive landscape. Let's pedal forward!
KBO Breeze Electric Bike Review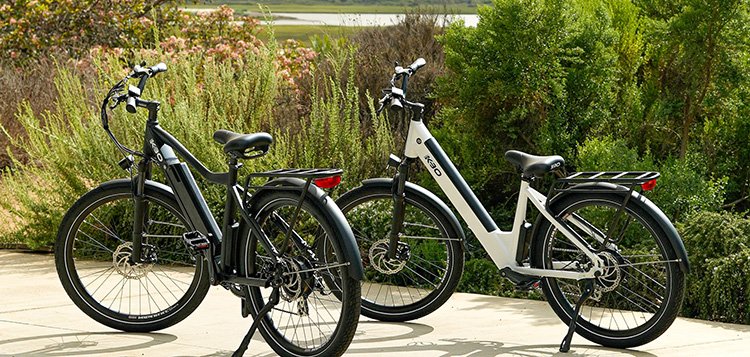 Motor: 500W | Top Speed: 28 mph | Max Payload: 300 lbs | Battery: 768Wh | Max Range: 55 miles
Commuter Electric Bike KBO Breeze Pros and Cons
Pros:
Powerful 500W motor with a peak of 900W, ensuring confident rides on varying terrains.
Long battery life with a range of 25-55 miles, depending on usage.
Sleek and integrated 48V 16Ah battery design that fits seamlessly into the frame.
Comes with an 80mm suspension fork, enhancing comfort on bumpy roads.
Eye-catching paint job, enhancing visibility and aesthetics.
Comfortable KBO plush saddle and grips.
Cons:
Some exposed wires, which could be better integrated or braided for a cleaner look.
The saddle might be a bit wide for some riders.
The stock headlight might not be sufficient for riders frequently commuting in the dark.
KBO Breeze eBike Performance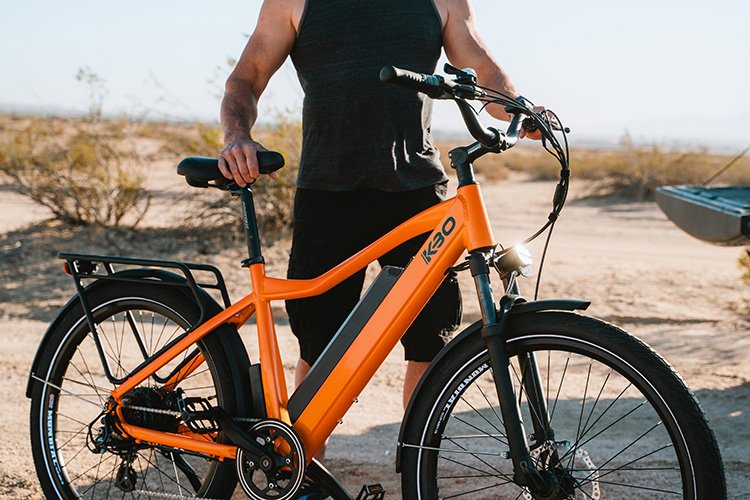 KBO Breeze Top Speed and Motor Power
The KBO Breeze stands out in the eBike market, primarily due to its powerful 500W motor, which can peak at an impressive 750W. This robust rear hub motor ensures that riders can tackle a variety of terrains with confidence.
One of the most notable features of this eBike is its top speed, which reaches up to 28mph. Such a speed is not only commendable but also positions the KBO Breeze as a fast cruiser, ideal for those looking to make quick commutes or enjoy speedy rides.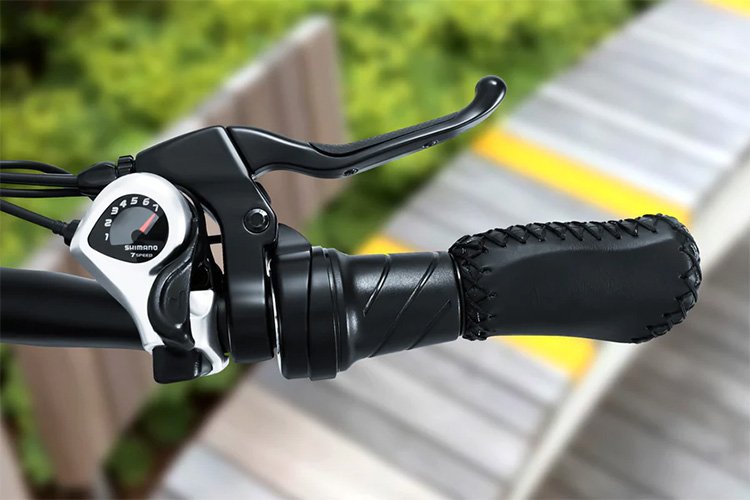 The pedal assist feature further enhances the bike's performance. However, there's a noticeable jump in power between pedal assist levels 1 and 2, which some riders might find too significant. This could affect the bike's acceleration, especially when transitioning between these levels.
The torque, which is a measure of the motor's force, complements the bike's speed, ensuring rapid acceleration and a smooth riding experience.
KBO Breeze Battery and Range
The heart of any electric bike is its battery, and the KBO Breeze doesn't disappoint in this department.
Equipped with a high-capacity 48V 16Ah lithium-ion battery, it ensures that riders can travel long distances without frequent recharges. This e-bike battery can power the KBO Breeze bike for an impressive range of up to 55 miles on a single charge, depending on the terrain and riding conditions.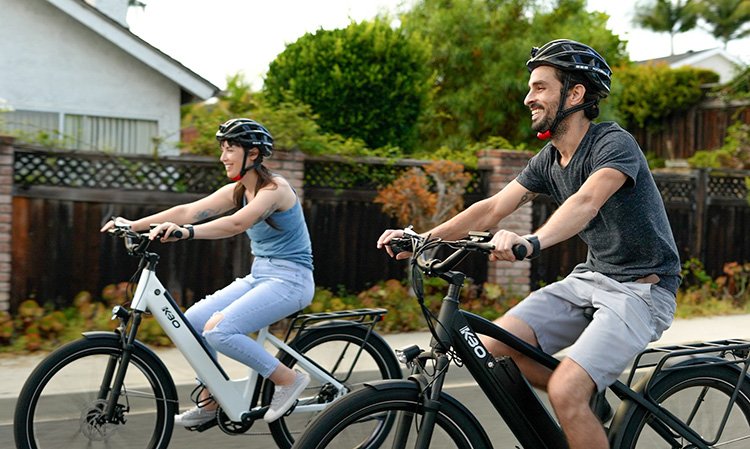 One of the standout features of the KBO Breeze's battery is its removable design. This allows riders to easily take it out for charging, making it convenient for those who might not have a charging point near their parking space.
Moreover, the battery's positioning on the bike ensures a low center of gravity, contributing to the bike's overall stability and balance.
Mechanical Disc Brakes
Safety and control are paramount when it comes to electric bikes, and the KBO Breeze addresses this with its robust mechanical disc brakes.
These brakes offer consistent stopping power, ensuring that riders can confidently navigate through traffic or descend steep terrains.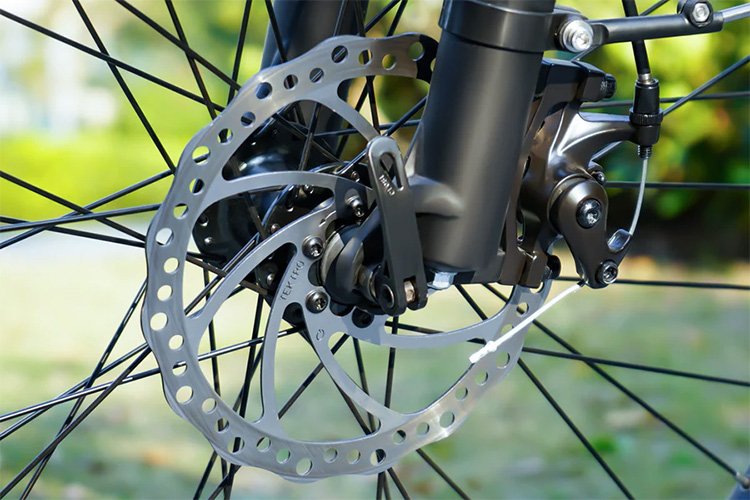 Unlike traditional rim brakes, mechanical disc brakes provide enhanced performance in wet conditions, reducing the chances of slippage. Their design also minimizes wear on the wheel rims, extending the lifespan of the wheels.
Furthermore, the easy-to-maintain nature of mechanical disc brakes means that riders can perform routine checks and adjustments without professional help.
In essence, the KBO Breeze's mechanical disc brakes combine reliability with ease of maintenance, offering riders peace of mind on every journey.
Shimano 7-Speed Derailleur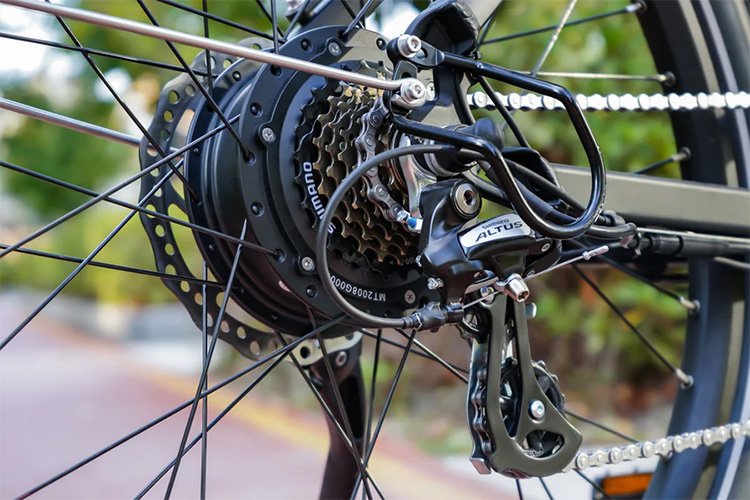 The KBO Breeze is equipped with a Shimano 7-Speed Derailleur, ensuring smooth and precise gear shifts for varied terrains.
This trusted component enhances the riding experience by providing optimal cadence options, whether climbing hills or cruising on flat roads. Its durability and reliability make it a standout feature for consistent performance.
KBO Breeze Design and Features

KBO Breeze Step-Through vs Step-Over Frame
The KBO Breeze offers two distinct frame styles: the Step-Through and the Step-Over.
The KBO Breeze step-thru is characterized by its low crossbar, making it easier for riders to mount and dismount, especially for those wearing dresses or skirts.
This design is also beneficial for older riders or those with limited mobility. On the other hand, the Step-Over frame has a traditional high crossbar, often preferred by riders seeking a sportier look and feel.
In terms of ride geometry, both frames are designed to offer a comfortable and ergonomic riding position, but the choice between them often boils down to personal preference and intended use.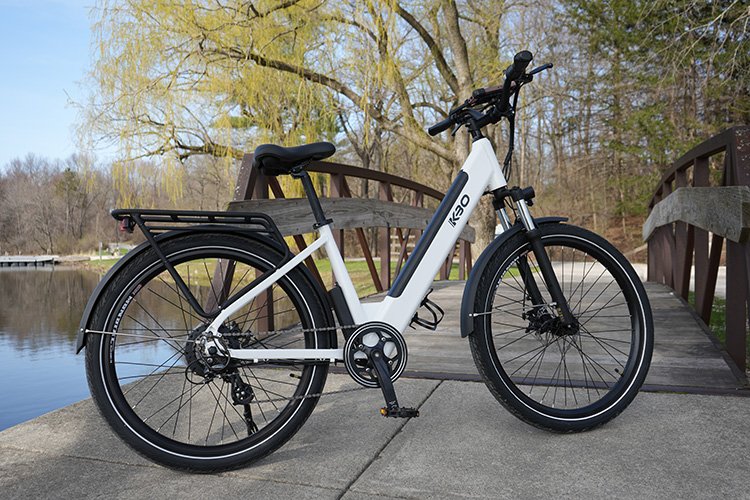 The materials used in both frames are of high quality, ensuring durability and longevity. The build quality is impeccable, reflecting KBO's commitment to producing bikes that not only look good but also stand the test of time.
Whether you choose the Step-Through or Step-Over, you're guaranteed a well-crafted bike that meets the highest standards.
Front Suspension Fork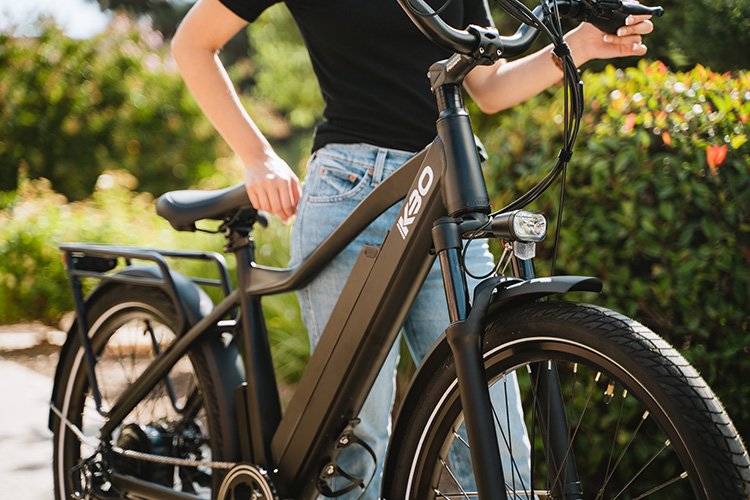 The KBO Breeze's front suspension fork is a testament to its commitment to rider comfort. This feature ensures a smoother ride, especially on uneven terrains or bumpy roads.
By absorbing shocks and reducing vibrations, the suspension fork enhances the bike's handling and stability.
Whether you're navigating city streets or exploring off-road trails, the front suspension ensures that the KBO Breeze delivers a consistent and comfortable riding experience, making every journey a pleasure.
27.5×2.4-Inch Panasonic Tires
The KBO Breeze is equipped with 27.5×2.4-inch Panasonic tires, a perfect blend of durability and performance. These tires offer a broad contact patch with the road, ensuring excellent traction and stability in various conditions.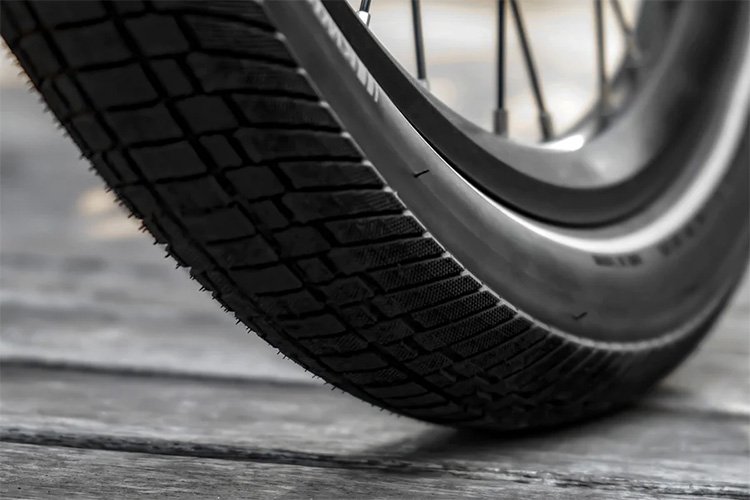 Crafted by Panasonic, a trusted name in the industry, they promise longevity and resistance to wear and tear. Whether you're cruising on asphalt or tackling gravel paths, these tires provide a confident and smooth ride.
Integrated Lights
KBO understands well that safety and visibility are important to every e-bike rider.
The bike features integrated lights that not only enhance the bike's aesthetic appeal but also ensure riders are visible during low-light conditions or nighttime rides.
These lights are seamlessly incorporated into the bike's design, eliminating the need for external attachments. However, some riders have mentioned that the stock headlight might be insufficient for extremely dark conditions or off-road trails. It's always a good idea to consider additional lighting solutions if you frequently ride in such environments.
Additional Features
The KBO Breeze doesn't stop at just providing a powerful motor and a durable frame; it's packed with features that enhance the overall riding experience.
Full Fenders: No one likes getting splashed on a wet day. The KBO Breeze comes equipped with full fenders that effectively shield riders from water and mud, ensuring a cleaner ride even on rainy days or through puddles.
Rear Rack: Whether you're commuting to work, running errands, or going on a leisurely ride, the rear rack proves to be incredibly useful. It's sturdy and can hold bags, groceries, or other items, adding a layer of convenience to your trips.
Display: The onboard display is intuitive and provides riders with essential information at a glance. From battery life to speed, pedal assist levels, and distance traveled, the display keeps riders informed and in control.
Other Features: The KBO Breeze also boasts other notable features that riders will appreciate. These might include a comfortable saddle, ergonomic grips, and a bell for safety in traffic. Every detail, no matter how small, has been thought of to ensure riders have the best experience possible.
KBO Breeze Review Conclusions
After a comprehensive review of the KBO Breeze, it's evident that this eBike offers a harmonious blend of performance, design, and additional features.
Its robust build, paired with thoughtful features like integrated lights and a rear rack, make it a top contender in the commuter e-bike market.
While there are areas for improvement, the overall package is impressive. We believe the KBO Breeze offers excellent value for its price point, making it a worthy investment for those seeking a reliable and feature-rich commuting solution.
Read also: Overview of All KBO E-Bikes
KBO Breeze Specs
General
| | |
| --- | --- |
| Bike Name | KBO Breeze |
| E-Bike Class | Class 3 |
| Availability | United States |
| Warranty | 2 Years |
Electronics
| | |
| --- | --- |
| Motor Type | Rear-Hub Drive |
| Motor Power | 500W |
| Top Speed | 28 mph |
| Battery | 768Wh Removable |
| Range | Up to 55 miles |
| Display | LCD |
Bike Details
| | |
| --- | --- |
| Frame Material | Aluminum Alloy |
| Frame Size | One Size |
| Frame Type | Commuter, Step-Over, Step-Through |
| Recommended Rider Height | 5′4″ – 6′4″ |
| Frame Colors | Black, Orange, White |
| Fork | Front Suspension |
| Rear Suspension | – |
| Gearing | 1×7-Speed Shimano Altus |
| Brakes | Mechanical Disc |
| Wheel Size | 27.5″ |
| Tires | 27.5″ x 2.44″ Panasonic Tires |
| Weight | 62 lbs |
| Weight Capacity | 300 lbs |