Welcome to our comprehensive overview of Sohamo, a rising star in the e-bike industry.
In this article, we delve into the brand's unique offerings, from their diverse e-bike models to the essential accessories they provide. Dive in to discover why this brand is gaining traction and how it might just be the perfect fit for your next ride.
Read on and join us on this electrifying journey!
Electric Wheelers is reader-supported. Although we independently research and test products, we may receive a commission on purchases made from our chosen links. Read more…
Sohamo Electric Bikes Overview
Instagram | Facebook | Website
Sohamo is a forward-thinking e-bike brand with a vision centered on sustainable commuting. Comprising a young and dynamic team, they're passionate about the environmental potential of e-bikes and are dedicated to making a positive impact.
While their primary market is the United States, their influence is growing. Sohamo specializes in crafting e-bikes that are not only affordable but also versatile. Their lineup includes robust fat-tire bikes, convenient folding models, and compact mini e-bikes, each designed with the modern commuter in mind.
With a focus on quality and customer service, Sohamo is a brand that's making waves in the e-bike industry.
Sohamo E-Bikes Review
Sohamo M3 Fat Tire Electric Bike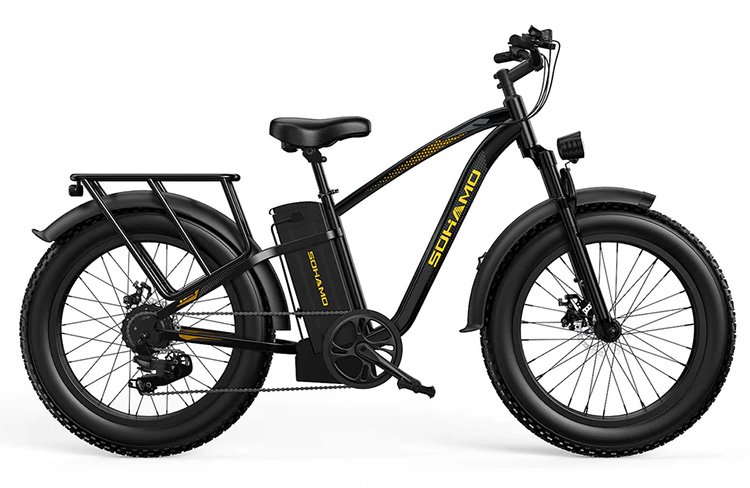 The SOHAMO M3 is a robust fat tire e-bike designed for versatile terrains, especially beneficial for areas with gravel roads.
Powered by a 750W brushless geared motor, it can reach speeds up to 28 mph. With its 48V 15/20Ah Lithium-ion battery, riders can travel between 45-60 miles on a single charge.
The 26″ x 4.0″ fat tires ensure a smooth ride, gliding effortlessly over bumpy surfaces. Ideal for riders between 5′ to 6'5″, it boasts a total payload capacity of 300 lbs. The LCD display, thumb throttle, and 0-5 level pedal assist enhance the riding experience.
Its main advantages include affordability, integrated front and rear lights, and a sturdy rear rack with a 110 lbs capacity. However, it lacks hydraulic brakes and has a slightly springy front suspension.
Overall, the M3 is a cost-effective choice for those seeking a reliable fat tire e-bike.
Sohamo H3 Folding E-Bike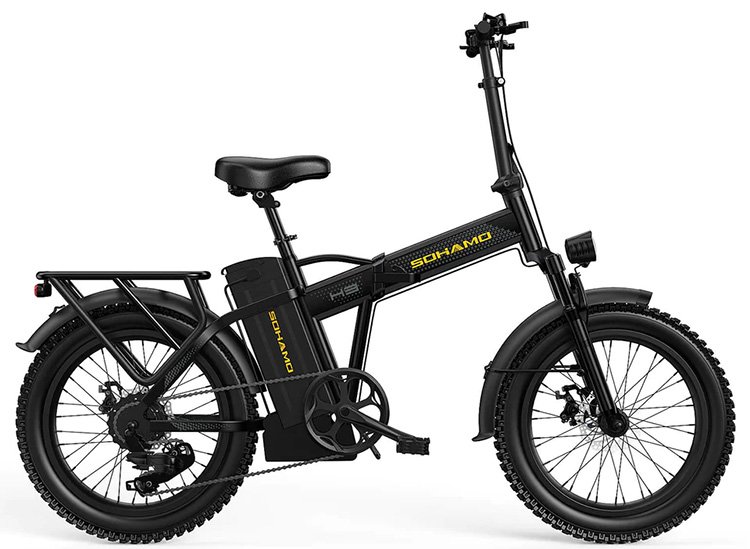 The SOHAMO H3 is a versatile folding e-bike tailored for urban commuters and travelers.
Driven by a 750W brushless motor, it can achieve speeds of up to 20 mph, making city rides swift and efficient. Its 36V 10Ah Lithium-ion battery ensures a commendable range of 40-60 miles on a single charge, catering to daily commuting needs.
The 20″ x 3″ tires, combined with its compact design, make it easy to maneuver through city streets and tight spaces. Suitable for riders with a height range of 5'1″ to 6'5″, the H3 can support a total weight of up to 300 lbs.
The bike's user-friendly features include an intuitive LCD display, a convenient thumb throttle, and a 0-5 level pedal assist system. Additional perks encompass its lightweight frame, integrated front and rear lights for nighttime visibility, and a durable rear rack.
Its foldable design is its standout feature, allowing for easy storage and transport. However, potential buyers should note its absence of hydraulic brakes. But still, its mechanical disc brakes provide sufficient stopping power.
All in all, the H3 stands out as a top choice for those in search of a compact yet powerful folding e-bike.
Sohamo S3 Step-Thru Folding E-Bike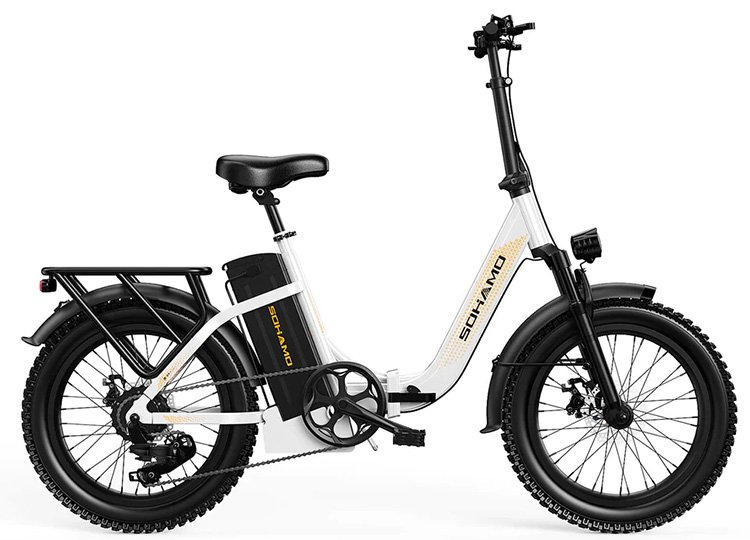 The SOHAMO S3 Step-Thru Folding E-Bike is a fusion of convenience and power, tailored for urban and leisure riders.
Equipped with a 750W brushless geared motor, it can effortlessly reach speeds of 28 mph. Its 48V 15/20Ah Lithium-ion battery promises a substantial range of 45-60 miles, making longer rides a breeze.
The 20″ x 3.0″ fat tires ensure stability and smoothness, even on uneven terrains. Designed for a broad range of riders, from 5'1″ to 6'5″, it can support a payload of up to 300 lbs. The LCD display, combined with a 0-5 level pedal assist and thumb throttle, offers riders complete control.
Safety features include dual 160mm disc brakes and integrated front and rear lights. With its step-thru design and 85% pre-assembled package, the S3 is both user-friendly and efficient, making it a prime choice for those seeking a blend of comfort and performance.
Sohamo A2 Folding E-Bike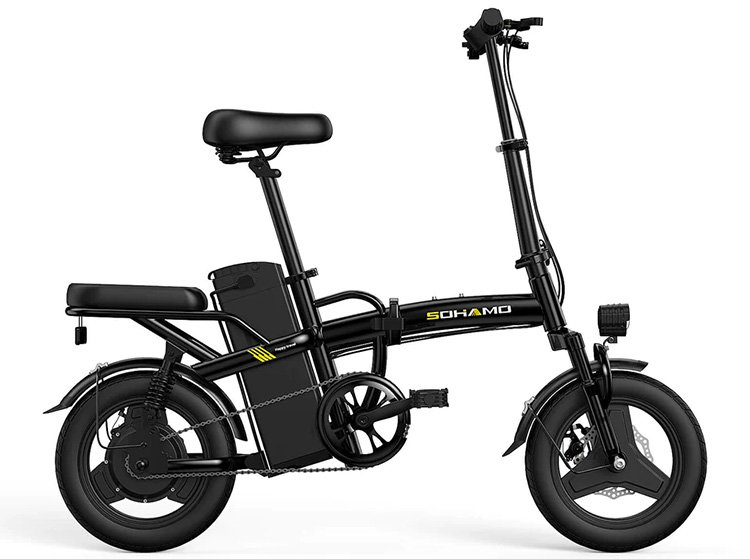 The SOHAMO A2 Folding E-Bike redefines urban commuting with its compact design and powerful performance.
Powered by a 350W 55Nm motor and a 48V 12/16Ah battery, it effortlessly cruises at speeds up to 20mph, making city rides swift and efficient. The battery of an ebike can provide a range between 20-40 miles depending on which battery configuration you choose.
Its standout feature is the ultra-compact folding design, measuring just 27″×24″, making it a breeze to carry into elevators, subways, or stow away in tight spaces. The A2 boasts adjustable features, from its handlebar to seat height, ensuring a customized fit for adults up to 6'1″.
Its full suspension system, combined with 14″ x 2.1″ tubeless tires, promises a bump-free ride. Safety is paramount with its bright 48V LED headlight and sensitive brake system featuring 160mm disc rotors.
Additions like a wide, cushioned saddle, full-wrap fenders, and a 62cm handlebar, which can accommodate accessories, make the A2 an epitome of comfort and functionality in urban e-biking.
Sohamo A3 Mini eBike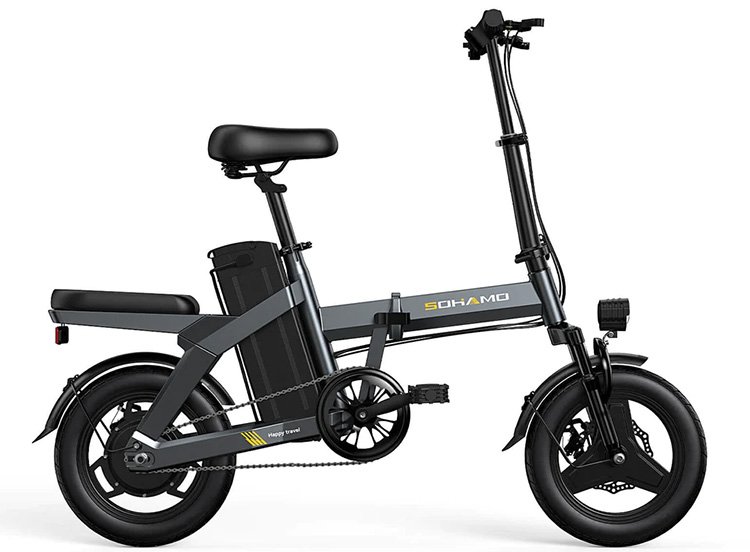 The SOHAMO A3 Mini eBike is a step up from its predecessor, the A2, offering enhanced features for the modern commuter.
While both models share a similar folding frame design, the A3 boasts a more powerful 400W 55Nm motor, allowing riders to reach speeds of up to 22mph, 2mph faster than the A2. This extra power ensures an easier climb over steeper terrains, making urban commuting even more seamless.
The A3's battery, identical in capacity to the A2, promises extended rides and hill-conquering prowess. You can expect a range of about 20-30 miles with a 12Ah battery and a range of up to 40 miles with a 16Ah battery.
Both eBikes are designed for space efficiency with a folded size of 27″×24″, but the A3's enhanced motor makes it stand out for those seeking that extra boost.
Other shared features include the 48V LED headlight, 160mm disc brake system, and adjustable components.
Sohamo EBikes Accessories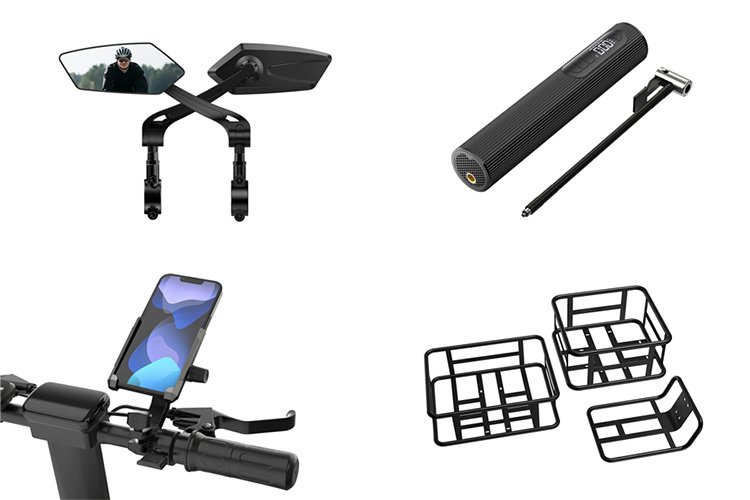 Sohamo offers a range of accessories tailored to enhance the e-biking experience.
For security, they provide an e-bike lock, ensuring your e-bike remains safe when parked. To improve road safety and awareness, they offer an HD Wide-Angle Rearview Mirror, allowing riders to have a broader view of their surroundings.
For protection, the E-Bike Helmet is available, ensuring riders' safety during their commutes. The Phone Holder offers convenience by securely holding the phone, making navigation and communication easier while riding.
For emergencies or routine maintenance, the Portable Electric Air Pump can be a lifesaver, ensuring tires remain inflated.
These accessories not only enhance the functionality of the e-bikes but also prioritize the safety and convenience of the riders, making every ride enjoyable and worry-free.
Conclusion: Are Sohamo E-Bikes Worth It?
While Sohamo may be a newcomer in the e-bike industry, it's certainly making waves with its affordable offerings. For those venturing into the world of e-bikes for the first time, Sohamo presents a compelling option.
Their bikes strike a balance between practicality and affordability, making them an excellent choice for budget-conscious riders. However, it's essential to manage expectations; given the competitive pricing, these bikes might not boast top-tier components. Yet, they deliver on functionality and value.
As the brand grows, we eagerly anticipate a broader range of models, further solidifying Sohamo's place in the e-bike market.