Demand for electric bikes is growing exponentially and with good reason.
Electric bikes are an effective form of transportation, and they are eco-friendly. Increasing demand has also necessitated various manufacturers to develop even better ebikes that serve their purpose effectively.
However, choosing your perfect e-bike isn't easy, so we've made this comprehensive review of Magicycle Cruiser to help you out.
Electric Wheelers is reader-supported. Although we independently research and test products, we may receive a commission on purchases made from our chosen links. Read more…
Magicycle Cruiser Overview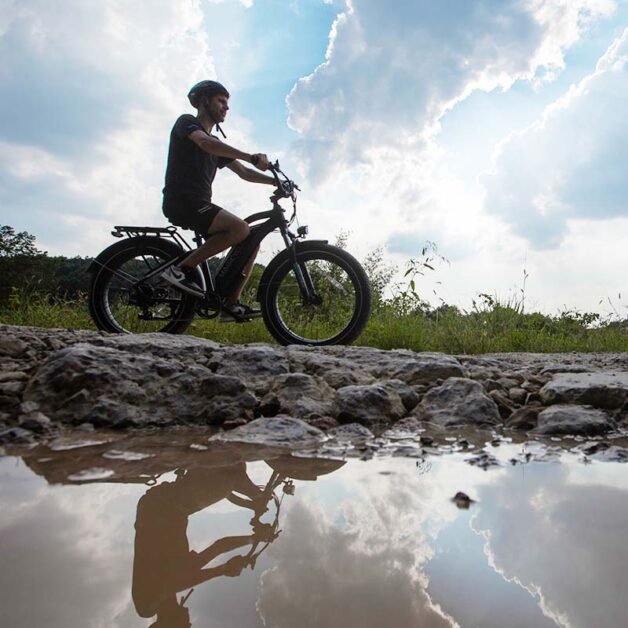 To Whom?
Magicycle designed the Cruiser for 5'5″ to 6′ 5″ adults that want to commute, explore beautiful sceneries, and experience comfortable and enjoyable riding. The Cruiser is great for families and individuals looking to commute to and from work because of its 30 to 55-mile range.
You can also use the bike to explore various terrains, including rocky regions, thanks to its wide 24 by 4-inch tires.
It weighs 76 pounds and can support a maximum rider weight of 350 pounds. The bike is also great for long rides in the countryside and can support a 55-pound load on the rear rack, which can fit various types of cargo, i.e., camping gear.
Magicycle Cruiser Performance
Motor and Speed
The Magicycle feels powerful and with good reason.
Magicycle designed their ebike with a 750W motor that provides 87 nm of torque. The brushless and geared hub motor powers the bike to a maximum 28mph speed.
The bike has 7 intelligent pedal assist levels. The correct amount of assistance is provided thanks to the 12 magnet cadence sensor.
Hill Climbing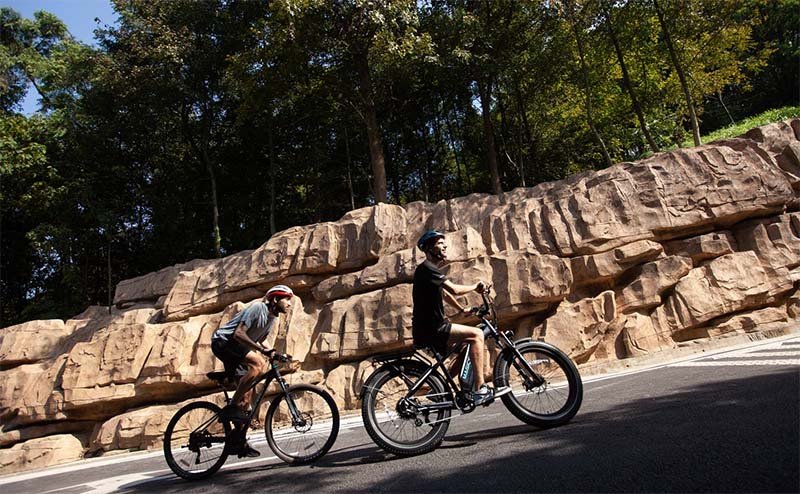 Climbing is definitely a strong part of Magicycle Cruiser.
Thanks to its powerful motor and high torque, the Magicycle performs amazingly on uphill climbs compared to most e-bikes. Performed bike tests show the motor performing flawlessly with no signs of stalling.
Electric Bike Report made two different climbing tests on a 12% hill that was ⅓-mile long.
With throttle only, the bike completed it in 75 seconds at an average speed of 14.5mph.
While pedaling on pedal-assist level 7, the Cruiser completed the same hill in 66 seconds at a 16.4 average speed.
The results were pretty impressive. So you can choose to purchase the Magicycle if you commute through hilly terrain because the powerful motor will not let you down.
Battery and Range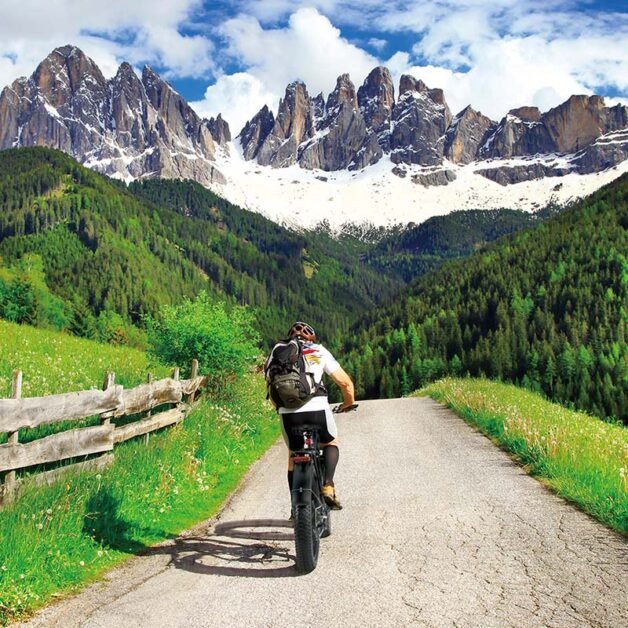 The Magicycle Cruiser has a 780Wh, 52V, 15Ah battery that provides a good range comparable with several of its competitors.
The Cruiser lasts 60.1 miles on low power while it lasts for 28.32 miles on high power. The battery is comparable to other 750W e-bikes on both of these tests.
While most bikes have 48V units, the Magicycle has a 52V unit which is interesting since it gives the Magicycle a higher performance. This performance is noticeable when accelerating on uphill climbs.
However, the battery's higher voltage does affect its performance, which is why it has a shorter range than its competitors with smaller batteries. Generally, the bike performed efficiently on standard tests thanks to its battery and powerful motor. The e-bike can be relied on for everyday commutes.
Braking and Gearing
The Magicycle uses the Shimano 7-gear system, which is reliable and reputable for its high performance and durability.
The gear system is located on your bike's right-hand side of your Magicycle Cruiser's handlebars. The 7-gear system allows you to change to high gears for faster speeds and lower gears for uphill climbs.
The gear is paired with a pedal-assist system helping you adjust your gears to get the right amount of speed throughout the entire journey.
The Magicycle Cruiser is heavy and fast. Thus, it requires sufficient braking power, especially when navigating busy streets.
However, the braking system installed on the bike is far from perfect. For instance, it has unbranded mechanical brakes that don't provide sufficient braking power.
The bike has 180mm rotors on the front and rear wheels. However, the brakes aren't efficient enough and have long stopping distances.
Tests performed on the bike average a 28'9″ at 20mph, which is close to double the standard average. You should consider this information when making your purchase.
Ride Quality
The Magicycle has great handling, and like various affordable e-bikes, it's best driven on light-duty gravel roads and bike paths. The handling is intuitive and relaxed when riding.
Additionally, the bike has a fairly standard eMTB- like rise-bar, a twist throttle, and a Tourney thumb shifter. Plus, it's equipped with a simple display at the center that is easy to read. Lastly, it has a broad saddle that's comfortable and integrated rear and front lights that help you ride more easily in poorly lit surroundings.
Magicycle Cruiser Features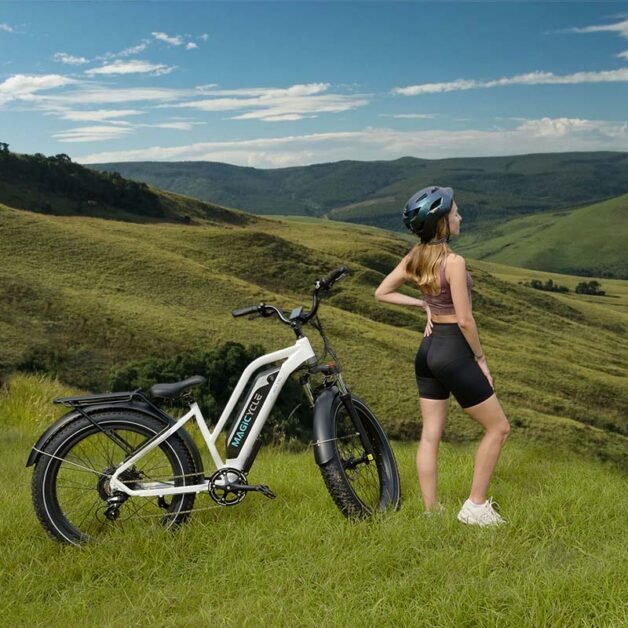 Frame and Geometry
The Magicycle has an 18-inch frame in two forms, including the step-over and step-thru frames. It has a mid-night blue-colored frame for the step-over version and white for its step-thru version.
The fat tire e-bike is shaped like a cruiser and has handles that give it an upright riding position.
The bike has an unbranded front fork suspension with a lockout feature.
It also has good cable management, with much of the wiring going through the frame, making it look slick and clean. Its bottle cage is placed on the top tube, which isn't ideal but manageable.
The ebike weighs 76 pounds, which adds to its momentum. However, the increased speed becomes problematic when braking.
The bike's dimensions like the 43.31″ maximum ground-to-seat height and 47.25″ ground-to-handlebar height, make it great for individuals with a 5'5″ to 6'5″.
Lastly, its battery isn't placed inside the frame. However, its design makes it look like it is. The battery can be removed from the side, making the installation and removal process easier.
Wheels and Tires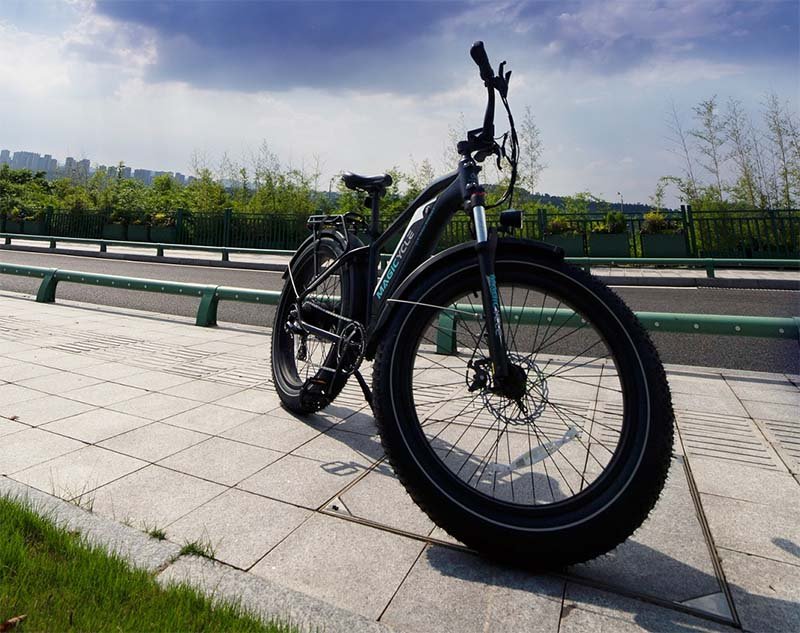 Riding electric bikes with good wheels and tires is vital for a safe and comfortable ride. The Magicycle is equipped with 26 by 4-inch Kenda fat tires with an anti-slip design and puncture-resistant feature.
The wheels are perfect for riding on various terrains, including bike paths and gravel. However, it would be best to avoid the rocky ground.
The tires provide upgraded traction and grip, facilitating a comfortable and safe ride in rainy conditions.
Additionally, the tires have reflective sidewalls providing increased visibility at night. Lastly, the bike has 13 gauge spokes on the front wheel and 12 gauge spokes on the back wheel that are strong enough to support the recommended total weight.
Color Display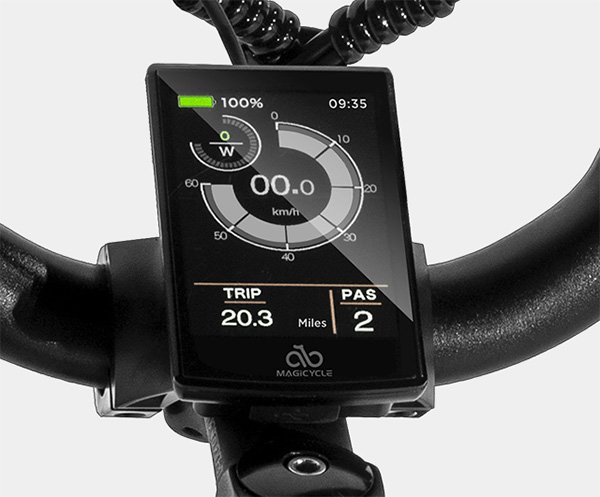 The Magicycle's color display LCD is one of its best accessories. It is shaped like a smartphone and has several features.
The color display provides:
your speed
trip distance
battery percentage
pedal-assist mode
and you can toggle between maximum speed and total miles.
You can also press the buttons to access various menus and perform various customization settings.
Another feature that makes the ebike stand out from other e-bikes is its fully customizable pedal assist levels. You can customize the pedal assist levels to get a perfect assistance required to experience a smooth and easy ride.
2-Year Warranty
The warranty coverage is more than average by industry standards.
The Magicycle has a two-year warranty on various mechanical and electrical components like the frame and battery, excluding gift items. The optional manufacturer warranty has a 2-year limit from the purchase date and is limited to the primary purchaser and subject to prior registration on the company website.
The warranty begins when the primary purchaser receives their order. The Warranty can be transferred. The transferee should have the primary owner's name and order number.
Lastly, the warranty only covers manufacturing defects and not any wear, tear, or abuse.
Magicycle Cruiser Review Conclusions
While the Magicycle cruiser has its shortcomings, it does try to compete with major brands.
One major shortcoming is its low braking power. However, the company seems to have listened to customer feedback and is working on making better braking systems.
Otherwise, the bike provides enough power, a more-than-average range, and good tires.